If you need some help deciding what to wear today, my recommendation is anything purple. Many people around the world will sport the color in honor of World Lupus Day, a global annual event that calls attention to the mysterious disease impacting more than 5 million people in the US alone.
Here's what else you need to know to Get Up to Speed and On with Your Day.
(You can get "CNN's 5 Things" delivered to your inbox daily. Sign up here.)
1. Trump
A federal jury on Tuesday found that former president Donald Trump sexually abused E. Jean Carroll in a luxury department store dressing room in 1996 and awarded her $5 million for battery and defamation. Trump has denied all wrongdoing and called the verdict a "total disgrace." Carroll, on the other hand, called the verdict a victory for her and other victims of abuse. Trump does not face any jail time as a result of the civil verdict, but it does add to his mounting legal troubles — with probes in New York, Washington, DC, and Georgia still underway and primary debates set to begin in August. Separately, Trump is set to participate in a CNN town hall today in New Hampshire, where he'll take questions as the frontrunner in the 2024 GOP presidential primary field. It will be Trump's first appearance on CNN since the 2016 presidential campaign.
2. Title 42
Title 42, the Trump-era policy that became a key tool used by officials to turn back migrants at the US-Mexico border, is set to expire Thursday. When that happens, it will likely spur a significant increase in the number of migrants trying to cross into the US. Officials in several cities, including El Paso, Texas, have declared a state of emergency ahead of Title 42's expiration. With detention facilities at capacity, thousands of migrants are living on the streets and aid organizations say they are concerned they won't have the resources to help everyone if that number grows. Meanwhile, politicians on both sides of the aisle and local officials have expressed skepticism that the Biden administration truly is prepared to handle the crisis when immigration authorities return to decades-old protocols in the coming hours.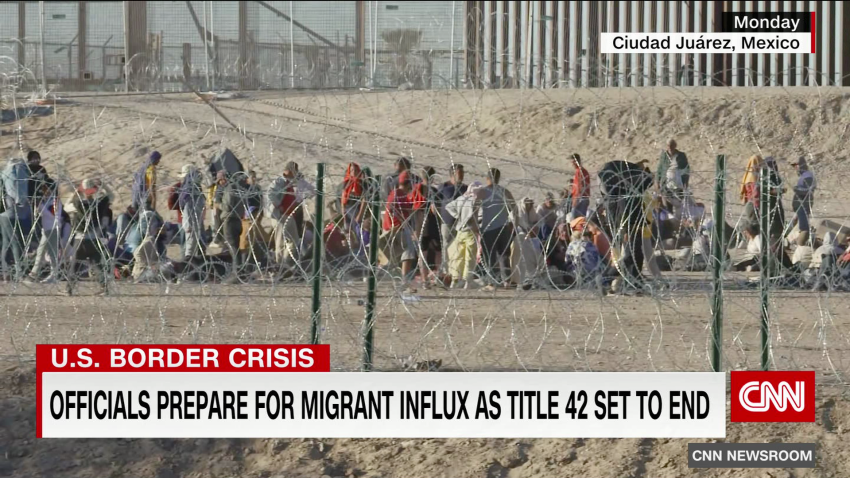 Asylum seekers wait to be processed as Title 42 set to lapse
3. George Santos
The Justice Department filed criminal charges Tuesday against New York Rep. George Santos, the embattled GOP lawmaker facing several federal and local investigations into his finances. Santos has faced scathing criticism for lying extensively about his resume, education and family background. The exact nature of the charges couldn't immediately be learned but the FBI and federal prosecutors in New York and Washington have been examining allegations of Santos' false statements in campaign filings and other claims. Top Democrats, joined by some New York Republicans, have been calling on the freshman congressman to resign over allegations ranging from criminal behavior to petty personal dishonesty stretching back more than a decade. He is expected to appear as soon as today at federal court in New York's eastern district, where the charges have been filed under seal.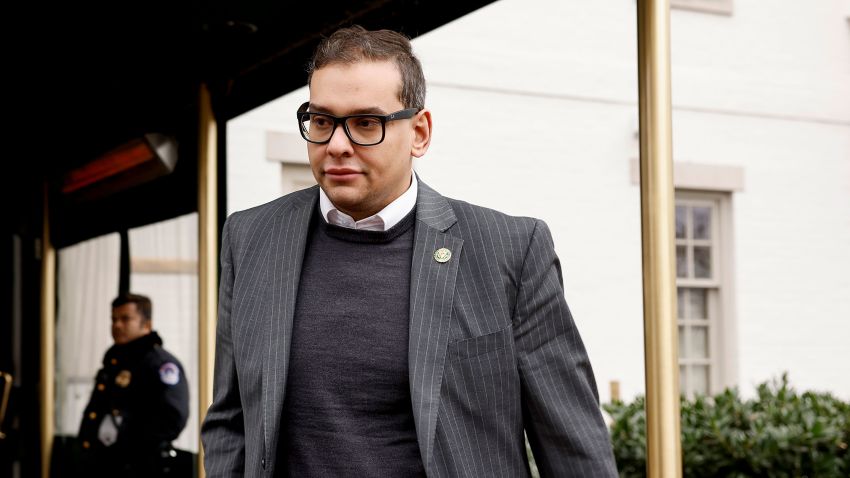 Rep. George Santos charged by Justice Department in federal probe
4. Pakistan
Pakistan is on edge after the country's former Prime Minister, Imran Khan, was dramatically arrested Tuesday by paramilitary troops in a significant escalation of a yearlong political standoff. The troops smashed their way into a courthouse in Islamabad to detain Khan on multiple corruption charges, igniting violent protests between his supporters and the military. In a pre-recorded statement released on YouTube by Khan's political party after his arrest, the former prime minister said he was "detained on incorrect charges" and told his supporters "the time has come for all of you to come and struggle for your rights." Hundreds of Khan's supporters responded to his call to take to the streets and deadly protests broke out in several cities.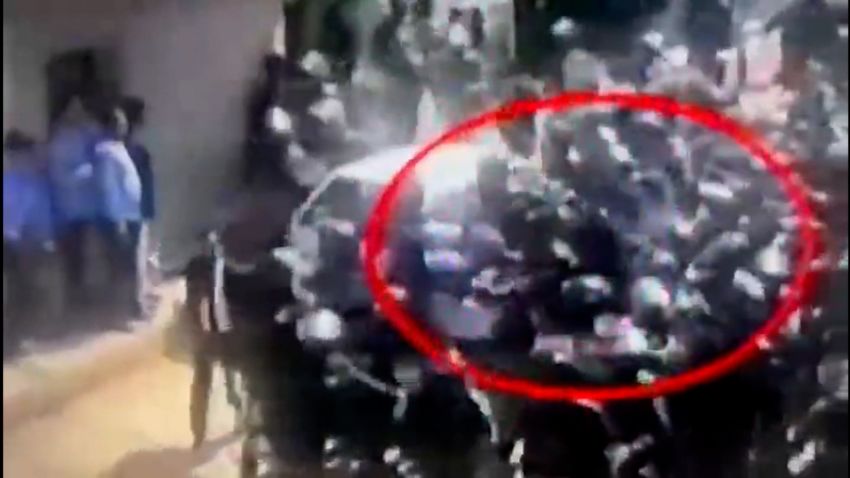 Ex-PM waits patiently as troops smash windows to get to him
5. Debt limit
President Joe Biden will meet again Friday with top congressional leaders amid a standoff over the federal debt ceiling after they emerged from their meeting Tuesday with little to show that they're moving toward an agreement to prevent a default that would have catastrophic economic consequences. "I made clear during our meeting that default is not an option," Biden said, adding that he's "absolutely certain" the US can avoid defaulting on its obligations because an "overwhelming number of members of … Congress know it would be a disaster." Biden has also been considering using the 14th Amendment to unilaterally raise the debt ceiling without the help of Congress, he said Tuesday. However, he implied that the process of litigation may take too long to make a difference.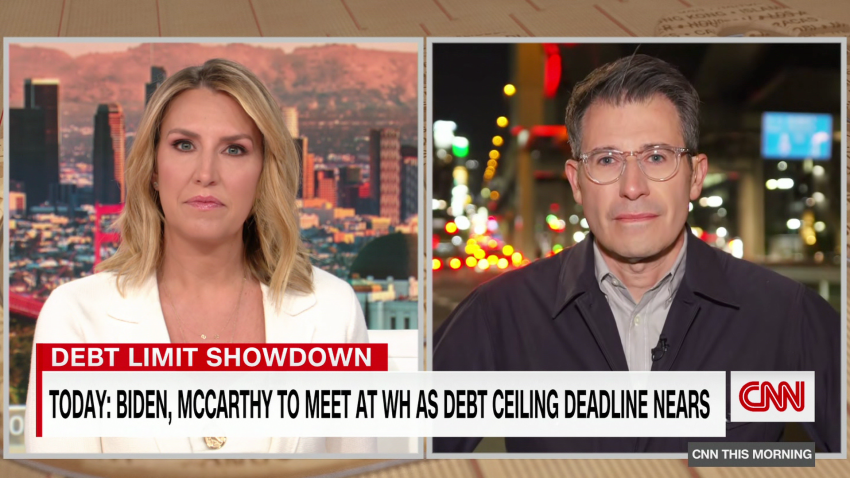 U.S. debt default could have a big impact on the global economy
BREAKFAST BROWSE
Woman's new home purchase ruined by snakes in the walls
Watch this short video to see a homeowner's worst nightmare.
Adorable pup wins top prize at Westminster Dog Show
Buddy Holly, a Petit Basset Griffon Vendéen, became the first of his breed to win best in show at the prestigious dog competition.
Robert De Niro welcomes his seventh child
The 79-year-old "Godfather" actor is a father again. 
'Beetlejuice 2' is finally heading to the big screen
Speculation has been swirling for years about a potential sequel to the 1988 film. Now, it's official: The "ghost with the most" will make a return.
Tucker Carlson announces plans to relaunch his show on Twitter
The former Fox News host is hoping to bring his fanbase to Twitter, where CEO Elon Musk continues to elevate the visibility of far-right figures.
TODAY'S NUMBER
4.4 million
That's roughly how many people will soon receive checks from TurboTax, following a $141 million settlement with parent company Intuit for allegedly steering millions of low-income Americans away from free tax-filing services. The checks will automatically be mailed throughout this month and are expected to range from $30 to $85.
TODAY'S QUOTE
"I think I'm gonna cry."
— Pat Sajak, host of "Wheel of Fortune," saying he may shed a few happy tears today as his daughter steps in to spin letters for co-host Vanna White. Maggie Sajak, 28, took to social media to share the news she will be helping out on "Celebrity Wheel of Fortune" while White competes on the show.
TODAY'S WEATHER
Check your local forecast here>>>
AND FINALLY…
Walking a tightrope between mountains
This professional slackliner has learned to train her fear like a muscle. Watch her walk a tightrope in the French Alps. (Click here to view)