Rep. George Santos has pleaded not guilty to 13 federal charges, including allegations of fraud related to Covid-19 unemployment benefits, misusing campaign funds and lying about his personal finances on House disclosure reports.
Santos was released on a $500,000 bond, according to the US Attorney's Office in New York. He was ordered to surrender his passport and will need permission to travel outside of Washington, DC, New York City and Long Island.
The New York Republican appeared in a federal court on Long Island on Wednesday. He has been charged on seven counts of wire fraud, three counts of money laundering, one count of theft of public funds and two counts of making materially false statements to the House of Representatives.
In a combative, impromptu press conference after his arraignment, Santos said that he has been "compliant throughout this entire process" but blasted the indictment as a "witch hunt" and said he will "fight my battle."
The charges inject fresh uncertainty into the political future of Santos, a freshman congressman whose astonishing pattern of lies and fabrications stunned even hardened politicos and led top Democrats and some New York Republicans to call for his resignation earlier this year.
The congressman said on Wednesday that he will not resign from his seat and that he still plans to seek reelection next year.
House Speaker Kevin McCarthy, a California Republican, said Wednesday he would wait before calling on Santos to resign.
"It always concerns me," McCarthy told CNN after being informed of the money laundering and wire fraud charges.
"He will go through his time in trial and let's find out how the outcome is," McCarthy added.
Later, the speaker said he will not support Santos' reelection, telling CNN that "Santos has a lot going on. I think he has other things to focus on in his life other than running for reelection."
McCarthy confirmed that if the Ethics Committee determines Santos broke the law, he would call for him to resign.
Prosecutors allege Santos, 34, solicited campaign funds under false pretense and used them for personal expenses like designer clothing.
The indictment accuses Santos of undertaking a "fraudulent political contribution solicitation scheme," alleging that he set up a company and got supporters to contribute funds to it under the false pretense that the money would benefit his political campaign.
"Taken together, the allegations in the indictment charge Santos with relying on repeated dishonesty and deception to ascend to the halls of Congress and enrich himself," said US Attorney Breon Peace in a statement. "He used political contributions to line his pockets, unlawfully applied for unemployment benefits that should have gone to New Yorkers who had lost their jobs due to the pandemic, and lied to the House of Representatives."
Santos, who was elected last year to represent a district that includes parts of Long Island and Queens, has been under investigation in multiple jurisdictions and by the House Ethics Committee. The congressman has admitted to making some misleading claims about his education and financial status but continues to deny the more serious allegations. He has not admitted any crimes.
He was taken into custody in Melville, a law enforcement source told CNN. From there, he was taken to the courthouse in Central Islip.
Santos fraudulently applied for Covid-related unemployment benefits, indictment alleges
Santos is accused of fraudulently applying for unemployment benefits, with the indictment alleging he falsely claimed to be unemployed in an application for a pandemic-related unemployment insurance program.
Though he claimed in the application he had been unemployed since March 2020, according to prosecutors, he was employed at an investment firm and, as part of a $120,000 annual salary, he was allegedly receiving regular deposits – with the exception of one period in July and August 2020.
He was employed at the firm between February 2020 and mid-April 2021, the indictment alleges. But, because of the repeated false assertions he is alleged to have made to the unemployment program, Santos also received $24,744 in benefits, according to prosecutors.
Santos lied on House disclosure reports, prosecutors say
Santos made false statements on multiple financial disclosure reports to the House of Representatives during his two congressional races, according to the indictment.
Congressional candidates are required to file sworn financial disclosures before an election, which give a full accounting of that candidate's finances, like their assets and income.
As part of his first congressional race in 2020, Santos filed two disclosures with the House that contained false statements. Santos claimed in the reports that he had earned $55,000 in salary, commission and bonuses from a company, identified in the indictment only as "Company #2."
Santos also reported in the 2020 disclosure that the only compensation he received exceeding $5,000 from a single source was an "unspecified commission bonus from Company #2."
Prosecutors say, however, that Santos only received $27,555 from Company #2. Santos also allegedly failed to disclose altogether a salary he earned from an unidentified investment firm.
The behavior continued when Santos filed his 2022 disclosure in that election – which he went on to win – according to the indictment.
Santos wrote on the form that in 2021 and 2022 his "earned income consisted of $750,000 in salary from the Devolder Organization LLC," that his "unearned income included dividends from the Devolder Organization LLC valued at between $1,000,001 and $5,000,000" and that "he had no compensation exceeding $5,000 from a single source in which he had an ownership interest."
The then-candidate also claimed on the 2022 form that he "owned a checking account with deposits totaling between $100,001 and $250,000" and "a savings account with deposits totaling between $1,000,001 and $5,000,000," prosecutors said.
"Contrary to these statements, in truth and in fact, as Santos then and there well knew and believed, he had not received from the Devolder Organization LLC the reported amounts of salary or dividends; he did not maintain checking or savings accounts with deposits in the reported amounts; and he received approximately $28,107 in income from (an investment firm Santos worked at) and approximately $20,304 in unemployment insurance benefits from (New York) during the same reporting period, all of which he failed to report as required," the indictment said.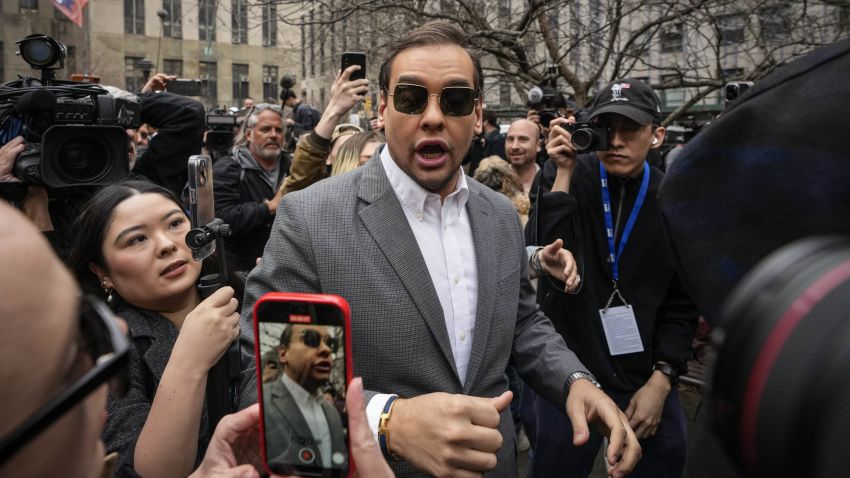 CNN reporter breaks down George Santos' 13 federal charges
Calls for Santos to resign
As Santos faced multiple investigations earlier this year, a number of top Democrats and some Republicans called for him to step down from his seat, with those calls restarting Tuesday after CNN reported that he had been indicted.
Rep. Mike Lawler, a New York Republican who has been one of the most outspoken Santos critics inside the party, said to CNN on Tuesday: "I reiterate my call that he should resign."
Another New York Republican, Rep. Nicole Malliotakis, told CNN, "I'm not surprised. I understand this is where it was headed."
Malliotakis emphasized on Tuesday that she needed to see the charges, but asked whether Santos should be removed from Congress she said: "I would love to see someone new run because I can tell you that we will hold that seat and so the sooner Santos leaves, the sooner we can get someone in there that is not a liar."
Other Republicans said it should be up to Santos' district to decide his fate in Congress.
National Republican Congressional Committee Chairman Tom Emmer said "his constituents will deal with whatever issue."
This story has been updated with additional developments.
CNN's Manu Raju, Melanie Zanona, Annie Grayer, Jeremy Diamond and Allie Malloy contributed to this report.