Editor's Note: This story contains graphic descriptions of the shooting's aftermath.
The weapons brought to the attack on random shoppers at the outlet mall in Allen, Texas, were all legally obtained, Texas Department of Public Safety Regional Director Hank Sibley told reporters at a Tuesday news conference.
He said the gunman had eight weapons with him: three on his person and five in his vehicle.
Authorities have said gunman Mauricio Garcia, 33, started firing an AR-15-style rifle – a weapon of choice among US mass shooters – in the parking lot of Allen Premium Outlets before making his way through the complex as shoppers and employees ran for cover, authorities said.
An Allen police officer on a nearby call responded and fatally shot Garcia. Sibley said the massacre was over with the shooter down just three to four minutes after the horror began.
Investigators are looking at the gunman's electronics and social media, trying to figure out what prompted the second-deadliest massacre in the United States this year.
"The big question that we're dealing with right now is what's his motive, why did he do this?" Sibley said. "Well, the big question is, we don't know. That's what the investigation is trying to find out."
Sibley said preliminary evidence shows the shooter targeted the mall, but not specific individuals.
Eight people were killed in Saturday's shooting, including an immigrant from Venezuela who worked as a delivery driver and sent money home to buy his mother medicine. At least six more people are still in the hospital with one having been released.
And once again, people on ordinary outings – a trip to the supermarket, a holiday parade, a Sweet 16 party – had their lives ripped apart by a US mass shooting.
Employees at the mall described the cracking of repeated gunshots that interrupted a normal and busy shopping afternoon at the mall in the affluent Dallas suburb.
One shop employee had been grabbing cardigans from the back of the store when the two little girls burst in.
One rushed to crawl under a fitting room door. The other hid between a rack of clothes and the door, trying to get it to budge.
"'Open the door! They're shooting! They're shooting!'" the girl implored worker Andria Gaither.
Gaither looked over her shoulder and saw her boss hurrying other people to the back of the store. So she, too, scrambled under the dressing room door with the two girls – only to realize they wouldn't be safe.
"'We need to go out the back,'" Gaither instructed.
They fled through an emergency exit, "and once I got outside, I could hear the gunshots very close, very loud, nonstop," Gaither told CNN on Monday.
"The entire time that I was running, I could hear the gunshots. It sounded like a very powerful gun. Every gunshot sounded like an explosion."
The blasts left carnage "like in a combat zone," said Steven Spainhouer, an Army veteran who tried CPR on victims he couldn't save.
Spainhouer had rushed to the mall after his son called and said there was a mass shooter. He tried to help a young girl who was severely injured, but when he pulled her head back to check for a pulse, "a bright shining face was gone."
"There was nothing left," he said. "She was already gone."
Allen police subsequently disputed parts of Spainhouer's account, noting "inconsistencies" between his media interviews and the facts of the investigation. The department said it conducted a follow-up interview with Spainhouer and "determined that (he) is not a credible incident witness."
According to the police department, Spainhouer did not perform CPR, and did not move a deceased mother who was covering a child who survived the shooting.
In response, Spainhouer stood by his account, said he was "hurt and disappointed," and clarified that "a small child pulled himself from under a victim and I assisted him to a safe space away from the area."
Joshua Barnwell found a mother with atrocious bullet wounds begging him to take care of her wounded child, he recalled.
But when the military veteran tried to resuscitate the girl, a "vile amount of blood came out" of her back, he said.
Barnwell had to tell the wounded mother her daughter was dead. And he begged her to hang on, for the sake of her other loved ones.
"Please fight and be there for the family that you have," he told her.
The US has suffered at least 208 mass shootings in just the first five months of this year, with at least four victims shot during each.
It might be easy to get desensitized to such numbers – until the tragedy hits home.
"Without feeling that emotion, that pain … there is no way that you are going to even begin to come close to understanding," Barnwell said.
"But if they can grasp one minute of that, then perhaps more people will start to look to find ways where we need to exist in a better way."
Clues about extremism emerge in hunt for motive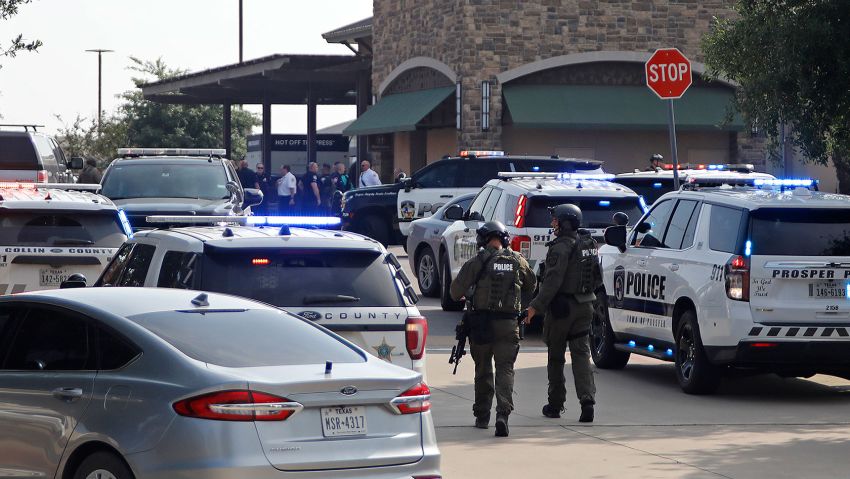 Authorities believe Texas mall shooter was an incel. Hear what that means
While the assailant's motive remains unclear, authorities are investigating whether he was driven by extremist ideologies, a law enforcement source told CNN. In social media posts, he appears to have obsessed over Nazism, weapons and prior mass shootings.
When authorities examined Garcia's body, they found he was wearing an insignia investigators believe may be connected to extremist groups, the source said. The insignia appears to be shown in a photo posted by an account user on the Russian social media website Odnoklassniki that a law enforcement source said investigators believe belongs to the shooter.
The user posted writings supporting Nazi ideology, shared images of his guns and posted a photo of the mall in the weeks before the shooting. A few weeks before the shooting, the user posted a screenshot from Google Maps showing what times of day the outlet mall was busiest.
Other posts espoused antisemitism and included photos of guns and a man's torso with a large swastika tattoo over his heart, though it's unclear whether the man pictured is Garcia.
Law enforcement does not yet feel they have a "complete picture" of Garcia's past and are continuing to dig into his background, a law enforcement source told CNN.
Some victims were from same 2 families
Several of the shooting victims were from the same family and, according to the Texas Department of Public Safety, included children as young as 3.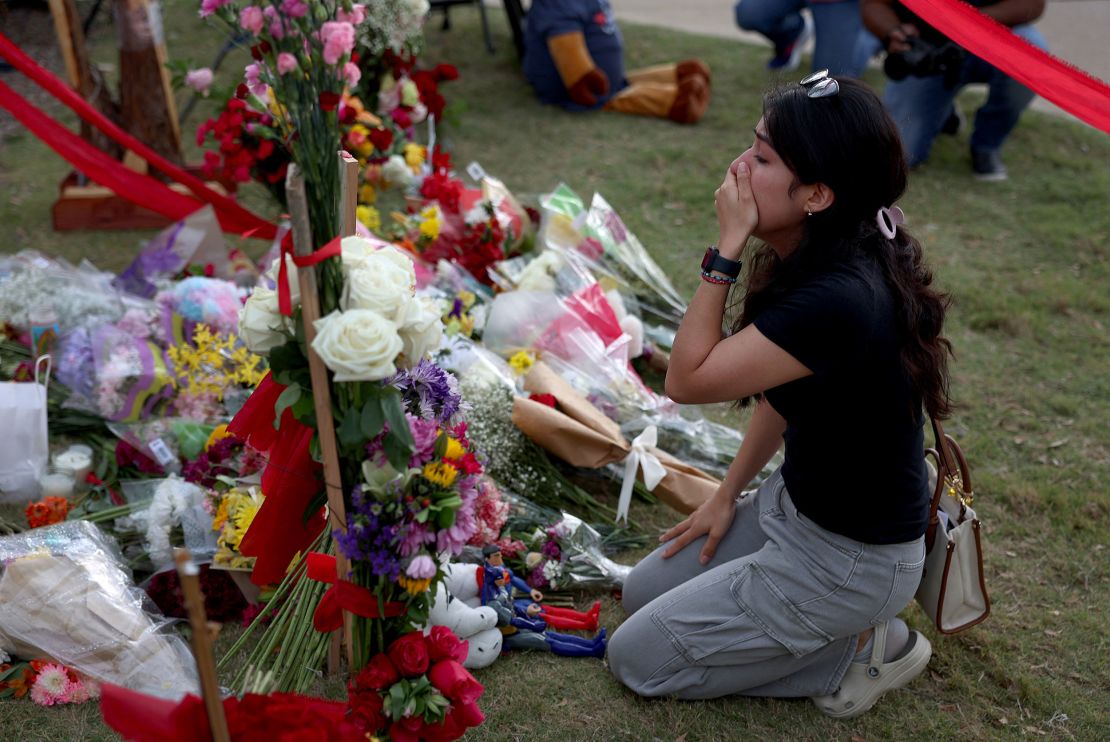 Three Korean Americans – husband Cho Kyu Song, 37, and his wife, Kang Shin Young, 35, as well as one of their children – were killed, the Houston office of the South Korean Consulate confirmed, according to the Dallas Morning News. The child's name and age were not given, but the Texas Department of Safety did note a 3-year-old was among those killed. That child was identified as the couple's son James Cho, according to a GoFundMe post.
Their 6-year-old son William "is the only surviving (family) member of this horrific event," a GoFundMe post written by friends of the family said.
Sisters Daniela and Sofia Mendoza "will not be forgotten" as their peers mourn their loss, the Wylie Independent School District said in a letter to parents. Daniela was in fourth grade and her sister was in second grade, the letter said. Their mother, Ilda Mendoza, is in the hospital in critical condition.
Elio Cumana-Rivas, 32, had emigrated from Venezuela to Panama and then Texas in 2022. He was a delivery man who sent money back to his home country for his mother's medicine and other family needs, his brother told CNN.
"Elio's goal was to grow as a person and his dream was to find a place where he could grow and help his loved ones," Gregory Smith Cumana said.
Fernando Guitian, who described himself as a family friend, said, "Elio really adored his mother."
Guitian described the victim as a good person and a hard worker.
Other victims included Christian LaCour, an outlet mall security guard, and Aishwarya Thatikonda, who was killed while visiting the mall with a friend, CNN affiliate WFAA reported.
Authorities said LaCour got one person to safety before he was killed.
Six other victims were hospitalized as of Tuesday morning, including two people in critical condition and one in serious condition, according to Medical City Healthcare.
This article was updated on May 16 to reflect the Allen Police Department's statement disputing parts of Steven Spainhouer's eyewitness account – and Spainhouer's response to the police news release.
CNN's Ed Lavandera, Michelle Watson, Caroll Alvarado, Amanda Jackson, Casey Tolan, Paul Murphy and Curt Devine contributed to this report.