As the Proud Boys seditious conspiracy trial dragged on for weeks longer than anticipated, someone at the defense table doodled in blue pen on a note card a balding man with facial hair, slumped over, looking to one side and saying, "I was 25 when this trial started."
The five defendants – all in their 30s and 40s – also passed notes with each other and their lawyers about their legal strategy, saying they needed to "solidify arguments" and provide "better explanations" for chat messages that celebrated the January 6, 2021, US Capitol riot. 
It's a common sight to see notes being passed during criminal trials as a way to communicate during what can be lengthy proceedings, but those notes are largely kept out of the public eye. 
CNN reviewed a number of the handwritten notes written by the far-right Proud Boys and their legal teams that spanned the course of the seditious conspiracy trial – one of the highest-profile and most aggressive prosecutions brought by the Justice Department since the Capitol attack.
The notes passed around the defense table give a rare insight into defendants who appeared anxious about their futures, at times bored with the drawn-out legal fights that plagued the trial, and focused on proving there was no overarching plan to commit sedition.
The 18-week trial concluded last week with the jury in Washington, DC, convicting four of the five – Enrique Tarrio, Ethan Nordean, Joseph Biggs, Zachary Rehl – of seditious conspiracy. Dominic Pezzola was acquitted of that charge but convicted of others, including obstruction of an official proceeding. Tarrio, Nordean, Biggs, Rehl and Pezzola were accused of being part of a wide-ranging plot to violently oppose Joe Biden from becoming president.
Pezzola's attorney Steven Metcalf said in a statement to CNN that "there were a bunch of talented artists on the defense side," and "this was an exceptionally long trial, with days where even I did not make a record. We had to fill that void with humor and at times laughter."
Norman Pattis, an attorney for Biggs, told CNN: "You didn't find the truly funny notes, keep digging."
Lawyers for Tarrio, Nordean and Rehl declined to comment on the notes.
In the courtroom, the defendants sat on one side of a large wooden table across from their lawyers. Each had access to legal pads and colored sticky notes, which they wrote on and passed to one another.   
It is not entirely clear which defendant, or lawyer, wrote which note.
Ranking potential jurors
CNN observed defendants and their lawyers passing notes throughout the trial, starting with jury selection. 
On flash cards obtained by CNN written at the time of jury selection, individuals at the defense table had written things like "YES," "NO" "OH HELL NO" "SPY" and "DON'T CARE." 
"Steeeeee-Reighck!!" one person wrote, seeming to reference striking someone from sitting on the jury. Underneath, the person wrote – and underlined – the word "Reich." That note was later torn into several pieces. 
Another parodied one of the questions that Judge Timothy Kelly, who was presiding over the trial, asked prospective jurors – about whether they could be fair and impartial. 
"Question for Judge," the note says. "Can YOU be fair and impartial?"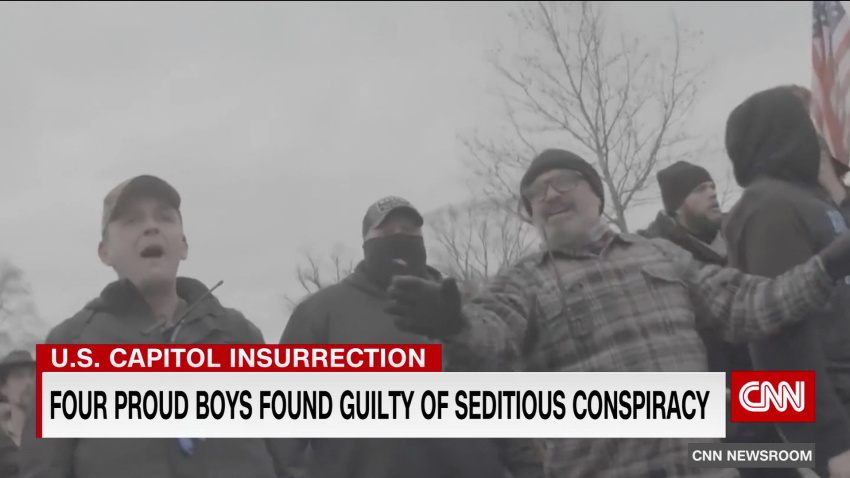 Four Proud Boys members found guilty of seditious conspiracy
Testimony and legal strategy
Several of the notes obtained by CNN referred to the testimony that government witnesses gave about the Proud Boys' movements around the 2020 presidential election.   
Prosecutors alleged that after the election was called for Biden, Donald Trump supporters, including members of the Proud Boys, took to the streets to protest Biden's win even before January 6.  
In one note, however, someone at the defense table took issue with prosecutors' characterization of the Proud Boys marches. "Were not roaming the streets because of election," the note reads. 
Some individuals also took issue with how prosecutors presented social media and chat messages, implying that the Justice Department lawyers overplayed their importance because not everyone on a group chat paid attention to what others were writing there.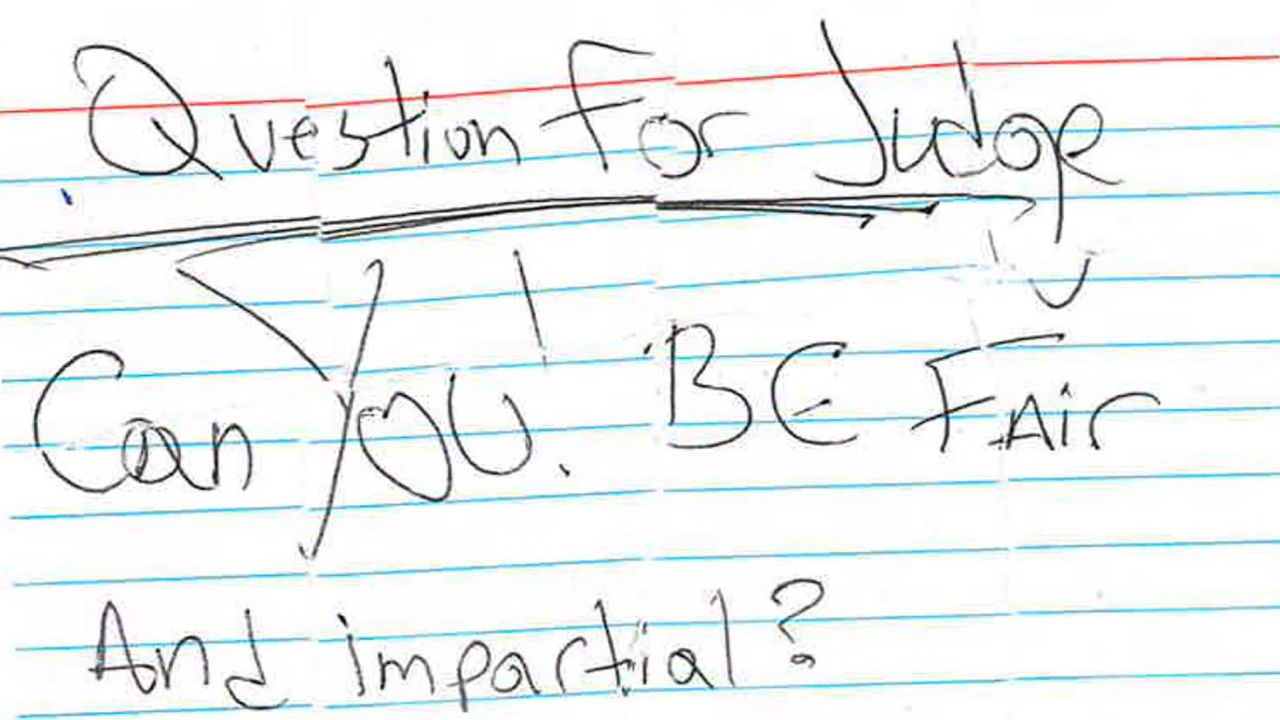 "'Upvoting' 'liking' 'hear + reacting' are all such mindless 'engagements' on social media," someone wrote, referencing different ways a user might interact with a message on social media. "They are reaching so hard."
A few notes seemingly strike at anxieties about the government's case. 
"Your name/picture will be on Boots on Ground," one note said, referring to the name of an encrypted chat group the Proud Boys used to discuss their plans and movements on January 6. "The gov. said they will have an expert testify that you are on it but we are going to slam them with [evidence] that you aren't." 
"So don't freak out," the person added. 
That anxiety also carried into days when government cooperators testified. One such cooperator, Matthew Greene, a Proud Boys member from upstate New York, told jurors that he spoke regularly with Pezzola about the group's activities, testifying "the typical things that had been going on to redress our grievances were ineffective and were not working." 
In a note on the day of Greene's testimony, someone at the defense table wrote: "Do you think Greene saying he conspired with me is a big deal even though he said there was no plan and the conspiracy started after the breach?"
On the day that Proud Boys videographer Eddie Block testified that "Tarrio thought he was too good for me," one note from the defense table reads: "ask him if im friendly and not confrontational." The next day, on cross-examination from Tarrio's lawyer, Block testified that Tarrio was nice to him and treated him fairly. 
'Make sure you always behave'
Despite sitting through one of the most serious criminal cases related to the January 6 riot, the defense still found levity in the situation and passed notes with detailed comics or jokes about the ongoing trial.    
One doodle showed a cross-eyed man wearing a nametag that says "Noble Lead" – Tarrio's nickname. The man is saying, "Dos pollos para me Por favor," which is Spanish for "two chickens for me please." 
Next to the drawing, someone with different handwriting wrote "Tóuche."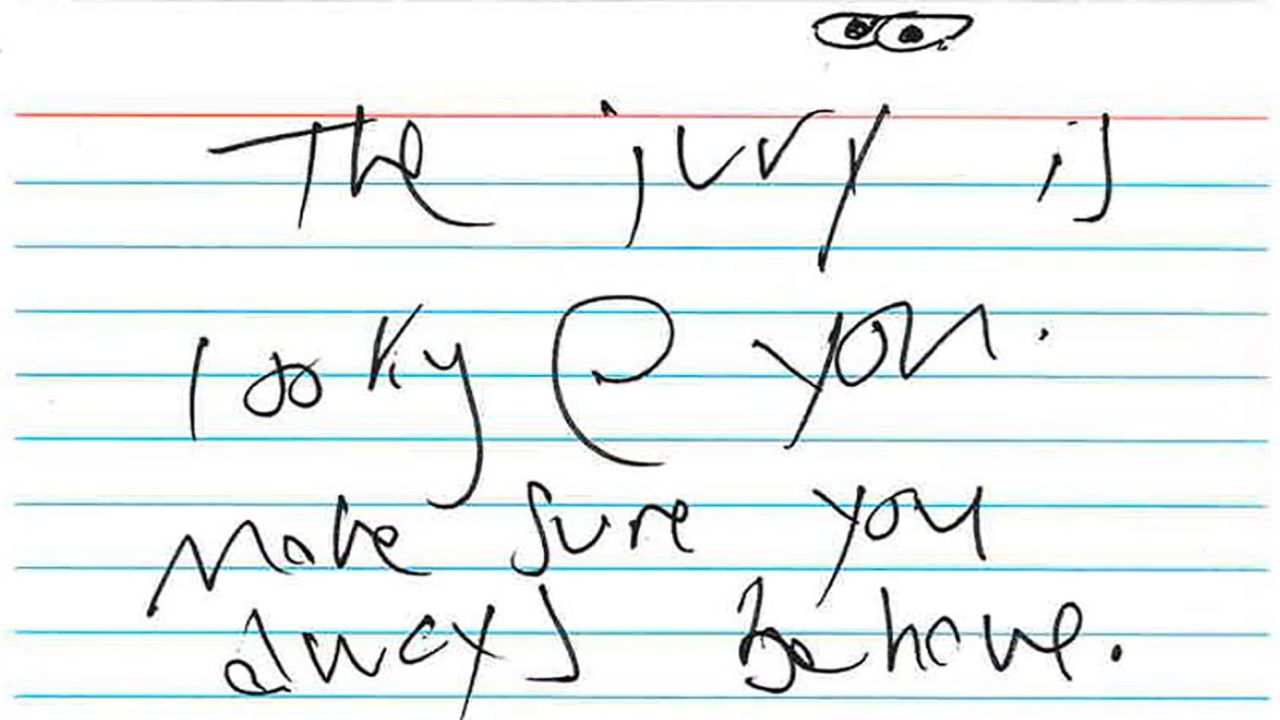 Tario, an alleged leader of the group, was accused of conspiracy but wasn't in Washington on the day of the Capitol attack. It's unclear what the doodle refers to, though the Proud Boys have adopted the rooster as a symbol. 
They occasionally chastised one another for not taking the proceedings seriously. 
"The jury is looking @ you," one note stated. "Make sure you always behave."