Senate GOP Leader Mitch McConnell should be brimming with confidence.
Republicans are in the driver's seat to take the Senate majority: with 23 seats held by Democrats, compared to just 11 for Republicans. There are likely just two GOP incumbents whose seats Democrats may try to flip – and both are in Republican terrain – while three Democrats hail from states that former President Donald Trump easily won in 2020.
The Kentucky Republican just scored a prized recruit in West Virginia and expects two other top candidates to jump into races in Montana and Pennsylvania. And after tangling last cycle with Florida Sen. Rick Scott, his last chairman of the Senate GOP's campaign arm, he is now in line over strategy and tactics with the committee's new chairman, Montana Sen. Steve Daines.
But in an exclusive interview with CNN, McConnell made clear he knows full well that things can quickly go south. So he's been working behind the scenes for months to find his preferred candidates in key races – including during his recent recovery from a concussion and a broken rib – in an attempt to prevent a repeat of 2022: When a highly favorable GOP landscape turned into a Republican collapse at the polls and a 51-49 Senate Democratic majority.
"No, no – I'm not," McConnell said with a chuckle when asked if he were confident they'd take back the majority next year. "I just spent 10 minutes explaining to you how we could screw this up, and we're working very hard to not let that happen. Let's put it that way."
In the interview, McConnell gave his most revealing assessment in months of the field forming in the battle for the Senate. He said that his main focus for now is on flipping four states: Montana, West Virginia, Ohio and Pennsylvania. He said Republicans are still assessing two swing states with Democratic incumbents: Wisconsin, where the GOP is searching for a top-tier candidate, and Nevada, where he expects to likely wait until after next year's primary to decide whether to invest resources there.
And in what is emerging as the most complicated state of the cycle – Arizona – McConnell said there's a "high likelihood" that Republican leaders would wait and see first who wins the GOP primary next year before deciding whether to engage there at all. Plus he doesn't see any chance that Sen. Kyrsten Sinema – who became an independent and left the Democratic Party last December but is still weighing a reelection bid – will join his conference.
"I think that decision was made when she ended up continuing to caucus with the Democrats," McConnell said when asked if trying to get Sinema to flip to the GOP was a live discussion. "We would love to have had her, but we didn't land her."
While he knows the presidential race could scramble the map, he believes a potential Trump nomination could bolster Republican chances in three key Senate battlegrounds. But above all else, McConnell is making clear that his outside group, the Senate Leadership Fund, along with the National Republican Senatorial Committee, are prepared to take a much heavier hand in contested Republican primaries than the past cycle, a move that could escalate their intraparty feuding but one the GOP leader sees as essential to avoiding the pitfalls from 2022.
"We don't have an ideological litmus test," McConnell said flatly. "We want to win in November."
"We'll be involved in any primary where that seems to be necessary to get a high-quality candidate, and we'll be involved in every general election where we have a legitimate shot of winning – regardless of the philosophy of the nominee," the Kentucky Republican said.
But McConnell and Republican leaders are treading carefully in deciding which primary races to engage in, since trying to tip the scales could generate backlash from the conservative base and help far-right candidates – something GOP leaders learned in past election cycles, like the tea party wave of 2010.
McConnell on Trump's down-ticket impact
In the 2022 cycle, Republicans also seemed to have the wind in their sails. With inflation running rampant and President Joe Biden's poll numbers taking a nosedive, Republicans had several paths to the majority.
But Democratic incumbents hung onto their seats as they campaigned on issues like abortion rights and took advantage of Trump's late emergence on the campaign trail, while several GOP candidates who won messy primaries turned out to be weak general-election candidates. McConnell's allies worked in the Missouri and Alabama primaries to defeat GOP candidates they viewed as problematic but largely steered clear of a number of other contested primaries.
Part of the issue: Trump hand-selected candidates in key races, bolstering their chances in primaries even though they were vulnerable in general elections.
"In other places where we did not get involved in the primaries it was because we were convinced we could not prevail, and would spend a lot of money that we would need later," McConnell said, reflecting on 2022.
Plus, in the last cycle, Scott's NRSC made the strategic decision to steer clear of primaries, arguing they would let the voters choose their candidates without a heavy hand from Washington. (Scott and his allies later blamed McConnell for hurting their candidates by not embracing an election-year agenda.)
This time around, the Daines-led NRSC is heavily involved in candidate recruiting and vetting and has already signaled its support for certain GOP candidates in Indiana and West Virginia, aligning its efforts with McConnell's.
"I think it's important to go into this cycle understanding once again how hard it is to beat the incumbents, no incumbent lost last year," McConnell told CNN on Friday. "Having said that, if you were looking for a good map, this is a good map."
But he later added: "We do have the possibility of screwing this up and that gets back to candidate recruitment. I think that we lost Georgia, Arizona and New Hampshire because we didn't have competitive candidates (last cycle). And Steve Daines and I are in exactly the same place – that starts with candidate quality."
McConnell, who has faced incessant attacks from Trump after he blamed the former president for being "practically and morally responsible" for the 2021 Capitol attack, is not publicly letting on any concerns about the possibility that Trump could be on the top of the GOP ticket again.
As Daines has already backed Trump for president, McConnell didn't answer directly when asked if he'd be comfortable with him as the party's 2024 presidential nominee.
"Look, I'm going to support the nominee of our party for president, no matter who that may be," he said.
McConnell believes that Trump at the top of the ticket could help in some key states with Senate races.
"Whether you are a Trump fan or a Trump opponent, I can't imagine Trump if he's the nominee not doing well in West Virginia, Montana and Ohio," McConnell said.
Left unmentioned: Wisconsin, Michigan, Nevada, Arizona and Pennsylvania, all of which Trump lost in 2020 but are key parts of the Senate map in 2024.
"I didn't mention Wisconsin; I think clearly you'd have to have an outstanding candidate. And I think there are some other places where with the right candidate, we might be able to compete – in Nevada, Arizona," McConnell said. "But as of right now the day that you and I are talking, I think we know that we are going to compete in four places heavily, and that would be, Montana, West Virginia, Ohio and Pennsylvania."
Yet each of those have their own challenges for the GOP.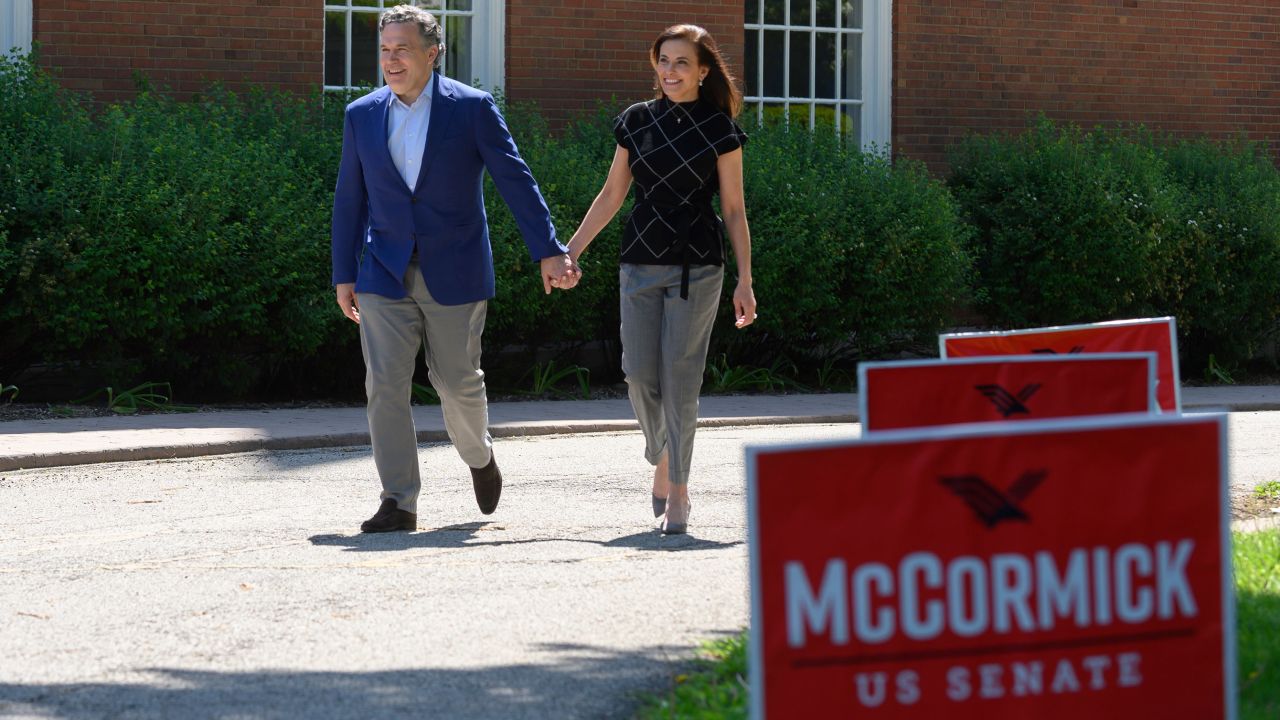 GOP primaries loom
In Pennsylvania, McConnell and the NRSC have their eyes on David McCormick, the hedge fund executive who barely lost his primary last cycle to Mehmet Oz, the Trump-backed TV doctor who later fell short in the general election to Democrat John Fetterman.
While McCormick is widely expected to run for the seat occupied by Democratic Sen. Bob Casey, he could face a complicated primary if the controversial candidate, Doug Mastriano, runs as well. Mastriano, who won the Trump endorsement in the 2022 gubernatorial primary and later lost by double digits in the fall, is weighing a run for Senate. But McConnell and the NRSC are expected to go all-out for McCormick, whom the GOP leader called a "high-quality candidate."
Asked if he were concerned about a potential Mastriano bid, McConnell said: "I think everybody is entitled to run. I'm confident the vast majority of people who met Dave McCormick are going to be fine with him."
While the GOP field in Ohio to take on Democratic Sen. Sherrod Brown is expected to be crowded and has yet to fully form, top Republicans are signaling they'd be comfortable with several of them as their nominee. But that's not necessarily the case in Montana or West Virginia.
In Montana, Rep. Matt Rosendale, a member of the hard-right House Freedom Caucus who lost to Democratic Sen. Jon Tester in 2018, is considering another run against him in 2024, though Rosendale posted a low fundraising number last quarter. But Senate GOP leaders are looking at some other prospective candidates, including state attorney general Austin Knudsen and, in particular, businessman Tim Sheehy, whom McConnell met with in recent weeks.
Asked if he were concerned about a Rosendale candidacy, McConnell said: "Yeah, I don't have anything further to say about Montana. We're going to compete in Montana and win in November."
And in West Virginia, McConnell and top Republicans landed Gov. Jim Justice in the battle for the seat occupied by Democratic Sen. Joe Manchin, who has yet to decide whether to run again. But Justice is already facing a primary challenge against Rep. Alex Mooney, who is backed by the political arm of the anti-tax group, the Club for Growth.
McConnell didn't express any concerns about Mooney's candidacy but said that they wouldn't hesitate to help Justice.
"What we do know about West Virginia is it's very, very red, and we have an extremely popular incumbent governor who's announced for the Senate. And we're going to go all out to win it," McConnell said.
McConnell pointedly declined to discuss any concerns about other controversial candidates who may emerge this cycle, including Kari Lake, who is weighing a US Senate run in Arizona after losing her bid for governor last year and then later claimed the election was stolen. Blake Masters, who lost his bid to unseat Democratic Sen. Mark Kelly, is also among the candidates considering another run.
Asked about Lake and other prospective GOP candidates who deny the 2020 election results, McConnell wouldn't weigh in directly.
"What I care about in November is winning and having an 'R' by your name, and I think it is way too early to start assessing various candidacies that may or may not materialize," McConnell said.
McConnell also indicated they may want to until after the primary to decide if Nevada is worth pouring their money into, even as GOP sources say that national Republicans are recruiting military veteran Sam Brown, who fell short in the Senate GOP primary last cycle.
The GOP leader is signaling he has little concern about the races of two GOP incumbents – Scott in Florida and Ted Cruz of Texas, even as Cruz is facing a Democratic recruit, Rep. Colin Allred who is poised to raise big sums of money.
"Both of them are very skilled," McConnell said of Cruz and Scott, characterizing Democratic efforts to beat them as "really long shots." Democrats, he argued, "don't have much hope there. I don't think they have any opportunities for offense" in 2024, he said.
How long the 81-year-old McConnell – the longest-serving Senate party leader in history – plans to keep his job is a lingering question as well, especially in the aftermath of his recent fall that sent him to the hospital for concussion treatment. After Scott failed to knock him off from his post after the 2022 midterms, McConnell said, "I'm not going anywhere." And he told CNN last fall that he would "certainly" complete his term, which ends in January 2027.
Asked on Friday if he still plans to serve his full term or run for leader again, McConnell let out a laugh and didn't want to engage on it.
"I thought this was not an interview about my future," he said. "I thought it was an interview about the 2024 Senate elections."
CNN's Nicky Robertson and Andrew Millman contributed to this report.