It was a royal night to remember: A magnificent coronation concert staged in the grounds of Windsor Castle, capping a day of street parties and community lunch events across the UK on Sunday in celebration of King Charles III.
A huge roar erupted from the flag-waving 20,000-strong crowd as the newly-crowned King and Queen took their seats in the royal box to watch a star-studded ensemble.
It was an enthusiastically patriotic display that will go down as a highlight of the bank holiday weekend of celebrations in honor of "the artist formerly known as Prince," as host and "Downton Abbey" star Hugh Bonneville quipped.
The glorious line-up was certainly fit for a King – complete with global superstars, classical music maestros and performers from around the Commonwealth – delighting a buzzing audience from a fabulous Union Flag-shaped stage.
Here's a look back at all the best bits:
Prince William's tribute to his 'Pa'
The Prince of Wales paid a heartfelt homage to his father during the festivities, saying: "Pa, we are all so proud of you."
Energetic cheers broke out as Prince William walked out on stage. He opened his speech on a humorous note, promising the crowd that unlike concert performer Lionel Richie, he wouldn't "go on all night long."
William said he wanted to say a few words about why he thought the weekend's celebrations were important, recalling what his late grandmother, Queen Elizabeth II, said when she was crowned.
"Coronations are a declaration of our hopes for the future," the prince said. "I know she's up there fondly keeping an eye on us and she would be a very proud mother," he added, as crowds roared once more.
He went on to note "my father's first words on entering Westminster Abbey yesterday were a pledge of service" before outlining the King's commitment to service over the years.
Royals dance the night away
Several members of the royal family got their groove on throughout the concert. They could be seen bopping along to the tunes from their seats with Union Flags in hand.
But it was when Richie emerged on stage, dressed in a sequined silver jacket, for a performance of his hits "Easy Like Sunday Morning" and "All Night Long," that had both the public and King himself on their feet.
Richie later joined the Sunday broadcast of "American Idol" by video link, telling host Ryan Seacrest and their fellow judges: "What a party. It was unbelievable."
Richie then mused about what could be done "to bring something different to the show," before the King and Queen wandered into the shot. "I just wanted to check how long you'll be using this room for?" Charles joked before thanking him and fellow headliner Katy Perry for their performances.
Crowds were thrilled to see two of their favorite little royals, Prince George and Princess Charlotte, sat with their parents, enjoying the spectacle. Sadly, 5-year-old Prince Louis stayed home.
The royals would jump up again once more for the grand finale when "British pop royalty" Take That took to the stage for their first live performance in four years.
They were joined by singer Calum Scott for their track "Greatest Day," continued with "Shine" and finished up with their classic and delighted the audience with "Never Forget."
Mesmerizing drone display
A fabulous drone display lit up the sky over the coronation concert, earning audible gasps from the crowd below.
As Alexis Ffrench and Zak Abel performed a cover of the Simple Minds hit "Don't You Forget About Me," the audience was mesmerized by the impressive visual display.
Hundreds of drones flew in formation and sparkled in the night sky, coming together to form a nature-themed light show featuring a blue whale, butterfly and an owl over the castle.
Elsewhere during the show, singer Paloma Faith sang as landmarks around the United Kingdom – including Blackpool Tower, Edinburgh Castle and others – were lit up for the celebrations.
Katy Perry's regal roar
Katy Perry, wearing a voluminous golden gown, was among the stars to take to the stage.
Accompanied by an array of backing singers and an orchestra, the American singer was greeted with cheers of appreciation from the huge crowd for her song "Roar." Among the many fans singing along was Princess Charlotte.
Before performing her next song, Perry said of the weekend: "I got to bring my mom – she is so happy to be here. We get to stay in Windsor Castle – no big deal."
She dedicated her second song, "Firework," to the King for his work with the British Asian Trust, of which Perry is an ambassador.
Addressing the King, she said: "Thank you for bringing out the firework in so many young people."
Tiwa Savage's stunning performance
Known as the Queen of Afrobeats, Tiwa Savage thrilled the audience at Windsor Castle with the song "Keys to the Kingdom," which featured a talking drum and elements of her native Yoruba language.
Savage, who is also a British citizen and once appeared on talent show "X Factor," faced backlash in Nigeria – a former British colony – when it was first announced she would perform at the coronation concert.
Nevertheless, her performance garnered widespread praise, with the emerald green dress she wore by Nigerian designer Lanre Da Silva Ajayi seen by some as a nod to the green on the Nigerian flag.
Later, Savage posted a video of her performance on social media, with the caption: "One day I will tell my son that this is 'Tiwa Savage'"
Tom Cruise was just one of many famous faces to send messages
Hollywood star Tom Cruise delivered a high altitude message to the newly-crowned King from the cockpit of his War Bird plane.
"Pilot to pilot, Your Majesty, you can be my wingman anytime," the "Top Gun" star said in a pre-recorded message.
Cruise's message featured in a segment introduced by "James Bond" star Pierce Brosnan, who described the King as an "action man."
"At 22 years old, His Majesty got his wings as a fully-trained RAF pilot," said Brosnan.
Cruise's message was one of numerous pre-recorded greetings to the King from famous people, among them Hugh Jackman, Tom Jones, Tracey Emin, Richard E Grant, Joan Collins … and Winnie the Pooh.
Surprise appearance from Kermit and Miss Piggy
Another pair of famous faces to join the celebration were "The Muppets" stars Kermit the Frog and Miss Piggy, who interrupted presenter Bonneville as he was thanking Savage for her performance.
Dressed in a suit and tie, Kermit told Bonneville they were looking for their seats. "We are in the royal box," he said.
But when Miss Piggy, dressed in a cerise pink evening dress and glittering necklace, recognized "Downton Abbey" star Bonneville she had other things in mind, thinking he was a real lord.
"Can you believe moi (me) is not yet a lady?" she asked, cosying up to a seemingly frustrated Bonneville, asking if he was single.
"Give me a bear with a marmalade habit any day," he muttered, in reference to his leading role in the "Paddington" bear movies.
Miss Piggy then asked Bonneville to show Kermit the way to the royal box, saying, "King Charlesey Warlesy is expecting him" - a comment which drew laughter from the monarch and his wife, Queen Camilla.
And in case you're wondering, Kermit finally found his seat among the royals and was seen enjoying the end of the concert next to Prince Edward.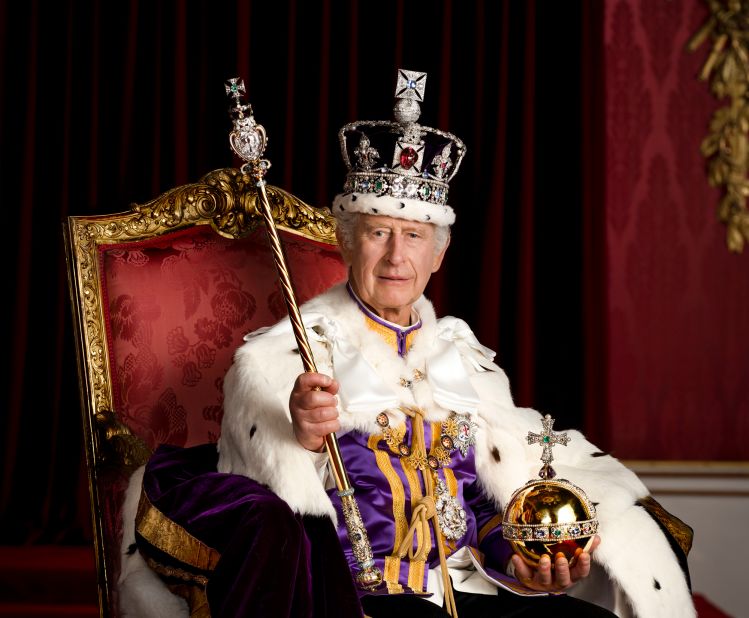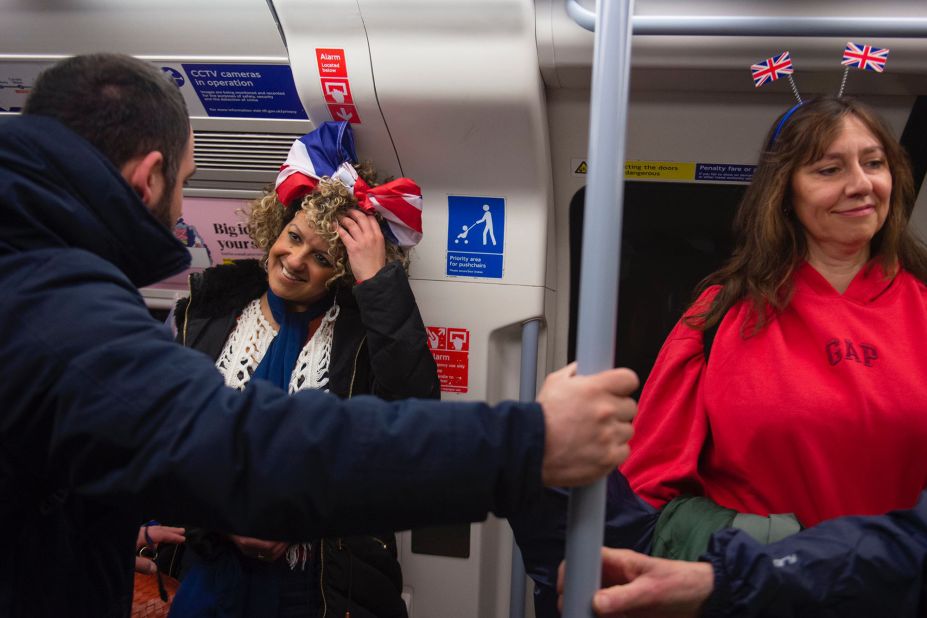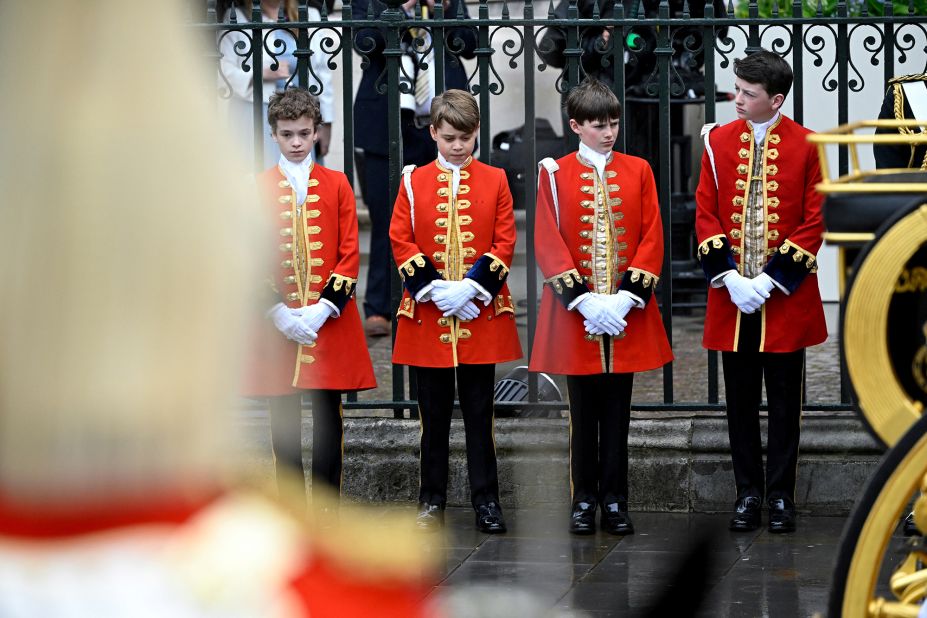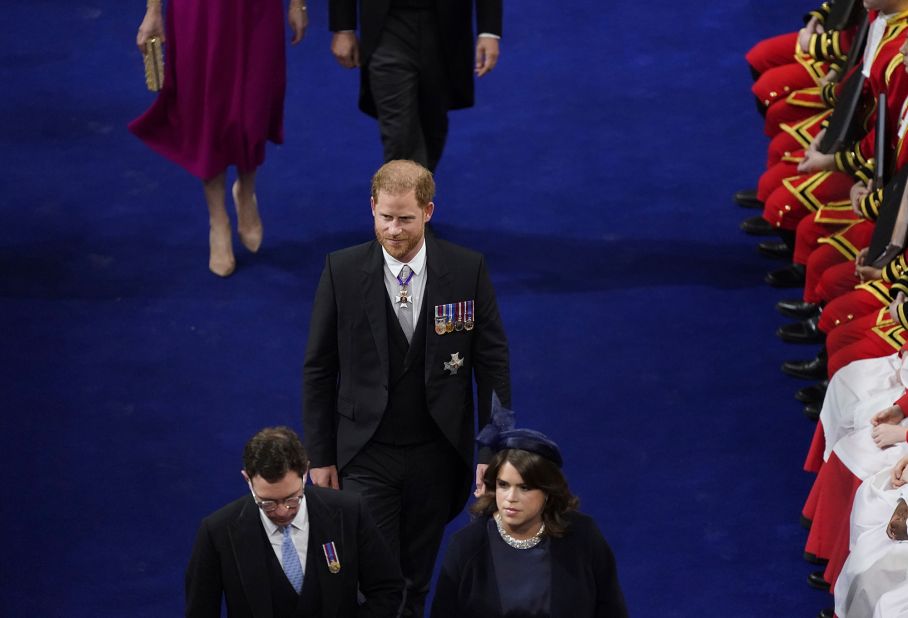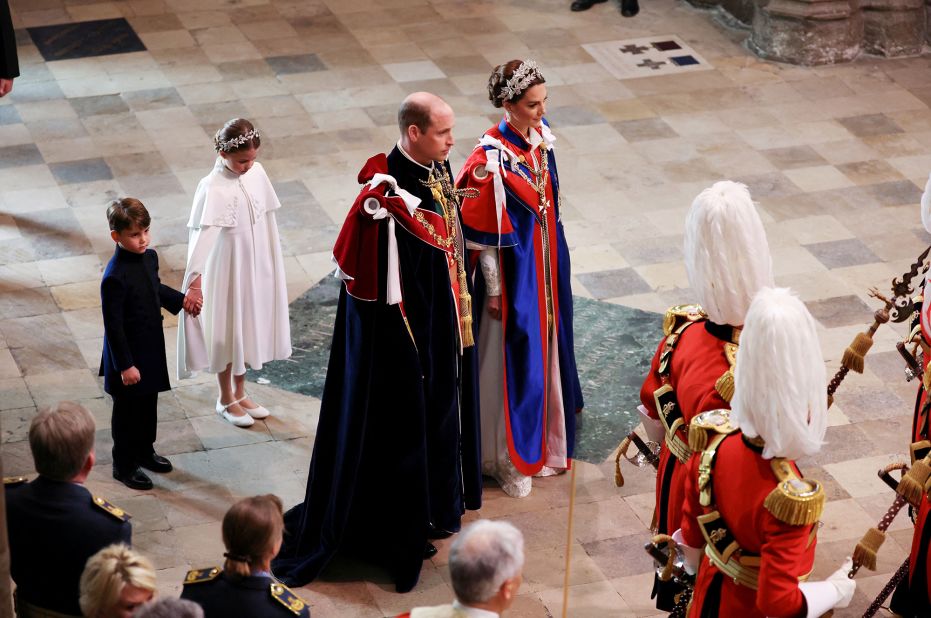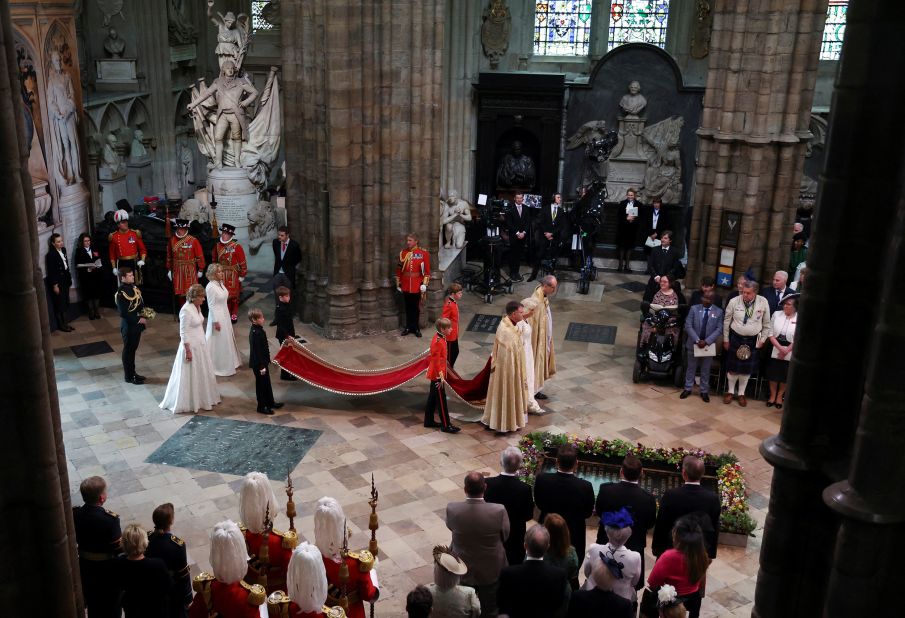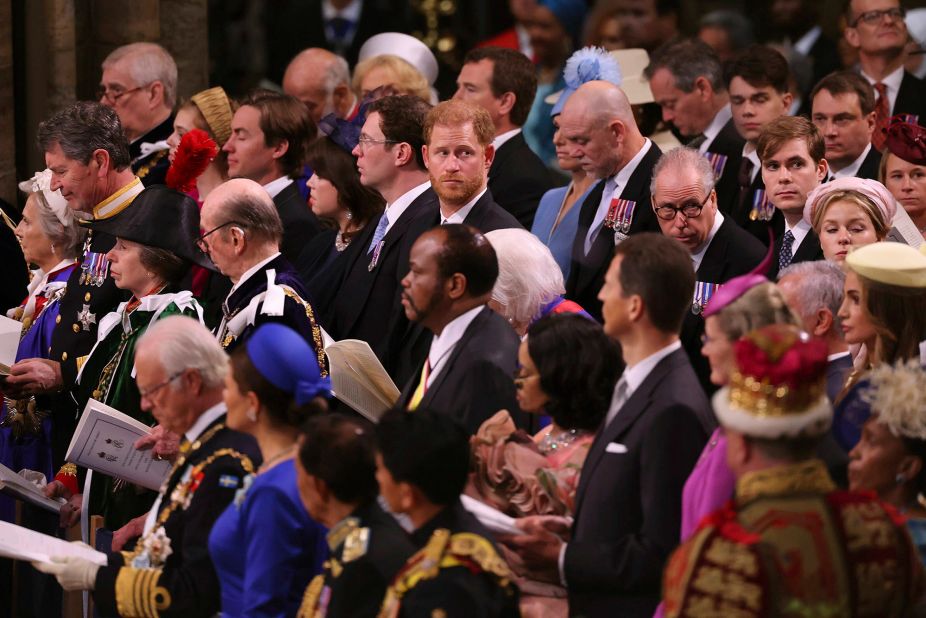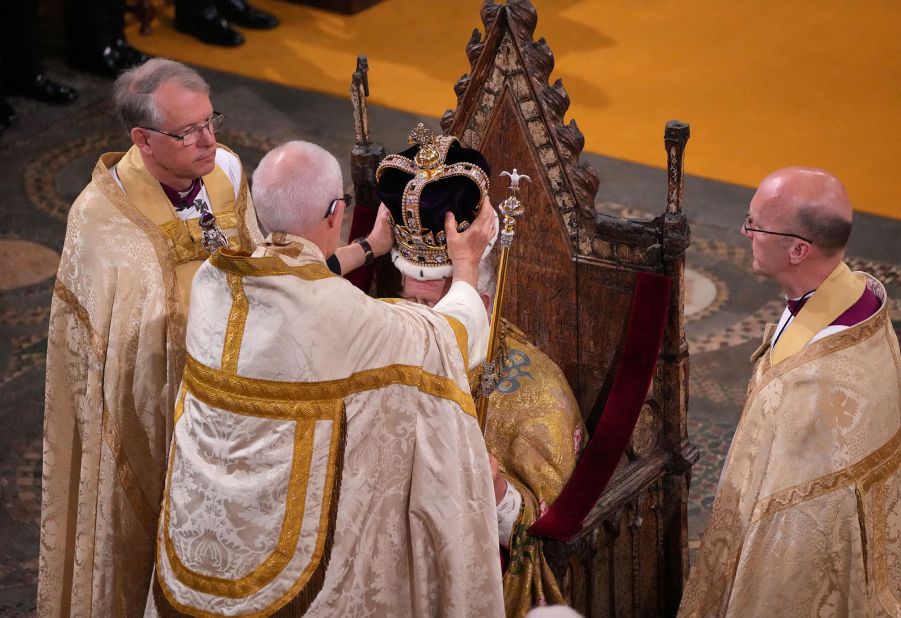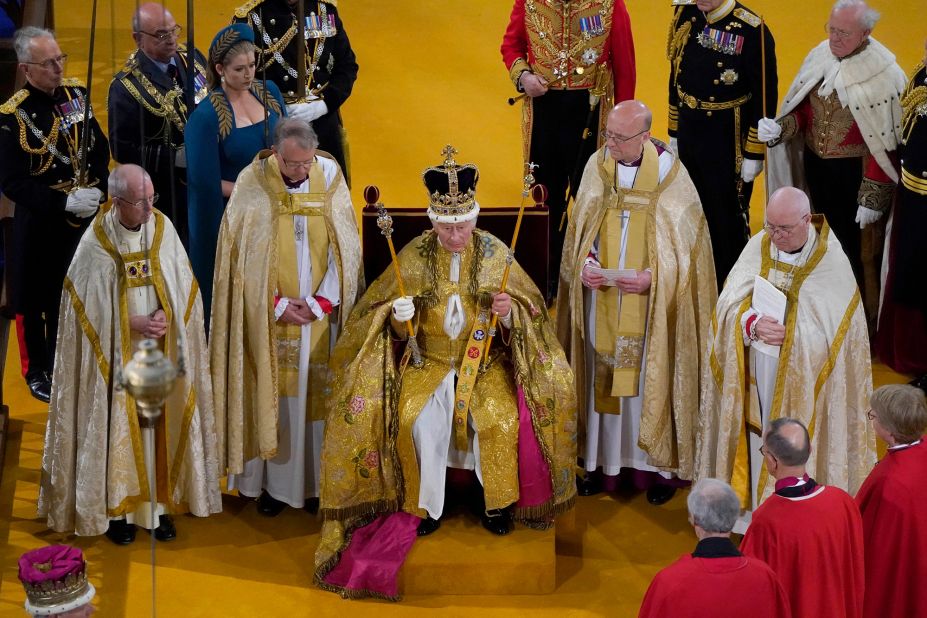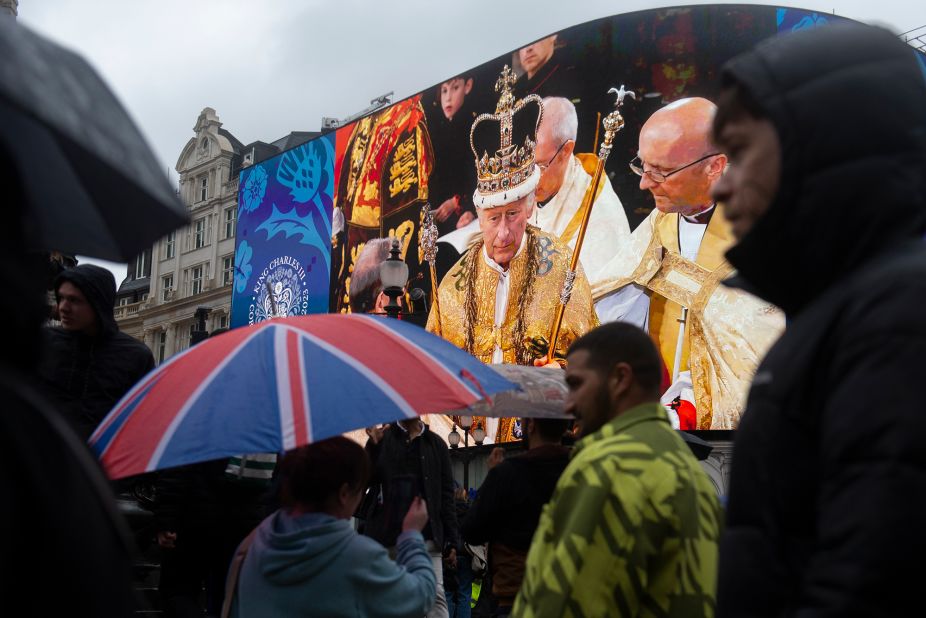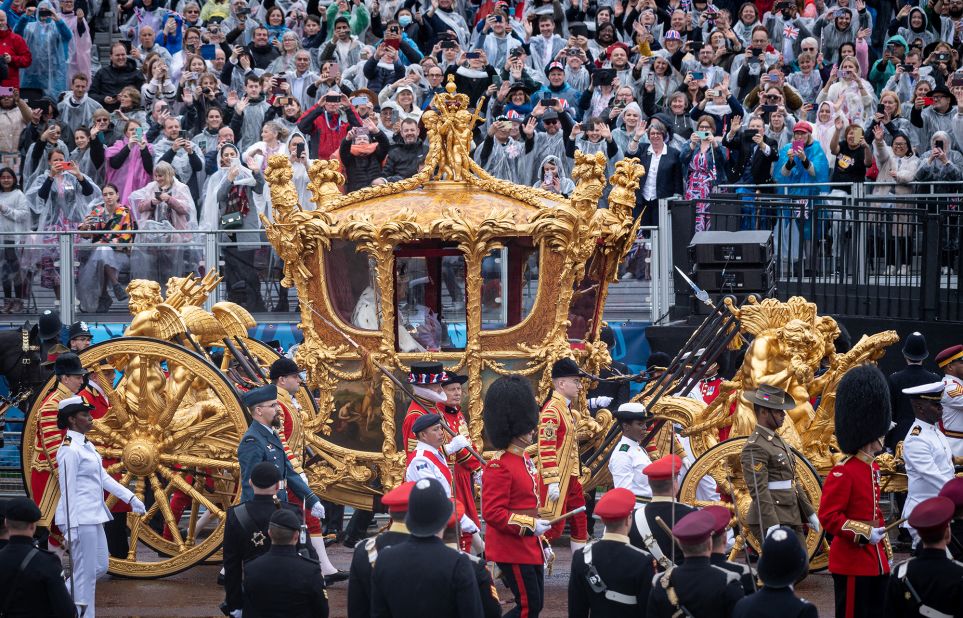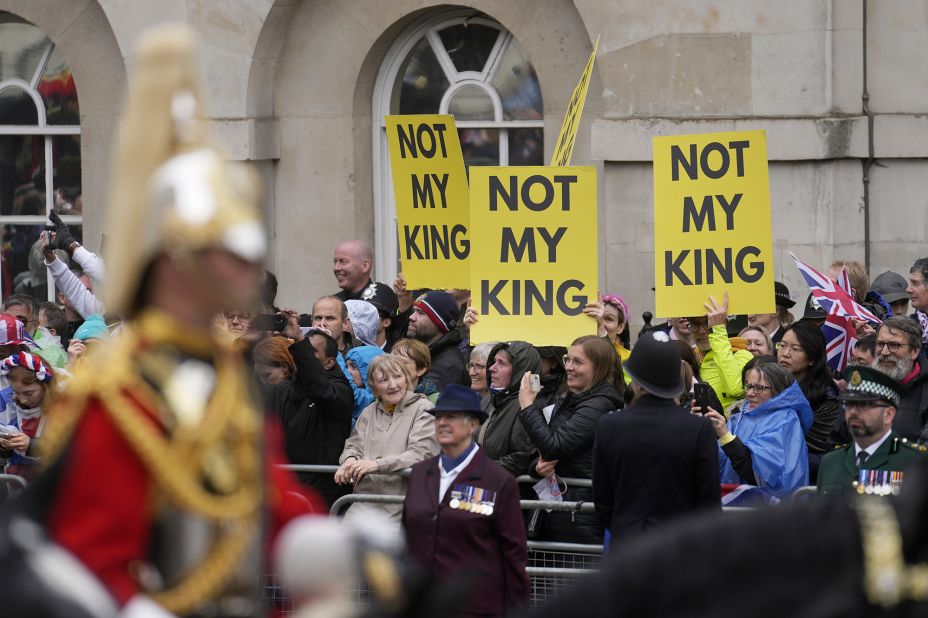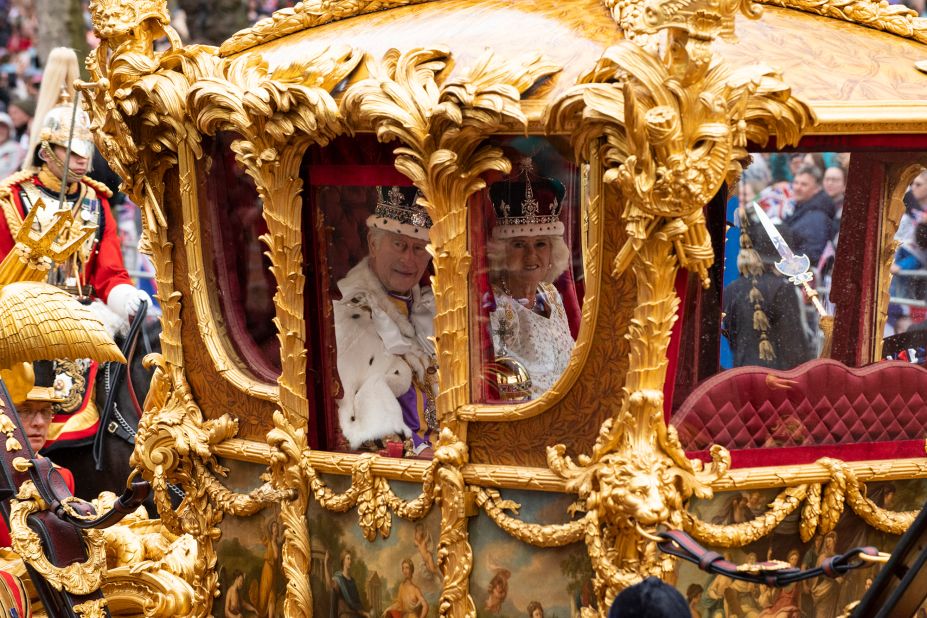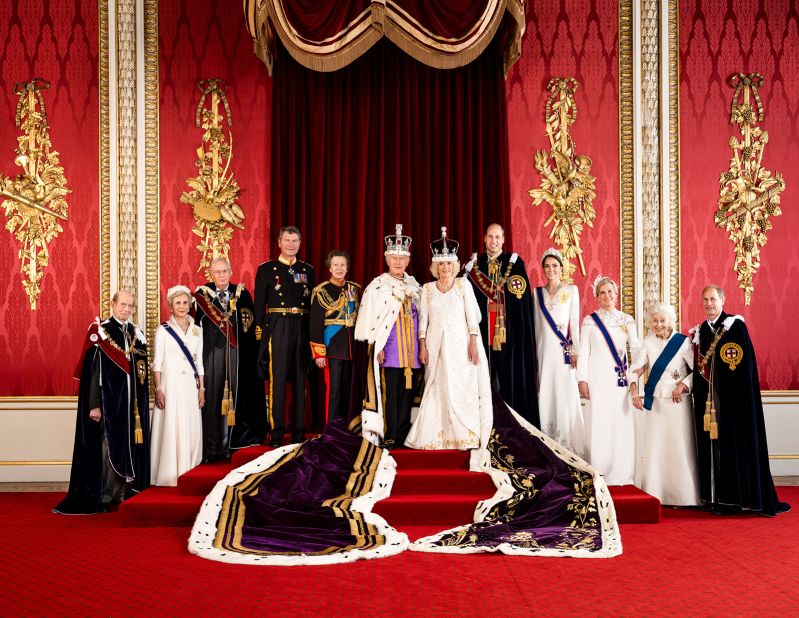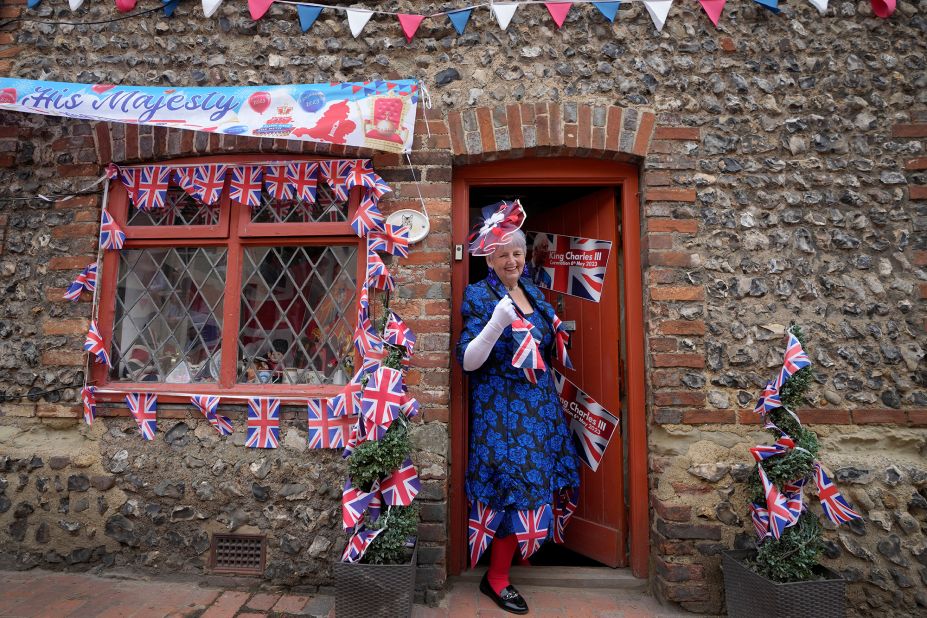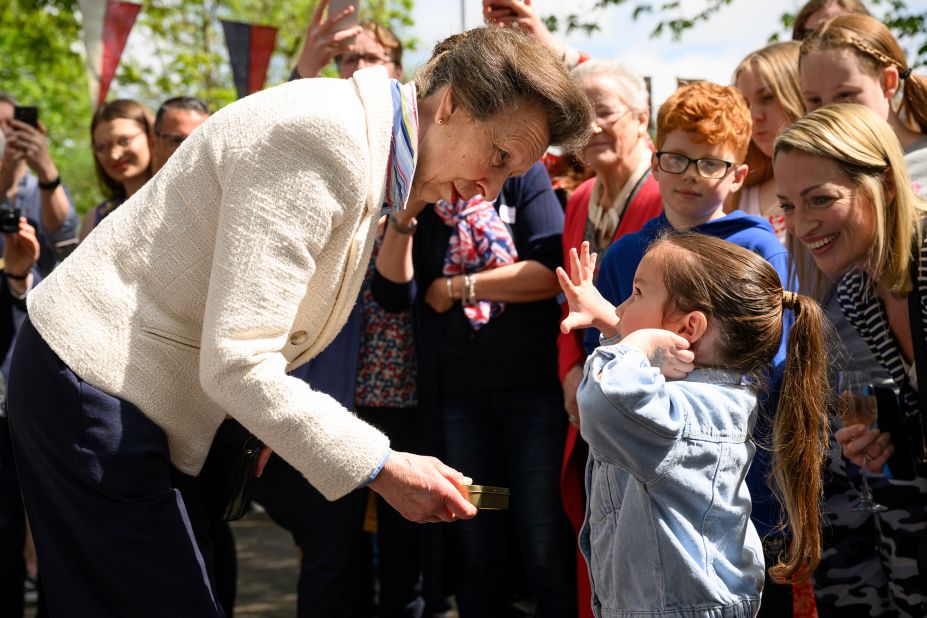 In pictures: The coronation of King Charles III
Sign up for CNN's Royal News, a weekly dispatch bringing you the inside track on the royal family, what they are up to in public and what's happening behind palace walls.
CNN's Stephanie Busari and Niamh Kennedy contributed to this story.