A video of a man experiencing homelessness who later died after being held in a chokehold on the New York City subway has drawn national attention.
Jordan Neely, 30, shouted at passengers that he was hungry, thirsty and tired of having nothing before he was grabbed from behind in a chokehold by a Marine veteran. Neely, a well-known Michael Jackson impersonator in Times Square and on the subway, was pronounced dead at a hospital.
Here's what we know about his death – which has divided a city struggling with mounting homelessness and growing numbers of people with mental illness on the streets and subways:
A fatal encounter on the subway
Neely was killed Monday afternoon, after being held in a chokehold when he got on a train and shouted at passengers.
A witness told CNN Neely did not harm anyone nor did they see him armed with any weapon. Neely was experiencing homelessness, according to a source familiar with his case.
In the minutes before the deadly chokehold, Neely had been "acting erratically," but he did not attack anyone, according to Juan Alberto Vazquez, who recorded the altercation on video.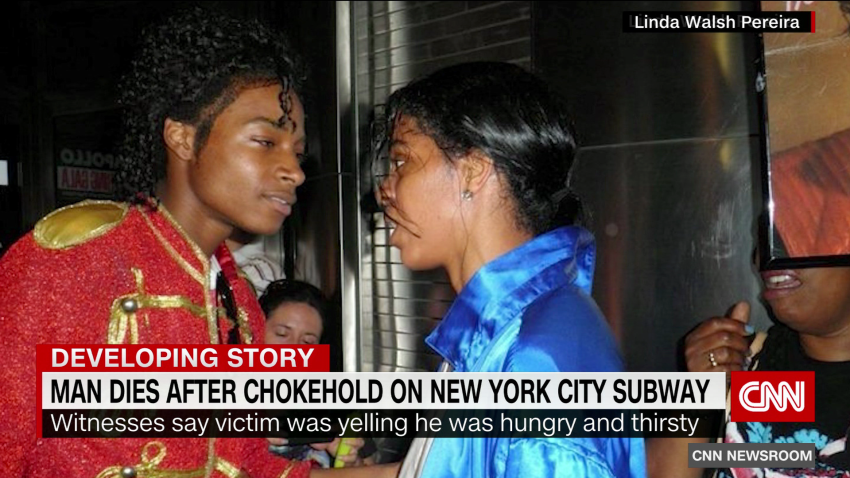 Witness describes chokehold death incident on New York's subway
Neely yelled about being "fed up and hungry" and "tired of having nothing," Vazquez told CNN.
Neely also said, "I don't care if I die. I don't care if I go to jail. I don't have any food … I'm done," according to Vazquez.
At some point, Neely threw his jacket on the train's floor, repeating he was ready to go to jail and get a life sentence, Vazquez said.
Some subway riders moved to other parts of the train car.
Then a rider came up behind Neely and put him in a chokehold, with the two falling to the floor, said Vazquez, who added Neely did not interact with the passenger at all before the attack.
In the video recorded by Vazquez, Neely and the other man are on the floor of a subway car with the man's arm wrapped around Neely's neck.
The two men were on the floor for about seven minutes, said Vazquez, adding he started recording about three or four minutes after the chokehold began.
At some point, two other passengers approached Neely as he was being held in a chokehold. One appeared to be mediating the situation while the other seemed to help the man restrain Neely, according to Vazquez.
After a while, Vazquez noticed Neely stopped moving.
When police arrived at the subway station in Lower Manhattan before 2:30 p.m. Monday, they administered first aid to an unconscious Neely. He was pronounced dead later.
CNN has not been able to independently confirm what happened leading up to the incident or how long Neely was restrained.
Marine veteran has not been charged
The man who put Neely in the chokehold has been identified as Daniel Penny, a 24-year-old Marine veteran from Queens, New York, his attorneys said in a statement Friday night.
He was interviewed by detectives and released, a law enforcement source said, noting the man does not have a criminal record.
Penny is a veteran who served in the US Marines, according to law enforcement and military records. He was a sergeant and served from 2017 to 2021, and his last duty assignment was at Camp Lejeune in North Carolina, military records show.
"Daniel never intended to harm Mr. Neely and could not have foreseen his untimely death," his attorneys said in a statement. "We hope that out of this awful tragedy will come a new commitment by our elected officials to address the mental health crisis on our streets and subways."
Penny has hired a former Republican Manhattan District Attorney candidate to represent him, the attorney's law firm confirmed on Friday.
Attorney Thomas Kenniff, who ran against now Manhattan District Attorney Alvin Bragg in 2021, declined to comment. Kenniff is an Iraq War veteran and major in the Army National Guard whose bid for DA focused on reducing crime and opposing criminal justice reform.
Manhattan DA investigates Neely's death
The Manhattan District Attorney's Office is investigating Neely's death, which has triggered protests in New York City demanding justice in the case.
No charges have been filed.
Manhattan prosecutors were conducting a "rigorous ongoing investigation" into the death, according to Bragg's office.
The death was ruled a homicide, but that classification does not mean there was intent or culpability, which is a matter for the criminal justice system to consider, a spokesperson for the New York City Office of the Chief Medical Examiner said.
"This is a solemn and serious matter that ended in the tragic loss of Jordan Neely's life," Manhattan District Attorney's Office spokesperson Doug Cohen said in a statement.
"As part of our rigorous ongoing investigation, we will review the Medical Examiner's report, assess all available video and photo footage, identify and interview as many witnesses as possible, and obtain additional medical records."
Public outcry and calls for justice
The lack of criminal charges in the case has fueled demands by officials and the community for legal action, as well as protests.
Neely's death comes more than a year after New York City Mayor Eric Adams launched an initiative to combat crime and homelessness in the city's subway system, including a plan to add more behavioral health emergency assistance teams.
When asked about Neely's case and the issue of vigilantism during an interview on CNN Primetime Wednesday, Adams said, "Each situation is different. … We have so many cases where passengers assist other riders. We don't know exactly what happened here until the investigation is through."
Adams said officers were on the scene in six minutes. He referenced his time as a transit officer in New York and said he responded to many calls where passengers assisted others.
"We cannot just blanketedly say what a passenger should or should not do in a situation like that," Adams said.
New York Gov. Kathy Hochul on Thursday said Neely's family "deserves justice."
"I do want to acknowledge how horrific it was to view a video of Jordan Neely being killed for being a passenger on the subway trains," Hochul said at a news conference.
Hochul called the response of the passengers who held down Neely "very extreme" and said the video "was very disturbing to witness." Neely was held down "until the last breath was snuffed out of him," she said.
Jumaane Williams, New York City's public advocate, also called for justice, demanding charges be filed "immediately" against the Marine. The public advocate office helps with complaints involving government-related services and regulations.
On Friday, Williams told CNN charges have not been filed because the victim was homeless and the mayor and other elected officials have not condemned what Williams described as an act of vigilantism.
"I'm concerned that our executives are creating an environment where these things can continue," he said.
"I do want to make clear that you can say vigilantism shouldn't be happening while saying you're not sure what happened," Williams added. "Both of those things can happen at the same time. And we need to hear that."
Williams added, "What if it was the Black homeless man who had choked to death a white Marine because he was scared? We'd probably be having this conversation with him with charges sitting on Rikers Island."
Neely's family retains attorneys
Neely's family has retained the law firm Mills & Edwards LLP to represent them. In a statement Friday, the family's attorney said they are committed to holding accountable the Metropolitan Transportation Authority as well as the person responsible for Neely's death.
"Passengers are not supposed to die on the floor of our subways," attorney Lennon Edwards said in a statement, noting Neely had to wait "too long to go without help, intervention and without air."
Attorney Donte Mills added, "We have people being killed for ringing the wrong doorbell, pulling in the wrong driveway and screaming out in desperation on the subway. We cannot let that stand."
Performer shattered by his mother's murder
After his mother was murdered in 2007, Neely eked out a living as a Michael Jackson impersonator in Times Square and on New York's subways.
But he fell on hard times in recent years, according to a friend and a relative, finding himself living on the street and struggling with the trauma of losing his mother as a teenager.
"He told me about how much his mother's passing impacted him. He disclosed that she was murdered, and her body was put in a suitcase," Moses Harper, an artist who knew Neely, told CNN.
Harper and Neely became friends after meeting in 2009. Neely eventually opened up to her about the loss of his mother.
"It traumatized him. He was not expecting that, the brutal way she was taken. That had a big impact on him. The brutality behind that," Harper told CNN. "This kid has cried in front of me. That hurt him in his heart."
In 2012, a New Jersey man was sentenced to 30 years in prison for the 2007 murder of Christie Neely in their home and "dumping her body in a suitcase in the Bronx," according to the Jersey Journal.
Harper said she last saw Neely in 2016. She ran into him on the subway and could tell he was living on the street. He was asking passengers for money and food.
"I had never seen him like that before," she said.
Neely's face lit up when he looked at her that day but he kept walking, apparently ashamed to be seen in such a dire state. She got up and pulled him off the train at the next station.
"I hugged him and wrapped him up like he was my little brother. And I told him, 'Don't ever be ashamed,'" Harper recalled.
Neely walked with Harper to her building but refused to come up, she said. He told her about "his struggles and challenges" and she gave him her number.
It was cold that day, Harper said, and she gave him one of her shirts. They exchanged "another big hug," she recalled, and she "never saw him again."
Harper, who described Neely as a kind and sweet soul, said people from around the world have been reaching out to her about his death.
In the years after losing his mother, Neely began experiencing "some hard times" before high school ended, said Melyssa Votta, a high school friend.
"He was jumping from house to house," she told CNN.
Neely had a series of run-ins with New York police, a law enforcement source told CNN – including 42 arrests on charges ranging from petty larceny, jumping subway turnstiles, theft, and three unprovoked assaults on women in the subway between 2019 and 2021.
Through it all, Votta said, Neely was "always a dancer" and "a really good kid."
"He's very well known on the Internet," said Votta, noting she, too, has been contacted by people around the world since Neely's death.
Carolyn Neely set up a GoFundMe page for her nephew, describing him as "a very talented Black man who loves to dance."
"Performance was his thing," she wrote.
CNN's Artemis Moshtaghian, Kristina Sgueglia, Sharif Paget, Aya Elamroussi, John Miller, Jason Carroll, Brynn Gingras, Laura Ly, Maria Santana, Omar Jimenez, Nicole Grether, Elizabeth Hartfield, Haley Britzky, Paul P. Murphy, Gloria Pazmino and Zenebou Sylla contributed to this report.