Britain's Chief Rabbi, Ephraim Mirvis, will walk to King Charles III's coronation, in keeping with Shabbat laws as the ceremony takes place on a Saturday, the Jewish Sabbath and day of rest.
"(The King and Queen) are being exceptionally gracious in order to make it possible for me to walk to (Westminster) Abbey on our Shabbat, because we don't go in vehicles," he told CNN's Bianca Nobilo in an interview on Friday. "So (they) have invited us to be their guests in St. James' Palace over the Sabbath."
St. James' Palace is about 15 minutes' walk from Westminster Abbey, where the coronation will take place.
As well as refraining from using vehicles during Shabbat, Jews also observe a "digital detox," as the Chief Rabbi put it.
So when he participates in the ceremony, "there won't be any microphones in front of us," he said, adding: "They actually informed us of the fact that they would be preparing that and we respect that enormously."
Mirvis' role in the ceremony marks the first time that faith leaders from all of Britain's major religions will be included in a coronation, which has traditionally been a solely Christian service.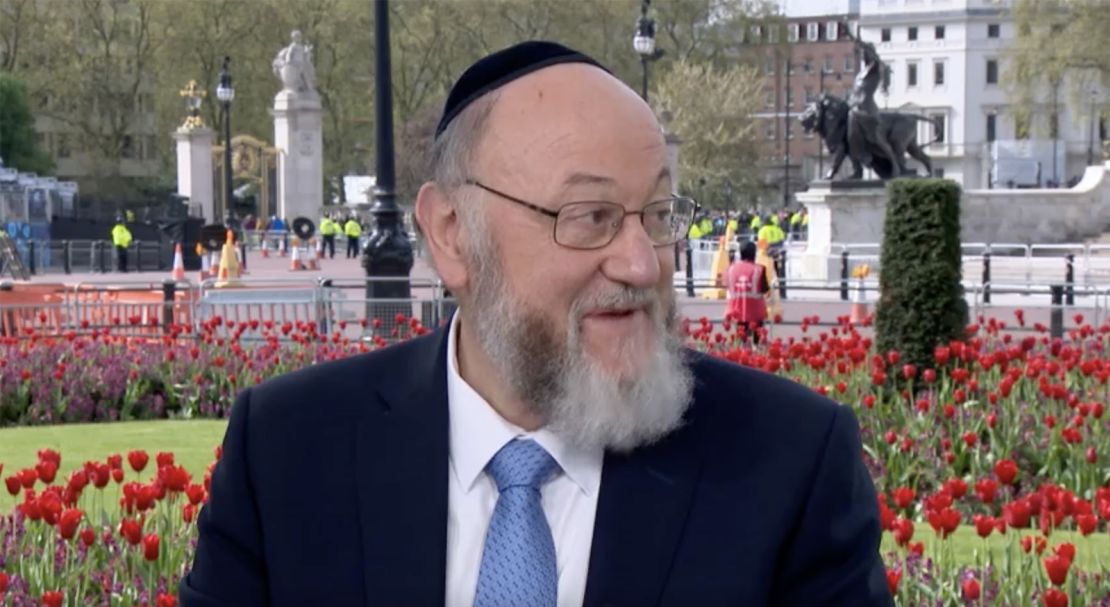 While the Archbishop of Canterbury will conduct the ceremony and anoint Charles with holy oil, the Chief Rabbi said he will be part of the procession entering Westminster Abbey and will give the newly crowned king a blessing.
"After the religious service is over, I, together with four other faith leaders, will be forming a line, the king will stand in front of us, and we will give him a blessing and greetings," he said.
"He will acknowledge that. It's historic and is exceptionally powerful and much appreciated," Mirvis added.
Although the monarchy is steeped in Christianity – the sovereign is also the head of the Church of England – the Chief Rabbi praised Charles' "wonderful sensitivity" and inclusion of other faiths.
"First of all, (Charles) is saying the right thing," he said. "But what's more impressive is he's actually carrying it out, he is implementing that. I come across him often, it is exceptionally genuine. He cares about all other faiths, and he wants to do his best and therefore, we're now into a wonderful era, which sends a very powerful message right around the globe."
Mirvis added that the Jewish community in the UK will be recording the coronation to watch it once Shabbat is over, while special prayers will be recited in synagogues both in Britain and around the Commonwealth.
Sign up for CNN's Royal News, a weekly dispatch bringing you the inside track on the royal family, what they are up to in public and what's happening behind palace walls.