Thousands of people are planning to line the streets of London this weekend to witness the coronation of King Charles III. The festivities, however, may be dampened by "unsettled" weather, with numerous showers and thunderstorms in the forecast, officials said.
Here's what else you need to know to Get Up to Speed and On with Your Day.
(You can get "CNN's 5 Things" delivered to your inbox daily. Sign up here.)
1. Atlanta shooting
The suspect in the deadly shooting at an Atlanta medical facility was arrested Wednesday night inside a gated condominium complex in Cobb County, about 11 miles from the scene. One person was killed and four others were injured, three critically, after a man became agitated during a visit to Northside Medical Midtown and opened fire, police said. He was accompanied by his mother, who was not injured. Police have identified the suspect as a 24-year-old former Coast Guardsman who was discharged from active duty in January of this year. He had minimal contact with the police department before the shooting, officials said. The victim who died was identified as a CDC employee, the agency confirmed to CNN.
2. Inflation
The Federal Reserve announced its 10th-straight interest rate hike on Wednesday as it aggressively attempts to lower inflation. The Fed raised its benchmark rate by another quarter of a point and hinted a pause could come as soon as next month. Fed Chair Jerome Powell emphasized that US banking conditions have improved since early March when the country saw some of the biggest bank failures since 2008. But the Fed expects that as a result of the banking system turmoil, credit will continue to tighten for households and businesses, which would slow the economy.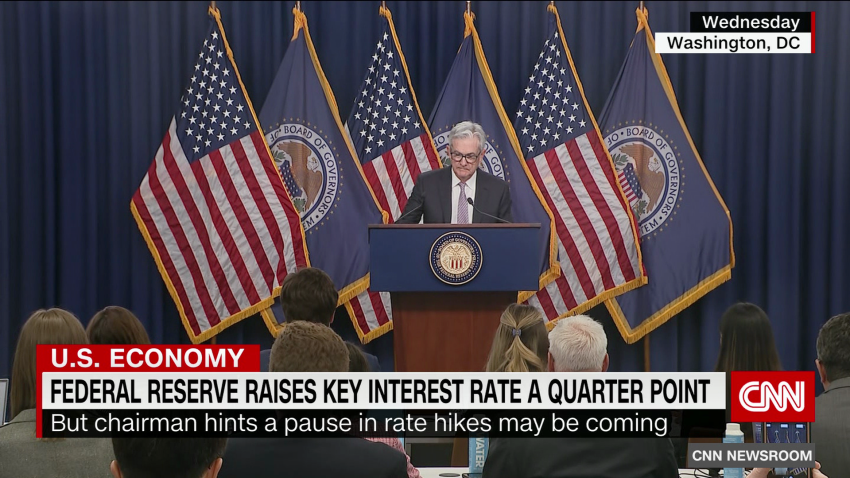 U.S. Federal Reserve raises rates
3. Ukraine
Russia overnight unleashed its most intense attacks on Ukraine in more than a year, Kyiv's military chief said. Over the past several days, missiles and drones have hit the region, killing 23 people on Wednesday alone in the southern city of Kherson and its surrounding villages, according to the Ukrainian military. The barrage came after Moscow accused Ukraine of attempting to assassinate Russian President Vladimir Putin in a drone strike at the Kremlin overnight on Wednesday, allegations Kyiv has vehemently denied. Amid the intensifying conflict, Ukrainian President Volodymyr Zelensky said during a speech today at the International Criminal Court that Russian President Vladimir Putin "deserves to be sentenced" for Moscow's invasion.
Russia unleashes intense airstrikes against Ukraine after claiming Ukraine fired drones at Kremlin
4. Electric vehicles
The powerful United Auto Workers is holding off on endorsing President Joe Biden's reelection bid, citing concerns over his policies that would encourage a transition to electric vehicles, according to a memo from the union. The UAW has more than 400,000 members, and Biden has touted its support in the past. Last year he called American autoworkers "the most skilled autoworkers in the world." The group's membership is mostly concentrated in Michigan, a presidential battleground state. Biden has endorsed policies meant to significantly transition the nation's vehicles from gasoline to electric, including rules from the EPA that would ensure two-thirds of new cars sold in the US are electric by 2032. But autoworkers are expressing concern the transition could hurt them because electric vehicles are easier to assemble.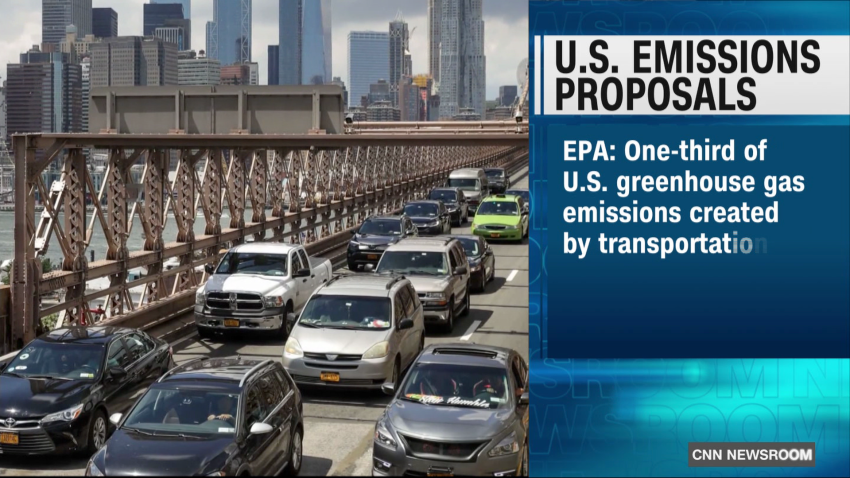 U.S. EPA unveils new emissions standards to push electric vehicle production
5. McDonald's
Three McDonald's franchisees in Kentucky are facing hefty fines for violating child labor laws. The penalties, exceeding more than $200,000 combined, come after two 10-year-old children were found working at a Louisville McDonald's restaurant — sometimes until 2 a.m. — an investigation by the US Department of Labor revealed. The agency said the three franchisees that own more than 60 McDonald's locations in Kentucky, Indiana, Maryland and Ohio "employed 305 children to work more than the legally permitted hours and perform tasks prohibited by law for young workers." A spokesperson for Mcdonald's condemned the alleged underage employment, saying the reports are "unacceptable, deeply troubling and run afoul of the high expectations" upheld by the fast food chain.
BREAKFAST BROWSE
Google rolls out an alternative to the password
Are you bad at picking passwords? Or maybe you use the same one for multiple devices and websites? Google hopes to end that with the introduction of passkeys.
Astronomers observe star swallowing planet for first time
The planetary demise took place 12,000 light-years away from Earth — a fate that eventually awaits our planet in about 5 billion years, researchers say.
Europe enters the hypersonic plane race
Frankfurt to Dubai in 90 minutes? Yes, please. A startup company is hoping to operate commercial flights at five times the speed of sound by the 2030s.
Jamie Foxx thanks his followers 'for all the love' as he recovers from 'medical complication'
The actor is speaking out for the first time since being hospitalized last month due to an undisclosed "medical complication."
How long will the writers strike last?
Analysts say it could be a very long and painful strike if viewers are satisfied watching the large selection of existing content on TV and streaming services.
IN MEMORIAM
Olympic gold medalist and two-time world champion in track and field, Tori Bowie, has died. She was 32. The American sprinter and long jumper was a "rare athletic talent who represented the United States in both sprints and jumps during her decorated career," World Athletics told CNN. The cause of her death is not yet known.
TODAY'S NUMBER
35%
That's how much an Alzheimer's drug was able to slow cognitive decline in some clinical trial patients, marking a promising step in the fight against the disease. Drugmaker Eli Lilly said it plans to file for FDA approval for the medicine, donanemab, by the end of June. Alzheimer's affects more than 6 million Americans, with about 2 million people over 65 in the early stages of the disease, according to Lilly.
TODAY'S QUOTE
"If you want to change the game, you can't just work from the outside. You've got to get inside."
— Former first lady Michelle Obama, announcing Wednesday that she's launching a healthy food and beverage company for kids to help combat the "nutrition-related health crisis" in the US. Obama expressed confidence that her company, PLEZi Nutrition, will "transform the entire food industry" with its products that contain a fraction of the sugar compared to other leading snacks and juices.
TODAY'S WEATHER
Check your local forecast here>>>
AND FINALLY
May the 4th be with you!
Today is "Star Wars" Day, the unofficial holiday when fans express their love for the franchise (and notably, Baby Yoda). In honor, listen to this man explain what it was like to play a stormtrooper in two of the iconic 1980s films, episodes V and VI. (Click here to view)