Amid promises from Texas' governor to pardon an Army sergeant convicted of murdering a protester at Black Lives Matter rally, a judge rejected a request from the defendant's legal team for a new murder trial.
Daniel Perry, a White man, shot and killed Garrett Foster, who was also White, at a racial justice rally in Austin in July 2020 held in the wake of a national reckoning on policing in America following the murder of George Floyd in Minneapolis.
"Our office continues to stand by the jury's unanimous decision to convict Daniel Perry for the murder of Garrett Foster," Travis County District Attorney José Garza said in a written statement Wednesday.
Perry, an active-duty soldier who was stationed at Fort Hood, initiated the encounter by running a red light and turning his vehicle into a crowd gathered at the protest, prosecutors said, where he then shot Foster, who had been holding a rifle. Perry's legal team argued his actions were justified as self-defense.
Shortly after Perry's April 7 conviction, Texas Gov. Greg Abbott said he wanted to pardon Perry and issued an unusual request for the state Board of Pardons and Paroles to expedite a review of the case before a sentence is even handed down.
"I am working as swiftly as Texas law allows regarding the pardon of Sgt. Perry," the Republican governor said in a tweet after the conviction. "Texas has one of the strongest 'Stand Your Ground' laws of self-defense that cannot be nullified by a jury or a progressive District Attorney."
The governor may only pardon Perry if the state Board of Pardons and Paroles recommends it, according to Texas law.
Perry is scheduled to be sentenced next week.
"We look forward to Mr. Perry's sentencing on Tuesday so that the family of Mr. Foster may continue to heal," Garza said.
Clint Broden, Perry's attorney, told CNN on Wednesday, "Our focus will be on preparing for the sentencing hearing."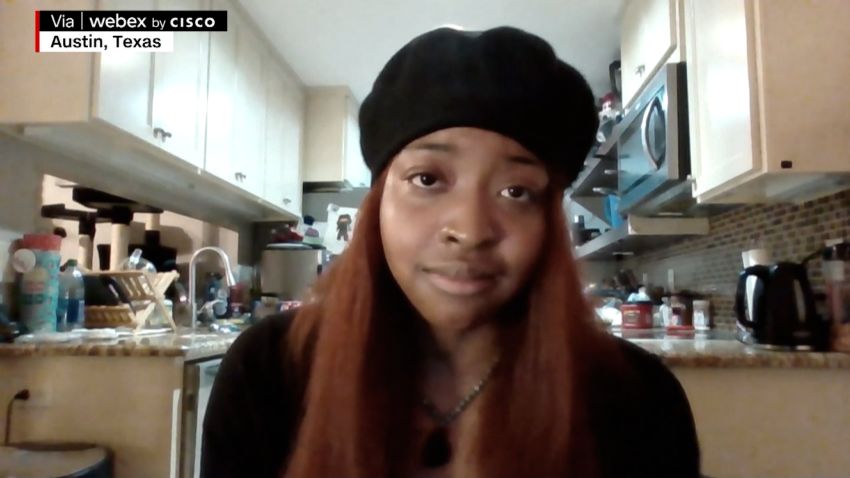 Hear fiancée of killed BLM protester recall moment of loved one's death
Racist comments revealed
Prior to the fatal shooting in 2020, documents in the case against Perry show he had a yearslong history of making racist comments in messages and social media posts, which were unsealed by a Travis County judge last month.
In a Facebook message from May 2020, just weeks before the shooting, Perry told a friend he "might have to kill a few people" who were rioting outside his apartment.
The documents also contain a May 2020 text sent by Perry that said, "I might go to Dallas to shoot looters." Some messages included "white power" memes.
In a post dated June 1, 2020, Perry said, "It is official I am a racist because I do not agree with people acting like animals at the zoo. I was on the side of the protestors until they started with the looting and the violence," the documents show.
A racist comment from Perry on the same day compared the Black Lives Matter movement to "a zoo full of monkeys that are freaking out flinging their sh*t," the documents show.
Perry shared his views online as the US underwent a racial reckoning after the horrific killing of Floyd by a police officer who kneeled on the Black man's neck for several minutes as he struggled to breathe. The killing, caught on video and posted online, triggered nationwide and global protests against the brutality Black Americans face at the hands of police.
Broden, Perry's attorney, criticized the releasing of the documents in a statement to CNN, calling it a political decision by prosecutors. Broden said Foster also made social media posts advocating for violence and supporting riots, most of which can't be made public due to Texas discovery rules.
Following the release of the documents, Abbott's office indicated there would be no change of position regarding his call for a pardon.
"All pertinent information is for the Board of Pardons and Paroles to consider, as this is part of the review process required by the Texas Constitution," Renae Eze, an Abbott spokesperson, told CNN in a statement.
CNN's Taylor Romine, Ashley Killough, Ed Lavandera and Alisha Ebrahimji contributed to this report.