There's good news on the inflation front: Annual price growth fell to its lowest pace in nearly two years, the Commerce Department reported Friday.
But for consumers, the lengthy spell in the crossfire of persistently high prices and rising interest rates has taken its toll.
Inflation-adjusted consumer spending was flat in March, marking the fourth time in five months that expenditures held steady or declined. The pattern makes January's spending burst look more and more like a one-off spurt.
"The consumer engine is sputtering," said Gregory Daco, chief economist at EY.
A softening has been expected just given the current economic conditions, coupled with a natural recalibration from post-lockdown splurges. However, economists say it is unclear whether this consumer "retrenching" is a return to more typical spending patterns or a perhaps a harbinger of a recession.
"The full effect of recent banking-sector turmoil and the associated tightening in financial conditions has yet to be felt," Daco noted. "Further deterioration in the job market — the last remaining leg propping up the consumer — is bound to accelerate the downshift in consumer spending in the coming months. This should lead to the emergence of recessionary conditions by midyear."
Consumers continue to shell out for experiences, be they pricey concert tickets, trips, or restaurant visits, said Amanda Belarmino, assistant professor of hospitality at the University of Nevada Las Vegas. At the same time, they're cutting back elsewhere, holding back on those big-ticket items, trading down to private label and lopping off some of the in-home subscription services.
"It seems like consumers are continuing to make these trade-offs of what they find more valuable," she said.
The balanced duality of hot dogs and architecture
On the corner of West 72nd Street and Broadway in Manhattan, a longtime hawker of hot dogs is having its best spring in its 50-year history.
Gray's Papaya, known for its economical franks and a "Recession Special" that has persisted through even the best of times, has found itself in an opportune place during a period when consumers are spending more on experiences but also seeking out comforts and deals amid high inflation.
The hot dog restaurant has been hit by rising prices, like everyone else, but there has been a concerted effort to hold off as long as possible in passing those costs along to customers, co-owner Rachael Gray said.
"We have not raised our prices in seven or eight years, and I'm committed to not raising prices right now," she told CNN. "I think people need a spot out there that they can go to and get something hearty for not a lot of money."
The "Recession Special" — launched by Gray's husband, Nicholas, in the early '80s as a tongue-and-cheek retort to the economic downturn of the time — is still going strong, although the original $1.95 deal hasn't been immune to inflation. The combo meal, which consists of two franks and a medium tropical drink for $6.95, remains a top-seller, accounting for at least half of overall sales, Rachael Gray said.
"He said he thought it would bring some attention to the store, which it did immediately," she said. "And he kept it ever since. Through some of the greatest economic booms we've seen, we've had the recession special."
The original special is now joined by two others, a one-dog and three-dog deal that account for nearly another third of sales.
But during the downturns, the O.G. special earns its keep. Gray's Papaya typically holds its own during a recession.
As such, Rachael Gray is keeping close watch on the yang to the Gray's Papaya yin: Her architecture practice.
"When the economy goes into recession, my architecture business kind of slows down, his hot dog business speeds up," she said. "And vice versa: When we're in a boom, my architecture practice does really well, and his is kind of stable."
Recently, Gray's architecture business is slowing down, she said, noting the activity appears to be easing toward a more typical flow than the breakneck pace seen post-pandemic.
"We're kind of back to a more normal, sustainable pace, but there is concern," she said. "I am concerned that it's going to slow down more than we want it to."
'A recessionary mindset'
Overall inflation may be easing, but the persistence of high "core" inflation — excluding food and energy — is a drag on consumers, said Sofia Baig, an economist with polling and analysis firm Morning Consult.
"When we look at core inflation, especially core services inflation, it's still pretty high," she said. "It's moderated slightly, but definitely not as much as that top line number. So we're still seeing pretty high prices for services, including airfare, education, restaurants, things like that, and it's definitely weighing on the consumer."
Morning Consult's latest consumer spending inflation report, released earlier this week, found that real consumer spending sank in March, Baig said. Americans remain price-sensitive and are more likely to trade down in their purchases — or even walk away from them — but also appear to be prioritizing saving and paying down debt.
High inflation on consumer packaged goods (CPG) has plagued consumers for three years, said Carman Allison, vice president of thought leadership North America for NIQ, the consumer analytics company formerly known as NielsenIQ.
As of the week that ended on April 1, CPG prices were up 8.8% year over year, NIQ data shows. That's a noticeable decline from the 12.2% pace seen last fall, but remains well above the typical range of 2% to 3%.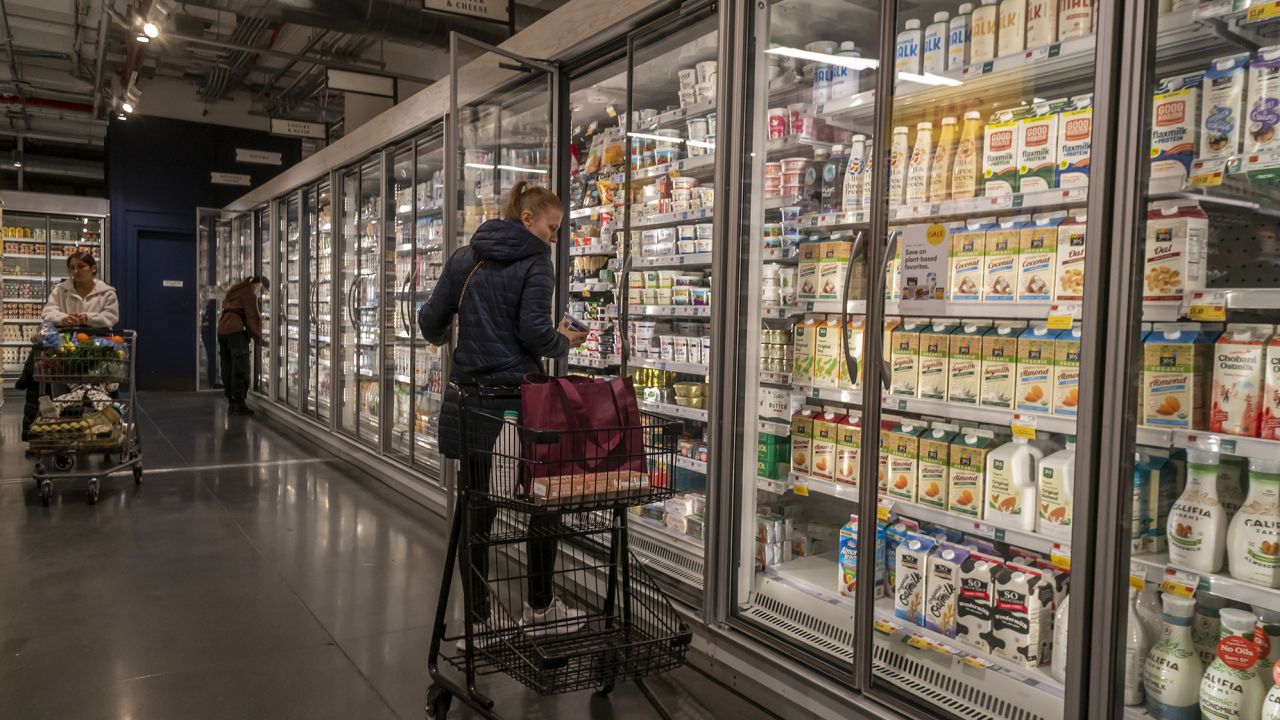 By Allison's estimates, consumers are spending $136 now for the same basket of goods that would have cost $100 in 2019, and they're changing shopping behaviors as a result.
Private label items' share of overall consumer packaged goods sales hit a record-setting 19.4% in the first quarter of this year, up 11 percentage points from the year before, he said.
Private label growth is one of six indicators that Allison tracks to determine a consumer recession. When reviewing activity within the half-dozen categories of private label purchases, falling consumer sentiment, higher inflationary pressures, shifts to value retailers, buying on promotions and contracting consumption, Allison's consumer recessionary gauge measured 73 out of 100 in the first quarter.
It increased 17 points from the previous quarter, he said.
"If you ask the economists, 'Are we in a recession?' they're going to say 'No, we're not in a recession,'" he said. "But we know that the way consumers are shopping and the way they're adjusting to the rising cost of living is a recessionary mindset."