Britain's pubs, restaurants and retailers are gearing up for a roaring trade from celebrations to mark the coronation of King Charles III. But the UK economy as a whole could suffer as workers take an extra day's holiday.
The historic event could help give an instant lift to sentiment and spending in an economy beset by strikes, stubbornly high inflation and falling living standards. UK gross domestic product is expected to shrink by 0.3% this year, logging the worst performance of any major developed economy, according to the International Monetary Fund.
"Retail sales are usually boosted by large national events," said James Hardiman, a senior analyst at the British Retail Consortium. "Given the King's coronation will be such a historical event, we expect an even larger uptick."
Last year, grocery sales through the week to June 5 — the period that included celebrations for the late Queen Elizabeth's Platinum Jubilee — were £87 million ($108.7 million) higher compared with the average week in 2022, according to Kantar data.
As in June, UK retailers have come up with a vast array of mementos to mark Britain's first coronation in 70 years — from commemorative biscuit tins, teddy bears and tote bags to candles, cushions and teacups. The ceremony will take place in Westminster Abbey on May 6.
Mars Wrigley's Celebrations brand, known for its collection of mini chocolate bars, has made a life-sized bust of King Charles featuring some of its most iconic chocolates, including Maltesers Teasers, Milky Way and Twix.
Marks & Spencer, a major supermarket and clothing chain, expects to sell more than 1 million commemorative tea and shortbread tins, as well as 255,000 meters (279,000 yards) of its "Union Jack Coronation Bunting," for thousands of street parties planned across the country. Grocery stores such as Tesco (TSCDF) and Waitrose are selling coronation-inspired cakes, sandwiches, shortbread and sausage rolls.
Department store John Lewis has had to limit in-store purchases of its Coronation Lewis Bear to two per household, and the teddy is out of stock online.
"The demand for our Coronation Lewis Bear has been extraordinary, and now that our full Coronation Collection has launched online and in store, we're seeing a real buzz from customers who are looking forward to celebrating the occasion," said Jason Billings-Cray, seasonal buyer for the company.
For those with deeper pockets looking for something a little splashier than a soft toy or cookie container, British luxury goods brands have also seized the marketing opportunity.
Boodles, a family-owned jeweler, has launched a one-of-its-kind Coronation Gemini ring, costing £395,000 ($496,000) and featuring two stones from the South African mine that produced the Cullinan Diamond, which is incorporated in the Crown Jewels. Deakin & Francis is selling £340 ($425) sterling silver Coronation cufflinks; and Hackett London is offering a £74 ($92) Coronation pocket square.
British luxury goods brands have long benefited from an association with the monarchy, said Helen Brocklebank, the CEO of Walpole, the UK sector's industry association.
For the coronation, UK luxury brands "have procured unique merchandise at all levels of the economy and we're seeing people buying it, particularly Americans and EU customers," she added.
"The power of royal influence is really important for brands," she told CNN.
A $1 billion hit to GDP?
The royal occasion will also deliver a crucial boost to the UK hospitality sector, which had barely recovered from the Covid pandemic when it was hit by soaring food and energy costs.
A third of hospitality businesses say they are at risk of failure within the next year, according to a recent survey by industry body UKHospitality.
"The coronation is a really helpful moment in time. It could give that boost to confidence," said CEO Kate Nicholls. "I think there is a lot of excitement. It is a rare event. Lots of people will want to come together in their local pubs, bars and restaurants."
In London, hotel occupancy over the coronation weekend stands at 96%, according to Nicholls.
The Centre for Economics and Business Research estimates a £337 million ($420 million) boost from extra tourism and spending in pubs over the three-day weekend, which includes an extra public holiday on May 8.
"British brewers and pubs are preparing to mark this momentous occasion by hosting special events, brewing limited edition beers and taking advantage of extended opening hours across the long weekend," Emma McClarkin, CEO of the British Beer and Pub Association said in a statement.
VisitEngland, a tourism body, estimates that the boost from increased domestic travel over the weekend will be much higher at £1.2 billion ($1.5 billion).
On the other hand, a survey in March of 105 tourism businesses by UKinbound, a trade association, found only 16% reported an increase in bookings by international visitors related to the coronation or the final of the Eurovision Song Contest, which takes place in Liverpool on May 13.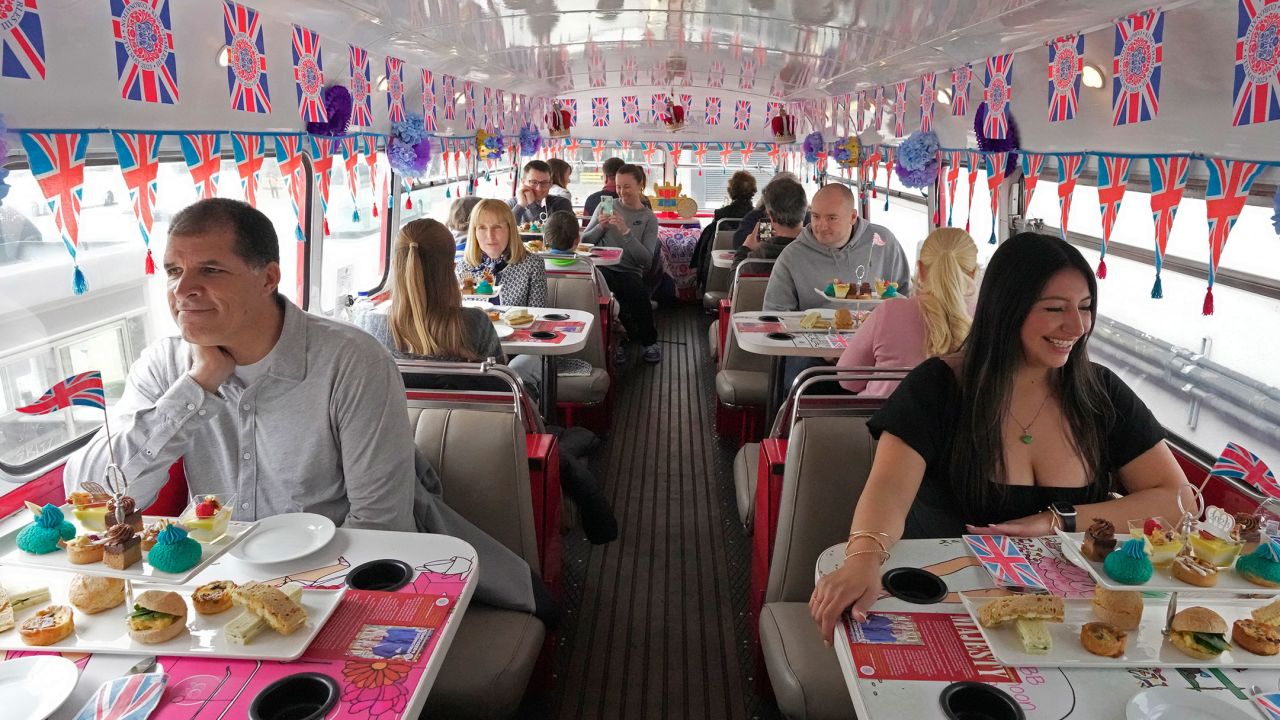 Meanwhile, the cost to taxpayers of the glitzy event has been criticized, particularly amid a cost-of-living crisis that is forcing a growing number of Brits to rely on food banks to make ends meet.
Buckingham Palace said Tuesday that it will publish details of the cost of the coronation "in due course."
"One of the lessons from Her late Majesty's funeral was how a national occasion like this, a great state occasion, does attract huge global interest that more than repays the expenditure that goes with it," a spokesperson told CNN.
But the loss of output caused by the extra public holiday on Monday, May 8, will diminish the overall benefit to the economy. (The coronation holiday will be the third holiday Monday this month.)
When UK GDP shrank by 0.6% in September 2022, the Office for National Statistics said the drop was partly explained by the extra bank holiday for the Queen's state funeral that month, as some businesses closed or adjusted their operations that day.
In research published in April last year, consultancy PwC estimated that a public holiday falling on a Monday costs the UK economy £877 million ($1.1 billion), even after considering the boost to consumer spending.
The average cost of bank holidays — when also taking into account those that fall on Fridays, which are typically less productive days than Mondays — comes to £831 million ($1 billion), PwC said. The £367 million ($458.5 million) increase in consumption, it explained, is more than offset by the estimated £1.2 billion ($1.5 billion) hit to output.
Sign up for CNN's Royal News, a weekly dispatch bringing you the inside track on the royal family, what they are up to in public and what's happening behind palace walls.
— Max Foster and Duarte Mendonca contributed reporting.