A Minnesota judge found former Minneapolis police officer Tou Thao guilty of aiding and abetting second-degree manslaughter for his role keeping bystanders back in the May 2020 killing of George Floyd, according to court documents filed Monday.
In a 177-page verdict, Judge Peter Cahill wrote that Thao "actively encouraged his three colleagues' dangerous prone restraint of Floyd" contrary to his training that the positioning could cause fatal asphyxia.
"Like the bystanders, Thao could see Floyd's life slowly ebbing away as the restraint continued," Cahill wrote in the verdict. "Yet Thao made a conscious decision to actively participate in Floyd's death: he held back the concerned bystanders and even prevented an off-duty Minneapolis firefighter from rendering the medical aid Floyd so desperately needed."
The guilty verdict means that all four of the officers who took part in the fatal restraint of Floyd, a 46-year-old Black man, have been convicted on both state and federal charges. Thao's state case was the last of the multiple trials related to Floyd's death, which was captured on video and set off worldwide protests objecting to police violence against Black people.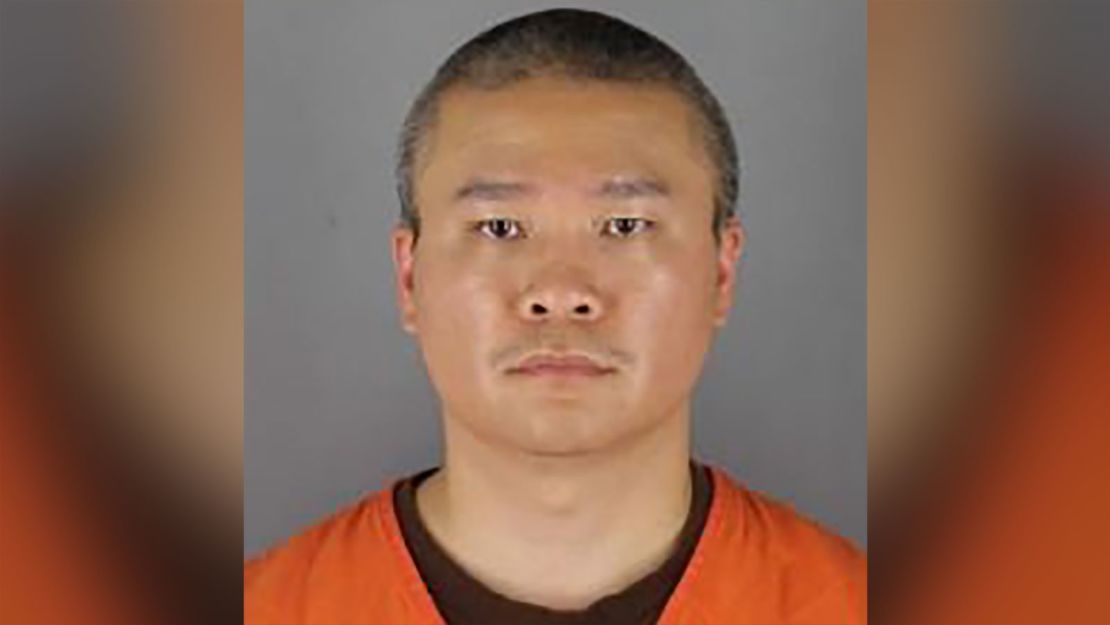 "The conviction of Tou Thao is historic and the right outcome," Minnesota Attorney General Keith Ellison, the lead prosecutor of Floyd's murder, said in a statement. "It brings one more measure of accountability in the tragic death of George Floyd. Accountability is not justice, but it is a step on the road to justice."
Recently elected Hennepin County Attorney Mary Moriarty in a statement noted how "the images of a police officer murdering George Floyd shocked the world, shattered our community, and devastated those who knew and loved him."
"Today, the person who aided in the murder by preventing community members from helping Mr. Floyd has been found guilty and held accountable," Moriarty said. "I hope today's verdict is another step on the path toward healing for George Floyd's family."
In a statement, civil rights attorney Ben Crump and co-counsel Antonio Romanucci and Jeff Storms, who represent Floyd's family, praised the latest conviction.
"The family of George Floyd is grateful for another measure of accountability for his death," they said. "Nearly three years after George was killed, the family and Minneapolis community continue to heal as the criminal justice system prevails. With each of these measures of justice, it is even more so demonstrated that police brutality is an illegal – and punishable – act."
Calls to Thao's attorney were not immediately returned Tuesday.
The guilty verdict comes nearly three years after Derek Chauvin, Thomas Lane, J. Alexander Kueng and Thao were fired and arrested for their actions – or lack thereof – in May 2020 as Chauvin pressed his knee into the neck and back of Floyd, who was handcuffed and lying on his stomach, for more than nine minutes.
During the incident, Thao was standing nearby and ordered concerned residents not to interfere with police. Even as Floyd pleaded for air and for his mother, Thao made mocking references to Floyd's assumed drug use and kept the group of bystanders from helping.
At his federal trial in 2022, Thao testified he assumed the other officers on the scene were "taking care" of Floyd, and that his role transitioned to crowd and traffic control. When prosecutors asked Thao during cross-examination why he didn't tell Chauvin to get off Floyd's neck, he said: "I think I would trust a 19-year veteran to figure it out."
All four officers convicted of federal and state charges
All of the former officers have been convicted of crimes in the years since then.
Chauvin was found guilty of second-degree unintentional murder, third-degree murder and second-degree manslaughter in state court and was sentenced to 22.5 years in prison in June 2021. In federal court, he pleaded guilty to depriving Floyd of his rights and an unrelated civil rights violation and was sentenced to 21 years in prison. He is serving the sentences concurrently.
Lane, Kueng and Thao were found guilty in federal court of violating Floyd's civil rights and of failing to intervene to stop Chauvin during the restraint. Thao is already serving a 3.5-year sentence for his February 2022 conviction on the federal charges.
In the state cases, Kueng and Lane pleaded guilty to aiding and abetting second-degree manslaughter and were sentenced to 3.5 years and 3 years in prison, respectively.
In October 2022, Thao agreed to a trial by stipulated evidence in the state case, waiving his right to a trial by jury and allowing his fate to be decided by Cahill after reviewing evidence presented by both parties.
Thao could be sentenced to between 41 to 57 months in prison, with a recommended sentence of four years, state guidelines indicate. Sentencing is set for August 7.
Floyd's death has led to significant change in Minneapolis and its police force. The city of Minneapolis agreed to pay Floyd's estate $27 million to settle a lawsuit, and just last month the city agreed to reorganize the police department to address "race-based policing," the Minnesota Department of Human Rights said in a release.