Editor's Note: Sign up to get this weekly column as a newsletter. We're looking back at the strongest, smartest opinion takes of the week from CNN and other outlets.
The sizzle reel – a short punchy video often complete with stirring music – has become an all-purpose tool for launching corporate meetings, selling products and summing up personal accomplishments. It's an elevator pitch on steroids. The term is credited to animator Walter Lantz, the creator of Woody Woodpecker.
Last week, the president of the United States announced he's running for re-election by way of his own sizzle reel: A video that was notable for its scenes of the January 6, 2021 riot and the theme of preserving freedom amid the looming threat that Joe Biden could wind up in a rematch with former President Donald Trump. It's a contest that few people say they would welcome – and one in which few people don't already have strong leanings.
"Nobody is very excited about it," Jon Gabriel wrote of Biden's reelection announcement. He cited an NBC News poll that 70% of Americans, including 51% of Democrats, think Biden shouldn't run again, and "half of those who said he shouldn't run believe his age is a major reason." That poll found that 60% also don't want to see another presidential run by Trump, who is only four years younger than Biden.
"What's worse is that Biden's age is apparent whenever he appears in public," Gabriel observed. "It seems every speech Biden offers delivers another gaffe, every appearance on stage, another stumble. Even his 2024 campaign launch video shows a man largely hiding from the camera."
"If inaugurated a second time, Biden will be 82 years old and 86 by the term's end. But Biden is not the only old public servant in office. Much of our federal government is also led by people well past retirement age."
"America today is less a democracy than a gerontocracy."
Yet there's no strong rival to Biden within the Democratic party, Jill Filipovic noted. "That's understandable – at a moment of rising right-wing extremism, and in the face of what could be a redo of the 2020 presidential election, Democrats who care more about the nation than about power are wise to line up behind Biden."
"I count myself among those Democrats," Filipovic wrote. "While I would love to see a progressive in the White House, I am terrified of another Donald Trump presidency. And I just don't see any Democrat in the field whose victory seems assured enough, or who is even enough of a known entity, to roll the dice on."
But Democrats should be wary, Edward Luce wrote in the Financial Times. "Many rashly assume that Biden can easily beat Trump … Thinking history will repeat itself would be a dangerous mistake." Most presidential elections begin with "50-50 odds" and the president's age is a factor. "Every time Biden runs on to the podium, or skips down the airplane steps, his aides' hearts are in their mouths. Republicans will therefore hammer the point that a vote for Biden would deliver the White House to Kamala Harris, his vice-president. Though Harris has stayed free of incident in the past few months, her approval ratings are not high."
Even worse for Biden might be the economic outlook – a recession could arrive in the coming months, just as the campaign gets underway. "The last time a president won re-election in spite of a recession in his last two years was William McKinley in 1900," Luce noted.
For more:
Stuart Vyse: Biden picks a lucky day to launch his campaign. Is it ok that he's superstitious? 
Mickey Mouse war
"President Franklin Roosevelt launched a war against the Great Depression," noted Julian Zelizer. "President Lyndon Johnson launched a war against poverty. President Ronald Reagan launched a war against communism. Gov. Ron DeSantis – a potential 2024 candidate – has decided to launch his war against Disney, one of America's most iconic companies and a crucial source of revenue for his home state of Florida."
The media company struck back last week with a lawsuit accusing the Florida governor of trying to punish Disney for its opposition to a state law that placed prohibitions on some discussion about sexual identity and gender in school.
"For DeSantis, this has been a terrible political move," Zelizer argued. "As former President Donald Trump ramps up his campaign, DeSantis is struggling to keep up. With his war on Disney, the governor has taken yet another step away from being the 'most electable' Republican of the pack."
For more:
John Avlon: How to stop the 'woke wars'
SE Cupp: Is America over culture wars… finally?
Tucker Carlson's exit
In the fictional drama "Succession," a media company's stock plummets when the founder suddenly dies. (The show is on HBO, which like CNN, is part of Warner Bros. Discovery.)
On Monday, the stock of Fox News' parent company fell after the network unexpectedly axed its most-watched host, Tucker Carlson.
"As one of the most popular and divisive hosts on cable television," wrote David Zurawik, Carlson's "departure is sure to significantly change the face of primetime news and talk TV. And it is hard to believe it won't be for the better as we enter what could be one of the nastiest presidential campaigns in American history."
"What Carlson triggered with his words and actions was more than just controversy. It was closer to hate speech than primetime mainstream cable talk when he suggested in 2018 that immigrants made the nation 'dirtier.'"
"Carlson's most recent outrage involved using videotapes that House Speaker Kevin McCarthy supplied him with to try to create a primetime counter-narrative to the deadly Jan. 6 insurrection, including the false claim that 'federal agents encouraged the violence.'"
For more:
Nicole Hemmer: Fox News finds itself in a corner
An internet that women want
The gender divide survives online. "Women still have less access to the internet, with men being 21% more likely to be online than women globally. And when women are online, they face more harassment and abuse and are generally less safe than men," according to a roundup of views curated by CNN Opinion's Sheena McKenzie and CNN's As Equals team.
Angie Contreras, who is based in Mexico, summed up the problem:
"When the internet first emerged, we saw in this tool the opportunity for women to have a space to exercise their rights. Now, we find a space where violence and gender stereotypes are reproduced, barriers to accessing technology have increased, and a lack of digital skills reduces the opportunities women have worldwide." Read her thoughts, and those of five other thinkers, on how to make progress.
Price of Covid-19
Even though more than a million Americans have died of Covid-19, Congress failed to pass a bipartisan bill to establish a commission to examine the nation's pandemic response. So 34 experts compiled their own report, published last Tuesday. The verdict was devastating, as Peter Bergen wrote:
"According to a new report, half a million Americans may have died unnecessarily of Covid-19. At the same time, the US government spent trillions to deal with the pandemic when better preparedness could have saved many lives and much money. American schools were also closed for many months unnecessarily, with students paying the price."
Bergen concluded, "The Covid Crisis Group has performed a major public service with its comprehensive investigation of the pandemic, an investigation that the US political system proved largely incapable of doing. This itself points to a general failure of American governance that the report underlines on many of its pages."
Tupperware and beyond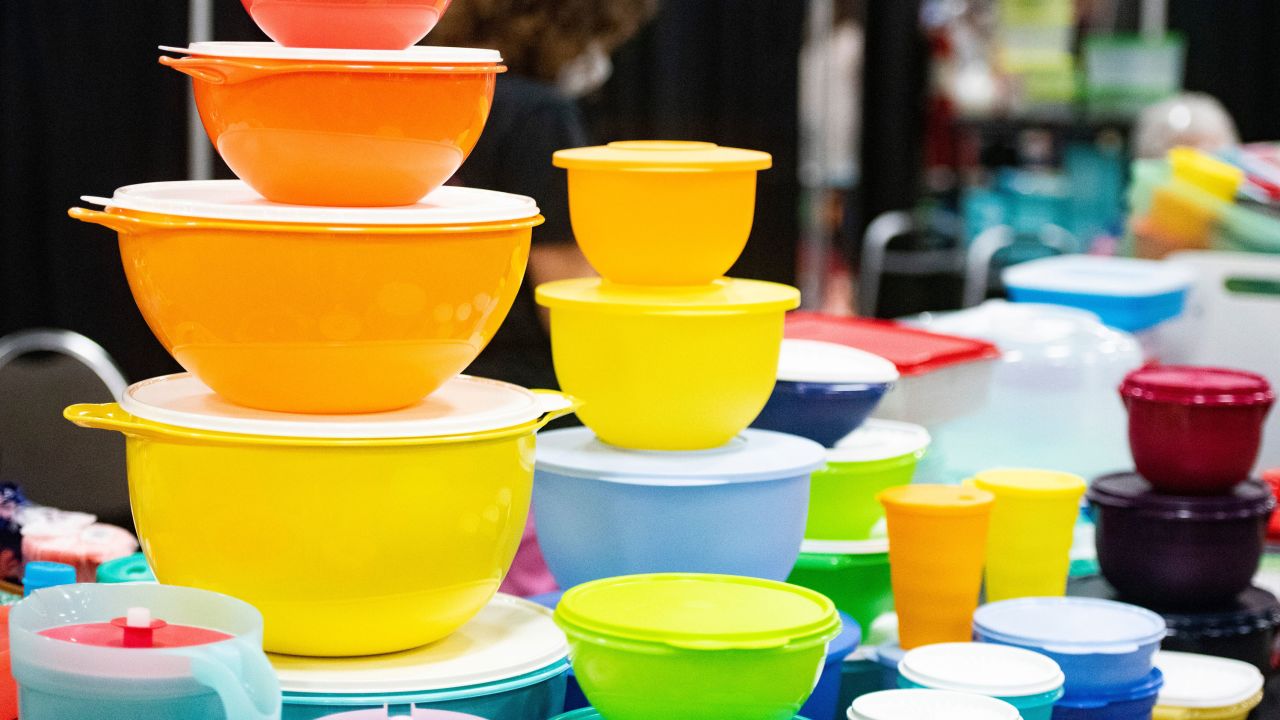 Tupperware has warned that it is running out of money. The iconic storage container was introduced in 1946 by Earl Tupper, a chemist who "was inspired by how paint cans could seal tightly and thought the kitchen could use plastic containers that did the same thing."
As Anne Byrn wrote, "Tupper's products were sold through home parties, social events where sellers invited friends and neighbors to eat, drink, and buy Tupperware, and star sellers received minks, home appliances and vacations for their efforts."
"The timing was perfect. My mother's post World War II America was mobile and moving to the suburbs. They had seen their own parents pack food in shirt and shoe boxes and even store fruitcakes to mellow in the drawers of a dresser. To them, Tupperware must have been a refreshing change: a tidier, more stylish way to store food items as mundane as meatloaf or as chic as chiffon pie."
In succeeding years, though, many people shopping for storage containers likely ventured to Bed Bath & Beyond, which has also seen its fortunes wax and wane. Last week, it announced that it is filing for bankruptcy. "A retail chain going out of business should not evoke an emotional response — unless that chain was one that helped fill the soundtrack of our lives," wrote Dean Obeidallah. "For many, including myself, Bed Bath & Beyond was just that."
Debt coming due
To the surprise of many, Speaker Kevin McCarthy managed to hold together his fractious House majority and pass an increase in the nation's debt ceiling, but on terms Democrats won't support.
What's next, as the threat of a default looms in the next several months? Before the vote, Patrick T. Brown predicted that if McCarthy prevailed, "Democrats will need to overcome their distaste for brinksmanship and make some sacrifices, too. Refusing to negotiate will only cause the ticking clock to grow even louder." Biden has insisted he won't negotiate over the debt ceiling but is willing to talk with Republicans about the shape of the federal budget.
Argentina childhood
Americans who bemoan life with 5% inflation should pay attention to what's going on in Argentina. Azul Blaquier, a senior at the University of Michigan and a CNN intern who is from Argentina, noted that annual inflation there exceeded 100% in March.
"The government is on its third economic minister since July and is struggling to stay up to date with the conditions set by the International Monetary Fund (IMF) for its largest-ever loan ($44 billion). Inflation is so severe that some people have been papering their walls with 10-peso bills because it's cheaper than buying wallpaper. Even ChatGPT was stumped when trying to analyze Argentina's economy…"
"As early as primary school," she wrote, "my friends and I had a running bet of guessing what the price of our recess snacks would be the next week. I, having the most expensive taste, was 12 the first time my 10 peso bill couldn't buy my favorite Milka Oreo alfajor, which I still remember once purchasing with coins. This made asking our parents for cash almost a daily habit — so much so that we often felt guilty at our parents' disbelief that we were still asking for more. How could typical teenage activities like going to the movies or to a party cost so much and increase so often?"
Don't miss
Stan Grant: I'm a Wiradjuri man. Forgive me for not cheering King Charles' coronation
Adam Galinsky: Why it can be hard for bosses to be decent human beings
Sonia Pruitt: There's a time for second chances. Hiring this ex-cop isn't one
Frida Ghitis: How Putin's 'cat's paw' sunk into Sudan
Tess Taylor: 'Just read, and read more' — a groundbreaking poet's advice
Noah Berlatsky: The problem with 'Peter Pan' that the new Disney+ movie doesn't solve  
AND…
Harry Belafonte, RIP
What made Harry Belafonte special was not only his skill as a performer but his inspirational role in the world of politics. Belafonte, who died last week at 96, lived "a long, full life as both entertainer and activist. That was the role history had chosen for him," wrote Gene Seymour. "The social and political convulsions of the mid-20th century made fulfilling that destiny both easier and harder for this New York City-born son of Caribbean parents as he came into adulthood at the pre-dawn of the civil rights movement – a movement whose aspirations he would embody and whose revolutionary energies he would propel."