More than 2 million species are believed to exist in the Earth's oceans, but only about 240,000 have been described by scientists, according to the Ocean Census. The huge gaps in our knowledge of the ocean have unsettled researchers for decades, prompting them to now launch a global mission to explore the uncharted depths of the deep-sea ecosystem.
Here's what else you need to know to Get Up to Speed and On with Your Day.
(You can get "CNN's 5 Things" delivered to your inbox daily. Sign up here.)
1. Pence
Former Vice President Mike Pence testified for more than five hours Thursday to a federal grand jury investigating the aftermath of the 2020 election and the actions of then-President Donald Trump and others, sources told CNN. This marks the first time in modern history a vice president has been compelled to testify about the president he served beside. Pence was set to recount — for the first time under oath — his direct conversations with Trump leading up to the insurrection at the US Capitol on January 6, 2021. A federal judge previously ruled Pence could also be compelled to recount conversations when Trump repeatedly pressured him — unsuccessfully — to block the 2020 election results. 
2. SVB collapse
The Federal Reserve will release a report today on the findings from its investigation into what caused Silicon Valley Bank to collapse last month. Randal Quarles, former vice chair of supervision at the Fed, told CNN that he doesn't expect the report to uncover any smoking guns. However, new details could shed light on how the bank imploded and what, if anything, could have been done to prevent it. Quarles said the report will likely hint at or formally propose more restrictive banking regulation without outlining specifics. In particular, he thinks there will be a lot of discussion around rolling back rules that allowed banks the size of SVB to skirt certain capital and liquidity requirements they had been subjected to in prior years.
3. Immigration
The Biden administration is bracing for a surge of migrants at the US-Mexico border when a Covid-era border restriction known as Title 42 lifts next month. On May 11, when the coronavirus public health emergency ends, the restriction will expire, meaning border authorities will no longer be able to quickly expel certain migrants. Instead, authorities will have to return to decades-old protocols at a time of unprecedented mass migration in the Western hemisphere. Behind the scenes, administration officials have been racing to set up new policies to stem the flow of migrants, but even with those put in place, officials recognize that they could face an overwhelming number of people. A senior Customs and Border Protection official told CNN that the agency estimates "several thousand" migrants are already waiting in northern Mexico to cross the border.
4. Bacterial outbreak
A bacterial outbreak has caused 31 infections at a Seattle hospital, health officials announced this week. Numerous cases of Klebsiella pneumoniae bacteria at Virginia Mason Medical Center were reported since October, with the most recent confirmed case identified on April 3. Klebsiella is a type of bacteria that lives in the intestines that can lead to illnesses in health care settings such as pneumonia and meningitis as well as bloodstream, wound or surgical site infections, according to the CDC. Patients in a health care facility may be exposed to the bacteria through person-to-person contact or through ventilators or catheters, the CDC said. The hospital said it is investigating the source of transmission and is taking precautions to prevent additional cases.
5. Twitter
Six months after Elon Musk took control of Twitter, the future of the company and the platform have never been less certain. After acquiring the social media platform for $44 billion in late October, Musk reportedly now values Twitter at around $20 billion — and some analysts believe that estimate is likely high. Additionally, Musk has laid off 80% of Twitter's staff and is allegedly failing to pay some of its bills, according to multiple lawsuits. This comes as Musk's primary growth strategy through an overhauled subscription strategy has resulted in much chaos and a limited number of actual subscriptions. Twitter has also lost several top advertisers, and a number of users, celebrities and media organizations have said they plan to leave. One of the latest corporations to ditch the platform is the Metropolitan Transportation Authority, North America's largest transportation network serving millions of metro and bus passengers in New York and connecting states.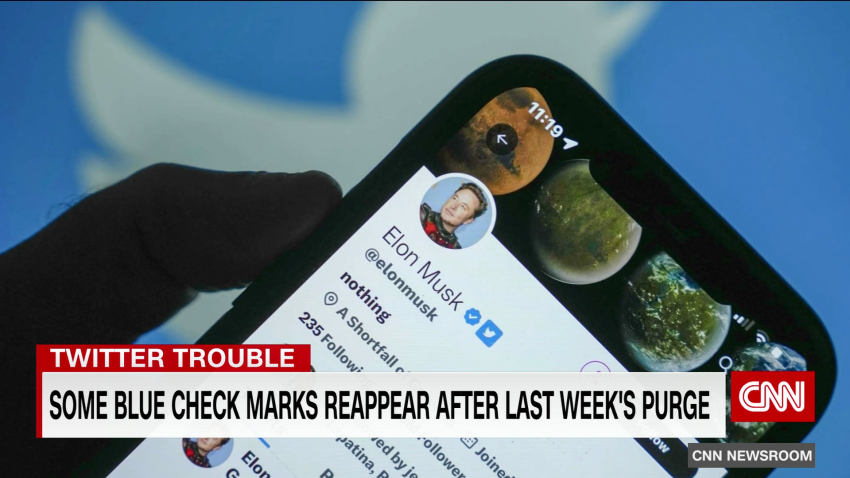 Twitter descends into chaos as it reinstates some blue check marks
THIS JUST IN
Death toll from Russian strike in Ukraine rises to 16
At least 16 people have been killed in Russian missile strikes across Ukraine today, with a wave of early morning attacks reported in Dnipro and Uman, and Ukrainka in Kyiv region, Ukraine's Minister of Internal Affairs said. Missiles and drones were also shot down over the capital Kyiv in what authorities called the first missile attack on the Ukrainian capital in 51 days.
BREAKFAST BROWSE
Disney's live-action 'Little Mermaid' may look just a bit too real
The "re-imaging" of the film's beloved animated characters is causing quite a bit of comm-ocean among Disney fans. Critics are saying these characters look strange and too realistic to embrace.
Enormous cat stuns CNN reporter
Someone's had too much kibble! This massive cat was just adopted by a new owner who's excited to get the kitty on a weight loss program.
7th grader safely brings full school bus to a stop after driver loses consciousness
A middle school student in Michigan is being praised as a hero for preventing a possible catastrophe.
NFL Draft: Highlights from Round 1
The Carolina Panthers selected quarterback Bryce Young with the first pick of the 2023 NFL Draft. Rounds 2 and 3 are set to kick off today.
Brittney Griner said she'll 'never go overseas again,' unless it's to represent USA in the Olympics
After spending nearly 300 days in Russian custody, the WNBA star told reporters she has no plans to "leave the US soil" for basketball ever again.
QUIZ TIME
Fox News rocked the media world this week when it announced it would part ways with which top-rated host?
A. Sean Hannity
B. Tucker Carlson
C. Bret Baier
D. Laura Ingraham
Take CNN's weekly news quiz to see if you're correct!
IN MEMORIAM
Jerry Springer, the former Cincinnati mayor and long-time TV host whose tabloid talk show featured sparring couples, has died, a family spokesperson said Thursday. He was 79. In 2010, Springer told CNN that he did not mind being referred to as the "grandfather of trash TV," as "The Jerry Springer Show" celebrated its 20th anniversary on the air.
TODAY'S NUMBER
2
That's how many shipping containers fell into the Mississippi River on Thursday after a train derailed in southwestern Wisconsin. Officials said some of the containers that derailed onshore contained paint and lithium-ion batteries, but neither of the two that went into the river contained hazardous materials. An investigation is underway to determine what caused the derailment.
TODAY'S QUOTE
"As a person of faith … I recognize that any loss of life is tragic and don't have any ill will or animosity toward her."
— Rev. Wheeler Parker Jr., a cousin of Emmett Till and the last living witness to his abduction, commenting on the death of Carolyn Bryant Donham, the White woman whose accusation led to the 1955 lynching of the Black teen. Donham, 88, died Tuesday in Louisiana, the Calcasieu Parish coroner's office confirmed to CNN.
TODAY'S WEATHER
Check your local forecast here>>>
AND FINALLY
Life-size sand castles
Yes, that's a human in the image above. Watch a sculptor create astonishing life-size sand castles on beaches around the world. (Click here to view)