Bed Bath & Beyond made plenty of mistakes that led to this week's bankruptcy filing. Among the most consequential was the $11.8 billion it has spent since 2004 to buy back its own shares.
The company's repurchase program wasn't unique. But for a cash-starved business that announced it would likely be forced to close all of its stores if it couldn't find an 11th-hour savior to buy it, the money could have been better spent. Instead, it fueled a desperate and ultimately failed effort to support its stock price.
The $11.8 billion Bed Bath & Beyond spent on its own stock since 2004 comes to more than twice the $5.2 billion in debt it had on its books in its most recent SEC filing, a debt load that proved crushing for the company. It left the company unable to buy the inventory required to create the sales it needed to reverse losses.
"The company's stewardship of their capital failed," said Declan Gargan, retail director and credit analyst who follows Bed Bath & Beyond for S&P Global Ratings.
Pressure from shareholders
Bed Bath & Beyond grew particularly active share repurchases in July 2014, taking on $2 billion in debt to finance share buybacks, as it started to face pressure from activist shareholders to improve the stock's performance.
The company had carried relatively little debt to that point, and it put Bed Bath & Beyond on a path toward a debt load that ultimately proved unaffordable.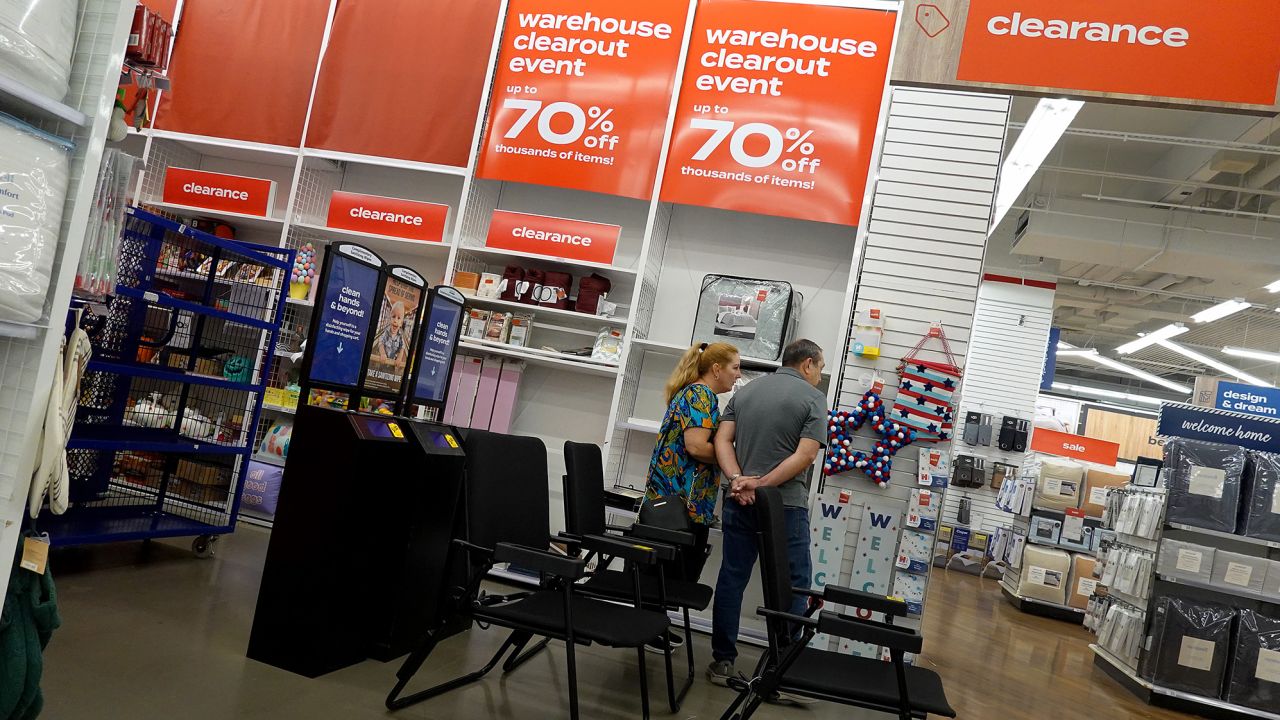 "We understand they have the equity shareholders to serve. Generally, we would prefer to use their cash flow to invest back in business," said Sarah Wyeth, the lead credit analyst for the consumer and retail sectors for S&P. "Even M&A would be less risky than a straight share repurchase."
Bed Bath & Beyond was engaged in an active share repurchase program right up until February of 2022, spending $230 million on shares in an accelerated repurchase program over the course of three months. It spent an average of $16.04 on each share.
But its efforts to support the stock price did little to help. Its stock plunged 83% last year, and another 88% so far this year before it closed at 29 cents a share on the Friday before the bankruptcy filing.
A stock repurchase blitz
Bed Bath & Beyond's buyback programs are hardly unique. Chevron (CVX) recently announced plans to repurchase $75 billion worth of its stock with windfall record profits that came from high oil prices.
Across Corporate America, share repurchases reached a record $936 billion, according to S&P Dow Jones Indices, up from $882 billion in 2021. Share repurchases are forecast to top $1 trillion this year.
And Bed Bath & Beyond isn't even the first retailer to spend billions of dollars repurchasing its own stock on its way to bankruptcy court. Sears Holdings, which owned the Sears and Kmart brands, repurchased $6 billion of its stock between 2005 and its 2018 bankruptcy filing.
Share repurchases are a way for companies to return cash to shareholders indirectly, without them having to pay taxes as they would on a stock dividend. The idea is that by reducing the number of shares outstanding, each remaining share of stock in the hands of investors becomes more valuable.
For example, if a company earns $100 million in a quarter, and it has 100 million shares outstanding, it earned $1 a share. If it repurchases 10 million of those shares, its earnings per share increases to $1.11, or 11%, even if its total profits don't increase at all.
Companies can often face market pressure to do share repurchases, especially from activist shareholders. In fact the Bed Bath & Beyond share repurchases were not enough to stop activist investors from pushing out top management of the company in 2019.
But share buybacks are also increasingly under fire. President Joe Biden, a frequent critic of share repurchases, included a 1% tax on share repurchases in the Inflation Reduction Act passed by Democrats in Congress last year.