Foreign powers have rescued embassy staff, diplomats and nationals caught in Sudan's deadly fighting, even as on the ground many Sudanese are stuck in deteriorating and deadly conditions.
At least 50 people were injured and an unknown number killed in shelling that rocked the capital Khartoum on Monday, the Preliminary Committee of Sudan Doctors' Union said in a statement.
Meanwhile foreign governments led rescue efforts to evacuate civilians from the intense conflict. US special forces helped bring almost 100 people – mostly US embassy staff, as well as a small number of diplomatic professionals from other countries – to safety over the weekend, US officials said.
Many other nations are scrambling to do the same, with more than 1,000 European Union nationals evacuated so far.
The United Nations has temporarily relocated its Khartoum-based staff to Port of Sudan, it said in a statement.
Around 700 UN, international NGO and embassy staff and their dependents traveled by road to the Red Sea city, the statement said.
The evacuations have been complicated by ongoing clashes. The two sides at the center of more than a week of fighting – Sudan's army and a paramilitary group called the Rapid Support Forces (RSF) – blamed each other after a French evacuation convoy came under fire trying to leave Sudan, with one French national injured.
An Egyptian diplomat, Mohamed Al-Gharawi, was shot and killed on his way back to the Egyptian embassy in Khartoum on Monday following "evacuation procedures for Egyptian citizens in Sudan," Egypt's Ministry of Foreign Affairs said.
The Sudanese Armed Forces accused RSF for the death, which CNN has been unable to independently verify.
The RSF responded by offering their sincerest condolences to the Egyptian government and said that they will "spare no effort in cooperating with the brothers in the Republic of Egypt to uncover the facts about the Gharawi incident."
Meanwhile, many Sudanese civilians are either trapped in their homes with dwindling food, or desperately looking to find exit routes out of the country via its land borders, with the capital's main international airport still shuttered.
Sudan's military leader, Gen. Abdul Fattah al-Burhan, and commander of the RSF, Lt. Gen. Mohamed Hamdan, seized control of the country in a military coup in 2021 and were due to hand over power to a civilian government but turned on each other instead.
More than 420 people have been killed and 3,700 injured in the fighting, according to the World Health Organization (WHO). The humanitarian situation on the ground is deteriorating without access to medical services, and with many left stranded without food or water.
A series of ceasefires, including the latest called for the Muslim holiday Eid al-Fitr, have been broken. On Monday, US Secretary of State Antony Blinken announced that the warring factions had agreed on a new 72-hour ceasefire to begin at midnight, "following intense negotiation over the past 48 hours."
Residents in parts of Khartoum told CNN early on Sunday morning that there were no signs that the cessation of hostilities was being adhered to, as they awoke to aerial attacks, heavy artillery, explosions and gunfire. They relayed that clashes were raging around the military headquarters and presidential palace in the city center.
'Complex and rapid' operations
Despite the risks, foreign governments continue to announce rescue missions for their citizens.
French Foreign Minister spokesman Anne-Claire Legendre told CNN's Isa Soares on Monday that France evacuated approximately 500 people including almost 200 of them from 36 other countries.
Legendre said, "We've evacuated approximately 500 people. Now they're safe and in security in Djibouti in our air force base there," and added "We offered support to our friendly partners and allies. And there's more than 36 nationalities, different nationalities that have been rescued, so almost 200 people from 36 other countries that we managed to evacuate."
France evacuated "12 American citizens as well as British, Irish but also from Africa, Asia and rest of the world," Legendre pointed out.
Several other countries have successfully carried out evacuations, including Spain, Jordan, Italy, Denmark and Germany, while the United Kingdom has evacuated embassy staff. Several of those convoys also carried citizens from other countries, including Swedes, Portuguese, Mexicans, Palestinians, Iraqis and Syrians.
US citizens in Sudan were advised they could join evacuation convoys organized by the UAE and Turkey on Sunday, with the US government saying it has no plans for its own citizen evacuation.
There are an estimated 16,000 American citizens in Sudan – most of whom are dual nationals.
EU High Representative for Foreign Affairs and Security Policy Josep Borrell said Monday that more than 1,000 EU nationals have been evacuated so far, calling it a "successful operation."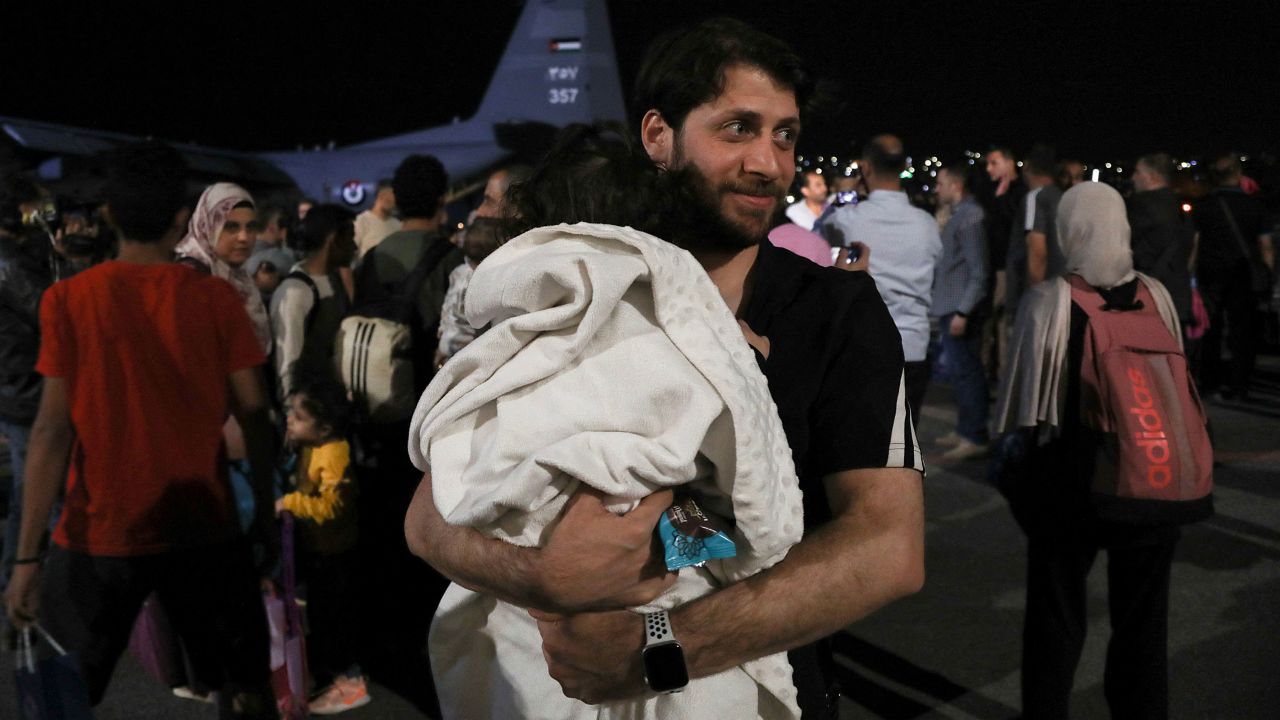 More evacuations are still being planned or are underway for the Netherlands, Belgium, Norway, Germany, Sweden, Egypt, Turkey, Libya, India, Russia, Australia, Japan, China and the Philippines.
About 500 Indian nationals reached Port Sudan with more on the way, India's Minister of External Affairs Dr. S. Jaishankar said Monday.
The German Armed Forces evacuated 311 people on Monday morning, including Germans and evacuees from more than 20 other nations. A Spanish military plane with 34 Spaniards and 38 citizens from 11 other nations landed in Madrid on Monday morning, according to Spain's foreign ministry.
Uganda is evacuating 300 of its citizens via buses to the Ethiopian border, where they will fly out of Ethiopian city of Gondar, Dickson Ogwang, the head of the chancery of the Ugandan embassy in Khartoum, told CNN.
Up to 50 Irish citizens have been extracted from Sudan in the last 24 hours with the assistance of France and Spain, the country's foreign minister said Monday.
In Rome, the first Italian nationals evacuated from Sudan landed in the capital on Monday evening local time. Japan's Ministry of Foreign Affairs said that some Japanese nations evacuated from Sudan had arrived in Djibouti, with the help of the French government.
At the same time, Britons in Sudan said they feel "abandoned" by the UK government's move to evacuate diplomats only.
One British citizen, named Fatima, told the BBC that she feels "abandoned" by the government, calling the situation on the ground "traumatizing."
Meanwhile, the UK's Africa Minister Andrew Mitchell has stressed that the government "will do everything" it can to get thousands of British citizens out of Sudan.
'Stay and risk starvation, or be killed by a stray bullet'
But as foreign nationals rush out on evacuation planes, millions of Sudanese citizens have been left to fend for themselves – stranded for days in their homes and uncertain of how to make their way out to safety.
International organizations have condemned the fighting, which has targeted hospitals. Out of 79 hospitals in the Sudanese capital, only 22 are currently operational, according to the Central Committee for Sudan Doctors.
One doctor told CNN that food and medical supplies are running precariously low. Howeida Al-Hassan, who is a doctor at Khartoum's Alban Jadid Hospital, told CNN that most victims coming into the hospital have suffered multiple gunshot wounds.
"Every injured person we get has multiple gunshot wounds – bullets in the chest, stomach, leg. Each surgery takes a long time," Al-Hassan told CNN on Monday.
She also says the medical team at the hospital have been working around the clock for the past 10 days.
"It's the same staff from the first day [of the fighting]. We went in and never left. We are very exhausted. We sleep sitting down," Al-Hassan said. "You can't really call it sleeping, it's more like passing out."
As regions of Sudan are battered by the violence, the International Committee of the Red Cross said it will have to "adapt" its emergency response.
"We have managed to relocate some our staff by road to Kassala and Gedaref and will try to evacuate some non-essential personnel by road to Ethiopia and Chad," Africa's regional spokesperson Alyona Synenko told CNN in a statement.
"We are also urgently looking for ways to deploy additional personnel and deliver supplies to provide emergency response in Khartoum and other regions of Sudan affected by fighting."
Isma'il Kushkush, a Sudanese-American journalist based in Khartoum, was trapped with 29 residents, including children and foreign nationals, in a building in downtown Khartoum near the presidential palace for days.
"No power or water for five days. Using little water remaining in water tank. Running out of food rations. Unable to leave the building which is located two blocks from the presidential palace. Epicenter of the fighting since the conflict began," he said in a string of text messages to CNN. The group was later safely evacuated.
In neighborhood WhatsApp group chats and on social media, others were deliberating over where to get water, to charge phones, find medics and find safe passages out of Khartoum free of fighting. Many asked for advice on routes to Egypt on public transportation.
A woman in her 30s, who asked not to be named for security reasons, told CNN that she managed to flee Khartoum by bus to Egypt.
She said she was driven to do so by the unpredictability of the RSF and the worsening conditions in the capital.
While her family had a generator and they were able to supply water to houses in their neighborhood, it was unclear how long they would be able to carry on or when the tide of clashes might bring fighters to their doorstep.
"It was a case of do we stay and risk starvation. Or be killed by a stray bullet? … We decided to take the risk," she said, adding that she had heard of people without food and water dying in their homes. "We just figured we were sitting ducks sheltering in our houses."
A group of her relatives, including two babies and an elderly woman with a serious medical condition, found a bus driver willing to take them to Egypt. They left Friday morning and arrived at the border on Saturday evening; the group was only stopped once by Sudan's armed forces in Omdurman, she said.
But they struggled to get men without visas into Egypt and a few people without passports – including newborn babies – were turned away.
"They had to be left behind. And we're still trying to work out how to get them paperwork to get them across the border," she said.
CNN's Mostafa Salem, Sahar Akbarzai, Sandi Sidhu, Lauren Kent, Kylie Atwood, Xiaofei Xu, Joseph Ataman, Al Goodman, Heather Chen, Sugam Pokharel, Duarte Mendonça, Eyad Kourdi, Jonny Hallam, Gul Tuysuz, Jennifer Hansler, Inke Kappeler, Alex Stambaugh and Junko Ogura contributed to this report.