Wearing surgical masks to cover their faces, dozens of people demonstrated outside a branch office of China's central bank in the landlocked province of Henan early this month to demand their savings back.
They're among thousands of depositors in China that protesters say are still campaigning for compensation after last year's rural banking scandal saw their accounts frozen.
"America's Silicon Valley Bank customers got their money back in three days. But China's Henan village banks' customers haven't been given a cent in a year," they wrote on white banners and posters held up during the demonstration.
China's latest banking scandal started last April, when five rural banks, four in Henan and one in the eastern province of Anhui, froze depositor funds. Sanlian Lifeweek, a state-owned magazine, estimated that 400,000 customers were affected.
One of them, who asked to be identified only by the surname Du, says he put his entire family's savings, worth about 5 million yuan or $726,000, into one of the banks.
CNN is not revealing the identities of the bank victims in order to protect their safety. They say all they want is their money back but their requests have been ignored. Some say they're being tracked, harassed or physically attacked by local officials.
"I live by begging from others or receiving donations," he told CNN. "If I can't get the money soon, then my children and I can only live on the streets, without a house or a home."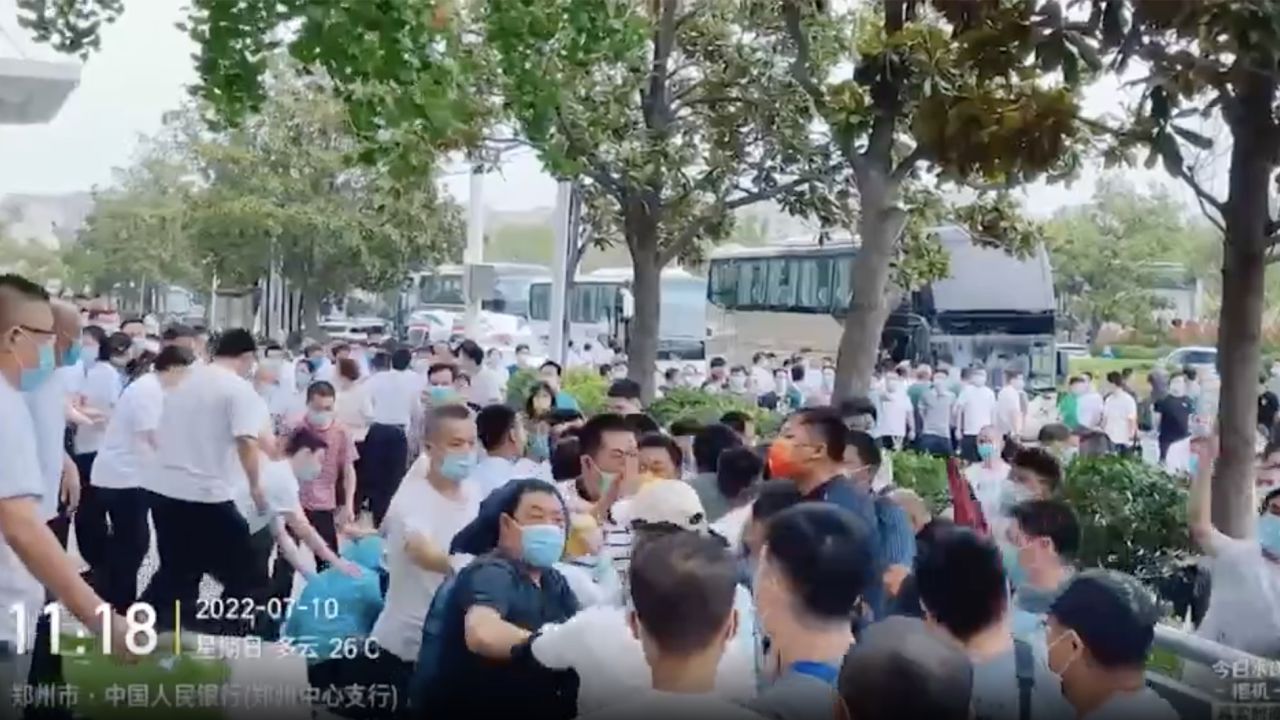 Last summer, hundreds of depositors took to the streets in a series of demonstrations to demand answers. Du says he and other protesters were badly beaten before they were eventually allowed to leave.
Weeks after the peaceful demonstrations were violently crushed by local officials, the provincial authorities in Henan blamed the scandal on financial fraud, arrested more than 200 suspects and promised to pay depositors back.
China's banking regulator pinned the crisis on "unscrupulous shareholders" at several banks, along with third party platforms and brokers.
More failures?
While the majority of depositors received their money back over the past year, an estimated "several thousand" still haven't received anything, according to protesters.
"People like us have been robbed of money, yet we are treated like criminals," Du said.
The banks, regulators and local authorities have not responded to CNN's multiple requests for comment.
Experts say small banks in other parts of China could face the same crisis, as the world's second largest economy faces a longer term structural slowdown.
"It's just the tip of the iceberg, and there are similar situations in other provinces," said Frank Xie, a professor at University of South Carolina Aiken. "I would say at least one-third or one-quarter of the small banks in China are in trouble."
About a quarter of the Chinese banking industry's total assets are held by around 4,000 small lenders, which often have opaque ownership and governance structures and are more vulnerable to corruption, say experts, as well as the sharp economic slowdown the country faced during the pandemic.
But the government has learned its lesson and has likely clamped down to conceal information about other troubled banks, according to Xie.
"They're sitting on a volcano, but they have put a big lid on it and are sitting tight on it," he said.
Many small banks also relied on financial products tied to the real estate sector for higher returns, so when the property bubble burst and the economy slowed, funds dried up.
Too small to save?
Depositors tell CNN most of the uncompensated victims live outside of Henan province. Experts say the authorities may have been more willing to pay back depositors who live locally because they can more easily gather and organize protests.
The uncompensated victims say they haven't even received the basic payment, worth up to 500,000 yuan ($73,000), that the government guarantees in case of bank failure.
Experts say this is because the government does not want to set a precedent as it cannot afford to cover the deposits of all of the nation's troubled smaller banks, if they also go under.
The central government does not want to "send the message out that if you've got a provincial bank with a problem, and there's people protesting, Beijing will simply hand out cash," said Andrew Collier, Hong Kong-based managing director of Orient Capital Research.
"So that's why they're willing to oppress people using the police … to get the message across the banking system that they can't play fast and loose with money."
That means depositors at other banks may lose their savings, if they go under, as local governments struggle under the weight of the property crisis and additional costs related to pandemic prevention measures, according to Logan Wright, director of China markets research at Rhodium Group.
The rural banking crisis "reflects a financial system that grew outside the realm of regulations, and the failure of regulation to catch up and effectively protect depositors," said Wright. "You can't bail out all of this risky activity, but when you're trying to enforce market discipline, it hits individual depositors."
Fear of reprisals
Du and other depositors know this all too well. Many of them were solidly middle class professionals.
They were drawn to the rural banks because of the relatively high returns that were offered. Now, many are struggling — with some drawing comparisons between their plight and the treatment of American depositors in the recent US banking crisis.
They have pointed to the swift step US regulators took to restore confidence in the banking system by guaranteeing that customers of two failed lenders, Silicon Valley Bank and Signature Bank, would have access to all their money, including uninsured deposits.
Some Chinese bank victims even say they're living in fear of violent reprisals.
A middle aged couple, the Li's, had put their life's savings, worth hundreds of thousands of dollars, into an account at the rural bank in Anhui about four years ago. After their money became inaccessible last year, they avoided the summer protests but did visit the bank and a government bureau in the province.
In early March, around the time of the annual meeting of China's parliament, the couple said they were illegally detained on an island outside Shanghai by enforcers of unknown origin.
They showed CNN a video that Mrs Li filmed using her phone. Several men wearing street clothes can be seen surrounding their car and forcibly demanding them to get into their vehicles.
"We were locked up for 11 days. They illegally detained us and confiscated our bank cards, phones and wallets, and even my belt," Mr Li said. "I tried my best to cooperate with them. Still, they beat me."
The kind of extrajudicial detention the couple say they experienced is not uncommon in China. The aim is to prevent people with grievances from potentially traveling to Beijing to petition higher level authorities when they gather for major events.
"The government's attitude is that as long as they've suppressed the people with problems, there is no need to pay back the money," said Zhang, another bank victim and lawyer in Beijing. "It is completely different from how Silicon Valley Bank was handled."
Zhang says many lawyers in China have been told not to represent bank victims, but since he's a lawyer himself, he has halted his regular legal work and is pouring all of his energy into trying to recover the depositors' funds.
Zhang has been in touch with many of the depositors, as he tries to mount various legal cases. He says many of them are dealing with anxiety or depression and are struggling to continue their previous jobs.
"Some depositors, myself included, can no longer survive," Zhang said. "Because all of our money is stored there, some people may commit suicide, some depositors may hurt others. Everyone has a tipping point."
— CNN's Laura He contributed reporting