Another game, another Manchester United capitulation.
Meltdowns have become a running theme in the club's season after Erik ten Hag's side was completely and utterly outplayed in Thursday's 3-0 defeat by Sevilla, with the Spanish club earning passage through to the Europa League semifinals with a 5-2 aggregate win.
In truth, Ten Hag will likely be counting himself lucky that his team only lost by three goals on a night United was second best in every department.
While the total lack of any cohesion and coordination will be of huge concern to the Dutchman, perhaps the most worrying aspect was the apparent lack of any effort, pride and determination shown by his players.
From the moment the first calamitous errors from both David de Gea and Harry Maguire – who more closely resembled a comedy duo than professional footballers at the Ramón Sánchez-Pizjuán – gifted Youssef En-Nesyri Sevilla's opener, not once did United look like getting back into the tie.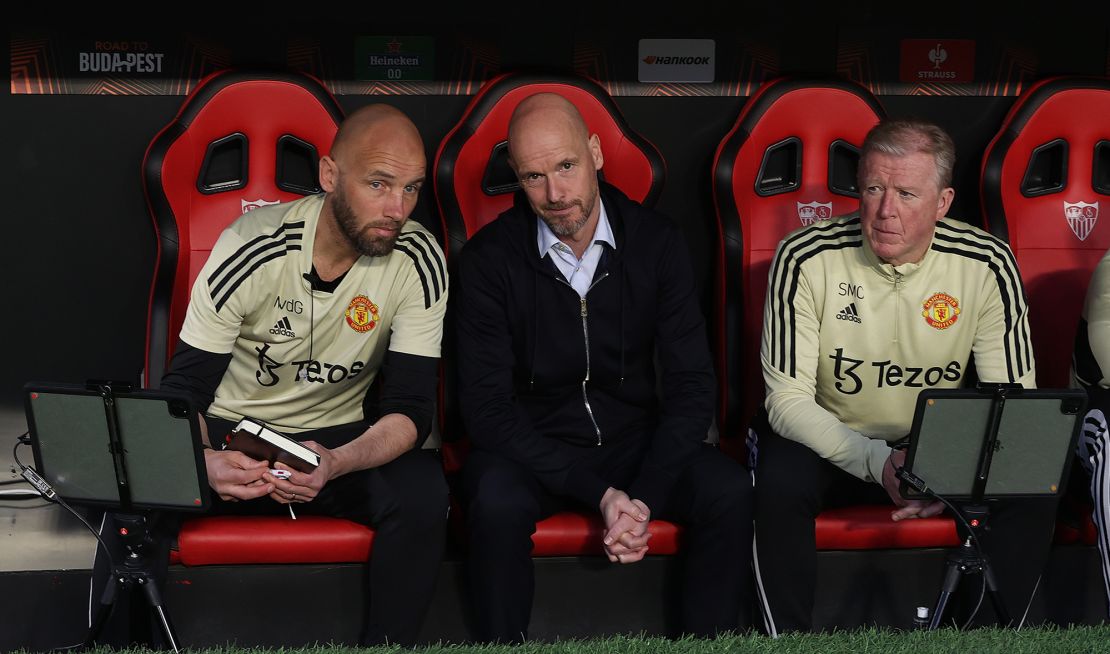 United was given a reprieve after Lucas Ocampos' first-half strike was ruled out for offside, but it only was delaying the inevitable as Loïc Badé doubled Sevilla's lead just 90 seconds into the second half.
The team's miserable night was compounded by another farcical error from De Gea, whose errant touch gifted En-Nesyri an open net to score his second goal of the game.
In his post-match press conference, Ten Hag referenced United's 7-0 defeat to Liverpool and 4-0 defeat to Brentford in the English Premier League – without mentioning last week's collapse in the first leg against Sevilla – and lamented the lack of consistency shown by his team this season.
"We have to face that we let ourselves down and we let the fans down," Ten Hag told the club's website. "If you want to win trophies, if you want to be successful, you need all of the character.
"I think they [the players] showed in the past they can [perform], but tonight we weren't good enough. It was obvious, it was clear.
"We didn't match the standards that you can expect from a team like Manchester United. We have to be better. Everyone can expect higher standards from Manchester United."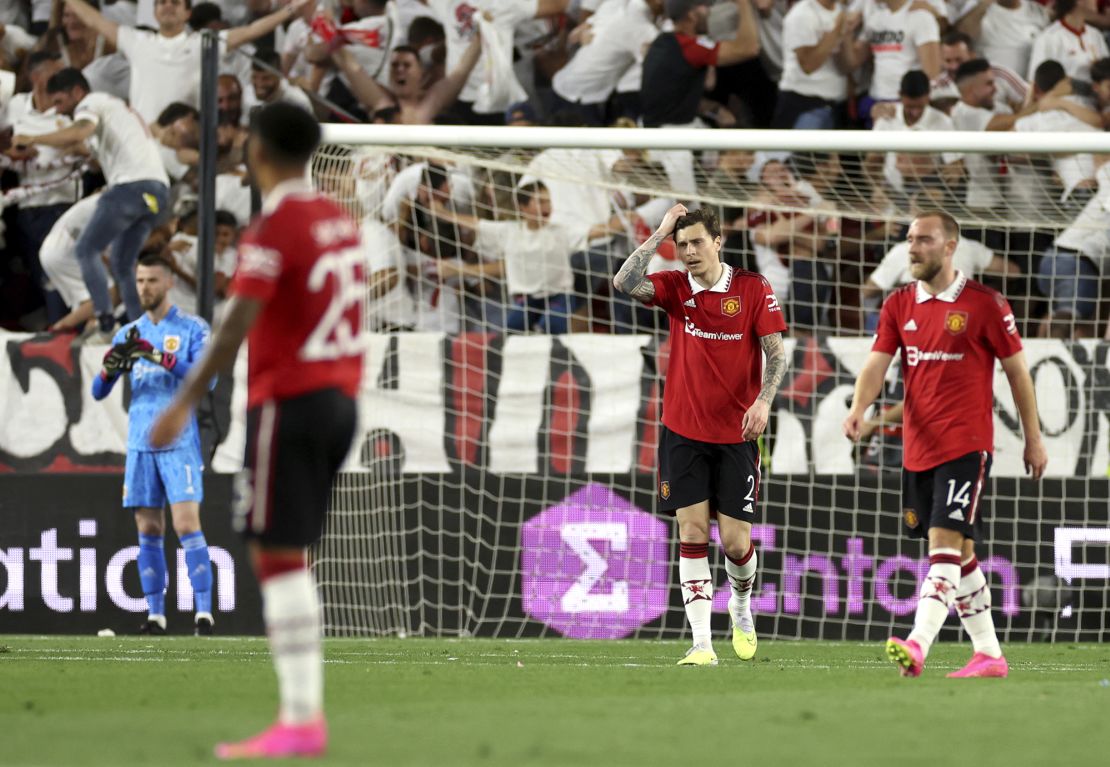 Manchester United has spent around $860 million on player recruitment over the past five seasons, assembling one of the most expensive squads in world football.
However, the team's performances have all too often failed to match that huge financial outlay.
United fans were given hope that the club had finally turned a corner after the team went on a run of just one defeat in 19 games after the World Cup, only to have that façade shattered by the 7-0 humiliation at the hands of Liverpool.
While Ten Hag was understandably frustrated with the performance as a whole, he appeared to especially be losing his patience with the players' lack of effort and admitted his team was outfought by Sevilla.
"I have to acknowledge, it's the truth," Ten Hag said. "It's hard, it's tough, but it's the truth. It can't be. It's unacceptable.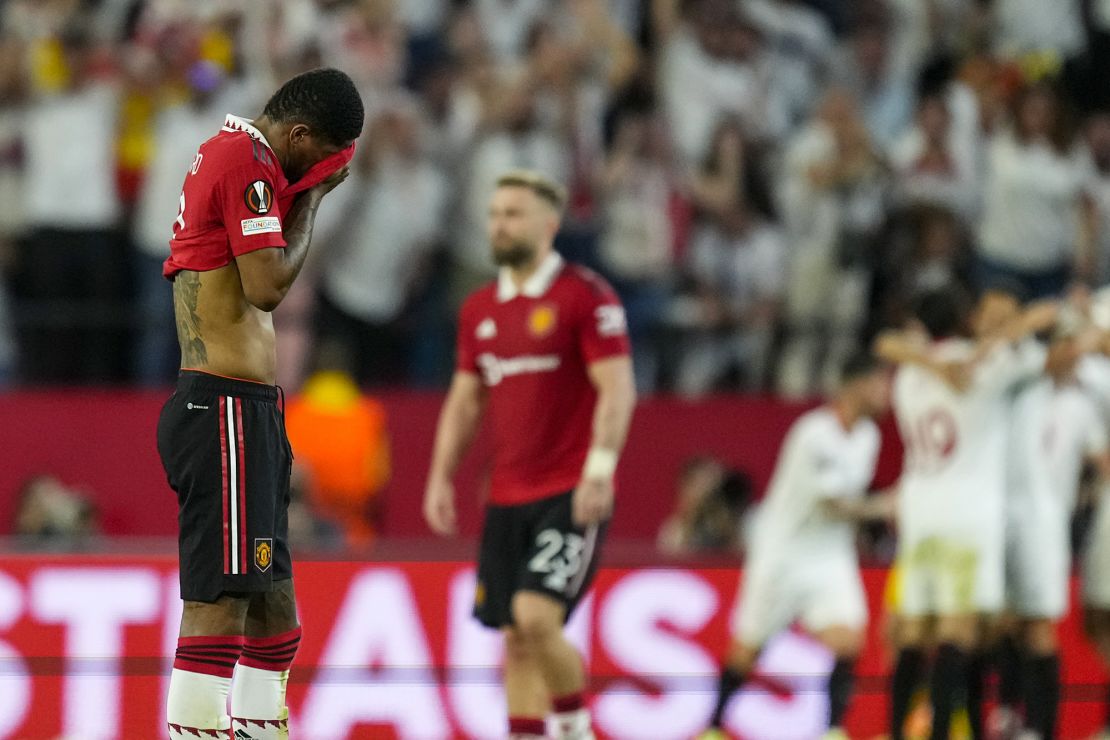 "I think we showed in the past we can bounce really quickly back. We did it many times now this season, what we have to learn is to start games better, with more desire, pressing, more composure on the ball. When you get a setback, you have to deal with it, and carry on.
"Yes, it's the truth, that we have to be better. It's not about playing skills, it's about character. So be composed and have desire and passion. They had more willingness to win; it can't be. I think that's unacceptable."
Silverware in the form of the League Cup, though not the level of success a club with United's history and stature is accustomed to, does offer tangible proof of some progress under Ten Hag.
The team now faces a pivotal FA Cup semifinal on Sunday against an in-form Brighton team that has recorded just two defeats in its past 17 matches.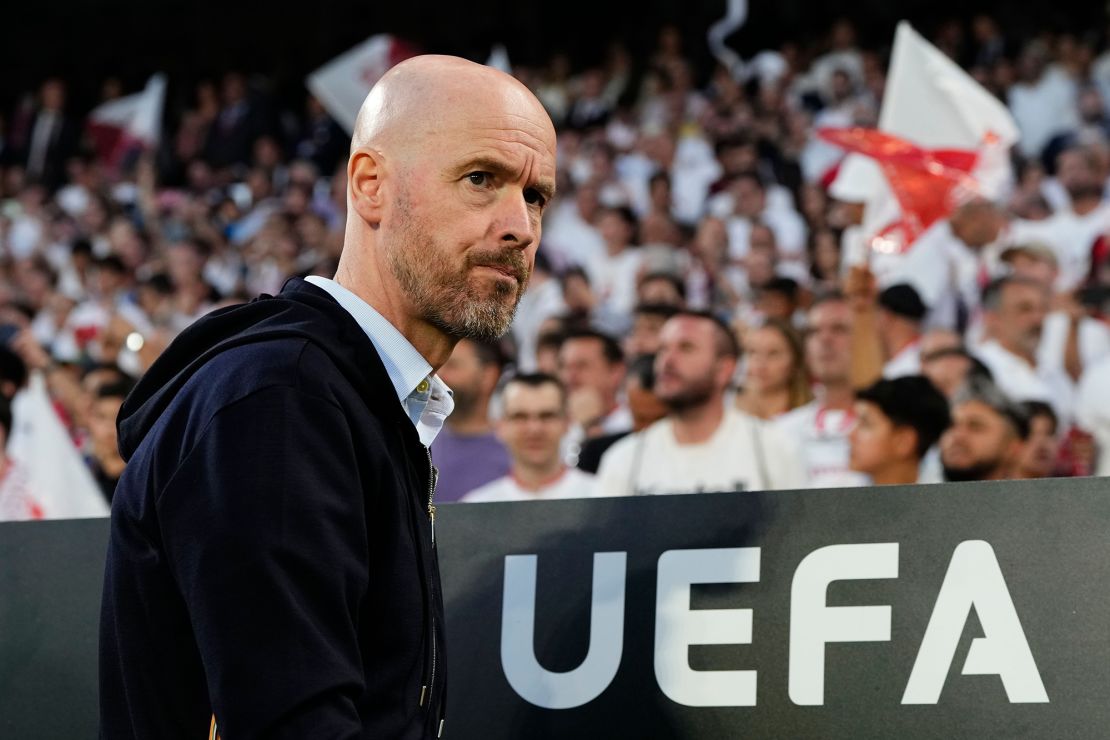 Lifting the FA Cup and qualification for next season's Champions League – which is by no means a given with United just six points clear of fifth – would certainly greatly alter how this season is analyzed and remembered once it's over.
"It's really just the mentality has to change, we know it's going to be a completely different opponent, a completely different style, so I think from tomorrow, it will be focus on Brighton," Ten Hag told BT Sport.
Speaking to MUTV, he added: "We know that [it is a huge game] and that is what we just told [the players] in the dressing room. We know what to do and we need a huge step forward, higher standards, a better performance to beat Brighton, because that's a tough team.
"It must give energy, that's absolutely clear. But then we need a different performance as we did today."