The shooter who killed five co-workers at a Louisville, Kentucky, bank this month left two very extensive notes – one in his home and one found on him after police killed him in a shootout, according to two law enforcement sources.
The notes reveal that part of the shooter's goal was to show how easy it was in America for someone dealing with a serious mental illness to buy an assault-style weapon, the sources said.
The gunman purchased the AR-15-style rifle seven days before the April 10 shooting and under Kentucky law he was only required to fill out a form for the US Bureau of Alcohol, Tobacco, Firearms and Explosives and to undergo an FBI records check to ensure he was not a felon or the subject of a court-imposed restraining order.
Pete Palmer, who represents the family of shooter Connor Sturgeon, has not responded to CNN's request for comment.
The nature of the notes was first reported by the Daily Mail.
Sturgeon was killed by police shortly after he fatally shot the five bank employees and then fired at police, wounding Officer Nickolas Wilt. The 26-year-old rookie cop was shot in the head 10 days after graduating from a police academy, leaving him in critical condition. Seven others were injured.
After the shooting, Sturgeon's family told CNN affiliate WDRB it knew the 25-year-old struggled with depression, but saw no signs he was planning or capable of deadly violence.
"While Connor, like many of his contemporaries, had mental health challenges which we, as a family, were actively addressing, there were never any warning signs or indications he was capable of this shocking act," the family said in a statement to WDRB.
The shooter's brain will be examined for signs of chronic traumatic encephalopathy, commonly known as CTE, his father has told CNN.
The disease has a variety of symptoms including memory loss, confusion, impaired judgment, aggression, depression, anxiety, impulse control issues and sometimes suicidal behavior, but experts note that symptoms like these may not necessarily be caused by CTE.
Authorities have not released a motive for the shootings.
Wilt, the injured officer, has been transferred to a new hospital where a specialist is treating his pneumonia, according to the Louisville Metro Police Foundation. He still was listed in critical condition.
All other wounded victims have been released from University of Louisville Hospital.
On the morning of the shooting, the gunman's mother called 911 and told the operator he was heading to the Old National Bank branch on East Main Street. He had a gun and apparently left a note found by a roommate, she said.
"I'm so sorry. I'm getting details secondhand. I'm learning about it now. Oh my Lord," Sturgeon's mother said in a 911 call released by police.
"I need your help. He's never hurt anyone. He's a really good kid," the mother insisted.
"We don't even own guns. I don't know where he would have gotten a gun."
The call was made at 8:41 a.m. on April 10, but the shooter already was inside the bank and police officers were arriving on scene.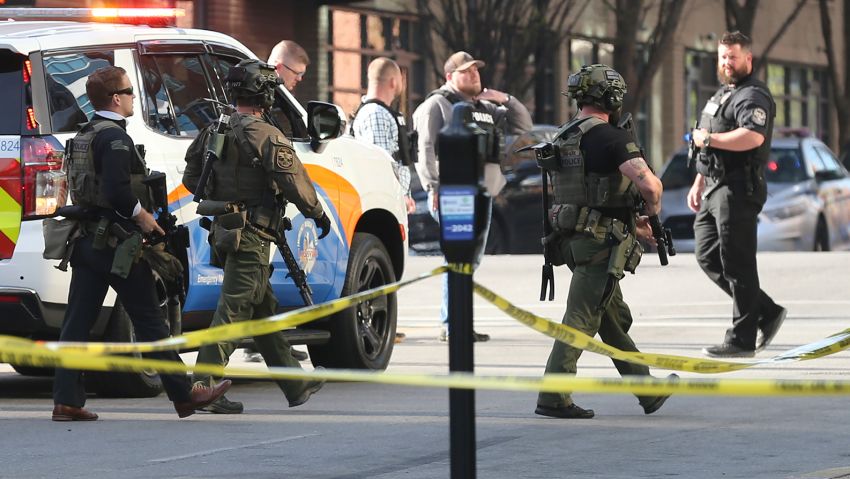 Hear 911 audio from Louisville bank shooter's mother
"He's never hurt anyone," the mother said. "Please don't punish him."
The shootings took place as employees at the Old National Bank branch near the Ohio River in downtown Louisville had gathered for a morning board meeting.
Within a minute, five of them would become casualties of a distinctly American phenomenon – the mass shooting.
The shooting was livestreamed on Instagram, compounding the horror. The video was taken down by Meta, which owns the social media site.
At least 165 mass shootings have been already reported in the US this year, according to data from the Gun Violence Archive, which, like CNN, defines a mass shooting as one in which at least four people are shot, excluding the shooter.
CNN's Ray Sanchez contributed to this report.