Just hours after the Tennessee House of Representatives voted to expel two Democratic lawmakers, their pictures and profiles had already been removed from the state's General Assembly website, a symbol of the vacant seats that now need to be filled.
Reps. Justin Jones and Justin Pearson were kicked out of the legislature by their colleagues in a vote Thursday. A third member also up for expulsion, Rep. Gloria Johnson, survived the vote, which required two-thirds majority support in the Republican-dominated chamber.
All three had been accused by Republicans of "knowingly and intentionally" bringing "disorder and dishonor to the House of Representatives" after they led a gun control protest on the House floor last month without being recognized, CNN affiliate WSMV reported.
In the wake of a deadly shooting at the Covenant School in Nashville, which killed three 9-year-olds and three adults, Jones said he and other lawmakers were blocked from raising the issue of gun violence on the House floor, with their microphones being cut off whenever they raised the topic, according to WSMV.
According to the expulsion resolutions, Jones, Pearson and Johnson "began shouting without recognition" during their protest, and "proceeded to disrupt the proceedings of the House Representatives."
Republican leaders in the chamber condemned the lawmakers' actions and moved quickly to remove their committee assignments and schedule a vote for their expulsion. Jones, Pearson and Johnson decried the Republicans' actions as oppressive, vindictive and racially motivated. Jones and Pearson are both young, Black men while Johnson is a White woman.
As focus now shifts to filling the two new vacancies in the state House, local lawmakers in Jones' and Pearson's districts are working to determine their next steps, including possibly returning the ousted lawmakers to the chamber.
What happens when there is a vacancy?
According to the Tennessee Constitution, since there is more than twelve months until the next general election in November 2024, a special election will be held to fill the seats.
In the time between when a seat becomes vacant and when a special election can be held, "the legislative body of the replaced legislator's county of residence at the time of his or her election may elect an interim successor," the state Constitution says.
In Jones' case, the local legislative body is the Metropolitan Council of Davidson County in Nashville. The council has scheduled a special meeting on Monday afternoon to address the vacancy of the District 52 seat and possibly vote on an interim successor.
Nashville Mayor John Cooper has expressed his support for Jones and said on Twitter he believes the council will send him "right back to continue serving his constituents."
Jones told CNN's Don Lemon on Friday that if he's appointed by the council, he will serve. "I have no regrets. I will continue to stand up for my constituents," he said.
For Pearson's District 86 seat, the local legislative body is the Shelby County Board of Commissioners in Memphis.
Commission chairman Mickell Lowery plans to call a special meeting regarding Pearson's expulsion, CNN affiliate WMC reported, but the timing of the meeting isn't yet known.
Pearson said he hopes to "get reappointed to serve in the state legislature," and referring to the Shelby County commissioners, he said, "A lot of them, I know, are upset about the anti-democratic behavior of this White supremacist-led state legislature."
When is the special election?
No date has been set for a special election but state law provides a time frame for when the governor should schedule them.
A "writ of election" for "primary elections for nominations by statewide political parties to fill the vacancy" must be scheduled within 55 to 60 days, state code says. And a general election to fill the vacancy must be scheduled within 100 to 107 days.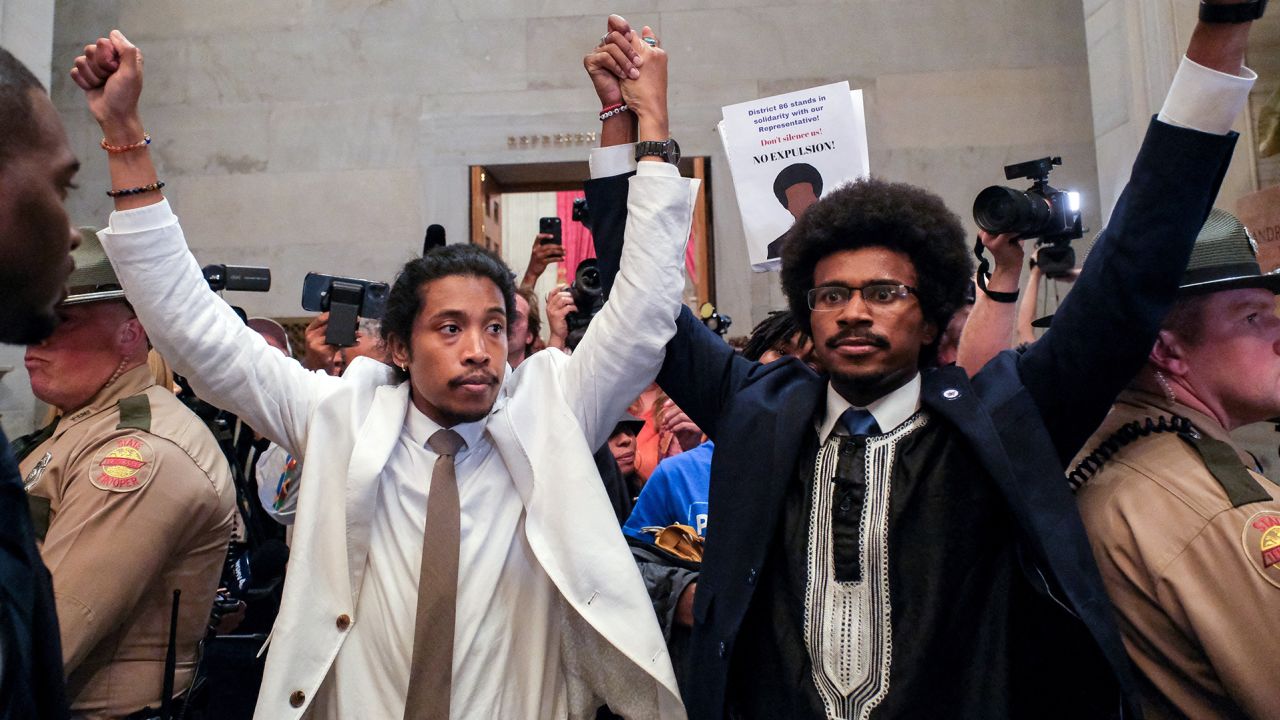 Can the ousted lawmakers run again?
According to Tennessee law, a state representative must be at least 21 years old, a US citizen, a resident of the state for at least three years and a resident of their county for one year preceding the election.
They must also be a qualified voter of the district, which requires a resident to be 18 years old and free of certain felony convictions.
Both Jones and Pearson meet those qualifications.
And while the state Constitution says members can be expelled for disorderly behavior with a two-thirds majority vote, they cannot be expelled "a second time for the same offense."
If Jones and Pearson are elected again, the Tennessee House Republican Caucus said in a statement it hopes "they will act as the thousands who have come before them – with respect for our institution, their fellow colleagues, and the seat that they hold."
CNN's Elizabeth Wolfe, Raja Razek, Dakin Andone, Ryan Young, Amy Simonson, Arlette Saenz, Dianne Gallagher, Rebekah Riess, Sara Smart and Alta Spells contributed to this report.