President Joe Biden often envisions what he could accomplish with a second term, advisers and allies who speak with him say, but he has expressed no urgency to formally launch a campaign to win another four years in office.
The president has not settled on a campaign manager, narrowed down whether a headquarters would be placed in Philadelphia or Wilmington, Delaware, or selected a date to make a reelection bid official.
Long known for stretching out major decisions – including several times as a senator when he was weighing a run for president – Biden is offering up one final wait for Democrats as they look ahead to next year's vote.
"In what I think is the unlikely chance that he ultimately decides not to run this time, he will need to do so soon enough that other candidates can get into the field to be competitive," said Delaware Democratic Sen. Chris Coons, the president's close friend and ally. "I am encouraging him to run, and I think he will run. But he will make that decision on his timeline, not mine."
The President has been notoriously deliberate over the course of decades in public office, often putting off major decisions until the 11th hour. But holding off on making a reelection announcement is rooted in far more practical considerations, aides say, first and foremost of which is focusing on governing matters such as raising the debt ceiling and avoiding getting drawn into the political fray a moment sooner than he must.
"He's not ambivalent about serving a second term, but he's in no rush to be a candidate again," a longtime Democratic adviser, who has worked closely with Biden over the years, told CNN. "What's the upside?"
That question came into sharp view this week, given how former President Donald Trump dominated the conversation and commanded outsize attention with his arraignment on criminal charges in New York. And the Democratic Party has largely coalesced behind Biden, particularly since the midterm elections last fall, and know the lack of a serious primary threat offers him "the ability to move on his own time," a senior White House official said.
Biden has told several elected officials in private conversations that he's in – "I am definitely running," he told one person a few weeks ago, according to that person – but he has been less forthcoming on timing.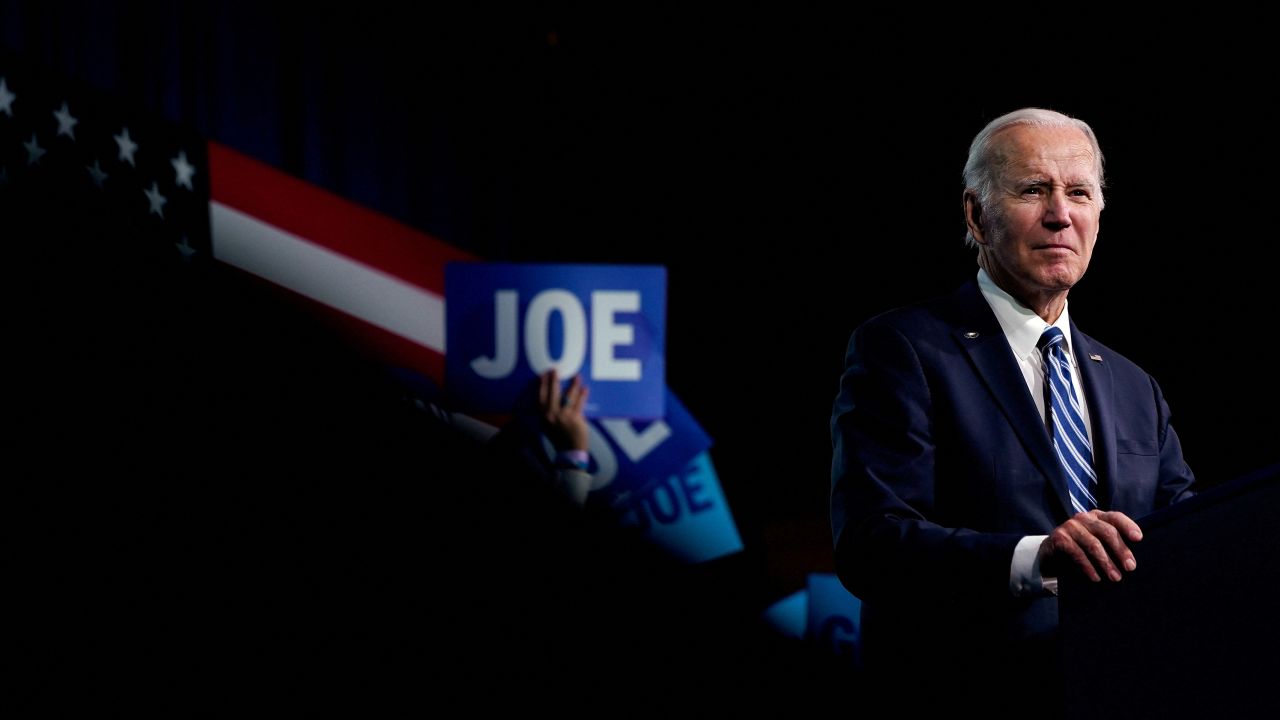 'Why not just let the Republicans try to out-crazy each other'
April had for a while been seen as a likely timeline for announcing his candidacy, given that it comes four years after he jumped into the race in 2019. And as vice president, he joined then-President Barack Obama in opening a reelection campaign in April 2011.
The timing of a Biden announcement is now more likely to be the summer rather than spring, three Democratic officials say, with a target date still not determined.
"President Biden has been clear that he intends to run, and his focus is on finishing the work he's doing for American families: continuing to bring manufacturing back from overseas, further cutting the deficit by having rich special interests pay their fair share, and standing up for fundamental rights like the freedom to choose," White House spokesman Andrew Bates told CNN. "There has never been a timeframe for any announcement."
Outside of interviews, Biden has remained mostly silent about his reelection plans.
That made two nods he gave recently to a likely run more notable. During an event handing out national Arts and Humanities medals at the White House last month, Biden said certain people were "ready to run" and, noting novelist Colson Whitehead's two Pulitzer Prizes, said he was "kind of looking for a back-to-back myself."
The allusions were hardly lost on anyone in the East Room, many of whom were ardent supporters of Biden's last presidential bid and are eager to back a campaign for a second term.
For other observers, including some in touch with the president that week, the asides also felt like subtle brushback against those who still question whether he actually plans to run again.
Signs of a pending campaign have been hard to miss.
Biden has spent the opening months of the year traveling the country to promote the accomplishments of the first half of his term at events that could easily be confused for campaign stops. He has intensified his attacks on Republicans, including taking aim at anti-LGBTQ laws in Florida championed by Gov. Ron DeSantis, a likely contender for the GOP nomination. And a string of moves on immigration, crime and energy have bolstered Biden's image as a moderate while angering some liberals for appearing to back off his prior promises.
Taken together, the portrait is of a candidate-in-waiting. Yet Biden has put off making a final decision about running again, and the time frame for a potential announcement – never set in stone – appears to be extending further into the year.
Last year, senior advisers to Biden discussed launching the reelection campaign early in the new year, and some members of Biden's family, too, are said to have favored an announcement as early as February. But that once-debated aspirational timeline has come and gone. Now, sources say, a reelection announcement taking place even by the end of April doesn't appear guaranteed.
So far, the stretched-out timeline doesn't appear to be worrying Democrats, at least outwardly.
"I have no doubt President Biden will run again and will win," said Rep. Brendan Boyle, a Pennsylvania Democratic congressman who has long been a booster of Biden running, attended his very first fundraiser in April 2019 in Philadelphia on the day he launched and who hosted Biden a few weeks ago in his district for the official release of the budget. "As far as when he exactly officially announces his reelection campaign, I couldn't care less. It's meaningless."
Obama formally launched his reelection campaign in April 2011. George W. Bush filed official papers to run for reelection in May 2003 but didn't begin actively campaigning until much later. Donald Trump declared his intention to run again the day he entered office in 2017.
All of those presidents' reelection bids were considered givens. While Biden has said from the get-go that he intends to run again, he faces perpetual misgivings over his advanced age and soft approval ratings. In a CNN Poll conducted by SSRS released Thursday, just a third of Americans said Biden deserves to be reelected, with a majority in his own party saying they would like to see someone else as the Democratic nominee for president next year.
One person familiar with internal deliberations said a reason there is not a great sense of urgency is because potential Republican presidential candidates, too, have been slow to launch their campaigns. So far, the only major GOP candidates to have formally declared runs have been Trump, former South Carolina Gov. Nikki Haley and former Arkansas Gov. Asa Hutchinson.
Sources also said Biden feels that as an incumbent president, without any serious primary challengers, he has more time to make a final decision. And some close to Biden suggest there is political upside to waiting.
"Why not just let the Republicans try to out-crazy each other for a little while?" asked one former White House official.
Wilmington vs. Philadelphia and other key decisions
As Democrats wait for Biden to officially declare a bid for a second term, some crucial decisions for the party remain in limbo. Among those is the location for the 2024 Democratic National Convention, as well as where a Biden reelection campaign would be headquartered – both decisions that need final sign-off from the President himself. He is said to personally favor a Wilmington, Delaware, base for his reelection campaign, though there has been active talk of centering it in Philadelphia as well.
Inside the White House, deputy chief of staff Jen O'Malley Dillon and senior adviser Anita Dunn – in consultation with other senior Biden aides – have been running point on preparations for a reelection campaign.
Multiple sources said that names that have emerged for potential senior roles on the campaign include Jenn Ridder, national states director for Biden's 2020 campaign, and Sam Cornale, executive director of the Democratic National Committee. Preston Elliott, Michigan Gov. Gretchen Whitmer's former campaign manager, Julie Chavez Rodriguez, director of White House Office of Intergovernmental Affairs, and Quentin Fulks, Georgia Sen. Raphael Warnock's ex-campaign manager, are also said to be up for possible senior jobs.
Other names in the mix include Emma Brown, Arizona Sen. Mark Kelly's former campaign manager, Roger Lau, deputy executive director at the DNC, Addisu Demissie, former campaign manager for New Jersey Sen. Cory Booker's 2020 presidential campaign, Mitch Stewart, founding partner of 270 Strategies, and Rob Flaherty, director of digital strategy at the White House.
Other top Democratic strategists who have been approached for jobs on the campaign declined to sign on, citing personal or professional reasons. And Biden himself hasn't engaged deeply on the staffing for the senior levels of his potential campaign – another sign that an announcement, at least for now, appears to remain in the distance.
Many of Biden's longest-serving and most trusted advisers are expected to remain at the White House for the duration of the campaign, setting up a potentially awkward dynamic for any campaign manager. There is a general expectation that at least one of Biden's longtime advisers would transfer from the White House to a campaign job, but it remains to be seen whom that would be.
Other recently departed White House officials, including former chief of staff Ron Klain and ex-communications director Kate Bedingfield, have also suggested they are prepared to assist the campaign.
'There's no clear backup plan'
At the handful of Democratic fundraising events the president has held over the past month, he has made only vague allusions to reelection.
"We have a real choice in this election – unrelated to me, unrelated to me – between the Democrats and Republicans and what they stand for and what they're about," Biden said in Las Vegas, careful not to run afoul of federal rules barring fundraising before officially declaring his candidacy.
Even as those around the president wait for an official 2024 decision, there is an air of inevitability about an eventual announcement. Those close to the White House have pointed to some of Biden's recent policy decisions that have tacked to the center as sending an important signal that his mind is all but made up.
Earlier this year, Biden blindsided many Democratic lawmakers when he announced that he would not veto legislation to block a controversial Washington, DC, crime bill that critics had painted as being weak on crime. The Biden administration has also rolled out a number of tough proposals aimed at curbing the entry of migrants at the US southern border, to the dismay of many Democratic lawmakers and immigration activists.
A number of other domestic policy announcements aimed at eliminating so-called "junk fees" and lowering the price of insulin – all moves considered to have broad appeal – have also signaled to Biden allies a pivot to reelection mode.
Hear what first lady thinks about Biden's reelection plans
But that air of inevitability is also creating jitters among some Democrats, who worry that an unexpected scenario in which Biden decides not to seek a second term would spell disaster for the party.
"Because there's no clear backup plan. There's no one else to get fired up about," said one Democratic congressman. "It's not like you see anybody else lining up in the wings to really to take him on."
Biden himself, along with his wife, have said in interviews they intend to mount another campaign barring unforeseen events.
Yet both have given themselves some room to back away.
"It's Joe's decision," the first lady told CNN's Arlette Saenz during a trip to Africa earlier this year. "And we support whatever he wants to do. If he's in, we're there. If he wants to do something else, we're there too."
CNN's Edward-Isaac Dovere and Jasmine Wright contributed to this report.