French President Emmanuel Macron told Chinese counterpart Xi Jinping he was counting on him to "reason" with Russia and help end the war in Ukraine.
In his opening remarks at talks in Beijing on Thursday, Macron said Russia had "put an end to decades of peace in Europe" and that finding a "lasting peace" that respected internationally recognized borders was "an important issue for China, as much as it is for France and for Europe."
China has claimed neutrality in the conflict and attempted to frame itself as an agent of peace. But it has refused to condemn the Russian invasion and continued to tighten its economic and diplomatic ties with the Kremlin over the past year – including a state visit from Xi to Moscow last month.
Speaking to reporters alongside Macron, Xi said China was ready to "issue a joint call" with France for the international community to "exercise restraint" and "avoid taking actions that might cause the crisis to further deteriorate."
He then went on to reiterate China's existing position on the war, including calling for peace talks and opposition to the use of nuclear weapons – while reiterating that the "legitimate security concerns" of "all parties" should be taken into consideration – a phrase long seen as a nod to Russian interests.
Macron, speaking roughly twice as long as Xi in his following remarks, stressed a need for discussion "with everyone" including Russia. "We do not simply want an end to the conflict, but respect for Ukrainian sovereignty and territorial integrity, which is the only condition for lasting peace," he said.
Macron arrived in Beijing on Wednesday with high expectations for a possible breakthrough on working with China to find solutions to end Russia's war on Ukraine.
Ukraine tops the agenda, but Macron's trip also has a strong economic component, with the French president traveling in China with a delegation of roughly 50 business leaders, with some expected to finalize or even sign new deals during the trip.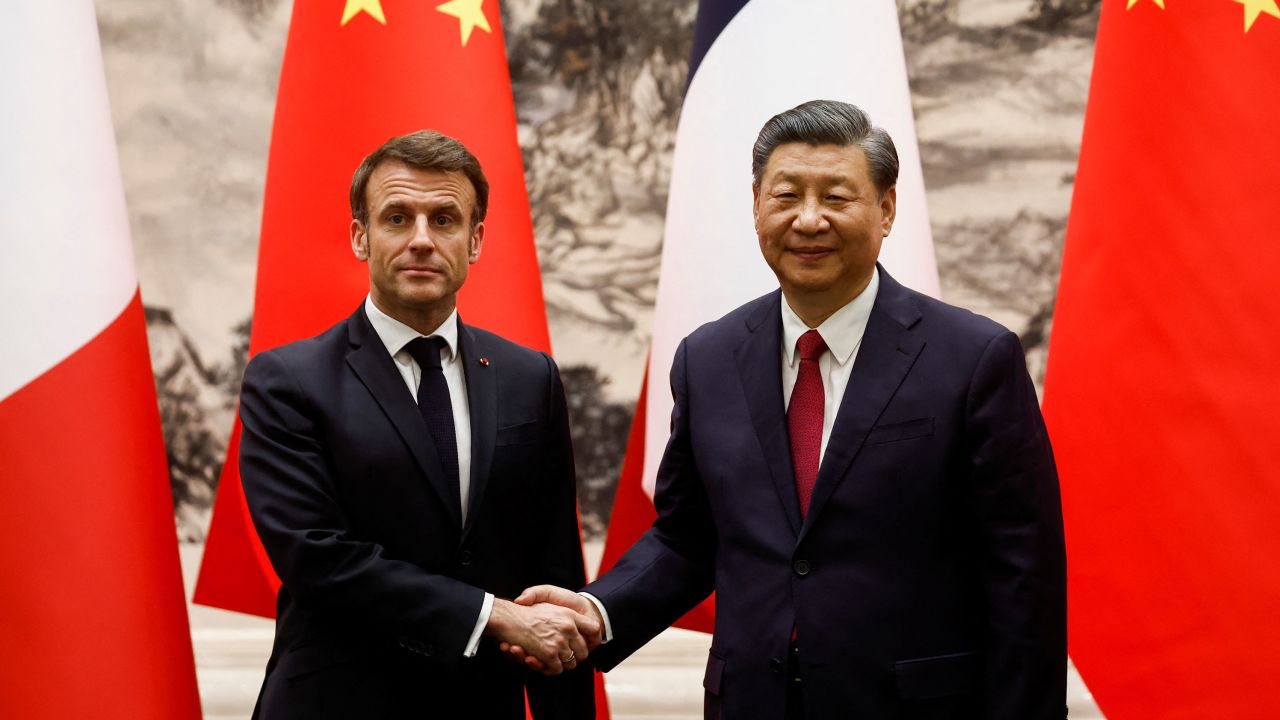 Xi said during the talks that Macron's visit would "inject new impetus" to China-Europe relations, according to Chinese state media CCTV.
The Chinese president said the two countries "have the ability and responsibility to transcend differences and constraints," citing common work on climate change and African development, CCTV reported.
Xi also said during meetings with Macron that he is ready to call Ukrainian President Volodymyr Zelensky at the right moment, French diplomatic sources told CNN.
Macron also meet with both Xi and European Commission President Ursula von der Leyen for a trilateral meeting later Thursday, in keeping with a precedent of joint diplomacy with China between France and the European Union.
In her opening remarks, Von der Leyen told Xi while she doesn't see decoupling from China as a viable or desirable strategy for EU, "equally I could see a number of risks that Europe should address."
Europe and China are seeking to find ways to reconnect, following three years of China's stringent pandemic travel controls and deteriorating ties over a range of issues including China's human rights record to its stance on the war in Ukraine.
Ahead of the visit, von der Leyen also pledged that Ukraine would be an "important topic" of her meetings with Chinese leadership. Both she and Macron spoke with Ukrainian President Volodymyr Zelensky in recent days ahead of their travel.
In her opening remarks, von der Leyen also said that for peace to be restored "we need Russia to end its invasion and withdraw its troops from Ukraine."
A vaguely worded proposal for a "political solution" to the war released by Beijing earlier this year was met with skepticism from European leaders, including von der Leyen, amid criticism that some proposals – like a ceasefire without a call for the withdrawal of Russian troops – favored Moscow.
Ahead of the meetings, Macron appeared optimistic about working with China to move toward peace.
An Elysee source last week told reporters Macron was not in China "to question the Chinese red lines – notably the refusal to condemn Russia," but rather to find a way to create initiatives that could benefit the Ukrainian people and "then create a way to identify a solution to this war."
A recent example of China as mediator was on show in Beijing on Thursday, as Saudi Arabia's and Iran's Foreign Ministers signed a joint statement related to the resumption of their bilateral relations after seven years, following a landmark agreement mediated by China last month.
Macron continues his state visit Friday with a trip to China's southern commercial hub of Guangzhou, where he is expected to dine with Xi, according to an Elysee source.
CNN's Beijing bureau, Wayne Chang and Teele Rebane in Hong Kong, and Xiaofei Xu and Saskya Vandoorne in Paris contributed reporting.