Tickets for Arsenal's final game of the season against Wolverhampton Wanderers are being touted on resale website StubHub for extortionate prices.
The Gunners are on course to win a first Premier League title in 19 years and some people, it seems, are taking advantage of fans' desperation to see the team hoist the trophy in person at the Emirates Stadium on May 28.
At the time of writing, the cheapest tickets on StubHub are going for $1,175, while others are being touted for an eye-watering $65,000. The most expensive ticket – situated in the section where the Wolves fans would sit – is listed at $330,000. Seller details are not available on the website.
Akhil Vyas, a board member of the Arsenal Supporters Trust, says it remains "frustrating and disappointing" to see third-party websites reselling Arsenal tickets.
"But there is more to this than meets the eye," he tells CNN. "If any fans are selling their own ticket, despite having sympathy during this cost of living crisis, it's illegal and they shouldn't be doing it."
In the Premier League, tickets are meant to be resold through the club to other members or fans on waiting lists.
"If you are looking to buy tickets for matches in the Premier League you should buy them directly from Premier League Clubs," the Premier League says on its website.
"A 'ticket tout' (also known as a 'scalper') sells match tickets without authorisation, often at vastly inflated prices.
"Touts no longer just sell tickets outside the stadium, they also sell them (and aid unauthorised sales by others) on websites and online marketplaces."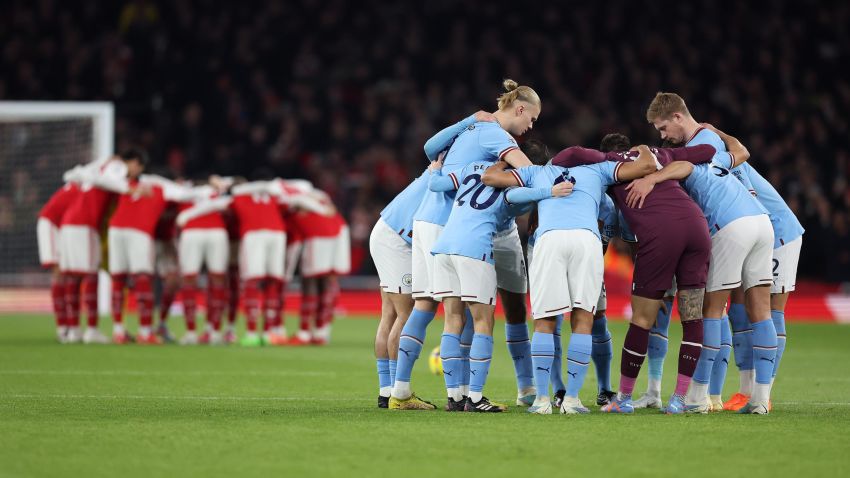 Wayne Rooney tips Manchester City to win Premier League
With some of the resale website being overseas, Vyas says it's "hard to know" if they actually have the tickets or if "they plan to source them" once somebody has paid.
"We had a member of the trust buy one, and fly from the USA only to have his ticket refunded a few days before the game," Vyas says. "Of course, he has spent hundreds on the flight and hotels for which he couldn't get a refund.
"Our advice is always to avoid third-party sites – you just can't trust them."
CNN has reached out to StubHub for comment, but is yet to hear back.
On its website, however, StubHub says "every order is 100% guaranteed" and fans can "buy and sell tickets with 100% confidence"
SubHub adds: "Your tickets will arrive in time for the event, be valid for entry and exactly what you purchased. If any of these things don't happen, we'll find you comparable or better tickets or offer you a refund or credit for a future order."
Arsenal says it has canceled almost 2,000 memberships for touting offenses this season and blocked half a million IP addresses due to "suspected bot activity" during the sale of tickets for the Wolves fixture.
"We understand how frustrating it is when tickets appear on unauthorised websites at exorbitant prices," the club said in a statement.
"We remind all supporters that tickets for our matches are only available through official Arsenal channels and we stress how important it is that you do not buy tickets from unauthorised sites."
Arsenal currently sits eight points clear of Manchester City at the top of the league – though City has a game in hand – with fans now dreaming of the club lifting a first Premier League trophy since 2004.
If purchasing directly through the Arsenal website, the most expensive ticket for the game – designated as a Category B fixture – would be £75.50 ($93.40).
Vyas says it's "very unfair" that regular match-going fans are being priced out by third-party sellers.
"All tickets that are not owned by season ticket holders should go to members and the club has worked hard on the ticket exchange and transfer process so tickets remain with fans," he says.
The issue of third-party resale websites is enforced by individual clubs, which can cancel tickets, suspend memberships and even issue stadium bans to supporters they identify with unauthorized sales.
As well as providing guidance on how to safely purchase tickets, the Premier League has also compiled an extensive list of popular third-party websites fans should avoid, with StubHub included.
This season, Vyas says Arsenal has worked with the Supporters' Trust to try and tackle the issue of illegal ticket resales.
"Via recommendations from the Trust, the club has appointed an expert external task force to tackle bots and touting which is very good to see," he said. "They have blocked IP addresses when suspicious and have banned 2K memberships this season when caught touting.
"We understand they have people internally investigating, so fans who have genuinely done nothing wrong can appeal, but those who are found guilty of touting are banned.
"It isn't an overnight fix but the club are serious about this and we've spent hours and hours discussing plans with them and providing them with suggestions and a sounding board. They are serious about tackling this."