A decision has not yet been made on whether athletes with Russian or Belarusian passports will be eligible to compete at the 2024 Summer Olympics in Paris. Olympic officials outlined new guidelines this week on how athletes from the two nations could compete as neutrals, paving the way for their return. But as Russia's war in Ukraine rages on, some Ukrainian athletes said it would be a "slap in the face" to allow them entry into the games.
Here's what else you need to know to Get Up to Speed and On with Your Day.
(You can get "CNN's 5 Things" delivered to your inbox daily. Sign up here.)
1. Trump indictment
Former President Donald Trump was indicted by a Manhattan grand jury Thursday – marking the first time in US history that a current or former president has been criminally charged. Trump faces more than 30 counts related to business fraud, according to sources familiar with the case. In a fiery statement following the indictment, Trump called the move "political persecution and election interference at the highest level in history." Former Vice President Mike Pence told CNN that charging the former president is a "disservice to the country" that will only divide people further. Key House Republican leaders also lined up to defend Trump. The Manhattan district attorney's office has been investigating the former president in connection with his alleged role in a hush money payment scheme and cover-up involving adult film star Stormy Daniels that dates to the 2016 presidential election. Trump is expected to appear in court Tuesday for his arraignment.
2. Severe weather
A severe weather outbreak could impact nearly 70 million people today from the Mississippi Valley to the Ohio and Tennessee Valleys, meteorologists say. The storm system – which already walloped the West with intense rain and snow – could now bring "a concerning scenario" with intense wind gusts and several tornadoes, the Storm Prediction Center said. Forecasters are anticipating severe weather for millions along the Mississippi River – including portions of northeastern Arkansas, the Missouri Bootheel and western Tennessee, and parts of eastern Iowa and northwest Illinois. Places such as Cedar Rapids, Davenport and Iowa City are also included in the severe weather threat. View CNN's Storm Tracker here to view the severe risk areas as well as the storm's path on a current radar.
3. Nashville shooting
The first funeral connected to the Nashville school shooting is set for today. Evelyn Dieckhaus, 9, will be the first victim of Monday's shooting at The Covenant School to have a funeral service, set for this afternoon at a Nashville church. Funeral services for the five other victims – two children and three adults – are scheduled for this weekend and early next week. On Thursday, Nashville officials also made public the terrifying 911 calls that came from inside and outside the school as the shooting unfolded. Many of the callers spoke in hushed whispers, saying they were barricaded in rooms and heard numerous gunshots in the school. Meanwhile, investigators are continuing to search for a possible motive for the shooting, though officials believe the attack was planned and calculated.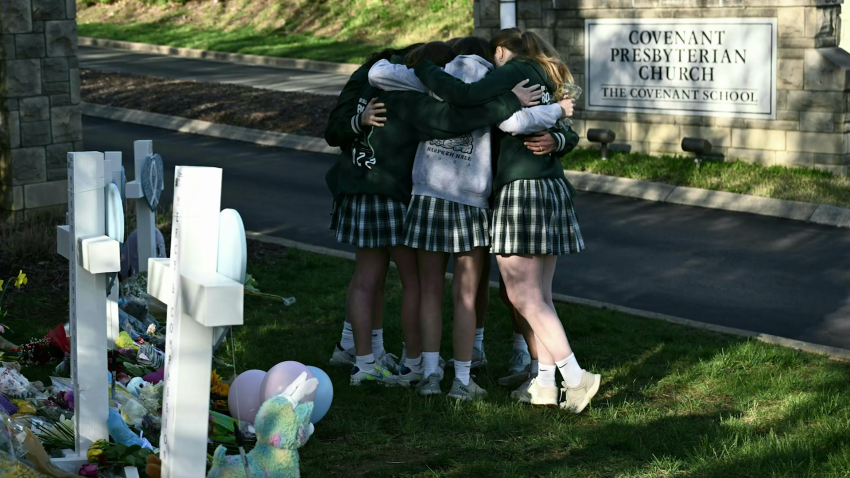 'Not their problem': Hear why one parent won't discuss the Nashville school shooting with his kids
4. NATO
Turkey has finally approved Finland's application to join NATO, the alliance set up to promote peace and stability and to safeguard the security of its members. Sweden, however, still remains blocked by Turkey from joining the alliance. Over several decades, the alliance has grown to include a total of 30 members, including the US, the UK and other powerful nations. The key principle underpinning the alliance is one of collective defense: "An armed attack against one or more of them in Europe or North America shall be considered an attack against them all." Finland and Sweden had for decades committed to non-alignment with NATO as a way of avoiding provoking Russia. However, that changed when Russian President Vladimir Putin ordered his troops into Ukraine and forced the two Scandinavian countries to re-evaluate their neutral status. Ukraine is not a member of NATO, but has long hoped to join the alliance.
5. Twitter
Several major news organizations have rejected Elon Musk's demand of paying to keep their checkmarks on Twitter. The New York Times, Los Angeles Times, the Washington Post, BuzzFeed, POLITICO, and Vox all scoffed at the notion on Thursday that they would pay Twitter for the feature, which intends to signify the handle is "verified." Musk is aiming to charge organizations that want to retain a checkmark adjacent to their account name $1,000 a month, plus an additional $50 a month for each affiliated account. The feature has been helpful to Twitter's entire community, giving the public an easy way of distinguishing between authentic and inauthentic users. But with a growing number of news organizations and public figures saying they have no plans to fork over any money for the checkmark, analysts say it could create confusion and misrepresentation. Twitter announced last week that it will begin "removing legacy verified checkmarks" starting April 1.
BREAKFAST BROWSE
Plants aren't silent. They make clicking sounds, a study finds
What in carnation? You may be surprised to learn that plants make sounds when they're thirsty or under stress.
Gwyneth Paltrow wins ski collision case
A jury on Thursday found the Oscar-winning actor not liable in a 2016 ski collision. She sought and was awarded $1 in damages, plus attorneys' fees.
Relocating Pablo Escobar's 'cocaine hippos' to cost around $3.5 million
More than 70 hippos descended from the drug lord's exotic animal collection will be transported to sanctuaries in Mexico and India.
Bed Bath & Beyond struggles to avoid bankruptcy
The home furnishings store announced it will likely file for bankruptcy if it can't sell $300 million in stock.
Scarlett Johansson stars in trailer for 'Asteroid City'
The star-studded trailer offers a glimpse into Wes Anderson's fictional American desert town. 
QUIZ TIME
Dozens of tech leaders, including Elon Musk, signed a letter this week calling on labs to temporarily stop developing which technology?
A. Artificial intelligence programs
B. Crypto exchange networks
C. Rideshare platforms
D. Social media platforms
Take CNN's weekly news quiz here to see if you're correct!
TODAY'S NUMBER
85%
That's the percentage of Virgin Orbit's workforce that will be laid off next week, according to a public document filed Thursday. The cuts come as British billionaire Richard Branson and his company's leadership struggle to secure additional funding for the rocket company.
TODAY'S QUOTE
"This is yet another attack on the Affordable Care Act."
– White House press secretary Karine Jean-Pierre, issuing a statement Thursday after a federal judge ruled insurers no longer have to provide some preventive care services at no cost, including cancer and heart screenings. However, it's likely the case will be appealed, and the Justice Department has the option to ask that the ruling be put on pause while the appeal is litigated.
TODAY'S WEATHER
Check your local forecast here>>>
AND FINALLY
How Krispy Kreme doughnuts are made
Take a look inside a Krispy Kreme shop that makes over 50,000 doughnuts a day. Warning: stomach rumbles may follow. (Click here to view)