Irvo Otieno had a million-dollar smile, respected others and stood up for what he believed was right, family and friends said Wednesday at the funeral for the man who died after he was pinned to the floor by security officers at a Virginia mental health hospital.
Now it's time for society to stand for what is right – by implementing law enforcement and mental health care reforms, speakers told mourners during Otieno's service at First Baptist Church of South Richmond.
Seven sheriff's deputies and three hospital employees are accused of second-degree murder in the March 6 death of the aspiring musician, 28, who prosecutors say was smothered during what the family said was a mental health crisis.
"What kind of sickness would make men pile on a man that's already handcuffed and shackled?" Rev. Al Sharpton said during the eulogy.
"He had an illness. He should have been doctored to, not treated with brutality," Sharpton said.
The minister and family attorney Ben Crump said police need to be better equipped to deal with those with mental illness.
They also encouraged Virginia officials to make reforms.
"We can develop mental health courts where they will be treated like they have illness and not like they are criminals and degenerates not worthy of dignity and respect," Crump told mourners. "Irvo deserved dignity and respect."
Video offers details on Otieno's final moments
On March 3, Henrico Police responded to a report of a possible burglary and encountered Otieno. Police officers – along with the county's crisis intervention team – put Otieno under an emergency custody order due to their interactions with and observations of him, police said.
According to Virginia law, a person can be placed under an emergency custody order when there is reason to believe they could hurt themselves or others as a result of mental illness.
The officers transported Otieno to a hospital where authorities say he assaulted three officers. Police took him to county jail and he was booked. At around 4 p.m. on March 6, Otieno was taken to Central State Hospital, a state-run mental health facility south of Richmond, by the Henrico County Sheriff's Office, according to the commonwealth attorney's office. It's not clear why deputies transferred Otieno.
State police investigators were later told Otieno became "combative" and was "physically restrained" during the intake process, the commonwealth attorney's office said on March 14.
Surveillance video recently released by a prosecutor shows Otieno being pinned to the floor.
Dinwiddie County Commonwealth's Attorney Ann Cabell Baskervill's office released 911 calls about the incident in which a caller described Otieno as "very aggressive" and repeatedly asked for an ambulance, saying he was not breathing.
The video begins as Otieno, bound by his hands and feet, is forcibly taken into a room and dragged into an upright seated position on the floor with his back against a chair. Ten minutes later, after Otieno has turned onto his side with three people holding him, his body jerks, and five more deputies and workers move to pin Otieno to the floor.
A clear view of Otieno is blocked in much of the video, but one deputy appears to be lying across Otieno for most of the incident as he is forced onto his stomach. Eventually, Otieno is rolled onto his back, where several deputies appear to be restraining him with their knees. One deputy holds Otieno's head still by grabbing his braided hair.
After 12 minutes of Otieno being pinned to the ground, one deputy can be seen shaking Otieno's hair and attempting to take a neck pulse, but Otieno is unresponsive. Three more minutes pass before CPR begins, with Otieno's limbs still shackled.
Medical workers from the hospital are seen converging on the room as CPR continues for nearly an hour. After he is pronounced dead, Otieno is covered in a white sheet, still lying on the floor, his body briefly left alone in the room.
Attorney: 'Nothing was outside of the ordinary'
An attorney for one of the deputies charged in the case told CNN he's "disappointed" the prosecutor released the video because he thinks it could influence the jury pool.
Seven Henrico County deputies, who turned themselves in to state police earlier this month, are on administrative leave as investigations by their agency and state police continue, Henrico County Sheriff Alisa Gregory said in a statement.
CNN has sought comment from the deputies. Caleb Kershner, deputy Randy Joseph Boyer's attorney, told CNN recently that they had yet to see video but claimed "nothing was outside of the ordinary" in the lead-up to Otieno's death.
"They delivered him as fast as they could because obviously this was a man in tremendous need of some sort of medical attention," Kershner said. He added that his client said they had dealt with Otieno "for a long time and he had a significant amount of violent noncompliance."
An attorney representing deputy Bradley Disse said they look forward to fighting the case in court after they have received all of the evidence. "The medical evidence and the relevant background information that led to the situation at Central State Hospital has still not yet been either completed or revealed," attorney Peter Baruch told CNN.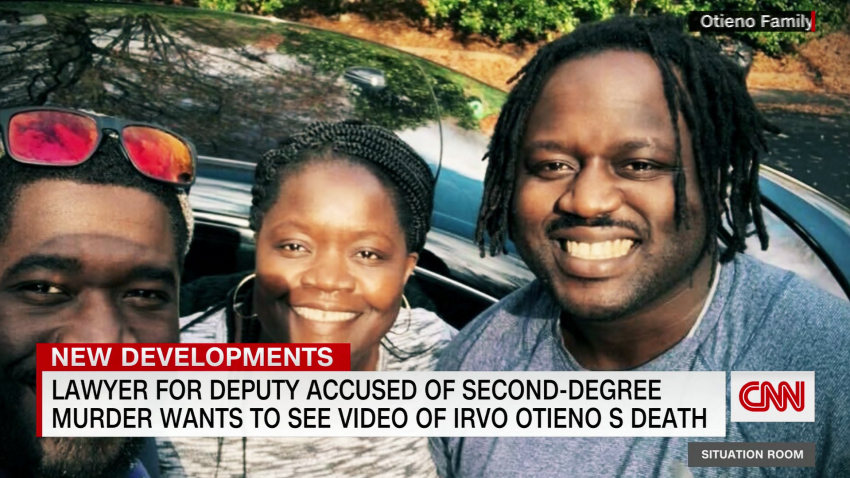 Prosecutor describes VA death in custody
Three Central State Hospital workers who were arrested were placed on leave "pending the results of the legal proceedings," the Department of Behavioral Health and Developmental Services and Central State Hospital said in a statement. Officials said they will ensure the family receives information about "the tragic events at the hospital."
The Henrico Fraternal Order of Police Lodge 4, the local law enforcement officers' union, "stands behind" the deputies, it said in a statement on Facebook.
CNN has reached out to attorneys, the hospital and jail for additional comment.
A farewell message from his mother
Crump has said Otieno was not being aggressive or resisting during the incident. "He was trying to breathe," he told reporters. "If you were down there, restrained and all of these people on top of you, you would be trying to breathe. You would try to move, too, to let your lungs expand."
The attorney told those attending Wednesday's funeral that the situation should have been treated differently.
"When Black people in America have mental health issues, we cannot treat them like criminal issues," Crump said.
Sharpton said Otieno was a man of talent whose life was unnecessarily cut short.
"If he'd been cared for, rather than cared-less law enforcement, he could have been a shining example of how people, despite their challenges, can be productive anyway."
The musician's mother spoke near the end of the service, saying her son had character and will be missed.
"May your spirit lead us in this pursuit of truth and justice. I will miss your infectious smile and your big hugs," said Caroline Ouko. "We will get to the bottom of what happened to you."
CNN's Kim Berryman, Brian Todd, Steve Almasy, Andy Rose, Michelle Watson, Eric Levenson, Sara Smart and Lauren Koenig contributed to this report.