Sign up for CNN's Eat, But Better: Mediterranean Style. Our eight-part guide shows you a delicious expert-backed eating lifestyle that will boost your health for life.
Home organization shows can be simultaneously uplifting and deflating with rows of matching containers on every shelf of the pantry and cabinets. Typically they're in a gleaming white kitchen, no less.
Let's leave the aesthetics aside for a moment, because I will be honest and tell you that I do not own a gorgeous kitchen. It is downright ugly in many respects, but it is functional. And function is the reason I'm making the argument that you should store your pantry ingredients in containers.
Even if you're not using matched sets of brand-new modular storage or bins (and I'm not suggesting that you do), decanting ingredients from their bags and other packaging into containers is a smart move. Here's why I do it and why I believe everyone should start containing their ingredients.
You'll save space and fit more in the pantry
There's no one-size-fits-all solution for pantry storage because every kitchen layout has its own specific challenges. However, a general rule of thumb is that containers are simpler to store in cupboards and on shelves than bags.
Instead of piling bags and digging through the stack to find what you're looking for, containers are stackable and easily movable. One wrong grab can send a cascade of snack bags or granola bars crashing to the floor, but containers keep food in check.
Both glass and plastic are durable, though families with kids frequently prefer plastic containers because of the weight and breakability factor. As for round versus square containers, "round ones don't maximize the space in between" as effectively as square or rectangular containers do, said Shara Kay, a Los Angeles-based certified professional organizer and owner of SK Organizing.
My pantry storage situation includes a mix of airtight plastic rectangular containers, glass mason jars, larger restaurant-style food storage bins and repurposed containers — all from various brands in various sizes. Some are ingredient-specific, such as those for my brown sugar and granulated sugar, and others are generic containers.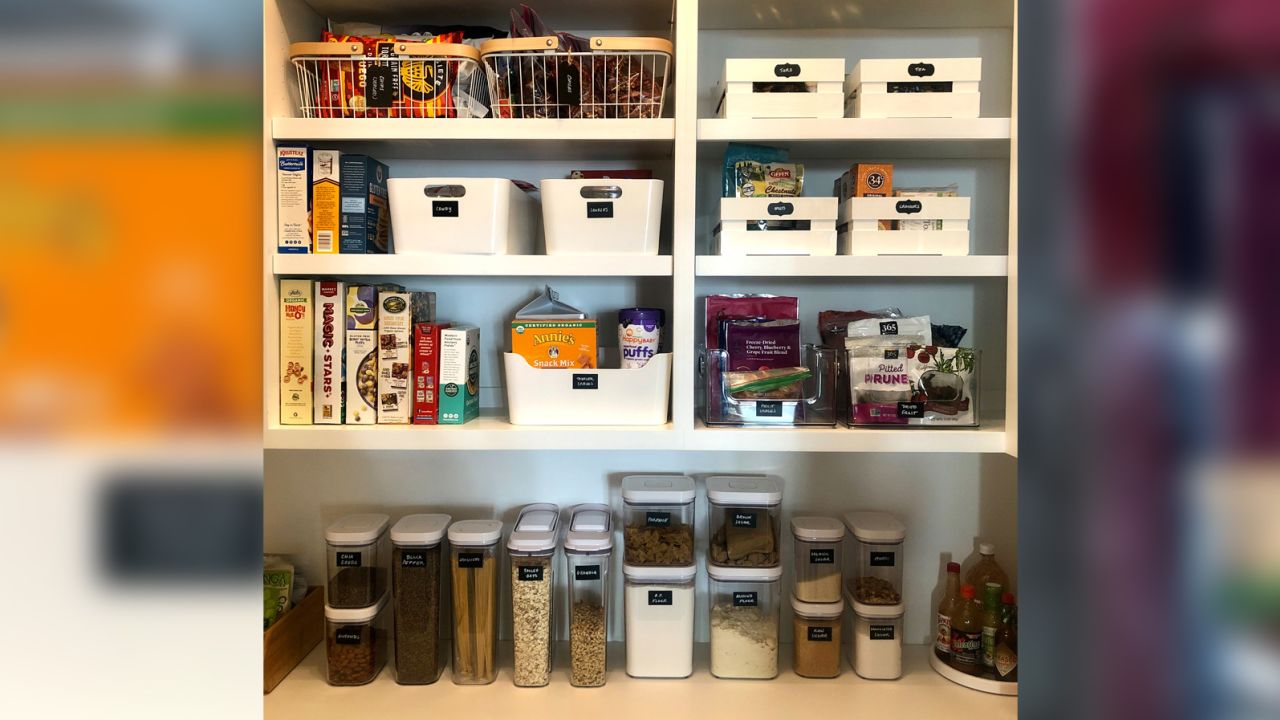 For those with deep pantry shelves, a hybrid solution — aka "containers for your containers" — might be necessary. Open-top or open-front pantry storage bins can help group similar items together and allow you to pull out one large container rather than a lot of small jars or canisters. This works well for keeping ingredients such as baking soda, baking powder, vanilla extract and other baking-related items together.
If your shelves are less than 12 inches deep, according to Kay, you may not want to double up on bins. But if you have a deeper reach-in pantry, "you probably do, because things will get lost in the back."
In my pantry, I have a mix of purchased bins and repurposed open box-style containers, including a few old letter trays from my office that hold small mason jars of my granola, dried fruit and other breakfast snacks.
You'll waste less food
Clear containers can help people visualize what they have immediately, Kay said, making it easy to see if there's enough penne in the pantry for tonight's dinner or if it's time to restock the black bean stash. If you always end up buying an extra box of pasta because you can't remember what you have on hand, containers may help with overbuying.
Airtight containers also keep snacks and other loose items from losing their crunch too quickly. "If you're taking a long time to consume things and they're going stale," Kay said, "that's a good instance to decant." Bag clips can't maintain an airtight seal, but if you store your half-open bags of Cheez-Its in a sealable container, you're winning the war.
However, you'll still need to do routine pantry maintenance to make sure you're not leaving foods in bins for too long. It's smart to use the first-in, first-out rule with your ingredients, whether they're in the pantry, fridge or freezer.
I personally don't buy so much food that I won't use it before it goes stale or past its expiration date, but if that's an issue in your house, keep track with writable stickers on your containers and bins. And if you have a few handfuls of ingredients left, Kay said, "when you're decanting, use up the stuff at the bottom before adding to the top."
Your food will be pest-proof
No one wants to believe they could get pests in their pantry, but it's better to think about this situation before it happens. And as someone who lives in a century-old home, I'm here to give you the news firsthand: The pests will take the smallest opportunity to invade every single time.
Whether plastic or glass, sealed containers are the best line of defense against rodents and insects. Kay's rule is "the more airtight, the better," but I'll go one further. Containers beat bags every time because I have yet to meet a mouse, ant or moth that can penetrate a rigid container. And I unfortunately can't say the same for store packaging — even sealed cardboard boxes.
You don't need to go out and buy all new containers
As convincing as my argument for containers may be, it doesn't mean you have to buy out your local home goods store immediately. Start with the containers you have on hand, such as mason jars or plastic bins. Or if you need to buy a set of containers, "start with five and see how it goes," Kay said. "If it's working for you, then acquire more."
Similarly, "don't go decanting every single snack in your pantry on the first go-round," Kay added. She recommends starting with baking staples such as flour and sugar as well as other items that are usually scooped and measured incrementally rather than all at once. Rice or grains and dried beans are ideal candidates, as are nuts and dried fruit.
For those who still want to keep ingredients in their bagged packaging, you have two options. One is to store your open bags of snacks in larger sealable containers, as mentioned earlier, and the second is to stack your bags in open-top bins.
"My family won't eat some food if it's not in the original packaging because they're drawn to the original packaging," Kay admitted. As you start transitioning to the container method of pantry storage, you'll find the right balance for your family as well.
Casey Barber is a food writer, artist and editor of the website Good Food Stories.