A Haitian migrant family became one of the last to possibly benefit from a loophole in a decades-old asylum agreement on Friday, one day after US President Joe Biden and Canadian Prime Minister Justin Trudeau jointly announced changes to the treaty that would restrict certain migrants from seeking protections in Canada.
The Haitian family were seen on video captured overnight by CNN affiliate WCAX as they illegally entered Canada minutes before the modifications kicked in, limiting opportunities for some asylum seekers such as them. The family was in such a rush to arrive in Canada ahead of the new guidelines that they left their luggage on the US side of the border, WCAX reported.
As of 12:01 a.m. on Saturday, migrants seeking asylum risk being promptly returned to the US if they enter Canada illegally, unless they qualify for exceptions listed under the revised Safe Third Country Agreement, or STCA. The WCAX video also shows Canadian authorities at midnight as they unveiled signage advising people of the new risks of crossing illegally beginning Saturday.
The treaty, signed in 2002, applies to individuals who have transited through a country where they could have made an asylum claim because it is deemed safe, as the name of the agreement implies. It's in effect at ports of entry, and individuals entering at a land port of entry may be ineligible to make a claim and be returned to the US.
A loophole in the agreement included an incentive to use the irregular border crossing Roxham Road, a remote street that connects Champlain, New York, with Hemmingford, Quebec. Trudeau has faced blowback domestically over hundreds of migrants crossing the road and the changes to the agreement mark a significant change in how Canada accepts asylum seekers.
But Roxham Road is not an official crossing, meaning that people who transit there could still seek protections in Canada even though they passed through the US. Crossings between ports of entry were not initially included in the agreement because of limitations to information sharing, experts say, prompting Canada to try to close that loophole now that those limitations have been lessened.
Some asylum-seekers risk being turned away
An elected official in nearby Plattsburgh, New York, is raising questions about what might happen to asylum seekers who continue to cross illegally into Canada only to be returned under the new STCA provisions.
"Now with the change in direction between our two countries, there certainly is a concern about what the impact will be as folks calibrate whether they approach the border or not," Michael Cashman, Plattsburgh town supervisor, told CNN on Saturday.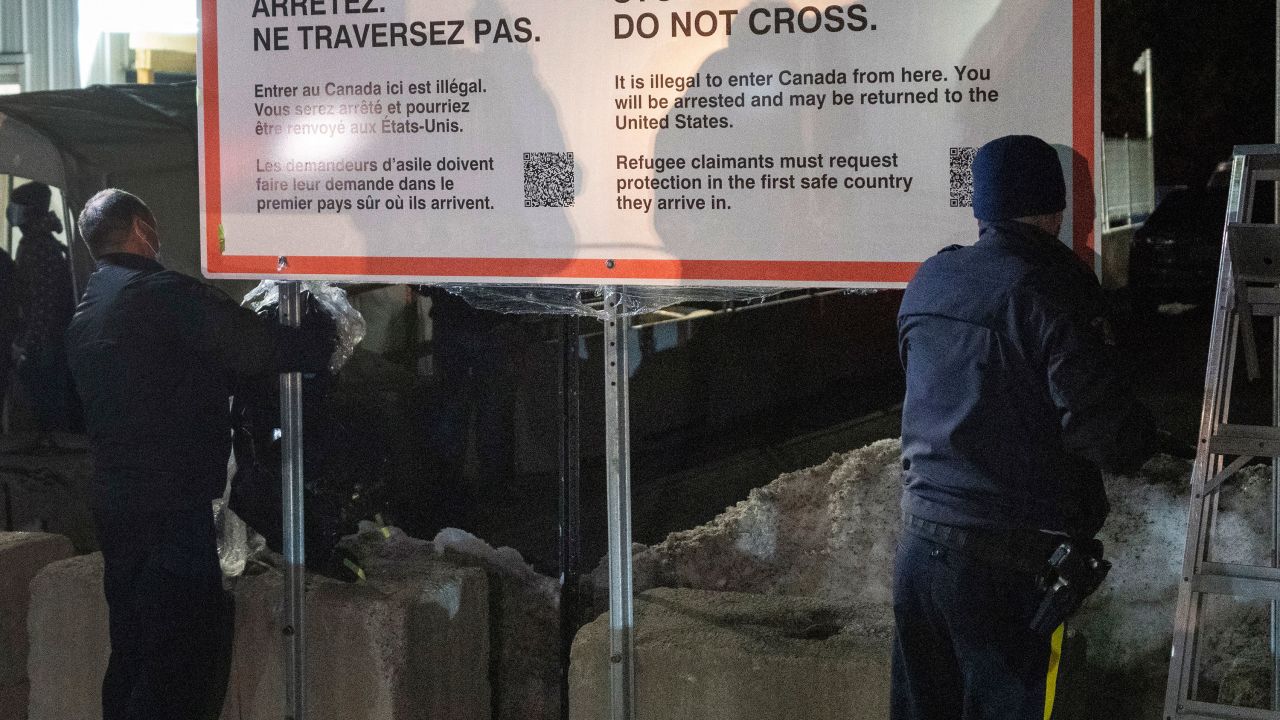 "We're about 20 minutes from the Canadian border. We have not received any direct communication from federal agencies," added Cashman, who visited the Roxham Road crossing Saturday.
As migrants begin to be turned away at Roxham Road this weekend, Cashman and migrant advocates north of the border in Montreal are closely watching for any possible long-term impacts that may result from Friday's Biden-Trudeau deal.
US Border Patrol has also recently seen a historic high number of migrant crossings into the US from Canada, prompting the agency to send additional authorities to the region to assist.
The Swanton Sector, which covers some 24,000 square miles along the US-Canada border, has fewer personnel than sectors along the US southern border and has been overwhelmed by the increase in border crossings.
CNN's Priscilla Alvarez and Phil Mattingly contributed to this report.