When you're hurrying through the grocery store, reading the ingredients on food labels is probably not at the top of your mind – unless you're considering an allergy or other dietary restrictions. Scientists and lawmakers, however, recommend shoppers should do their best to avoid items that contain these controversial chemicals. On the list is red dye No. 3, frequently used for food coloring in candies and processed snacks.
Here's what else you need to know to Get Up to Speed and On with Your Day.
(You can get "CNN's 5 Things" delivered to your inbox daily. Sign up here.)
1. TikTok
TikTok CEO Shou Chew testified Thursday before Congress as scrutiny mounts over the app's ties to China and its potential risks to national security. It was a rare chance for the public to hear from Chew, who offers very few interviews. Yet his company's app is among the most popular in America, with more than 150 million active users. The hearing, which lasted for more than five hours, kicked off with calls from a lawmaker to ban the app in the US and remained combative throughout. Chew used his testimony to stress TikTok's independence from China and play up its US ties. However, much of Chew's attempts to stress that his company is not an arm of the Chinese government appeared to fall on deaf ears. Numerous members of Congress interrupted Chew's testimony to say they simply don't believe him.
2. Flood watches
The same system that brought rare tornadoes to California this week will trigger widespread severe thunderstorms today for the mid-South and Ohio Valley. More than 20 million people are under flood watches today across a large swath of the US stretching from Oklahoma to West Virginia. The storm already passed through the Oklahoma-Missouri border late Thursday, according to the Weather Prediction Center, drenching parts of the states with several inches of rain. Meanwhile, northeast Louisiana, southeast Arkansas and western Mississippi are also at moderate risk for severe thunderstorms that could bring strong tornadoes, large hail and damaging wind gusts of more than 70 mph. There is also a slight risk for severe thunderstorms from central Texas to southern Indiana through this morning.
3. School strike
Los Angeles schools will reopen today following the conclusion of a massive three-day strike over wages and better working conditions. Thousands of school workers began picketing Tuesday after nearly a year of unsuccessful negotiations with the school district, leaving more than 500,000 students out of class this week. Though the strike may be over, frustrated members of the workers' union say they still feel undervalued by low pay, minimal staffing and inadequate hours as they provide essential services to the nation's second-largest school system. Among their demands, workers are calling for a 30% pay raise to boost their average salary – which currently stands at $25,000.
4. Passport delays
Amid "unprecedented demand," the current wait time for a regular US passport has soared to "about 10 to 13 weeks, and for an expedited passport about seven to nine weeks," Secretary of State Antony Blinken said Thursday. The State Department is "getting 500,000 applications a week for passports," which is 30 to 40% more applicants this year than last year, Blinken told a House Appropriations subcommittee budget hearing. Staffing and resources have been increased to deal with the surge, Blinken said. This comes after the department had launched a pilot online renewal platform so Americans who already have a passport can renew online, but it has "now halted it to make sure that we can fine-tune it and improve it before we roll it out in a bigger way," Blinken added.
5. France protests
More than a million people took to the streets across France Thursday with protests turning violent in some areas as demonstrators voiced their fury at proposed pension reforms. Following flare-ups in Paris and regional capitals, at least 80 people were arrested and 123 police officers injured, French Interior Minister Gerald Darmanin said. Thursday was the ninth day of strikes in the country and the first of coordinated action since French President Emmanuel Macron's government pushed a bill to increase the retirement age from 62 to 64 through parliament without a vote last week.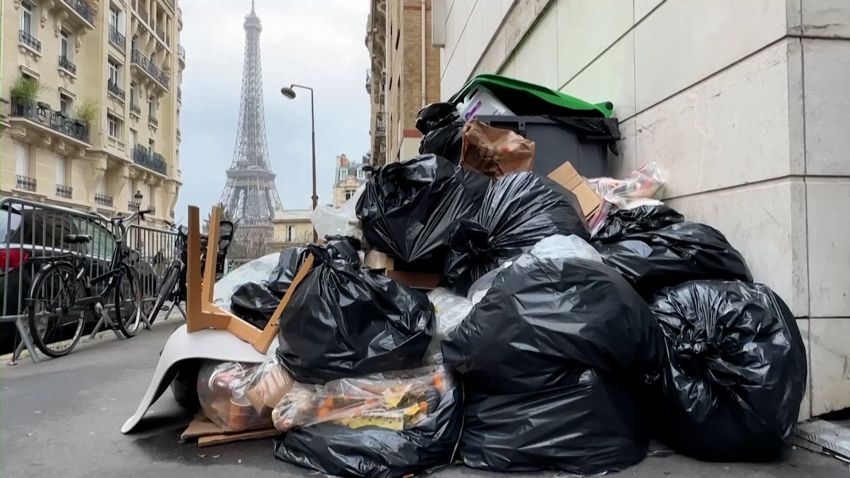 Trash is piling up on the streets of Paris. Here's why
BREAKFAST BROWSE
Doris the cow pretends to be sleeping to get out of milking duty
Excuse me, Doris … it's pasture wake-up call. Watch the funny video here.
Starbucks' new CEO wants to work in stores as a barista once a month
But does he have what it takes to wear the green apron? We shall see.
Trailer released for Netflix's 'Queen Charlotte: A Bridgerton Story'
We have a new glimpse into the "Bridgerton" prequel series! Here's when the show will make its grand debut. 
Tom Brady buys partial stake in WNBA's Las Vegas Aces
About a month after announcing his retirement from the NFL, Tom Brady shared why he's joining the ownership of the women's sports team.
Accenture slashes 19,000 jobs worldwide
The cuts come amid a gloomy economic picture for the company and after thousands of workers in the tech industry have been laid off in recent months.
QUIZ TIME
A 5,000-mile-wide blob of seaweed is heading for the shores of which state?
A. Florida
B. California
C. Maine
D. Alaska
Take CNN's weekly news quiz here to see if you're correct!
TODAY'S NUMBER
$411 billion
That's how much it will cost to rebuild from the war in Ukraine, the World Bank announced in an updated assessment. The majority of damage is concentrated in frontline eastern regions, including Donetsk, Kharkiv and Luhansk. Still, Ukrainian President Volodymyr Zelensky is expressing optimism that a victory could come by the end of the year – but only if Ukraine receives increased support from European and Western allies.
TODAY'S QUOTE
"We will take all necessary measures to defend our people."
– US Secretary of Defense Lloyd Austin, issuing a statement Thursday after a suspected Iranian-affiliated drone killed a US contractor and wounded five US service members in northeast Syria. "We will always respond at a time and place of our choosing," Austin added. The US maintains approximately 900 troops in the country.
TODAY'S WEATHER
Check your local forecast here>>>
AND FINALLY
Making a masterpiece … with a vintage typewriter
You'll be impressed by these stunning keyboard creations! (Click here to view)