Arkansas Gov. Sarah Huckabee Sanders on Tuesday signed a bill into law that bars transgender people from using school restrooms that do not align with the sex listed on their birth certificate, the latest in a series of GOP-led legislative efforts to restrict LGBTQ rights in schools.
The bill, which cleared the state's legislature earlier this month, covers restrooms, locker rooms, changing rooms and shower rooms. It allows superintendents, teachers and principals to be fined a minimum of $1,000 if they do not comply with the law, which applies to pre-K through 12th grade in public and charter schools. It goes into effect in late summer, Sanders' office said.
The law requires "multiple occupancy restroom or changing areas," be used by those of the same sex "as identified on his or her original birth certificate issued at or near the time of his or her birth," the law says.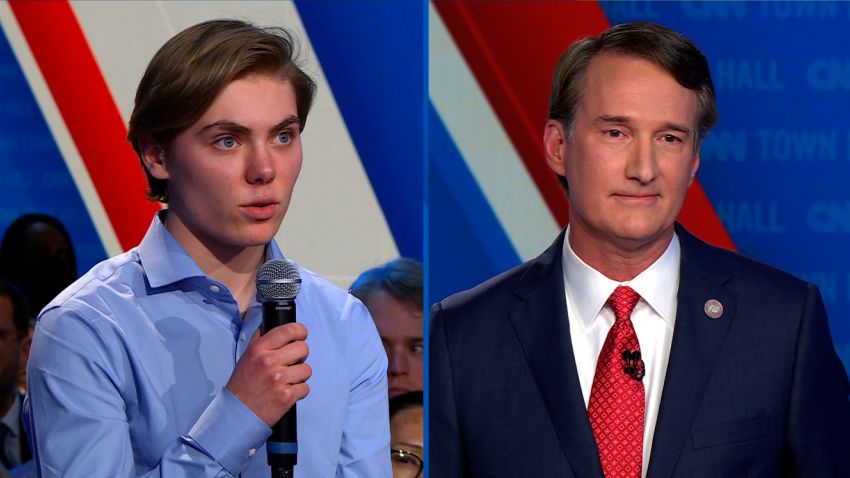 See the question this transgender teen asked a Republican lawmaker
Accommodations must be provided for those who would be prohibited from using the facilities under the law, according to the bill, but those accommodations may not include "access to a restroom or changing area that is designated for use by members of the opposite sex to an individual while members of the opposite sex of the individual are present or may be present."
"The governor has said she will sign laws that focus on protecting and educating our kids, not indoctrinating them and believes our schools are no place for the radical left's woke agenda," Alexa Henning, a spokesperson for Sanders, told CNN.
"Arkansas isn't going to rewrite the rules of biology just to please a handful of far-left advocates," she added.
Republican state Rep. Mary Bentley, who sponsored the bill, said on Facebook that the legislation is "how we restore our biblical values in our Nation" and told CNN that it will "keep Arkansas children safe and comfortable in their bathrooms."
But Melanie Willingham-Jaggers, the executive director of GLSEN, an organization that works to create non-discriminatory classroom environments for LGBTQ students, told CNN that Arkansas politicians are using "trans and nonbinary kids as political pawns. "
"These bathroom bans hurt students' academic achievement – and the educators held accountable for students' success. Discriminatory policies affect more than just grades: LGBTQ+ students who experience discrimination, like being prohibited from using the restroom, report higher levels of depression and lower self-esteem. Enforcing these bills would be prohibitively expensive and time-consuming for schools and extraordinarily invasive toward transgender students," Willingham-Jaggers said.
And Eric Reece, the Human Rights Campaign's Arkansas state director, called the new law "another despicable effort by extremist politicians to alienate kids who are just trying to navigate their childhoods."
"Stopping kids from using bathrooms consistent with their gender identity will not do anything to create jobs, lower costs, or make life easier on Arkansas families," Reece said. "This bill should have never reached the governor's desk, and she should be ashamed for signing it into law."
Sanders, a former press secretary of President Donald Trump, has signed a flurry of controversial bills since taking office in January, including rolling back a number of child labor protections across the state, restricting drag show performances in public and banning the use of the term "Latinx" from official government document use.
Now, Arkansas joins a growing number of states that have approved transgender bathroom bans in recent years. Republican Gov. Kevin Stitt of Oklahoma signed a similar bill into law last year that has been challenged by the American Civil Liberties Union in court.
This story has been updated with additional reaction.