Protests erupted in Georgia this week after the country's parliament passed the first reading of a draft law that would require some organizations receiving foreign funding to register as "foreign agents."
Georgia's ruling party announced Thursday morning it would scrap the controversial bill following two nights of widespread protests in Tbilisi over fears it would drive a wedge between the Caucasian nation and Europe.
However, the announcement was met with caution among protesters who say they will continue to demonstrate until the government formally denounces the bill and releases all those who have been detained.
The proposed legislation was compared to a draconian set of laws adopted in Russia and condemned by rights groups as a bid to curtail basic freedoms and crack down on dissent in the country.
The developments sparked mass unrest, with thousands of demonstrators gathering outside Tbilisi's parliament building, waving not just the Georgian flag but also that of the European Union.
Meanwhile, Moscow said it has been watching the two-day riots with concern. Kremlin spokesperson Dmitry Peskov on Thursday urged Russian nationals staying in the neighboring country to be cautious.
"This is our neighbouring state and despite the fact that we do not have relations with Georgia as such, the situation there cannot but cause our concern," Peskov said. He went on to advise Russian citizens to "refrain from staying in areas where these street riots are taking place" and to be "extremely cautious."
Georgia, which won its independence from the Soviet Union in 1991, has long been playing a balancing act between its citizens' pro-European sentiment and the geopolitical aims of its powerful neighbor, Russia.
In March 2022, Georgia applied for EU membership – an ambition that may be jeopardized by the proposed legislation.
Here's a look at what the controversial law would have meant for Georgia, and how it reached this point.
What was in the bills?
According to Giorgi Gogia, associate director of the Europe and Central Asia Division at Human Rights Watch, two bills were being discussed in Georgia's parliament.
The first bill would have required organizations including non-governmental groups and print, online and broadcast media to register as "foreign agents" if they receive 20% or more of their annual income from abroad.
Those who do not comply would have faced fines of $9,600 US dollars (25,000 Georgian Lari).
The second bill expanded the scope of "agents of foreign influence" to include individuals and increased the penalties for failure to comply from fines to up to five years in prison.
For Gogia, the bills represented a clear threat to human rights in Georgia. "They threaten to marginalize and discredit critical voices in the country. This threat is real," he told CNN on Tuesday ahead of its scrapping on Wednesday.
"Under the disguise of transparency, the latest statements by the Georgian authorities strongly suggest that if adopted, the law will be weaponized to further stigmatize and penalize independent groups, media and critical voices in the country."
The first draft law passed on Tuesday in a session that was broadcast live on the legislature's website, with 76 votes for and 13 against. The bill would have needed to pass further readings to become law.
The President of Georgia, Salome Zourabichvili, pledged to veto it, and as she threw her support behind protesters in a video message posted on Facebook.
"Those who support this law today, all those who voted for this law today are violating the Constitution. All of them are alienating us from Europe," Zourabichvili said in the clip on Tuesday.
"I said on day one that I would veto this law, and I will do that."
However, the country's ruling Georgian Dream party – of which Zourabichvili is not a member – would have had the parliamentary majority to overcome a presidential veto, according to Human Rights Watch.
Which countries have imposed similar laws?
Georgia's bill followed the model of a controversial law in neighboring Russia that has already imposed draconian restrictions and requirements on organizations and individuals with foreign ties, critics say.
The law was initially passed in 2012 amid a wave of public protests over allegations of election-rigging and Vladimir Putin's intentions to return to the Russian presidency. It required organizations engaging in political activity and receiving funding from abroad to register as foreign agents and adhere to draconian rules and restrictions.
Russia's law on Foreign Agents has been gradually updated since then, forming the backbone of an even tighter stranglehold on civil society in Russia over the past decade.
Gogia said the legislation is similar to the law in Russia in that it is "trying to create a special status and legal regime for organizations and media that receive foreign funding and – under the disguise of transparency – interferes with freedom of associations and media and with their legitimate functions."
Asked during a press briefing Thursday if the Russian law had inspired the Georgian bill, Peskov said the Kremlin has "nothing to do with this" and pointed to legislation against so-called foreign agents in the US.
Russia-aligned Belarus has had a citizenship law in place since 2002 that has a similar impact. In December 2022, the Belarusian parliament passed amendments to the law which would enable the government to target members of the political opposition, activists and other critics in exile, according to Human Rights Watch.
The draft law would allow the president to strip Belarusians abroad of their citizenship, even if they have no other.
Who is the driving force behind the legislation?
The bills were nominally proposed by a faction in the parliament formed by members who left the ruling Georgian Dream party, but remained in the parliamentary majority, according to Gogia.
"However, the ruling Georgian Dream party fully and publicly supported the bills and campaigned for their adoption, and almost unanimously voted for it in the first reading yesterday," Gogia said.
The European Council on Foreign Relations (ECFR), a think tank, believes the party is leading Georgia towards Russia's sphere of influence.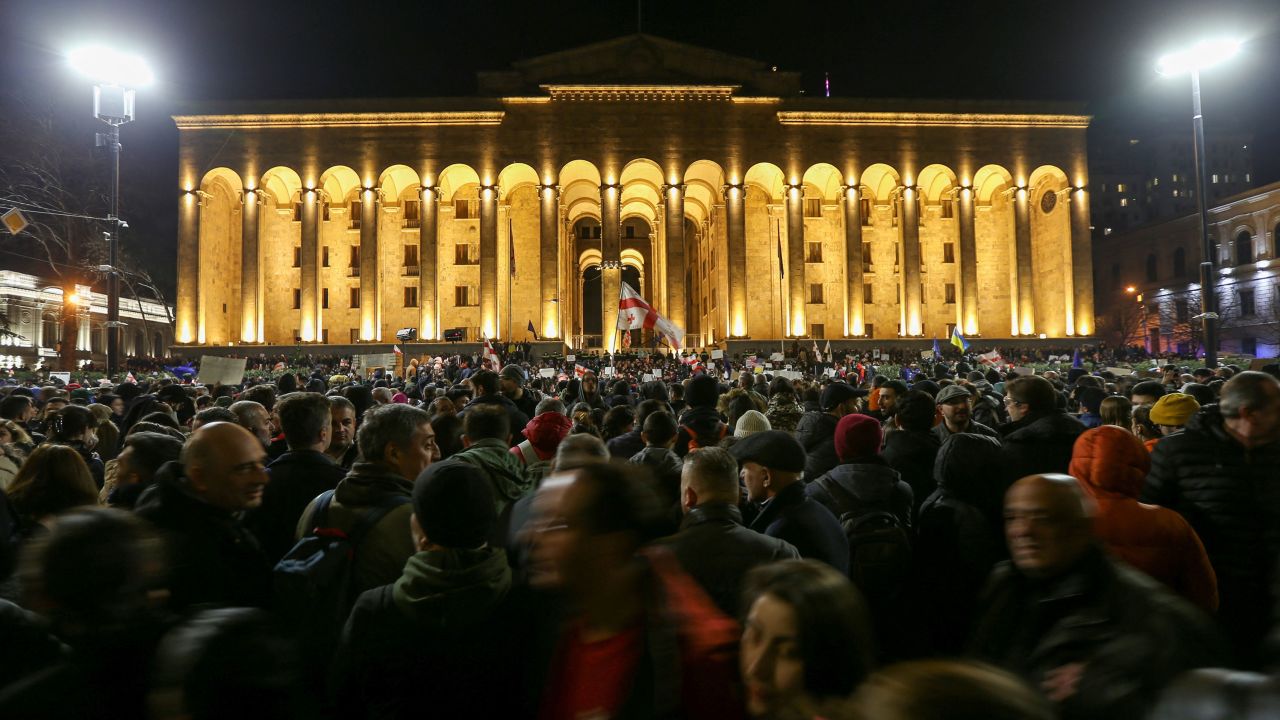 "In the last few years, and especially over the past 18 months, Georgia's ruling coalition has made a series of moves that seem designed to distance the country from the West and shift it gradually into Russia's sphere of influence," a report released by the ECFR in December said.
It pointed to Bidzina Ivanishvili, a former prime minister and billionaire, as a driving force behind this pivot towards Moscow.
"Much of the responsibility for this drift away from the EU lies with oligarch and former prime minister Bidzina Ivanishvili, whose Georgian Dream Party dominates the governing coalition," the report said.
Ivanishvili made a fortune while living in Russia during its turbulent transition to a market economy, and was part of an influential group of Russian bankers who supported the re-election of former Russian President Boris Yeltsin in 1996, according to the ECFR.
What comparisons have been drawn to Ukraine in 2014?
Analysts have noted similarities between the situation in Georgia and Ukraine – both former Soviet republics which have found themselves caught between the East and the West.
The think tank ECFR drew comparisons between the situation in Georgia and Russia's invasions of Ukraine in 2014 and 2022.
Former Russian President Dmitry Medvedev said in 2011 that had Russia not invaded Georgia in 2008, NATO would have expanded into Georgia.
The 2008 conflict centered on South Ossetia and Abkhazia, two breakaway provinces in Georgia. They are officially part of Georgia but have separate governments unrecognized by most countries.
Both Abkhazia and South Ossetia are propped up by Russia.
The 2008 invasion of Georgia only lasted days, but it appeared to have the same revanchist ambitions that drove Putin's invasions of Ukraine in 2014 and last year, writes the ECFR.
"In this light, Russia's wars in Georgia and Ukraine seem part of a single imperial project," the report said.
How would the legislation impact Georgia?
The Georgia bill was widely criticized as posing a potentially chilling effect for Georgian civil society, and particularly NGOs and news organizations with links to Europe.
It would also hamper Georgia's bid to join the European Union. An EU statement Tuesday warned that the law would be "incompatible with EU values and standards" and could have "serious repercussions on our relations."
In February, US State Department spokesperson Ned Price also said that "anyone voting for this draft legislation" could also imperil Georgia's relationship with Europe and the West.
"Georgia's international and bilateral partners have been very clear that adopting a 'foreign agent' bill would be inconsistent with Georgia's stated commitments to human rights and its Euro-Atlantic aspirations," Gogia told CNN.
"I hope the Georgian authorities would heed to the warning and instead of passing the bills that would clearly impede the work of independent groups and media, they should ensure safe and enabling environment for civil society in the country."
CNN's Niamh Kennedy and Anna Chernova contributed to this report.