In July last year, Cameron Smith achieved golfing immortality.
Completing a dramatic late charge to clinch the 150th Open Championship at the legendary St. Andrews Old Course, the Australian could not have wished for a more magical way to secure his first major title.
And yet, celebrations in Scotland were nothing compared to those in Brisbane four months later. A home city victory at the Australian PGA Championship in November put the cherry on top of the delicious cake that was 2022 for Smith.
"That left a really good taste in the mouth for the end of the year," the 29-year-old told CNN. "There was a few more people there and I think it was kind of a celebration of the year as well.
"I think it was kind of always the plan to go out on that Sunday night and have a drink anyway. So for us to have the Kirkwood Cup there as well, something to drink out of, was awesome."
'I play my best golf when I have to be creative'
Viral footage of a pint-wielding Smith being lifted aloft in a nearby pub, gleefully rewatching his winning putt from hours earlier on a TV screen, painted a vivid picture of the extent of the celebrations.
And to be fair, by November, he had enjoyed plenty of practice celebrating. Victory in Brisbane marked Smith's fifth across all competitions in 2022, a year that had begun with a record-breaking lowest-ever score at the Tournament of Champions in January and was swiftly followed by a lucrative win at the Players Championship in March.
However, on the eve of the Open Championship, Smith was enduring, by his own assessment, "a bit of a crappy run." Having missed the cut at the US Open in June, a dismal second round at the subsequent Scottish Open had seen him barely make the cut.
That marked the peak of his "mid-season blues," as Smith rebounded to finish tied 10th and tee up at St. Andrews a week later revitalized and in his element.
"The town there is just so unique, everything's about golf," he said. "You don't really get that anywhere else in the world.
"It's just such a cool place, and the course is so cool. Playing in those conditions, those windy, firm, fast conditions is something that I really enjoy … I play my best golf when I have to be creative."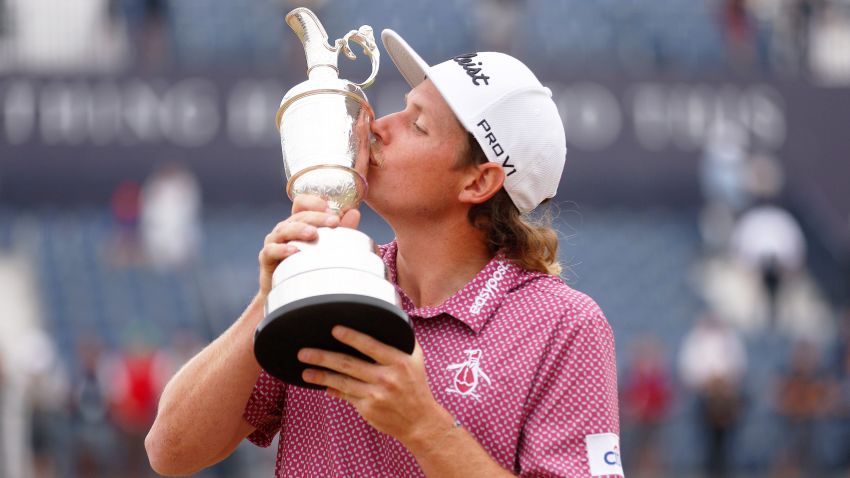 Cameron Smith wins the 150th Open Championship
An electric start had seen Smith carry a two-stroke lead into the weekend, only for a disastrous Saturday to leave him four shots adrift of Rory McIlroy and Viktor Hovland heading into the deciding round.
As Smith made the turn, all eyes remained on the battle between the leading duo behind him. A run of five straight birdies later, he was the talk of a St. Andrews crowd – peppered with a contingent of rapturous Aussies – that sensed a spectacular story brewing.
A final birdie at the 18th to pip playing partner Cameron Young by a stroke sealed a fitting end to a historic comeback win, the largest at St. Andrews since John Daly in 1995.
"It was very surreal," Smith recalled. "I think it's something that you dream of and probably you don't [even] get that far in your dreams.
"There were Aussies screaming out, 'Aussie, Aussie, Aussie!,' all that stuff. It was just such an unreal moment."
Wardrobe change
True to form, Smith promised to celebrate by working out how many beers he could fit in the fabled trophy – two, by his initial estimate. The fact that he vowed to do the same with the Kirkwood Cup, is further evidence that success has not changed the World No. 5.
"I feel as though I'm still the same person. Probably get recognized a little bit more in restaurants and stuff like that," he said.
"But I think if I change too much, my old man is still giving me a clip around the ear."
Though Smith will be targeting a wardrobe change for 2023. Specifically, a nice new green jacket.
The 87th edition of The Masters in April represents Smith's first chance of the season to add another major title, at a fabled Augusta course where he maintains an excellent track record.
Smith has four top-10 finishes in six starts at the major, peaking with a joint runner-up finish in 2020. At last year's event, he finished tied for third, five shots behind first-time champion Scottie Scheffler.
"I have a really good past there, a really good history," Smith said.
"I feel like those tournaments you win, you get a good kick here and there and it just hasn't quite happened for whatever reason around there.
"I feel like I've played my best golf by far at Augusta, I just haven't won around there."
Shaped like the clubhouse, the Masters trophy looks ill-suited for beer pouring. But rest assured, should Smith succeed this time around, the celebrations could well rival Brisbane regardless.