More snow and rain are expected in California as many across the state work to recover from back-to-back bouts of winter weather that knocked out power to thousands and brought many roads to a standstill.
Another 12 to 24 inches of snow could fall over the mountains of Southern California on Wednesday, according to the National Weather Service, but the heavy snow will taper off later in the day.
A blizzard warning remained in effect across the Sierra Nevada mountains early Wednesday and the region could see accumulations up to 6 feet.
"Blizzard conditions will make for dangerous to impossible travel this morning before subsiding this afternoon. There continues to be potential for avalanches in some mountain ranges," the weather service said.
Many areas in California have been walloped with significant amounts of snow in recent days, an unusual occurrence for a state that's unaccustomed to harsh winters. Palisades Tahoe in the Sierra Nevada saw 38 inches of snow in a 24-hour period, while Soda Springs, the Central Sierra Snow Lab and Homewood Mountain were each lashed with 36 inches.
The winter weather is impacting utility systems in the state, with more than 98,000 homes and businesses without power Wednesday, the tracking site PowerOutage.us showed.
The storm will also bring up to 0.75 inches of rain across the coast and valleys of Southern California on Wednesday and up to 2 inches in the mountains and foothills. As temperatures drop and rain hits the ground, black ice is forecast to be a significant concern in some higher elevations, the weather service in Los Angeles said. Wind gusts up to 60 mph are possible in mountain areas and gusts up to 50 mph are possible in lower elevations, the local weather service added.
In Nevada, several roads were closed due to heavy snow, including parts of state roads 164, 16 and 160, according to officials there.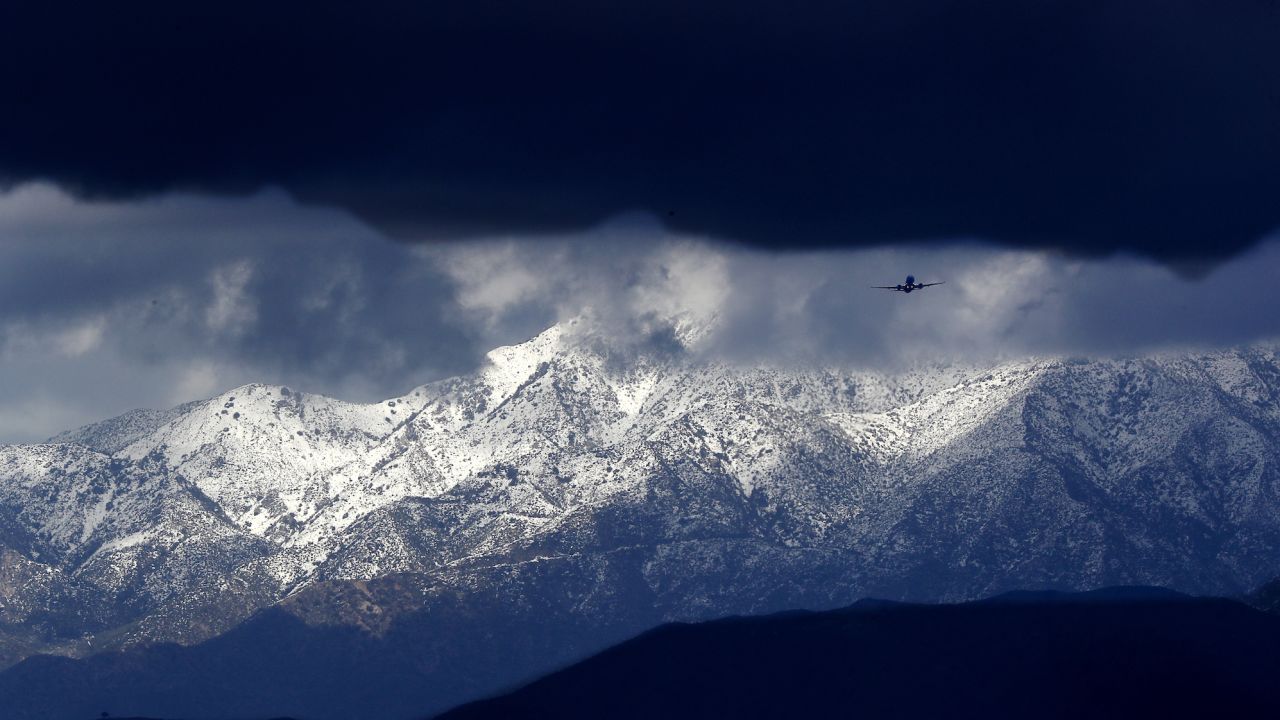 The system will slowly move into the Four Corners region by late Wednesday and will continue to track across Arizona and New Mexico into Thursday. The region could see 5 to 10 inches of snow in lower elevations and up to 2 feet in isolated areas across higher elevations.
As the series of storms that have dropped snow in the West head east and clash with record warm temperatures, they will create a threat for severe weather through the end of the week.
More than 3 million people, including those in Memphis, Tennessee, and Little Rock, Arkansas, are under a Level 3 of 5 risk for severe storms Wednesday, including tornadoes, the Storm Prediction Center said. The main threats are large to very large hail, some tornadoes and damaging winds.
A tornado watch is in effect for northeast Texas, southeast Oklahoma, central and southern Arkansas, northern Mississippi and southwest Tennessee Wednesday afternoon, according to the Storm Prediction Center. The watch, which lasts until 10 p.m. CST, covers more than 4 million people, including the cities of Little Rock and Memphis.
More than 35 million people are under some level of threat as storms continue to develop across the South on Wednesday afternoon and night.
Eastern Arkansas, northern Alabama, northern Mississippi and much of Tennessee could see rain fall at rates of 1 to 2 inches per hour, with totals between 2 and 4 inches.
Thunderstorms are expected to develop across northeast Texas on Wednesday afternoon and spread across portions of Arkansas, Louisiana, Tennessee and Mississippi. Tornadoes, damaging winds and large hail will be possible from later Wednesday afternoon until well after dark across the region.
A severe thunderstorm outbreak looks to be taking shape for Thursday across the Southern Plains and South, according to the prediction center. The main concerns are possible strong tornadoes, widespread damaging winds and flash flooding.
Snow leaves many stranded across California
As the snow has been piling up in California, mountain roads across San Bernardino County became impassable, leading to a local emergency declaration as residents became stranded while low on supplies and food.
The San Bernardino County Fire Department carried out almost 100 rescues in the snow crisis, according to Fire Chief Dan Munsey.
"We're responding to medical calls. We're responding to fires in these trapped vehicles. We are going to people's houses where they've had trees through their houses or some sort of roof collapse and we are evacuating them to our evacuation shelters," Munsey said at a news conference Wednesday.
Goodwin's Market, a grocery store in the small community of Crestline, resorted to using a plow truck and tractor to help a semitruck hauling supplies navigate through the snowy mountain roads Tuesday so it could deliver much-needed supplies, according to a post on its Facebook page.
The shipment was imperative to the store because it contained essential items like deli meats, produce and bread, some of which the store had run out of, Michael Johnstone, vice president of Goodwin's Market, told CNN.
"We stocked up pretty heavily before the storm hit," Johnstone said, adding the supply began to run low as roads deteriorated.
As the snow continued to fall, staff and customers were forced to ditch their vehicles to reach the store.
"We have had staff hike in from three to four miles away to get to the store to serve people to make sure people get fed," Johnstone added. "We had a lot of walk-in traffic. I've never seen this many people walking the streets."
To the north, in Sacramento, about 50 bus passengers were stranded Tuesday night after their trips were canceled or delayed because heavy snow had shut down highways, according to Daniel Bowers, who heads the city's emergency management office. Passengers were headed to Nevada, Oregon and Washington, Bowers told CNN affiliate KCRA.
Passenger Barbara Frederick was trying to get to Oregon, but she had been stranded at the Sacramento station since the weekend.
"It's horrible," Frederick told KCRA. "I have to delay the signing of my house because I'm purchasing a home. I'm delaying work. I'm delaying everything. My life is completely on hold."
The city collaborated with the American Red Cross to provide stranded passengers with blankets and other needs, and contacted a local restaurant to offer hot meals, the station reported.
CNN's Amanda Jackson, Nouran Salahieh and Taylor Ward contributed to this report.