After weeks of testimony, a South Carolina court finally heard this week from Alex Murdaugh, who is facing two counts of murder in the deaths of his wife and son.
The disgraced former attorney pleaded not guilty to two counts of murder and two weapons charges in the killings of his wife, Margaret "Maggie" Murdaugh, and son, Paul Murdaugh, on June 7, 2021, at the family's home in Islandton.
Prosecutors accuse Murdaugh of killing his wife and son to distract from an array of alleged financial crimes, in which he separately faces another 99 charges, and rested their case last week.
The defense has painted Murdaugh as a loving father and husband being wrongfully accused after what it says has been a poorly handled investigation.
Murdaugh completed two days of testimony Friday afternoon. The court adjourned for the weekend and is set to resume Monday morning.
Here are some of the key moments from his time on the stand:
Murdaugh confirms he lied repeatedly to investigators
Murdaugh admitted for the first time publicly that he lied to investigators about his whereabouts on the night in June 2021, when the killings of his wife and son took place.
The former lawyer acknowledged his voice is heard in a video that appeared to be filmed at the dog kennels where the bodies of his wife and son were found. Prosecutors have used the video to put Murdaugh at the scene of the killings, contradicting his repeated statements to law enforcement that he had not been there that night.
Numerous witnesses had testified his voice is in the background of the video recorded by Paul at 8:44 p.m. June 7, 2021.
"Mr. Murdaugh, is that you on the kennel video at 8:44 p.m. on June 7," defense attorney Jim Griffin asked, "the night Maggie and Paul were murdered?"
"It is," Murdaugh said.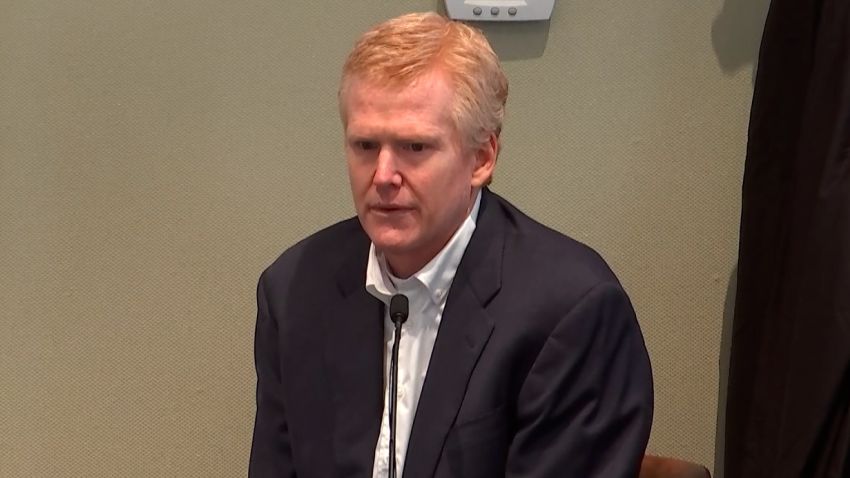 CNN reporter notes interesting defense tactic in Alex Murdaugh murder trial
'I wasn't thinking clearly'
Murdaugh said he lied about being at the kennels earlier that evening because of "paranoid thinking" stemming from his drug addiction.
"I did lie to them," he said, blaming his addiction to opiate painkillers.
"I wasn't thinking clearly," he added. "I don't think I was capable of reason, and I lied about being down there, and I'm so sorry that I did."
Still, Murdaugh was emphatic in his denial that he shot and killed his wife and son, insisting in response to Griffin's questions, "I didn't shoot my wife or my son, anytime, ever."
Murdaugh says after visiting the kennels, he returned to his house and then visited his mother
Murdaugh testified that on the night his son and wife were killed, he stepped out of his house after dinner to attend to the dogs in the kennels, after which he went back inside his house and laid down on a couch.
Afterward, he decided to go visit his mother, an Alzheimer's disease patient, in nearby Almeda, he said.
Murdaugh said his wife "wasn't planning to go with me that night," adding, "Maggie didn't really like to visit my mom."
Murdaugh told the court that on his way back from his mother's house, he tried to call his wife twice, but she did not answer. He said he also left her a text. However, he said he did not find her non-response unusual, because she was with Paul and because of sometimes-spotty cell service.
'I took money that was not mine'
Murdaugh admitted Thursday to stealing from his law firm and his clients, which ultimately led to his resignation from the firm, then known as PMPED and since renamed Parker Law Group.
"I admit, candidly, in all of these cases, Mr. Waters, that I took money that was not mine, and I shouldn't have done it," Murdaugh said in response to prosecutor Creighton Waters during the prosecution's cross-examination.
"I hate the fact that I did it. I'm embarrassed by it. I'm embarrassed for my son," he said.
"I'm embarrassed for my family, and I don't dispute that I did it," he continued.
Murdaugh gets emotional while talking about his son
Murdaugh became visibly upset after his defense attorney asked him if he had a good time with his son Paul on the day prior to his killing.
"You could not be around Paul-Paul (Paul Murdaugh) – you could not be around him and not have a good time," said Alex Murdaugh, who broke down crying.
"Were you close to Paul?" defense attorney Griffin asked.
Still crying, Murdaugh replied, "You couldn't be any closer" than he was with Paul and his other surviving son, Buster.
'I saw what y'all have seen pictures of'
Murdaugh broke down in tears on Thursday as he described seeing the bodies of his wife and son at the family's dog kennels the night they were killed.
Upon returning to the house in Islandton after visiting his mother, Murdaugh said, Margaret and Paul weren't there – and he assumed they still were at the kennels, so he went back there.
"What'd you see?" Griffin asked him.
"I saw what y'all have seen pictures of," he told his defense attorney, crying and taking a pause before saying it was "so bad."
Murdaugh recalled calling 911 and "trying to tend" to Paul and Maggie, going back and forth between them while on the phone. Paul's injuries were particularly bad, Murdaugh said, and he recalled trying to check his son's body for a pulse and trying to turn him over.
"I don't know why I tried to turn him over," an emotional Murdaugh said. "I mean, my boy's laying face down. He's done the way he's done. His head was the way his head was. I could see his brain laying on the sidewalk. I didn't know what to do."
Murdaugh says he was 'nowhere near' son and wife when they were shot
Murdaugh's lawyer asked him, "Did you get, on your shirt, high-velocity blood spatter from being within the distance of shooting of Maggie or Paul?
Murdaugh said, "There's no way I had high-velocity blood spatter on me."
"I have seen reports that said that," he added. "I was nowhere near Paul and Maggie when they got shot."
Murdaugh explains phone activity after killings
Murdaugh rebutted earlier testimony about data collected from his cell phone, which showed he searched Google for a restaurant in Edisto Beach , and read a group text message soon after finding the bodies.
Any of those actions were "unintentional," he said, adding he was trying to call his brothers and a family friend.
"I'm not trying to call those people. I'm not doing a Google search for any Whaley's restaurant and I'm certainly not reading any text," he said.
"I can promise you I wasn't reading any text messages," Murdaugh said when asked about the group text message.
'My addiction is to opiate painkillers'
Murdaugh testified he believes his addiction stemmed from surgery he got for an old college football injury. He said he needed a few surgeries, and he started getting addicted to hydrocodone around 2004 before moving on to oxycodone around 2008.
"My addiction is to opiate painkillers, specifically oxycodone, OxyContin," he said. "It just escalates. It escalates."
Murdaugh said he went to a detox facility three times, and he's been drug-free for "535 days – and I'm very proud of that."
Murdaugh describes how he asked a man to shoot him
Murdaugh explained how in September 2021, two months after the killings, he decided to ask a man who he was initially intending to get pills from to instead shoot him.
When asked if that drug transaction actually happened, Murdaugh said he didn't know because after withdrawal symptoms started, Murdaugh said he changed his plan.
"Not to get the pills from him anymore, and instead I asked him to shoot me," Murdaugh said when asked to clarify what that meant.
"I meant for him to shoot me so I would be gone," Murdaugh testified.
Murdaugh was shot in the head on a roadway on September 4, 2021, but survived. That same month, he turned himself in after admitting he asked a former client to kill him during a fake car breakdown so Murdaugh's oldest son, Buster, could get an insurance payout, police said.
Murdaugh says he stole money from 'people that I care about'
The second day of Murdaugh's cross-examination kicked off Friday morning with the former lawyer facing more questions from prosecutor Waters about repeatedly stealing money, including whether the clients he stole from are "real people."
"They are real people," Murdaugh responded. "They're good people. They're all people that I care about … And a lot of them people that I love and I did wrong by them."
"Every single one, you looked them in the eye at least once? Is that fair?" Waters asked at one point.
"Every client that I had at some point out, I looked him in the eye, and I believe that I had the trust of my clients," Murdaugh said.
"Whether that came from me looking them in the eye or not, I can't answer that. But I will agree with you that every single client I looked them in the eye and I believe that the people that I stole money from for all those years trusted me."
I sometimes took more than 2,000 milligrams of oxycodone a day, Murdaugh says
Murdaugh testified Friday he sometimes took more than 2,000 milligrams of oxycodone per day in the months leading up to the deaths of his wife and son.
Murdaugh testified that most of what he was purchasing was "30-milligram pills instant-release oxycodone, probably mixed in with some OxyContin, which is made of oxycodone."
"You're taking 60 (pills) a day or something like that?" Waters asked Murdaugh about the time between January and June 2021.
"It got to the point where I was taking so much just to not backslide or go into withdrawals or have all those symptoms … It evolved over time," he added.
'I never manufactured any alibi'
When asked by Waters about what he was doing during a period of about four minutes before Murdaugh says he left to go to his mother's house, Murdaugh said "it's an absolute fact" that he was not trying to manufacture an alibi.
Pressed about various phone calls – several of which were to his wife – he made after his wife and son were killed, Murdaugh categorized the calls as "very normal."
"I never manufactured any alibi in any way shape or form because I did not, and would not, hurt my wife and my child," he said. "So I know for a fact that I never, ever, ever created an alibi."
Murdaugh explains decision to lie to law enforcement
After first publicly confirming on Thursday he lied to investigators when he said he was not at the scene of the killings that night, Murdaugh said Friday his partners at his law firm advised him not to talk to anyone without a lawyer.
He said various factors contributed to his "paranoid thoughts" which led to his decision to lie to police, including his "distrust of SLED," (South Carolina Law Enforcement Division).
Murdaugh also noted other contributors, including questions about his relationship with Margaret and Paul that made him uneasy and "the fact that I have a pocket full of pills in my pocket."
'Everything about me not going to the kennel was a lie'
During his cross examination of Murdaugh, Waters pointed out inconsistencies in the former lawyer's videotaped statements to police after the killings – including his claim that he had not been at the dog kennels, where his wife and son had been killed. Parts of the taped interviews were played for the jury.
"Everything about me not going to the kennel was a lie," Murdaugh said.
"You're able to just do that so easily and so convincingly and so naturally?" the prosecutor said about the lies.
"That's not for me to judge," the once prominent attorney responded.
"That's true," Waters agreed.
Murdaugh claims son was targeted over 2019 fatal boat crash
Murdaugh, at another point, said he believes his son was targeted because of a 2019 boat crash in which 19-year-old Mallory Beach was killed. His son had been drinking during the crash and was facing charges related to the death.
"I can tell you for a fact that the person or people who did what I saw on June 7, they hated Paul Murdaugh," he testified. "And they had anger in their heart."
Murdaugh testified he did not believe anyone involved in the 2019 wreck had anything to do with the murders, but added he suspected the killer was someone who had heard about what happened.
"What you're telling the jury is that it is a random vigilante?" Waters asked.
"That's your term," the defendant said.
CNN's Dakin Andone, Dianne Gallagher, Randi Kaye, Alta Spells, Travis Caldwell and Ray Sanchez contributed to this report.