Editor's Note: Watch East Palestine, Ohio, residents pose questions to Norfolk Southern CEO Alan Shaw, Ohio Gov. Mike DeWine and EPA Administrator Michael Regan. "A CNN Town Hall: Toxic Train Disaster, Ohio Residents Speak Out" airs tonight at 9 p.m. ET on CNN.
The head of the Environmental Protection Agency threatened expensive consequences if Norfolk Southern fails to fully clean up its toxic train wreck and pay for the fallout in East Palestine, Ohio.
The EPA's new, legally binding order – set to take effect Thursday – "will ensure that Norfolk Southern pays for the mess that they've created," EPA Administrator Michael Regan told CNN on Wednesday.
For weeks, residents have reported a variety of health problems since the Norfolk Southern train carrying toxic chemicals derailed, spewing black clouds of smoke over the community of about 5,000 people.
To help prevent a deadly explosion of vinyl chloride, crews released the toxic chemical into a trench and burned it off.
While the EPA says testing shows the air and municipal water in East Palestine are safe, Regan said those with symptoms they believe might be linked to the wreck should "seek medical attention."
Those residents should "ensure that the state and local health agencies understand those experiences, because as we force Norfolk Southern to take full accountability for what they've done, Norfolk Southern will pay for everything," Regan said.
The EPA cited its authority under CERCLA – the Comprehensive Environmental Response, Compensation, and Liability Act.
On Wednesday, Regan summarized the EPA's demands to Norfolk Southern:
"Number one: They will clean up every single piece of debris, all of the contamination, to EPA specifications and satisfaction," Regan told CNN.
"Number two: They will pay for it – fully pay for it. At any moment, if we have to step in because they refuse to do anything, we will do the cleaning up ourselves. We can fine them up to $70,000 a day," the EPA chief said.
"And when we recoup our total costs, we can charge them three times of the amount of the cost of the federal government. That is what the law provides."
While a potential $70,000-a-day fine might sound steep, Norfolk Southern reported a record $4.8 billion operating profit last year.
The company said it's already been working with the EPA and local crews on the ground since the derailment on February 3.
"From day one, I've made the commitment that Norfolk Southern is going to remediate the site," Norfolk Southern President and CEO Alan Shaw told CNN on Tuesday.
"We're going to do it through continuous long-term air and water monitoring. We're going to help the residents of this community recover. And we're going to invest in the long-term health of this community. And we're going to make Norfolk Southern a safer railroad."
Norfolk Southern has committed millions of dollars' worth of financial assistance to East Palestine, including $3.4 million in direct financial assistance to families and a $1 million community assistance fund, the company has said.
The ongoing cleanup efforts include removing contaminated soil and water from under the railroad tracks at the derailment site. The tracks will be lifted to remove that soil, Ohio officials said.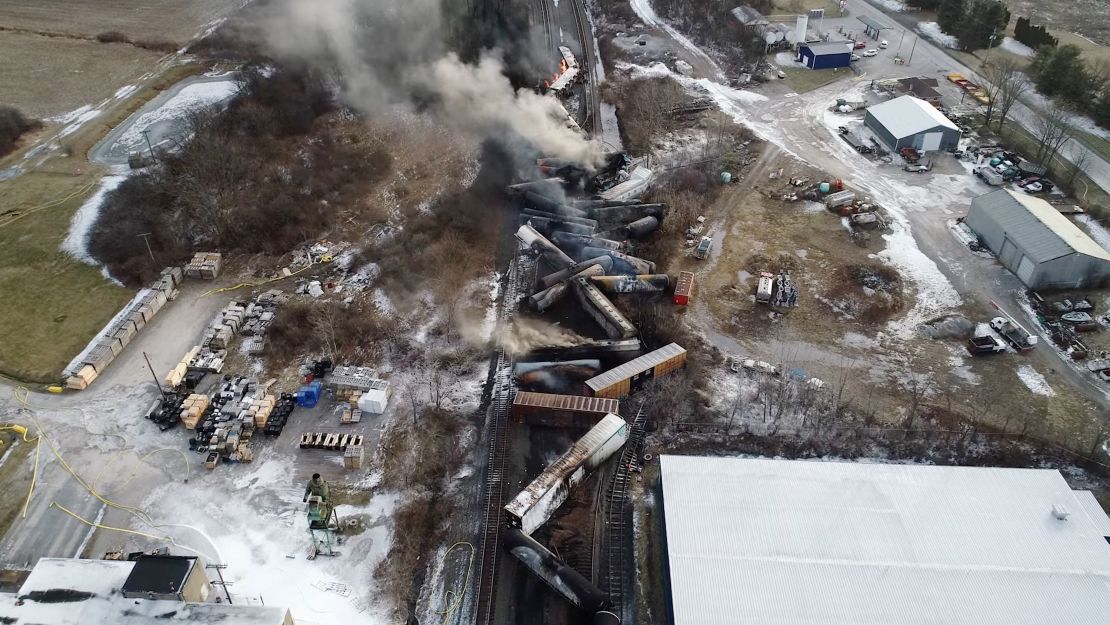 Gov. Mike DeWine said 4,588 cubic yards of soil and 1.1 million gallons of contaminated water have been removed so far from East Palestine.
The contaminated soil became a point of contention last week after a public document sent to the EPA on February 10 did not list soil removal among completed cleanup activities. It is not yet known what significance or impact the soil that was not removed before the railroad reopened on February 8 will have had on the surrounding areas.
"There's been a concern by citizens, very understandably, that the railroad started, got the tracks back on and started running and the soil under the tracks had not been dealt with," DeWine said. "That soil will be removed. So the tracks will have to be taken up and that soil will have to be removed."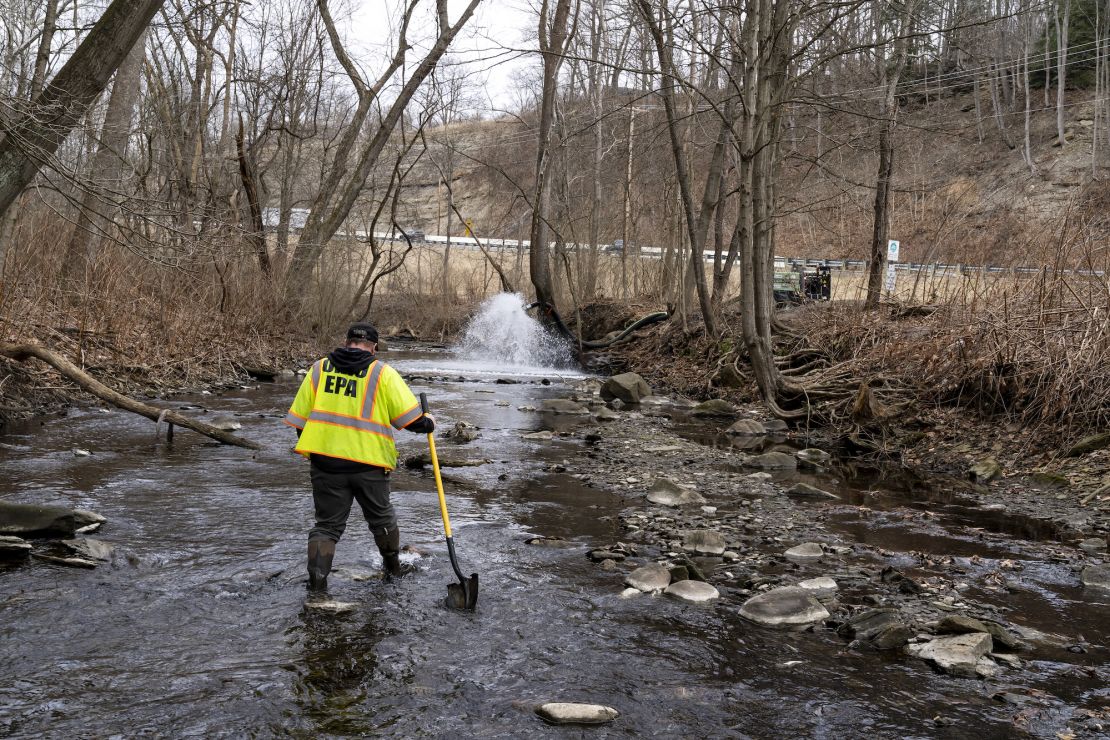 Preliminary investigative report expected Thursday
While the official cause of the wreck has not been released, the National Transportation Safety Board said it will issue a preliminary report on the derailment Thursday.
The agency has said investigators probing the wreck are reviewing multiple videos. Among them, a clip that shows "what appears to be a wheel bearing in the final stage of overheat failure moments before the derailment," the NTSB said.
After the first signs of potential wheel bearing overheat appeared on video – and roughly 21 miles before it derailed – the train slowed down dramatically, a new CNN analysis of surveillance video and Department of Transportation documents found.
The train had been traveling at an average speed of 49 miles per hour between Alliance, Ohio, and Salem, Ohio – but then slowed down to nearly half that speed between Salem and East Palestine. (CNN calculated the train's average speed by using surveillance video time stamps that showed the train's positions at specific points on the track.)
The slowdown was well below the "typical speed range" for a train traveling along that stretch of track, according to documents filed in 2020 with the Federal Railroad Authority.
It's unclear what prompted that slowdown.
CNN reached out to Norfolk Southern but did not immediately receive a response. NTSB spokesperson Jennifer Gabris told CNN "this information will be part" of Thursday's preliminary report.
Ohio governor gives latest contamination update
In a Wednesday update, DeWine reiterated test results showed water coming from East Palestine's municipal system was safe to drink but the state's EPA will continue testing the water weekly to ensure it remains clean.
Local health authorities have tested water from at least 74 private wells and those results are pending, the governor said. Residents who get their water from private wells – which may be closer to the surface than municipal wells – are encouraged to continue drinking bottled water until they receive their test results, the governor said.
Indoor air testing of 560 homes also did not find any contaminants related to the wreck, the update said.
Officials are continuing to treat contamination in a creek that runs through the town. "More than 1.6 million gallons of contaminants and contaminated water associated with the derailment have been removed from the area," the governor said.
Water quality in a second body of water in the area "continues to improve" and recent test results showed "very low levels" of two contaminants, according to the governor. No vinyl chloride was detected in the waterways, the update added.
Pennsylvania's governor announces a criminal referral
The derailment in East Palestine – near the Ohio border with Pennsylvania – led to evacuations in both states.
Now, Pennsylvania Gov. Josh Shapiro claims Norfolk Southern gave officials "inaccurate information" in the days after the toxic wreck.
"In sum, Norfolk Southern injected unnecessary risk into this crisis," Shapiro said Tuesday, and added Pennsylvania environmental officials have made a "criminal referral" against the company.
The Pennsylvania Attorney General's Office said it has received the referral and "will act quickly to investigate this incident," gather facts and "make a determination under Pennsylvania law."
On the Ohio side of the border, the state attorney general is reviewing all actions the law "allows him to take," Gov. DeWine said.
After the accusations, Norfolk Southern issued a statement to CNN:
"We recognize that we have a responsibility, and we have committed to doing what's right for the residents of East Palestine," the company said Tuesday.
"We have been paying for the clean-up activities to date and will continue to do so. We are committed to thoroughly and safely cleaning the site, and we are reimbursing residents for the disruption this has caused in their lives. We are investing in helping East Palestine thrive for the long-term, and we will continue to be in the community for as long as it takes. We are going to learn from this terrible accident and work with regulators and elected officials to improve railroad safety."
Pennsylvania's governor also said Wednesday he was working to ensure Norfolk Southern "reimburses any fire department that responded to the derailment and needs to replace their equipment."
'There is something fundamentally wrong'
The toxic derailment also prompted calls for better rail safety and fueled questions about current laws about the movement of toxic substances.
US Transportation Secretary Pete Buttigieg will visit East Palestine on Thursday, days after he announced new rail safety efforts.
Ohio's governor said it's "absurd" there is no legal requirement that requires Norfolk Southern to notify officials that a train with hazardous materials will travel through the state.
"There is something fundamentally wrong when a train like this could come into a state and the current law does not require, despite what they were hauling, does not require them to notify the state or local officials," DeWine said.
CNN's Paul P. Murphy, Celina Tebor, Pete Muntean, Kevin Liptak, Artemis Moshtaghian, Chris Isidore, Kristina Sgueglia, Sara Sidner, and Yon Pomrenze contributed to this report.