Alex Murdaugh was "destroyed" by the fatal shootings of his wife and son, his surviving son testified in his father's double murder trial Tuesday, as the defense worked to counter prosecutors' allegations that Murdaugh is responsible for the killings.
"He was heartbroken. I walked in the door and saw him, gave him a hug," Buster Murdaugh said of seeing his father in the hours after he learned his mother, Margaret "Maggie" Murdaugh, and younger brother, 22-year-old Paul Murdaugh, had been fatally shot. Alex Murdaugh was "just broken down," Buster said, adding his father was crying and couldn't really speak.
Buster Murdaugh was the third witness called by the defense, which began its case Friday after prosecutors called more than 60 witnesses to bolster their argument Alex Murdaugh, 54, killed his wife and son at the family's Islandton estate on June 7, 2021, in an attempt to distract from his alleged financial crimes, which were being rapidly uncovered and for which he now faces 99 charges separately from the murders.
Alex Murdaugh has pleaded not guilty to two counts of murder and two weapons charges in the killings, and the defense has painted Murdaugh as a loving father and husband being wrongfully accused after what it says has been a poorly handled investigation.
In the last three weeks of the trial, prosecutors have tried to overcome the lack of any direct evidence – such as an eyewitness – tying Murdaugh to the killings. Instead, their case has relied heavily on circumstantial evidence that they say shows Murdaugh lied to investigators and was at the scene just minutes before the killings.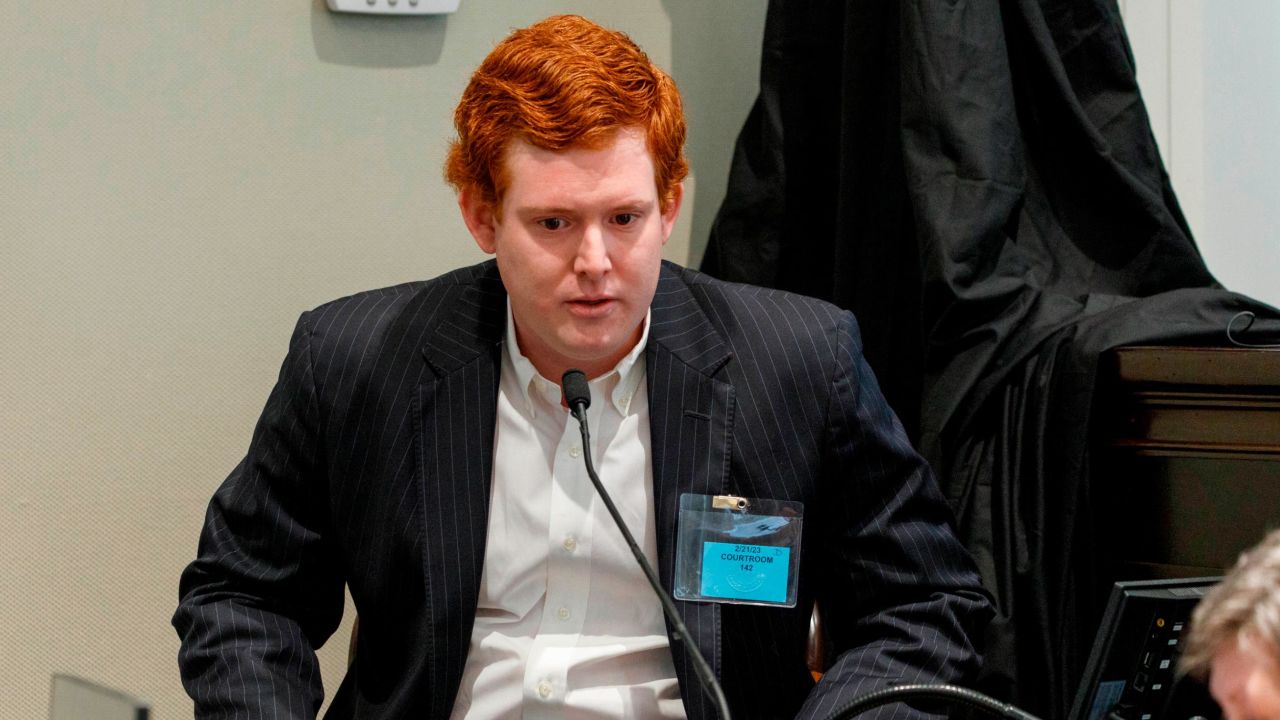 His defense attorneys have criticized the prosecutors' case as speculative and waved off their focus on his alleged financial schemes as irrelevant.
The defense used Buster Murdaugh on Tuesday to undermine the testimony of a state witness who told the court late last month he believed Alex Murdaugh inadvertently confessed to carrying out the murders while speaking to investigators.
The witness, South Carolina Law Enforcement Division Special Agent Jeff Croft, said he believed Murdaugh said "I did him so bad" in reference to Paul's body during an emotional interview with investigators on June 10, 2021.
Croft did not follow up about the statement, however, and the defense maintained Murdaugh instead said, "They did him so bad" – a claim Buster backed up Tuesday.
The tape of the June 10, 2021, interview was not the first time he'd heard his father say, "They did him so bad," Buster said.
"The first time I heard him say that was the night that I went down to Moselle," he said, referring to the Islandton property, "the night of June the 7th."
"Did he say that more than one time?" defense attorney Jim Griffin asked.
"He did," Buster said.
The defense also sought to counter the testimony of a caretaker for Murdaugh's mother, who testified for the state that Murdaugh visited his mother's home in Almeda the night of the killings between 8:30 p.m. and 9:30 p.m. The caretaker, Mushell "Shelly" Smith, cared for Murdaugh's mother from 8 p.m. to 8 a.m. and testified late night visits were unusual.
But the family followed no set schedule when visiting his grandparents, which his father did often.
"It could have been any time. We went over at lunch a lot of times, went over in the evenings a lot, just no real set schedule," Buster said. "Just kind of mosey on over there."
Paul's boat case 'kind of consumed' Maggie
Before his death, Paul Murdaugh was being bullied on social media and in public for his alleged involvement in a February 2019 boat crash that killed 19-year-old Mallory Beach, Buster Murdaugh testified, describing social media messages his brother received and confrontations in bars.
Paul had pleaded not guilty to charges in connection to the accident, and court records show the charges were dropped after his death.
People were sending Paul messages about the crash, Buster said, and "a lot of times he'd be walking down the sidewalk and, you know, a car comes by and they would yell some stuff at him."
"I knew he would go out at a bar and there's somebody that wants to talk about it, make a scuff about it," Buster said.
The accident and the ensuing backlash from the community "kind of consumed" his 52-year-old mother, Buster said.
"She (was) big on reading all of it. And when she read the negative stuff, you know, (it) made her feel upset and whatnot, and it ultimately kind of caused her to distance herself from Hampton," where the family had long lived, he said. Maggie felt people in town were "staring at her and talking about her," Buster said, and she stopped going to the grocery stores and pharmacy there.
Alex Murdaugh was sued by Beach's family after the boat crash, and prosecutors pointed to the lawsuit as a potential catalyst for the killings: Witnesses who testified for the state described a hearing in that case, set to take place three days after the fatal shootings, which could have revealed the state of Murdaugh's finances and his alleged misdeeds. The hearing was canceled after the killings.
But Alex Murdaugh never appeared "overly anxious" about the civil case, Buster said Tuesday. The criminal case against Paul was the priority, he said, because "none of us thought that he was driving the boat" at the time of the accident.
The defense appeared to suggest last week that the killings could be related to a financial dispute with a drug gang, saying Murdaugh was buying $50,000 worth of drugs each week from a man who was in significant debt to a gang.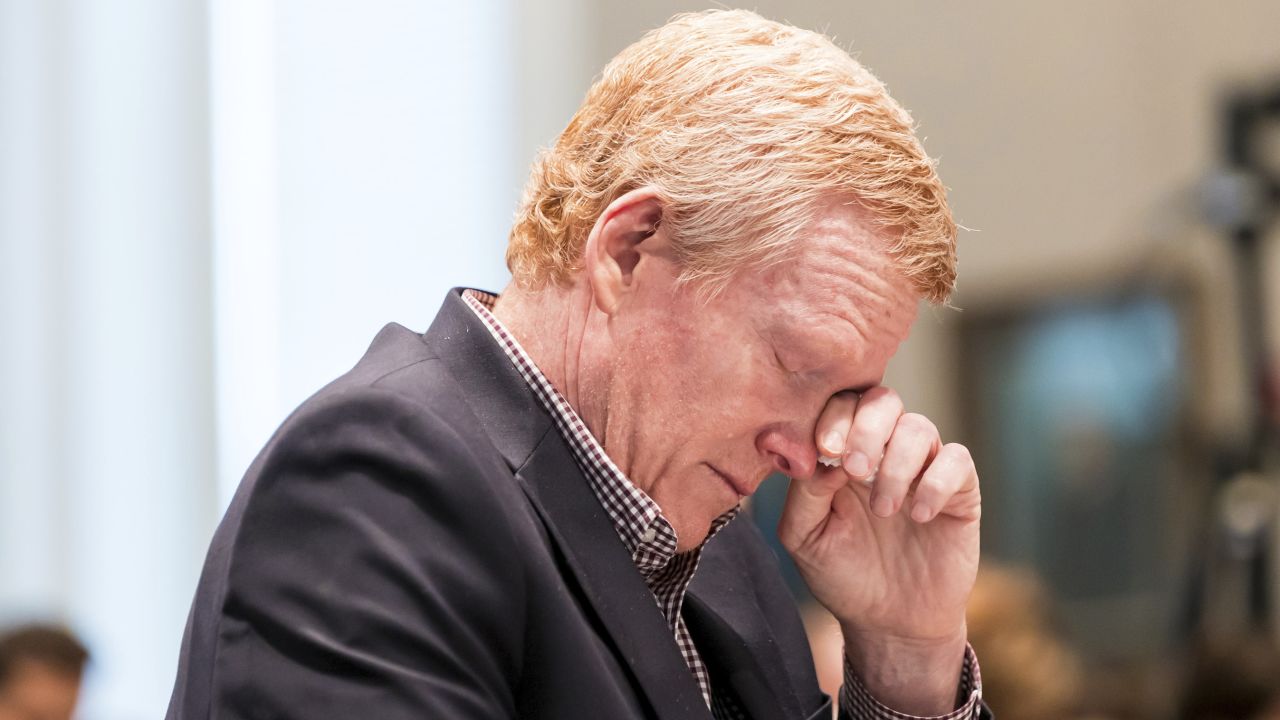 Murdaugh's lawyers have previously acknowledged he struggles with an opioid addiction and prosecutors presented evidence Friday showing Paul confronted his father about a stash of pills a month before he and his mother were killed.
Buster testified Tuesday he "knew a little bit about" his father's drug use, saying he was aware that his brother and mother had found pills. He described several efforts by his father to address his addiction, including going to a detox facility around Christmas in 2018.
Buster "thought that that handled it," but there were "a couple more times" his brother and mother would find more pills.
Buster wasn't present when his father was confronted about his drug use, he testified, but believed his response was largely "apologetic and sorry."
'Very unlikely' Murdaugh fired weapon, defense expert says
Buster Murdaugh's testimony Tuesday was followed by that of Mike Sutton, a forensic engineer who worked to recreate the scene of the killings and testified that Alex Murdaugh could not be the shooter because he is too tall.
Sutton analyzed bullet holes found at the scene, particularly one left in a quail pen, as well as the location of shell casings found by Maggie's body to determine the trajectory bullets followed after they were fired. Based on his analysis, Sutton said, the trajectory of the bullet would make sense if the shooter was between 5 feet 2 inches and 5 feet 4 inches tall.
If the gunman was taller, it would have required the shooter to hold the weapon in a low position – from the hip, for example. Sutton indicated it would be even less realistic if the shooter were as tall as Alex Murdaugh, who stands at about 6 feet 4 inches, requiring the killer to fire while crouching over and holding the gun as low as his knees.
"It puts the shooter or whoever fired the weapon, if they were that tall, it puts them in an unrealistic shooting position," Sutton said. "It's not an aiming position, it's not a shooting position. … It would be very difficult. You would have to be bending over and have your shooting hand down at or below your kneecap."
"It just makes it very unlikely that a tall person made that shot," Sutton said.
Sutton also analyzed the acoustics of gunfire at the scene, telling the court it was possible for someone to be inside the house and not hear a gun – like the .300 Blackout rifle believed to have killed Maggie – fired at the property's dog kennels, where the bodies were found.
"You would not be able to hear it," Sutton said.
"And the shotgun, I assume, was quieter, so I assume even less of an opportunity to hear that," defense attorney Dick Harpootlian said.
"There were times we fired the shotgun, and in a quiet house you couldn't hear it at all," Sutton said.
Prosecutor David Fernandez sought to undercut Sutton's testimony during cross-examination, establishing that while his primary expertise is in accident reconstruction, he has no certification or training in reconstructing shooting incidents. Sutton has performed unpublished studies and tests on bullet trajectories, he said.
Fernandez questioned Sutton on his findings that a 5-feet-two-inch tall individual was responsible for firing the weapon, asking Sutton if it was possible that the cartridge casings from the fired bullets were moved at the scene or ricocheted, which would impact his calculations. Sutton acknowledged it was possible.
Sutton also acknowledged that the ammunition he used in the acoustics test was, while similar, not the exact buckshot used in Paul Murdaugh's murder.
Additionally, Sutton testified he was hired by defense attorney Jim Griffin to investigate the 2019 boat crash that killed Mallory Beach prior to the murders.
CNN's Eric Levenson, Amir Vera, Alta Spells, Dianne Gallagher, Christina Maxouris and Angela Barajas contributed to this report.