Three days after Michigan State University was terrorized by a mass shooting on campus, Democratic lawmakers in the state filed a host of bills targeting gun safety – legislation they are hopeful can become law since the party last month took control of the legislature and governor's office for the first time in four decades.
State lawmakers filed an 11-bill package Thursday, which includes several policies experts say are proven to reduce gun violence. Michigan Democrats have tried and failed to enact stronger gun regulations in recent years under Republican-controlled legislative bodies. Their efforts intensified after the November 2021 mass shooting at Oxford High School just outiside Detroit, but none of the measures passed.
Gov. Gretchen Whitmer, a Democrat, promised legislative changes just two days after authorities say Anthony Dwayne McRae, 43, opened fire on MSU's campus Monday night, killing three students and critically wounding five others.
"The time for only thoughts and prayers is over," Whitmer said in a tweet. "We are in a unique position to take action and save lives. And that's exactly what we are going to do in the weeks ahead."
Democrats see a prime opportunity to enact changes. In January, for the first time in 40 years, Democrats took control of the state's legislature and the governor's office, fueling optimism that a path forward for critical gun safety measures is within reach.
Three specific policies included in Thursday's package have been proven to be effective in lowering gun violence rates, according to a study by Everytown for Gun Safety, a non-profit focused on gun violence prevention.
Those measures would require the secure storage of firearms and ammunition; universal background checks for gun purchases; and create an extreme risk protection order, or "red flag law", which allows courts to temporarily seize firearms from anyone believed to be a danger to themselves or others.
"It's better to start enacting these reforms and start having less mass shootings than it is to sit in silence and do nothing," said Annie Heitmeier, a third-year student at MSU and a volunteer with Students Demand Action, a movement pushing for gun control.
"We've had bills like this introduced before in Michigan and sometimes they don't get much traction, they don't go very far, or they die in committee. I'm hoping that this time will be different," Heitmeier said.
Michigan has relatively weak gun laws compared to other states, according to Everytown research. Under the state's licensing system, handgun purchasers are only required to show a valid license or a license to carry a concealed handgun if they are buying from sellers who are not a federally licensed dealer. The state also allows open carry of firearms in public.
Some gun policy experts tell CNN red flag laws can be useful in cases like that of the MSU gunman, who previously pleaded guilty to a firearm charge in 2019, struggled with his mental health and showed warning signs that he could be a risk to himself or others, according to his father, Michael McRae.
The tragedy last week took place just over a year after a 15-year-old gunman fatally shot four students and injured six students and a teacher at Oxford High School, which similarly put pressure on lawmakers to strengthen the state's gun laws. The shooting prompted US Congresswoman Elissa Slotkin, a Democrat from Michigan, to introduce federal legislation in December 2021 that would require gun owners to secure firearms away from a child if there's potential access to them. That bill failed to advance in Congress.
Shootings put spotlight on safe storage, red flag laws
Legislation that would mandate the secure and safe storage of firearms and create a red flag law are both "highly relevant" in Michigan because of the circumstances of the Oxford and MSU shootings, according to Lisa Geller, director of state affairs at Johns Hopkins Bloomberg School of Public Health.
Prosecutors alleged the Oxford gunman's father bought the gun used in the attack and his parents gave it to him as an early Christmas gift, CNN previously reported. The parents, who each face four counts of involuntary manslaughter, are accused of giving their son unfettered access to the gun.
"Lawmakers wanted to address access to guns from youth who take the firearms to school to kill others or themselves," Geller said.
McRae, the accused MSU gunman who died by suicide after the shooting, was arrested and charged in 2019 for carrying a concealed weapon without a permit – a felony that would have prevented him from being able to buy a gun if he were convicted. He later pleaded guilty to a misdemeanor for possession of a loaded firearm and spent a year and a half on probation.
The suspect's father, Michael McRae, told CNN his son became bitter, isolated and "evil angry" after his mother died from a stroke two years ago and "didn't care about anything no more." Authorities said he had a note in his pocket that threatened other shootings hundreds of miles away in New Jersey.
Michael McRae said his son had a gun several years ago before police took it away. He said he believed his son had obtained another gun, but kept it in his room and denied that he had it, CNN has reported.
Michigan's red flag proposal would allow law enforcement, family members or a roommate to petition a judge to temporarily seize a person's firearms if they are deemed a risk.
The bill allows people petitioning a judge, including family members and roommates, to bypass law enforcement in the process. But it says a petition must prove the person generally has a history of use or threat of violence against themselves or others.
"With the evidence that has been provided in this case, that family member or law enforcement could certainly petition for an extreme risk protection order if they knew that this individual was a threat to the community or himself," Geller said, referring to McRae.
Bills in the works 'weeks' before MSU shooting
Less than a month before the MSU shooting, Whitmer pushed lawmakers during her State of the State address to act on gun control bills that require background checks and safe storage and to enact a red flag law.
"Despite pleas from Oxford families, these issues never even got a hearing in the last legislature," Whitmer said during the January 25 address. "This year, let's change that. Let's work together to stop the violence and save lives."
The package of bills introduced Thursday had been in the works for "several weeks" before the MSU shooting, but Senate Democrats had a "critical opportunity" to take action last week, according to Geller, who said she's been in discussion with lawmakers about the bills in recent weeks.
But there isn't one gun policy alone that is going to reduce or end all gun violence, according to April M. Zeoli, an associate professor in the School of Criminal Justice at MSU.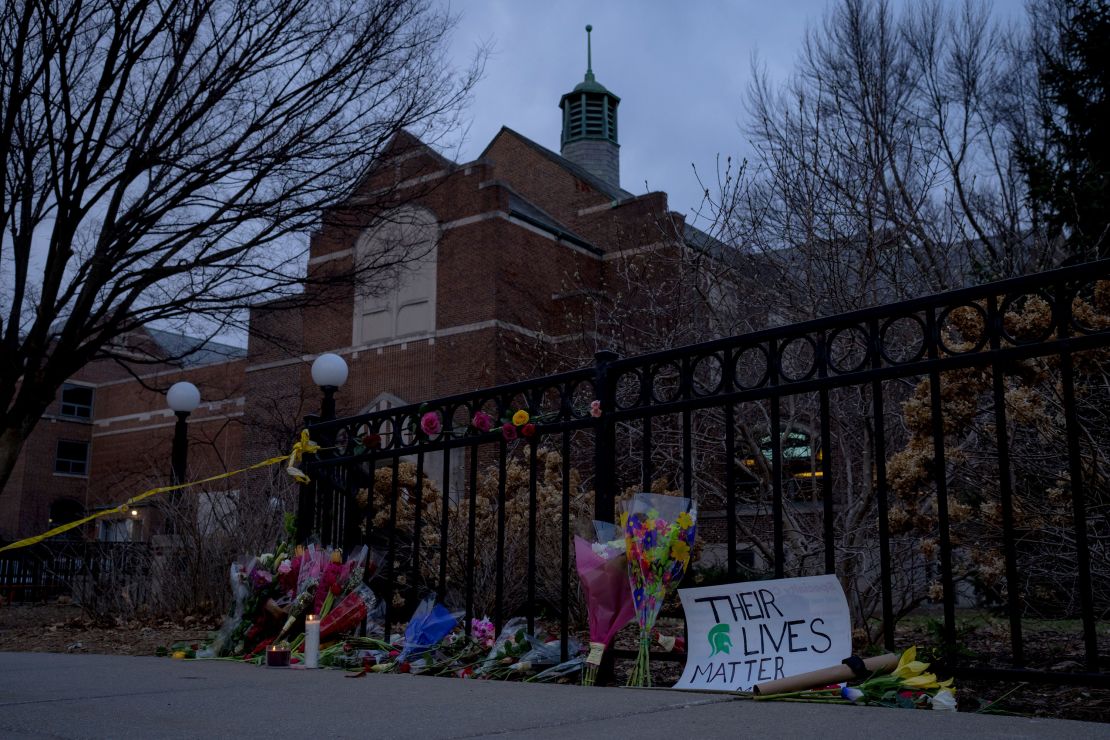 "What we have are evidence-based policies and programs that chip away at the amount of gun violence that we have, and can save lives," Zeoli said.
Gun violence is a complicated issue that requires a multidisciplinary approach by policymakers, law enforcement and the medical community, experts told CNN.
"It's gun homicides, community violence, police-involved shootings, domestic-violence homicides, mass shootings," according to Geller. "All of those types of gun violence have different policies used to address it."
There is a caveat to whether the gun laws proposed in Michigan can be effective, according to Geller. They must be implemented properly, with enough funding, and people must be aware of them to know what steps to take when someone shows signs of dangerous behavior, she said.
If the public is uninformed of the potential risk, or rejects gun control measures, or law enforcement refuses to enforce the law, it could be rendered useless, experts have previously told CNN.
"If we make it known exactly when it's appropriate to use policies like an extreme risk protection order, then we can save lives," Zeoli said.