A sports-obsessive named Happy Gilmore wins a long-drive contest and proceeds to chase a career in professional golf.
You might recognize that plot synopsis from Adam Sandler's 1996 comedy, named for its protagonist, which has become a cult classic among golf and film fans alike.
But this plot also tells the very real story of a young Indiana golfer.
While his neurotic fictional namesake – who brawled both an alligator and TV host Bob Barker – quite literally fought his way to the PGA Tour Championship, the 17-year-old real-life Happy Gilmore is carving a calmer path towards the Tour.
"I'd say I've got a little bit better anger management," Gilmore told CNN. "I haven't punched anybody or broken any rakes recently."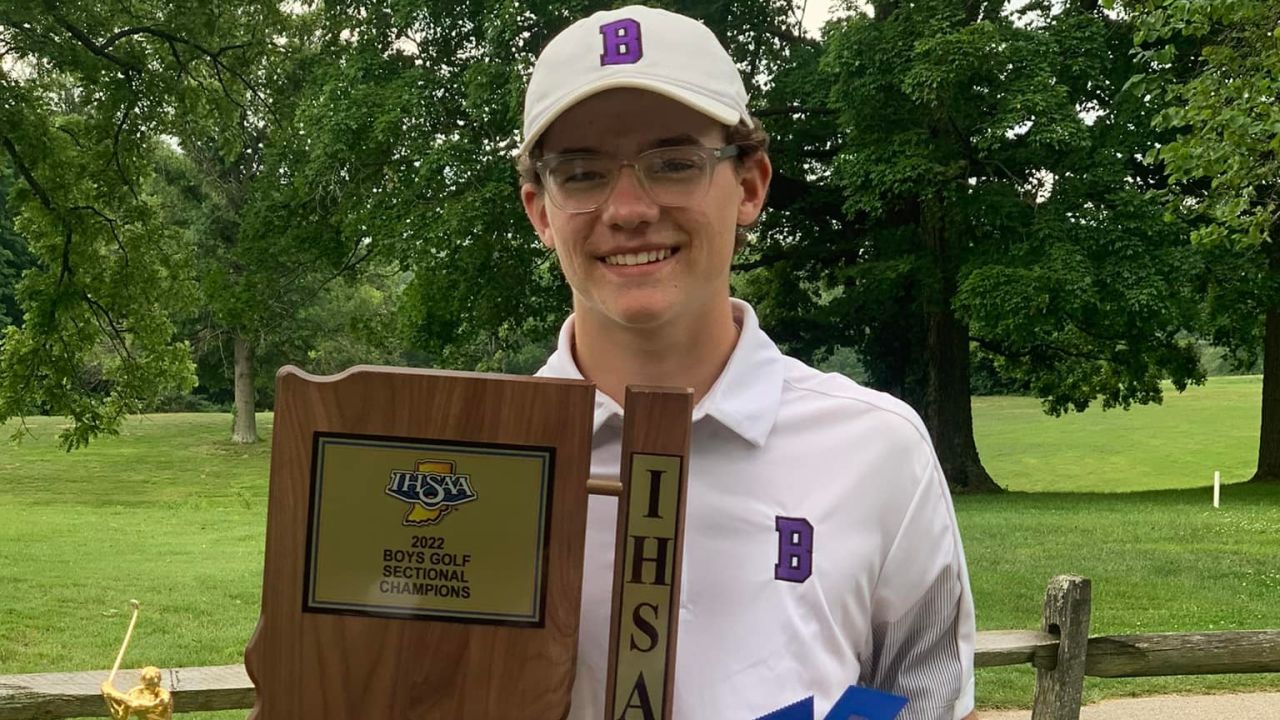 Born Landon Gilmore and gifted a set of golf clubs on his first birthday, the potential for life to imitate art was a possibility long before he played his first event around the age of six, the Little People's Golf Championship in Quincy, Illinois.
But after winning the tournament's long-drive event, he was given the nickname "Happy" and Gilmore's fate was sealed. By the time he was 12, Happy was, for all intents and purposes, his official title.
These days, it is rare for the Bloomington High School sophomore to hear his birth name, with many classmates and teachers unaware he was ever known as anything else.
Read more: 'I think this would make a good movie': Why a Georgia realtor was invited to play The Masters
A regular face on the state's junior golf circuit, the presence of the name Happy Gilmore on event leaderboards inevitably raises eyebrows among organizers and competitors alike.
"They'll think it's funny or they'll think it's a joke," Gilmore said. "Then I'll point and say, 'Look, my name's on the bag. I'm not joking with you."
Happy heckles
"You suck, ya jackass!"
It's the favorite barb of a particularly effective heckler in the movie, but the real-life Gilmore has never heard anything nearly as bad at the tee.
While no stranger to the occasional shout from the crowd, the junior golfer is yet to experience anything other than light-hearted jibes at events. His personal favorite came during his freshman year when Gilmore, uncharacteristically nervous at a state tournament, heard after his opening tee shot: "Go get em' Shooter!" a nod to the film's lead villain, Shooter McGavin.
Unlike his movie counterpart, Gilmore does not have a golfing nemesis, but the friendly jeer was equally motivating.
"It made me laugh and helped me get a little at ease," Gilmore recalled. "I hear stuff like that all the time."
nd yes, he can recreate the movie's iconic swing – which involves a long run up to the tee.
See Adam Sandler's iconic swing on 25th anniversary of 'Happy Gilmore'
When he was younger, he would practice it for fun. Nowadays though, he is asked so frequently to prove he can replicate his namesake's technique that he works on it out of necessity.
Yet bar the swing and the name, Gilmore is hard-pressed to find many other similarities between himself and Sandler's character. In fact, he believes he is pretty much the opposite – on and off the green.
"If I've ever been mad at something, I can just go play golf by myself and relax," he said.
"I'd like to think I'm a better putter than he is. We both can't skate that well in hockey though, we do have that (in common)."
Major ambitions
Meeting Sandler would be a dream, but Gilmore has one aspiration that has long taken precedence above all others – to make it pro.
Starting on the US Kids Tour, often decked out in the bright orange colors favored by his idol Rickie Fowler, Gilmore has played on the Hurricane Junior Golf Tour (HJGT) and GolfWeek Junior Tours in recent years.
Crowned the National Hurricane Player of the Year in 2020, he has picked up more accolades during his high school career, making the Indiana All-State team for the second successive year in his sophomore season.
In July, he will tee off at Torrey Pines having qualified for the IMG Academy Junior World Golf Championships, but the most eagerly anticipated event on his calendar will come in April, when Gilmore will try once more to qualify for the US Open.
When Gilmore attempted qualification for the first time in May 2022, playing close to home at Old Oakland Country Club, in Indianapolis, he believes he was the youngest of the 84-strong field battling it out for just five spots.
Every year, thousands of golfers compete at qualifying tournaments across the country to try to make it to the major.
A nightmare start saw Gilmore open with a double bogey, but after four straight pars, he arrived at the 6th hole feeling settled. Then, disaster struck.
Ball one: "The worst shot" of his life, skews out of bounds. Ball two: Looks perfect, but never found, back to tee. Ball three: Smacks overhanging branch and drops into the water.
Onto his fourth ball and still at the tee box, with any hopes of qualification all but extinguished, his lifelong friend and caddie was on hand with a reference from another 1996 classic golf movie, "Tin Cup," that broke the tension.
"He looked at me and he just goes, 'Boy, when you go down, you go down in flames,'" recalled Gilmore, who eventually tapped in for 10.
"I remember I was still laughing on the green."
A rejuvenated Gilmore shot 3-under across the remainder of the event to finish 8-over 80, tied 50th and 11 shots short of the highest-scoring qualifier.
Read more: What does it take to win the Open?
With the experience under his belt, he is feeling confident ahead of his second attempt.
"When you're going into it for the first time, it's weird because you don't know how the setup is going to be, you don't know how people act, you really don't know anything that's going on besides the golf part," he said.
"This year, without having any of that new, I'll be more comfortable. I think I have a pretty good shot at it."