Parents across the Carrollton-Farmers Branch Independent School District (CFBISD), located in a Dallas, Texas, suburb, are reeling following a string fentanyl overdoses by nine students who attend schools in the district.
The students, who range in age from 13 to 17 and are not identified by name in court documents, overdosed between September 18, 2022 and February 1, 2023. Three of the students died, and one of the students, a 14-year-old girl, overdosed twice, according to a statement by the US Attorney's Office, Northern District of Texas.
Law enforcement officers traced the drugs the students overdosed on to a house within walking distance from a middle school and a high school, court documents say.
"First with all the school shootings, now this with drugs," Lupe Rebadan, who has two children, as well as nieces and nephews, attending schools in the district told CNN. "Our kids are not safe at school… When is this all going to stop?"
Luis Eduardo Navarette and Magaly Mejia Cano have been charged with conspiracy to distribute fentanyl, according to the US Attorney's Office.
"To deal fentanyl is to knowingly imperil lives. To deal fentanyl to minors – naive middle and high school students – is to shatter futures. These defendants' alleged actions are simply despicable," US Attorney Leigha Simonton said in the statement.
The complaint illuminates a network of drug dealers and users, most of them teenagers who attend R.L. Turner High School, Dan Long Middle School and Dewitt Perry Middle School, and traced the proliferation of fentanyl tainted "M30" pills to Navarette and Cano's residence.
International drug trafficking organizations often produce M30 pills by mixing highly addictive fentanyl with acetaminophen "and other binder type substances and pressed into various tablets/pills," says an affidavit by a Drug Enforcement Administration task force officer included in the criminal complaint.
Many fake pills are made to look like prescription opioids such as oxycodone (Oxycontin, Percocet), hydrocodone (Vicodin), and alprazolam (Xanax); or stimulants like amphetamines (Adderall)," according to the DEA's "One Pill Can Kill" website.
Criminal organizations, according to the DEA officer's affidavit, sell M30 pills for $1 to $2 dollars per pill when the purchasers buy in bulk amounts. Those are later sold to "street level dealers" for $3 to $5 per pill, and later sold to consumers for $10 per pill.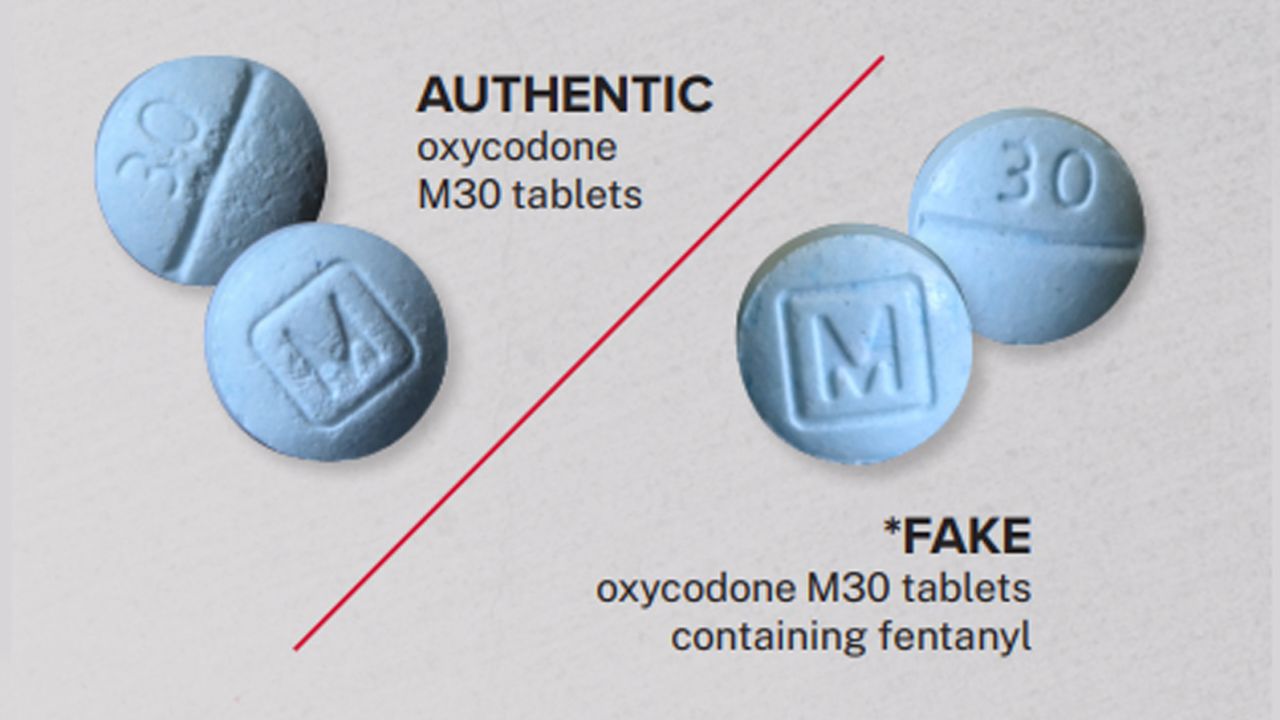 Law enforcement tracked multiple teenagers engaging in "hand-to-hand transactions" with Navarette and Cano outside of their house, which is approximately five blocks from R.L. Turner High School and two blocks from DeWitt Perry Middle School, the court documents reveal.
On January 12, a Carrollton Street Crimes Unit detective observed a 16-year-old obtain M30 pills from Navarette and Cano's residence.
The teenager appeared to crush and snort a pill on their front porch, "possibly package" the drugs, then walk toward the high school, where he was enrolled, according to the complaint.
The school was notified by law enforcement, and later that day a school resource officer located the teenager in a bathroom making a "snorting sound" and appearing intoxicated.
Navarette and Cano made their initial appearances in court on Monday, Erin Dooley of the US Attorney's Office in Northern Texas told CNN. Naverette waived his right to a detention hearing and was ordered detained pending trial, and Cano had her detention hearing on Friday, she added. Attorneys for Navarette and Cano haven't responded to CNN's requests for comment.
Days after the complaint outlining the 10 overdoses became available to the public, CFBISD released a statement expressing sorrow and concern over "the loss of young lives."
The district explained how it has educated the community about the threat from fentanyl over the past several months.
"We will continue to work cooperatively with local law enforcement agencies to address this issue and to maximize safety on our campuses in every way possible. We believe if we work together as a community, we can avoid these tragedies," the district said.
The district said Narcan, or naloxone, an emergency drug used to treat fentanyl overdoses, had been obtained for all district facilities in October and random canine searches were being conducted on secondary campuses.
Drug awareness presentations for parents will also resume this year, according to the district.
'Our students are dying from this'
"The fentanyl crisis is claiming far too many young Texans," Texas Governor Greg Abbott tweeted Wednesday. Abbott launched the #OnePillKills campaign in October 2022 to "combat the growing national fentanyl crisis plaguing Texas."
In the first week of school in 2022, four students died from "fentanyl poisoning, or suspected poisoning" in Hays County Independent School District (HCISD), located in a suburb of Austin. This prompted the district to create "Fighting Fentanyl," an informational campaign warning students and faculty about the deadly drug.
Tim Savoy, the chief communication officer at HCISD, noted that the district has spent tens of millions of dollars for preventative measures against school shootings and Covid-19, two issues that have affected schools nationwide. The fentanyl crisis on school campuses deserves the same level of concern and response, he said.
"This is a threat. We're losing students, too. And so we made the decision that we have to get this equal attention and resources and do what we can," Savoy told CNN.
Despite the district's awareness-raising campaign, an email from the superintendent on January 9 informed parents of "three more suspected accidental fentanyl poisonings" and one death in which fentanyl may have been to blame.
"Our students are dying from this, and we have to do what we can," Savoy said. "This is not just something that you're seeing elsewhere. This is really happening in our community."
According to the Centers for Disease Control and Prevention, median monthly overdose deaths among 10- to 19-year-olds across the United States involving illicitly manufactured fentanyl surged 182% from December 2019 to December 2021.
Adolescents are particularly vulnerable to fentanyl exposure due to the "proliferation of counterfeit pills resembling prescription drugs containing IMFs (illicitly manufactured fentanyls), and the ease of purchasing pills through social media," according to the CDC.