Freshman Rep. George Santos of New York, who has been caught lying extensively about major parts of his life story, may have just been caught in another lie – this time by a United States senator.
The embattled House Republican, describing his tense encounter with GOP Sen. Mitt Romney ahead of Tuesday's State of the Union address, claimed he received some positive words of encouragement from Sen. Kyrsten Sinema, the Arizona independent.
"Kyrsten Sinema as she was walking by, the senator from Arizona, she said something to the effect of 'hang in there buddy' or something like that," Santos told Newsmax.
"I said 'Thank you, madam senator,'" Santos said during the interview. "She was very polite, very kind-hearted as I've learned to see her. She's a good person, unlike Mr. Romney."
Sinema's office made clear on Friday there is no truth to that claim.
"This is a lie," Sinema spokeswoman Hannah Hurley told CNN.
Footage from that night shows Sinema walking in front of Romney as the Utah Republican passes by Santos. Santos appears to turn and speak to Sinema while Romney is talking. While Sinema turned to Santos, the senator's spokeswoman said her boss and the congressman didn't speak.
Romney, on the other hand, didn't hold back when he saw Santos.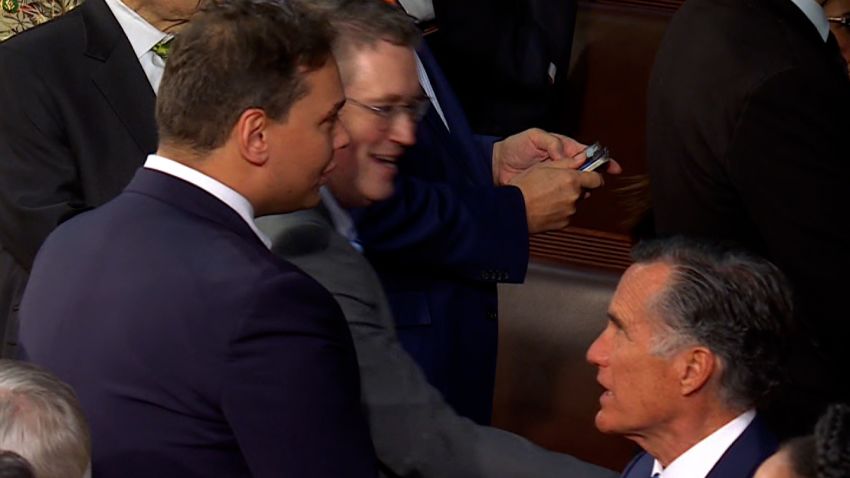 'You don't belong here': See tense confrontation between Romney and Santos
"You don't belong here," he told Santos on the floor. He later confirmed the exchange and attacked the New York freshman over his litany of lies, telling reporters that Santos should resign from Congress if he "had any shame at all." Romney also bashed Santos' decision to stand in the center aisle where he would get maximum exposure on television during President Joe Biden's address to Congress.
"He should be sitting in the back row and staying quiet instead of parading in front of the president and people coming into the room," Romney told reporters.
Speaking to reporters the next day, Santos attacked Romney.
"I think it's reprehensible that the senator would say such a thing to me in the demeaning way he said," Santos said. "It wasn't very Mormon of him."
Romney declined to respond.
"I don't have any comment on that," Romney told CNN on Thursday. "I've said all I'm going to say on the topic."
Santos faces multiple investigations over his finances and repeated lies about his resume and biography. Federal investigators are examining his finances and the New York freshman is expected to face an investigation from the House Ethics Committee.
House Speaker Kevin McCarthy has so far not called on Santos to resign, but Santos has voluntarily stepped down from two House committees even though McCarthy and his allies initially awarded him the spots.
CNN's Morgan Rimmer contributed to this report.