In the fall of 2020, then-New York Rep. Lee Zeldin's campaign submitted a report to federal regulators with a series of unusual expenses: 21 payments on a single day of exactly $199.99 each. The outlays – each just one penny below the dollar figure above which campaigns are required to keep receipts – all went to anonymous recipients.
It's a pattern that has emerged recently in the filings of another New York Republican politician: Embattled freshman Rep. George Santos.
The Zeldin and Santos congressional campaigns had one more thing in common: They shared a treasurer, Nancy Marks.
The Long Island-based consultant is now in the spotlight as Santos faces multiple investigations over his finances and repeated lies about his resume and biography.
On January 31, Marks informed the Federal Election Commission that she had left her post after a little more than three years and two campaigns working with Santos. But her resignation is not likely to shield her from scrutiny, legal experts say. The FEC reports Marks filed on behalf of Santos' campaign are the subject of complaints centered on allegations that records were falsified in violation of federal law.
And her ties to Santos extend beyond filing compliance reports with federal regulators. She also was paid for fundraising services, federal records show. In addition, state records in Florida show companies tied to her and Santos were stakeholders in a for-profit enterprise established shortly after the Republican launched his 2022 congressional bid.
"Given her apparent history and relationship with Mr. Santos, I have to assume that any investigation of him will focus intensely on her role and her knowledge of how the fundraising was organized, accomplished and carried out especially in light of the fact that she's now resigned," said Paul Krieger, a former federal prosecutor.
Krieger also said that Marks' shared history with Santos on other endeavors would make her an even more interesting person for law enforcement to talk to.
Marks and her firm, Campaigns Unlimited, represent dozens of New York-based political committees, state records show. She served as treasurer of Zeldin's unsuccessful campaign of New York governor in 2022 and has worked with the former House member for nearly a decade. Zeldin endorsed Santos ahead of his 2020 House race and campaigned with him last year.
Marks did not respond to CNN's interview requests, including an email with detailed questions about her activities on behalf of the Santos and Zeldin campaigns.
Eric Amidon, Zeldin's former campaign manager, told CNN on Monday that his understanding was that the $199.99 disbursements reported in the fall of 2020 had been "batched together for accounting purposes" and appeared on just one Zeldin filing. He noted that campaigns aren't required to disclose spending that falls below $200.
Zeldin also announced plans Monday to form a new federal political action committee, but he said that Marks will not join as its treasurer.
Santos, who has repeatedly refused to answer reporters' questions about his campaign filings, did not respond to an inquiry made through his congressional office. His personal lawyer, Joe Murray, on Monday declined to answer questions, saying it would be inappropriate to do so "in light of the open investigations."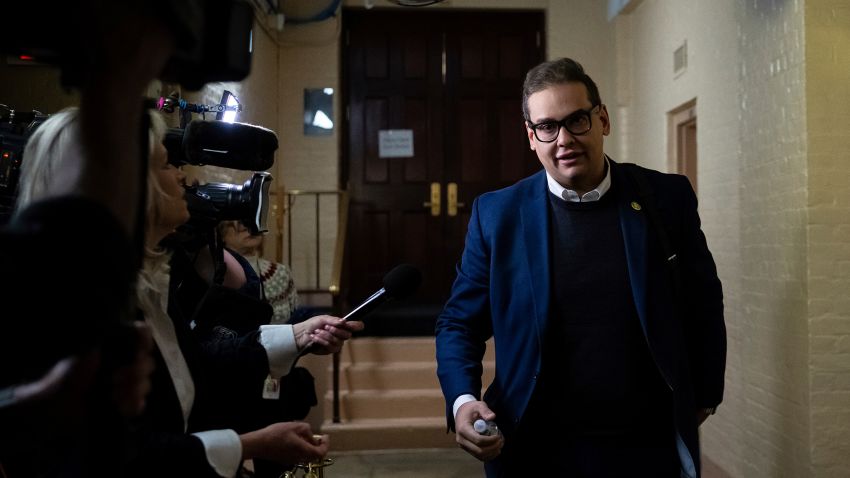 The evolution of 'Anthony Devolder' to Congressman George Santos
Santos lost the 2020 election by a wide margin. But last year, the 34-year-old flipped a Democratic seat in a redrawn district, helping Republicans seize a narrow majority in the US House of Representatives. Santos has been caught lying about the schools he attended, his employment history and family background. Complaints with the FEC have questioned whether he is a true source of more than $700,000 in loans he said he made to his 2022 campaign. Federal investigators are examining his finances, including allegations that Santos took $3,000 from a veteran's dying dog's GoFundMe campaign.
Santos has publicly sought to distance himself from his campaign's disclosures to the Federal Election Commission. After Marks filed a raft of amendments last month that raised questions about the six-figure loans he said he made to his campaign, Santos insisted he had nothing to do with the filings.
"I don't touch any of my FEC stuff, right?" he told CNN at the time. "So, don't be disingenuous and report that I did because you know that every campaign hires fiduciaries."
Anonymous expenditures
Multiple questions have swirled around Santos' campaign filings, which have been littered with irregularities. But Santos' pattern of $199.99 disbursements has drawn some of the most attention and incredulity.
An FEC complaint filed by the Campaign Legal Center watchdog group against the campaign singled out the "seemingly impossible" number of disbursements just below the $200 threshold.
The payments of exactly $199.99 ranged from seven disbursements at Il Bacco Ristorante in Little Neck, New York, for food and beverages – including twice in a single day on November 30, 2021 – to hotel accommodations at the W South Beach Hotel in October 2021 at a time when the lowest-price room typically would have cost more than $700, the complaint said.
But hundreds of other payments of exactly $199.99 – this time to anonymous recipients – appeared in a report filed by Santos' campaign covering the first three months of 2022.
The questionable disbursements to anonymous vendors, first reported by The Washington Post, were removed in subsequent filings. The FEC retains all reports submitted by campaigns – including the original filings.
Those anonymous $199.99 expenses raised eyebrows inside the Santos campaign well before they became a focus of reporting months later,
CNN has learned. One source inside the Santos campaign told CNN that they raised concerns over the unusual expenditures after Marks filed the report early in 2022.
Campaign-finance experts say it's implausible for a campaign to have racked up so many expenditures of exactly the same amount.
More than a treasurer
People involved in Santos' campaign describe Marks as someone whose duties extended far beyond filing the campaign's reports with federal regulators.
Her company was paid by Santos' campaign for both accounting and fundraising services, federal records show.
"A typical treasurer would be more of a compliance officer, do the accounting and their interest is just in making sure that the reports that they are filing are accurate," said Saurav Ghosh, a former Federal Election Commission lawyer who now works for the Campaign Legal Center.
"The job of a fundraiser is very different. You are meeting with potential donors. You are helping set up events," he added. "It's definitely strange for the campaign to employ someone to wear both of those hats."
One longtime Marks client described her firm as offering an array of campaign services, including fundraising, printing and bulk mailing.
Two Republican sources also told CNN that Marks' record as a treasurer, and concerns over her bookkeeping practices, were included in a "vulnerability report" into Santos, commissioned by his campaign in 2021.
The New York Times first reported on the study, which dug into Santos' background and sought to identify information that could be used against him by a political opponent. Its findings, which unearthed a long list of lies and deception by the candidate, led to staff departures and a near-mutiny on the 2022 campaign.
CNN has not independently reviewed the study, but a source familiar with the campaign previously confirmed the purpose of the research, the problematic details uncovered and subsequent unrest within Santos' camp.
Until Marks' resignation, she served as treasurer, not only of Santos' congressional campaigns in the 2020 and 2022 cycles, but several other Santos-affiliated committees – including GADS PAC, a leadership PAC that donated to dozens of other Republican candidates and committees, including to Zeldin's gubernatorial campaign.
GADS is an acronym representing the first initials of Santos' full name, George Anthony Devolder Santos.
Marks also is listed as treasurer of Rise NY PAC, a state political action committee run by Santos' sister, Tiffany Devolder Santos, state election records show. That PAC, which was registered in December 2020, shortly after Santos' first congressional loss, has described itself on social media as focused on boosting new voter registration and "voter enthusiasm."
'Talk to Nancy'
Toby Gotesman, a Florida painter who worked briefly as a fundraiser on Santos' 2022 campaign, said it was Marks who set a fundraising goal for her to achieve before she joined the campaign. She said she couldn't recall the exact amount but viewed it as an "unreasonable" demand.
In the end, she said, she raised only about $6,800 for Santos from two donors before ending her involvement with the campaign – though not because she suspected any wrongdoing. Instead, she said she had grown frustrated with her inability to reach Marks in a timely fashion or to get Santos to "close the deal" with potential donors she had contacted on his behalf.
Gotesman also described Santos as seeming keenly aware of campaign finance regulations.
At one point, Gotesman said, she asked Santos about how to handle donors who wanted to exceed candidate contribution limits. She said he explained that he could not be involved in soliciting or accepting donations that exceeded the limit.
"He made a point of telling me, 'You have to talk to Nancy. I don't want to hear about it, '" she said.
Marks' involvement with Santos appears to stretch beyond his campaign committees.
State records in Florida list a company called R.I.A Concepts Holding – using Marks' home address in Shirley, New York – as a stakeholder in Red Strategies USA LLC, alongside a company established by Santos, called the Devolder Organization.
Red Strategies, which did political consulting, was dissolved last year by the state for failing to file an annual financial report.
Other stakeholders in the venture included firms linked to colleagues from Santos' former firm, Harbor City Capital. The Securities and Exchange Commission filed a complaint in April 2021 against Harbor City and its founder, Jonathan P. Maroney, alleging the company ran a $17 million "Ponzi scheme." Maroney has not been charged with a crime, and neither Santos nor his former colleagues are named in the SEC complaint.
Problem or victim?
Marks lives in a modest home in Shirley, a Long Island town that is a pass-through for Manhattanites on the way to the Hamptons. She serves on the board of several local organizations.
Late last month, Colonial Youth & Family Service, a local group focusing on underserved children where Marks is on the board, honored her for her "generous contributions" to the community with a $100-per-person dinner. She also recently attended the ribbon-cutting for the opening of a new library branch.
But Marks' past work with Santos is also raising some questions in her own backyard.
Joseph Maiorana, president of the Mastics-Moriches-Shirley Community Library, where Marks is a trustee, told CNN, "We've had discussions with her about what is going on, if she needs time to clear that up, and what her intentions are. We have not heard back."
Southampton Town Supervisor Jay Schneiderman said he hired Marks to be his treasurer more than 15 years ago. Despite their long professional relationship, he says he has only met with her in person three or four times. In the last few years, he said, she's been harder to reach but he chalked that up to her working on large campaigns.
After Marks resigned from Santos' campaign, Schneiderman said he reached out to her to make sure his finances were in order.
"I did ask her if she had done anything wrong," he told CNN. "She said, 'Absolutely not.' I said, 'Are there any violations you're being accused of?' She said 'no,' " Schneiderman recalled.
Marks, he said, assured him that his books were fine.
Schneiderman, who is not running for reelection since he has met term limits, said if Marks is involved in any corruption or malfeasance, he would fire her immediately. He added, "I don't know what, if anything, she's done wrong."
"Is she the problem or the victim here?" he wondered.
2020 campaign reexamined
The intense glare on Santos and his conduct also has brought fresh scrutiny to the campaign disclosures Marks filed during his failed 2020 congressional bid.
An FEC complaint lodged last week by End Citizens United alleges that the campaign established a recount committee after Santos' failed 2020 congressional bid in a possible effort to skirt campaign contribution limits.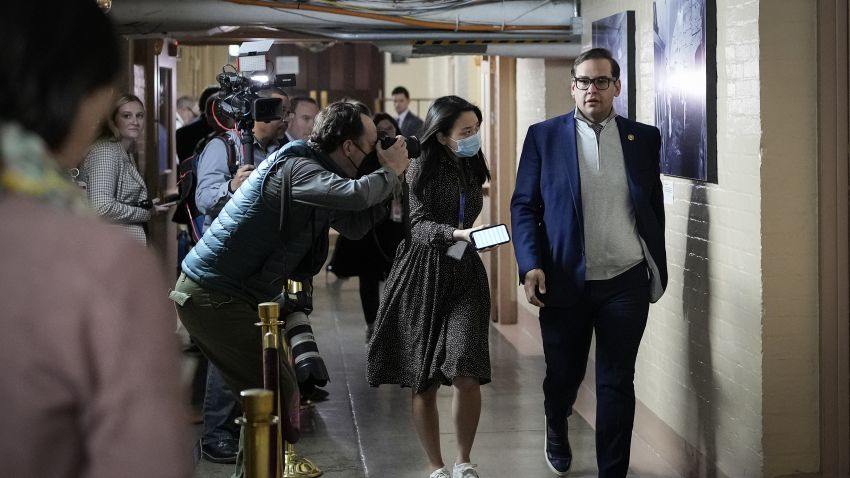 Watch the most eyebrow-raising moments between Santos and reporters
The committee raised and spent more than $260,000 for a recount that never happened after Santos lost to Democrat Tom Suozzi by more than 12 percentage points, according to the complaint and federal records. The recount committee made payments to consultants and staffers – including people described in FEC filings as recount observers.
And it notes that some expenditures overlapped with those reported by Santos' campaign. The recount fund reported it bought a laptop for $2,026.25 from Best Buy on November 12, 2020. Twelve days later, the campaign spent the same amount with the same vendor for a "campaign computer."
Mother Jones magazine, meanwhile, recently reported that more than a dozen donations to Santos' 2020 campaign appeared linked to donors who do not to exist or reside at the addresses listed in the campaign's reports. It is against the law to make a donation in the name of another person or to file false reports with the federal government.
In one case, for example, someone named Stephen Berger is listed as donating $2,500 to Santos from an address on Brandt Road in Brawley, California.
William Brandt, the rancher who owns the property and has lived at the address for four decades, told CNN no one with that name has ever lived at that address.
And he said he has never donated to Santos.