If her expression was anything to go by, blues singer Bonnie Raitt was not expecting to win Song of the Year at the 65th Grammy Awards on Sunday.
Her song "Just Like That" had three Grammy nominations and snapped up two wins, for Best American Roots Song and Song of the Year. She snatched the prize for the latter from under the noses of fellow nominees including Beyoncé, Adele, Taylor Swift and Harry Styles.
When first lady Jill Biden opened the envelope and said her name, Raitt sat dazed, mouth wide-open, for a few moments before heading up to collect her award.
"Oh my God," were the 73-year-old singer's first words on stage.
"I'm so surprised, I don't know what to say," she added.
Clutching her statuette, Raitt called it an "unreal moment," before thanking the Recording Academy.
"Thank you for honoring me, to all the academy that surrounds me with so much support and appreciates the art of songwriting as I do," she said.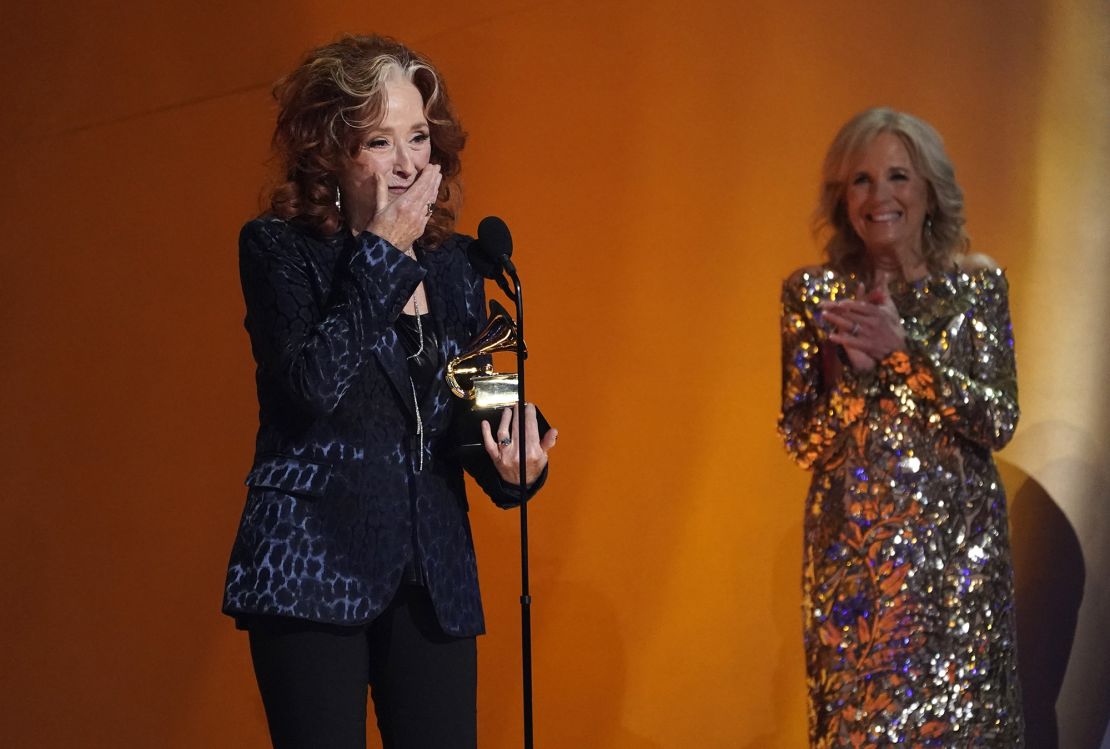 Raitt's winning song, "Just Like That," is about a woman visited by a man who is only alive because of the heart he received – a heart that had belonged to the woman's son.
"I was so inspired for this song by the incredible story of the love and the grace and the generosity of someone that donates their beloved's organs to help another person live and this story was so simple and so beautiful for these times," Raitt explained in her acceptance speech.
She said the song was inspired by the late John Prine, a renowned country-folk singer-songwriter who died in 2020 after Covid-19 complications.
"I don't write a lot of songs but I'm so proud that you appreciate this one and what this means for me and the rest of the songwriters who I would not be up here (without) tonight," she added.
Before making her exit from the stage, she thanked her team for helping with the record.
"I'm just totally humbled…Thank you."
Not content with two wins for "Just Like That," Raitt picked up her third Grammy of the evening – and 13th of her career – for another song, "Made Up Mind," in the Americana Performance category.