Authorities allege the man arrested in the suspected theft of a pair of emperor tamarin monkeys from the Dallas Zoo earlier this week was also allegedly involved in tampering with other habitats at the zoo.
Davion Irvin, 24, was arrested Thursday on six counts of non-livestock animal cruelty in connection with the monkeys, the Dallas Police Department said in a news release. He was taken into custody at the Dallas World Aquarium, where authorities "believe that he was looking to commit another crime," Dallas Police spokesperson Kristin Lowman said at a news conference Friday.
The monkeys' disappearance followed a series of suspicious incidents at the zoo in recent weeks involving a leopard, langur monkeys and vulture, all of which led to a hike in security, including more cameras, patrols and overnight staff.
Authorities say they've unraveled the mysteries and charged Irvin with burglary in connection to cuts in the zoo's enclosures for the tamarin monkeys and clouded leopards. Police say he's also been "linked" to the langur monkeys case but has not been charged in that incident.
A lappet-faced vulture was found dead in its habitat at the zoo on January 21. Lowman said Irvin is not currently charged in connection with that animal's death, but authorities are continuing to investigate.
Police declined to speak about specifics of the investigation, including a possible motive, but say they do believe they know what happened to the tamarins. "We are aware of how he got the monkeys out," Lowman said.
Jail records show Irvin remained in the Dallas County Jail Friday afternoon on a $25,000 bond. It was not immediately clear if he had an attorney but CNN inquired with the Dallas County Public Defender's Office.
Zoo officials say Irvin had no known connection to the zoo, and they are continuing to increase security around the facility in response. "This is really, truly unprecedented," zoo president and CEO Gregg Hudson said.
An escaped leopard. Cut in monkey enclosure. How the animal fiasco unfolded in Dallas
The tamarin monkeys went missing Monday from a habitat that had been "intentionally compromised," the zoo said, adding Dallas Police said they had reason to believe they were "intentionally taken from the enclosure." The zoo was closed Monday due to inclement weather, it had earlier had announced, with the closure extended through Wednesday due to an ice storm.
The animals were recovered unharmed one day later in an abandoned home in Lancaster, Texas, about 15 miles away from the zoo. Authorities say surveillance footage helped lead to a tip that led police to the monkeys at the home. Upon their return to the zoo, the monkeys were put into quarantine, the zoo said.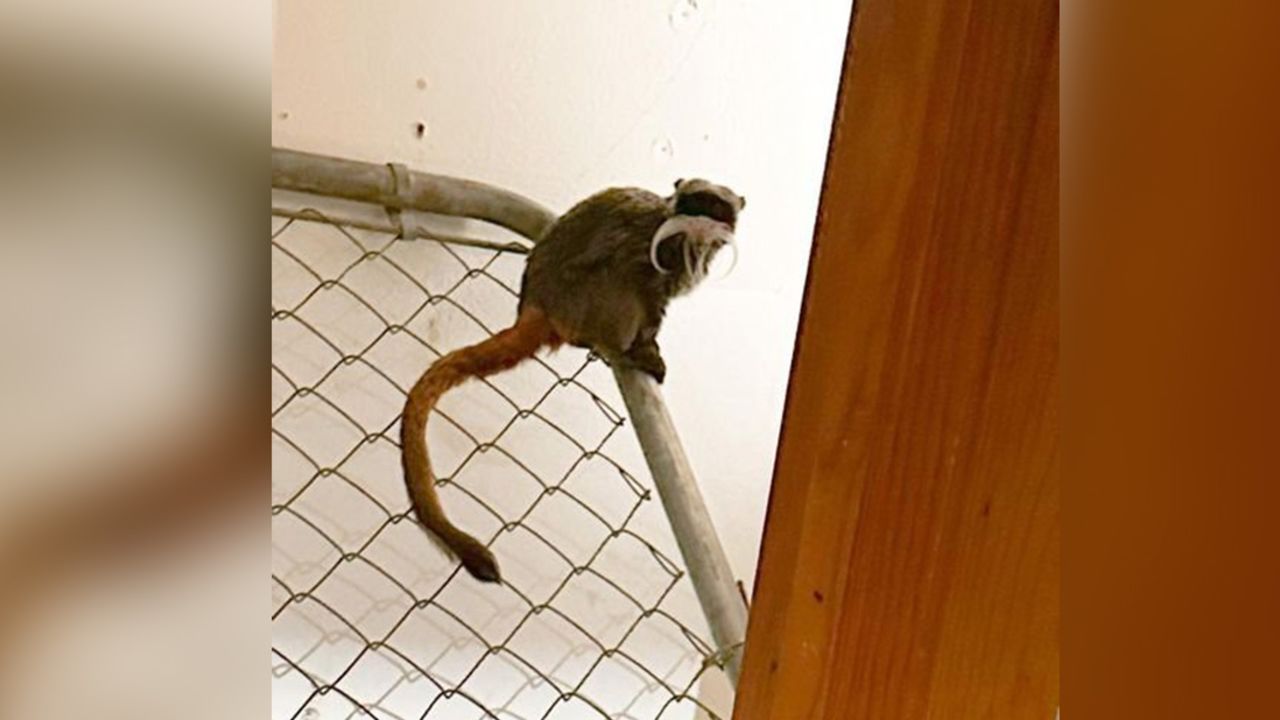 "Emperor tamarin monkeys, Bella and Finn, were so happy to snuggle into their nest sack here at the Zoo last night!" the zoo posted on Facebook. "Our veterinary and animal care teams have said, beyond losing a bit of weight, they show no signs of injury and both started eating and drinking almost immediately once the team completed health exams on Tuesday night."
On Jan. 13, a clouded leopard named Nova disappeared from its enclosure and the zoo closed to conduct a search for the animal. Police launched a criminal investigation after they found the fence around Nova's enclosure had been "intentionally cut," they said. Later that day, Nova was found near her habitat.
Meanwhile, zoo staff observed a similar cut to the enclosure of some langur monkeys, but none of them had escaped, the zoo said.
The issues prompted the zoo to ramp up security, including installing more cameras and boosting overnight security personnel and staffing, Hudson said. Restrictions were also placed on animals' ability to go outside overnight, he added.
On Jan. 21, the lappet-faced vulture named Pin was found dead in his habitat. "Circumstances of the death are unusual, and the death does not appear to be from natural causes," the zoo said in a statement.
The bird's death was "suspicious" and it suffered "an unusual wound and injuries," Hudson said.
Authorities are investigating the death and Irvin has not been charged in connection with the incident. The zoo is offering a $10,000 reward for information leading to the arrest and indictment of a suspect in the vulture's death.
CNN's Rosa Flores and Christina Zdanowicz contributed to this report.