"80 for Brady" suits up with good personnel and a weak game plan, with a movie that exists as much for the fun of seeing its central quartet hit the talk-show circuit as the film itself. Give Paramount credit for the audacity to build a project around 335 years worth of screen stardom, but even its golden gals can only do so much with the playbook given them.
Inspired very, very loosely by a true story, the movie hinges on four women who have bonded in part thanks to their shared passion for the New England Patriots and its then-quarterback Tom Brady, who produced the film in addition to appearing in it. Promotionally speaking, that turns out to be a timely segue into his (maybe, this time) post-playing life, and Brady at least demonstrates that when it comes to acting, he can play himself.
Octogenarians Jane Fonda and Lily Tomlin reunite after their recent stretch on "Grace and Frankie," joined by Rita Moreno (a marvel as the elder stateswoman, at 91) and Sally Field (the relative whippersnapper at 76).
Preparing for the 2017 Super Bowl, Lou (Tomlin), a cancer survivor, has the bright idea that they actually attend the game in Houston, hatching a scheme to win tickets from a local radio show. Soon enough, they're on their way to Texas, where "80 for Brady" spirals away from reality and into fantasy territory, with sitcom-ish moments augmented by occasional heartfelt ones about aging and mortality.
Directed by Kyle Marvin from a screenplay by the "Booksmart" team of Sarah Haskins and Emily Halpern, the main challenge is that there's simply not enough heft in the story to fill out this wild-and-crazy weekend, which requires a level of embellishment that alternates between cute and absurd. Those interludes range from eating contests to high-stakes poker games to Fonda's Trish hooking up with an NFL veteran (Harry Hamlin), just as she's swearing off head-first dives into relationships.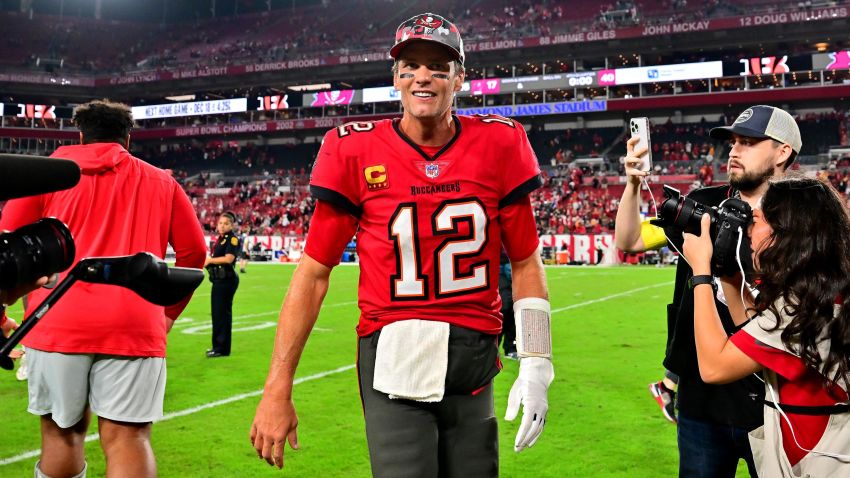 Tom Brady announces he's 'retiring for good'
The final stretch of the film, meanwhile, liberally weaves in footage of the actual game, which should be more suspenseful for those who don't actually remember how the whole thing turned out. (Rob Corddry and "SNL's" Alex Moffat play the sportsradio hosts slowly dying on each play, a device that yields diminishing returns.)
One can see why Brady would be attracted to this sort of lightweight, humanizing foray into Hollywood, and at its best the stars appear to be having a grand time playing off each other.
"What a beautiful man. So well hydrated," Lou gushes when she glimpses the young QB in a flashback sequence, which, if you think about it, doubles as sucking up to the boss.
That said, "80 for Brady" is almost a cliché in terms of taking a sweet little human-interest story and Hollywood-izing it beyond recognition, with only the headline left intact.
It's hard not to root for a movie that dares to showcase this kind of cast given Hollywood's history of ageism, even if it feels like the sort of counterprogramming aimed at matinees followed by early-bird dinners, while drafting off all that Super Bowl hype.
By that measure, "80 for Brady" is a perfectly passable ode to one of the league's great passers, but nobody will be missing a whole lot if they pass on it.
"80 for Brady" premieres February 3 in US theaters. It's rated PG-13.