Editor's Note: This story contains spoilers for Episode 3 of HBO's "The Last of Us."
In the video game "The Last of Us," the most we see of the character Frank is his dead, decaying body dangling from the ceiling of an abandoned residence.
Gruff doomsday prepper Bill is stunned to find his body – they were partners, Bill says. But he quickly cuts Frank's body down and moves on.
When "The Last of Us" was released in 2013, that's all Bill and Frank were – former "partners" who couldn't survive the apocalypse together. (Players of the game could find a note Frank left to Bill, stating that he hated Bill's guts.)
In HBO's television adaptation of the game, Frank and Bill's years-long relationship becomes the focus of the series' third episode, with their apocalyptic love story depicted in a way that is unique in video game adaptations and dystopian stories. Their ending is one built on terms Bill and Frank set for themselves. It all makes for a bittersweet and moving episode of television. (HBO and CNN share parent company Warner Bros. Discovery.)
The episode, "Long, Long Time," marks the biggest diversion so far in a series that has otherwise stuck closely to its source material. Bill and Frank's relationship is not the only queer love story to come in "The Last of Us" (and, mild spoiler, it won't even be the last in this first season of the adaptation). But the response, among first-time viewers and devoted fans of the game, has been largely rapturous.
"I couldn't have imagined a more beautiful deviation from the canon game content," said Nic Sam, a writer for the lesbian pop culture site Autostraddle who has long loved the game. "I'm replaying the game along with watching the show, and after watching this episode, I just know I'm going to connect even more to Bill emotionally than I did on previous playthroughs."
Happy endings are exceedingly rare in apocalyptic storytelling, particularly in "The Last of Us." But giving one to Bill and Frank, whose story ends in unresolved tragedy in the game, shows yet another side of life after the apocalypse, Sam told CNN, and the "series is stronger for it."
A years-long love story unfolds in an hour
In the game, the most backstory we receive is the blistering note Frank leaves for Bill, who is briefly devastated by Frank's harsh words but continues to get Joel and Ellie the help they need, never again mentioning his former partner.
Their story in the TV adaptation isn't exactly a meet-cute: Frank (Murray Bartlett), a survivor from Baltimore, falls in a hole Bill dug to trap raiders and the infected who stumble near his rural Massachusetts home. When Bill (Nick Offerman) realizes Frank isn't sick, he must quickly acclimate to the idea of helping another person after years of isolation. They share a delicious meal prepared by Bill, still reticent, while Frank is eager and giddy to dine, shower and spend time with another human being. Bill eventually lets his guard down. (Co-creator Craig Mazin said on the series' official podcast that Frank is "smiling" throughout his first interaction with Bill because "he already can tell something about Bill that Bill maybe didn't think anyone was able to see at all.")
Their first kiss, shared after both men take a turn at playing Linda Ronstadt's "Long, Long Time" on Bill's antique piano, is less passionate than it is revelatory – it's an exhale after years of holding their breath. Frank never leaves after his chance meeting with Bill. Here are two people who, in a world uncorrupted by brain-gnawing fungus, would likely have never met, let alone embark on an almost 20-year relationship, and they're facing the end times together.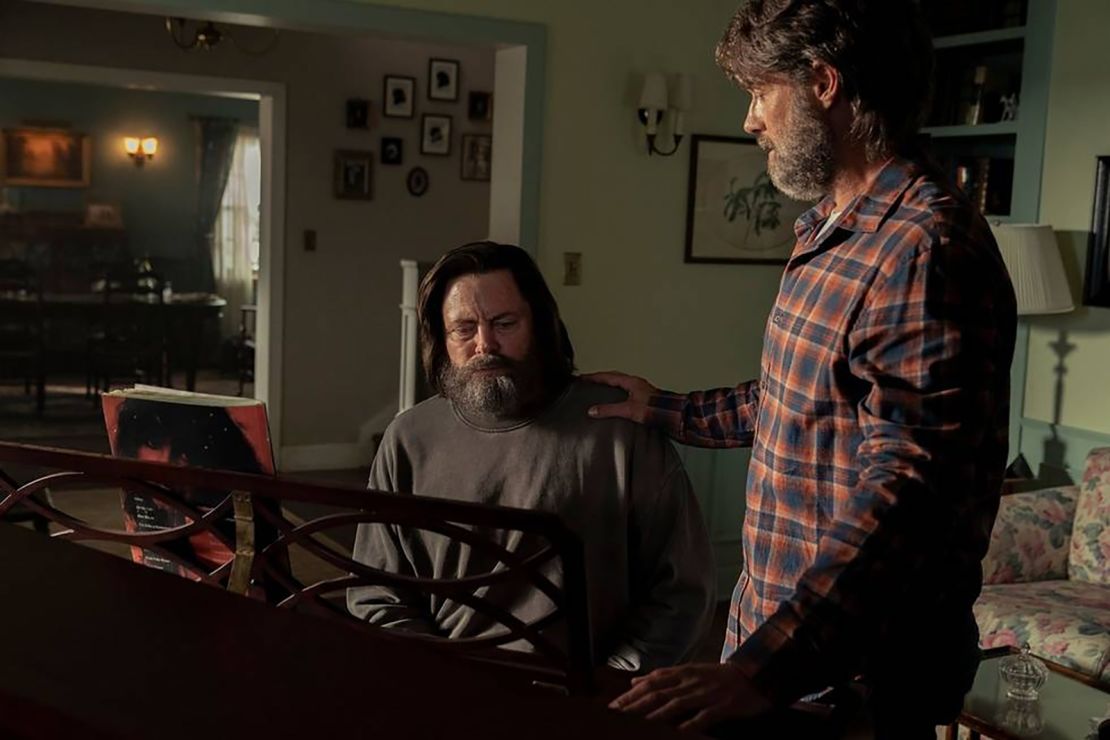 Most of the time audiences spend with Bill and Frank is delightfully un-dystopian. They jog together and are nearly brought to tears by the taste of strawberries that Frank planted by surprise. They squabble about trivial things – beautifying some abandoned storefronts, for one. We see Joel and Tess lunch with Bill and Frank; Frank is elated to have company for the first time in years while Bill keeps his handgun on the table.
After all those years of survival (and at least one close call), Frank is still sickened by an unnamed human illness. He asks Bill to prepare a deadly prescription cocktail before the pair have one last "good day," which culminates in a private wedding ceremony between the two. (Viewers pointed out that, in the timeline of "The Last of Us," same-sex marriage had not been legalized in the US by the time the Cordyceps fungus took over.) And then, after both of them drink laced wine, the two retire to their bed, where they die.
The series lets Bill and Frank's story stand on its own
Through Bill, we see an alternate path Joel's life might have taken, if Joel were able to open himself to the people who care about him. Bill is utterly transformed by his love for Frank – and the two keep each other alive in more ways than one.
But Bill and Frank don't exist solely to lend the series' heterosexual protagonist greater depth. Their story is wholly contained in one episode, and it doesn't play much into Joel and Ellie's journey. It's a long-awaited expansion of a sliver of story fans of the game have fantasized about for years.
Valerie Anne, who streams on Twitch as PunkyStarshine and is recapping the series for Autostraddle with Nic Sam, thought the new additions to Bill and Frank's story were a definite improvement over the game. She told CNN that, while playing the game for the first time, her "gaydar pinged" when Bill mentioned his "partner," but by the time she read Frank's suicide note, she wondered if she'd misunderstood – maybe the pair were just business partners and nothing more, she thought.
"I am thrilled that the show took it upon themselves to not only give Bill and Frank a beautiful love story, but to make Bill a character who deserves it," she told CNN. "In the game he's just a surly guy, and if there was a sweet center under all those layers of sour, we didn't get to see it."
In the game, Bill antagonizes Ellie after Joel and his ward meet up with the prepper. Their tête-à-tête is missing from the series – Bill is dead before Ellie even enters his home onscreen – and Valerie Anne said she missed seeing sides of Ellie that are illuminated through her interactions with Bill. But overall, she said, letting Bill and Frank get their own episode, without the burdens of plot exposition, was a generous reward for viewers.
"I thought it was a beautiful snapshot of what 20 years in the pandemic could have looked like for some people," she said. "Not everyone is running from clickers at every turn or burning bodies for scraps of paper so they can get some food."
Some critics found the episode trope-heavy or insincere
The episode had its critics, too. In their review, writer and filmmaker Juan Barquin said the sudden veer into a straightforward romance in an otherwise bleak series "feels fundamentally opposed to the world (co-creator Neil) Druckmann has created," and the episode was less of a valuable narrative divergence than "an explicit attempt to court praise." Riley MacLeod of the Washington Post noted that however moving their story was to viewers, Bill and Frank still "fall into well-worn gay death tropes" – a gay man pushing another gay man, sickened by an unknown disease, in a wheelchair; an image often shown in storylines about HIV-positive characters – and are seemingly the "only two queer people in the world."
Creators Mazin and Druckmann had been teasing the episode for weeks ahead of the series' mid-January premiere. In a lengthy piece for the New Yorker, writer Alex Barasch said he was asked by the creative team more than once whether he "cried easily" ahead of watching the Bill and Frank episode (during a screening, Barasch wrote that Mazin, "smiling," handed tissues to a weeping HBO executive). Mazin in particular has spoken about how proud he is of the episode and its changes, and to some critics, the response seemed a bit self-congratulatory.
The 2013 game was the topic of controversy for its treatment of Bill, whose queerness is only briefly alluded to. A critic for Logo TV wrote that the game reduced Bill to a "punchline" after Ellie jokes about a gay porn magazine she finds. Fanbyte reported on Bill's casting in the TV series as a "gay (the show) will probably bury." Even the widely praised 2022 remake of the game was a "reminder of its 'bury your gays' romance," said Jade King of The Gamer, in an article that year. (The "bury your gays" trope refers to the frequent killing off of gay characters in media.)
Seeing Bill and Frank's love story play out from start to finish, when in the game it felt like an "afterthought," was a "universal improvement," King told CNN.
"Bill is left alone to deal with his failure of keeping Frank alive in the game, but here they die in each other's arms, content that they have lived a full, loving life and can go out on their own terms," King said. "You can almost view it as a reclamation of agency from queer characters who have so often been done wrong."
Even though, as a queer trans woman who covers LGBTQ media, she's played and watched plenty of similar storylines, Bill and Frank's romance struck her as sincere, she said.
"I would normally turn away from queer stories that glamorize trauma and tragedy, but 'The Last of Us' has somehow deconstructed damaging tropes and transformed them into a narrative that feels earned," King told CNN.
Episode 3 is a promising start for the queer love stories to come
To reveal more about the queer relationships still to come in "The Last of Us" would spoil the rest of the series and its freshly greenlit second season, which Mazin and Druckmann have said will likely follow the plot of "The Last of Us Part II." But it bodes well for the rest of the series that the showrunners have taken care in telling queer stories, Valerie Anne said.
"To get almost two full decades with someone you love is a gift, and to get it in a time of so much death and destruction feels even more special, so it's really nice to see it happen for gay people," she told CNN.
Rewriting Bill and Frank's partnership makes the LGBTQ representation that follows even more meaningful since those storylines and characters are no longer correcting for what came before. "The Last of Us Part II" was praised upon its release for the time it spent with its central queer characters (as well as the addition of a trans character who plays a pivotal role). Their story is given hours of space that Bill and Frank's love only received a few seconds of.
"'The Last of Us' has become an iconic example of queer representation in gaming, and one of the most recognized blockbusters being so progressive in its intentions has done a whole world of good for this medium, even if it made some initial missteps along the way," King said, noting that the third episode of the series is evidence that future episodes of the series will take the same nuanced approach to beloved LGBTQ characters.