Editor's Note: This article contains graphic videos and descriptions of violence.
Tyre Nichols screamed for his mother and Memphis police officers struck him multiple times – including in the face while his hands were restrained – toward the end of the Black man's deadly encounter with the officers this month, video released by the city shows.
And although paramedics arrive minutes after officers disengage, Nichols appears to be left on the pavement without assistance for stretches of time before an ambulance comes.
The city on Friday night released body camera and surveillance video of the January 7 traffic stop and beating that led to the 29-year-old's death in hospital from his injuries three days later. The release comes a day after five Memphis police officers, who also are Black and have been fired, were charged with murder.
The footage drew stunned reaction from law enforcement experts and outrage from officials including President Joe Biden, who said it was "yet another painful reminder of the profound fear and trauma, the pain, and the exhaustion that Black and Brown Americans experience every single day."
Live updates: Memphis releases Tyre Nichols arrest videos
Protesters in Memphis took to Interstate 55 Friday night after the videos' release, blocking both lanes of the highway's bridge connecting the western Tennessee city to Arkansas.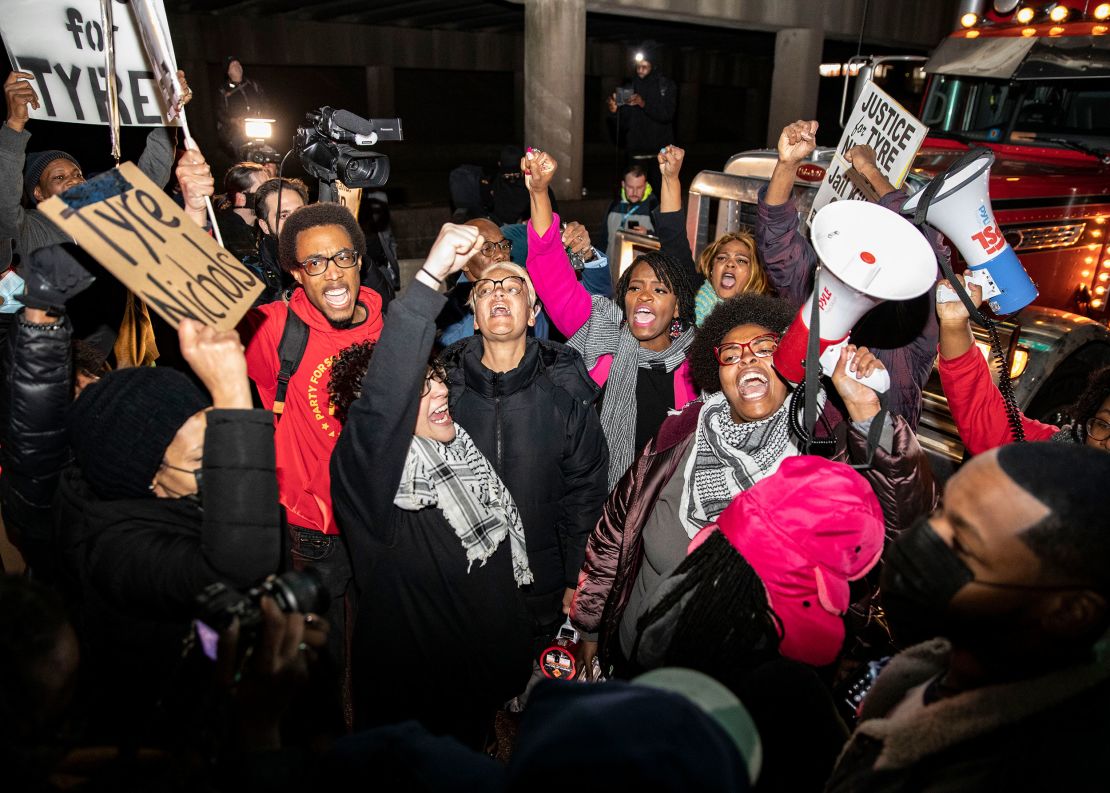 The basics of Nichols' encounter were this: Police pulled Nichols over in Memphis in what they initially said was on suspicion of reckless driving. After officers pulled him out of his car, a struggle ensued and he ran away; minutes later, officers would catch up with him and hit or kick him numerous times, video shows.
Moments from the videos include:
The initial encounter
During the first encounter after the traffic stop, at around 8:24 p.m., Nichols sounded calm, body cam video from an officer arriving at the scene shows.
As the officer approaches the scene, an officer is yelling at Nichols to "Get the fuck out of the car."
Officers pull Nichols out of the vehicle and someone is heard saying, "Get the fuck on the ground and turn his ass around." Nichols responds by saying, "I didn't do anything," and, "Alright, I'm on the ground."
Officers yell at him to lie down and threaten to tase him. One officer tells him, "Bitch put your (hands) behind your back before I break them."
Nichols can be heard telling them, "You guys are doing a lot right now. … I'm just trying to go home."
At this point Nichols appears to be lying on his side, with crouching officers around him. When an officer tells him to lie down, Nichols responds, "I am on the ground!" An officer yells that he needs to lie on his stomach, a position Nichols doesn't appear to reach.
At 8:25 p.m., one officer sprays Nichols in the face with pepper spray. Nichols then struggles to his feet and begins running from the officer as one another shoots a taser at him that apparently didn't make contact.
Nichols continues running, and officers chase him.
The officer with the body camera returns to the first scene, where at least one officer is coughing and one says he can't see anything. The officer with the body camera finds a bottle of water, and water is poured into at least one officer's eyes.
When Nichols is caught again, screams are heard
A different body camera video shows some of what happens when officers catch Nichols on a neighborhood street minutes later, around 8:34 p.m.
Nichols screams for his mom as the video shows an officer arriving at this scene.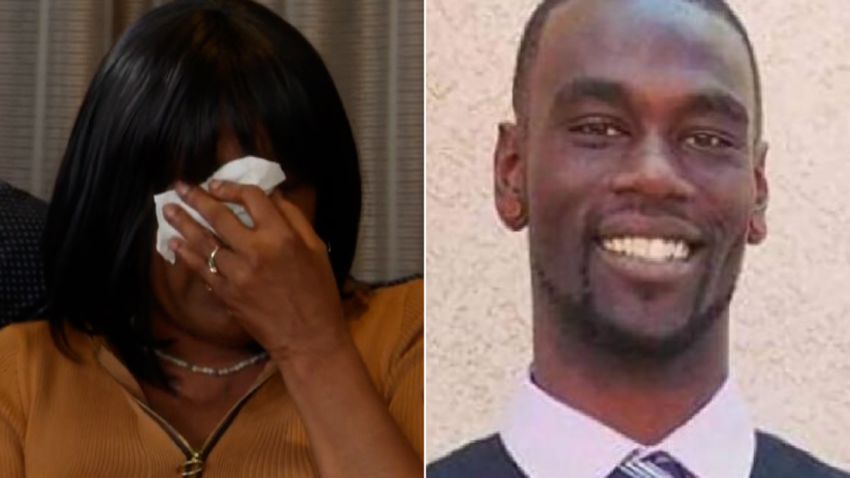 Video: Lawyer shares Nichols called out for his mom 3 times
Officers tell Nichols to "give them his hand," as a struggle ensues on the ground. An officer asks Nichols, "Do you want to get sprayed again?"
Two officers hit and kick Nichols as he is on the ground.
Nichols screams: "Mooooom!" and continues to call for his mom for a while.
An officer is eventually heard yelling at Nichols: "I'm going to baton the fuck out of you. Give me your fucking hands."
Struck multiple times without visible provocation
A remotely operated pole-mounted police surveillance video in the neighborhood gives the clearest view of the blows. This shows officers hitting Nichols at least nine times without visible provocation.
When the camera first turns toward the scene, an officer shoves Nichols hard to the pavement with a knee or leg. Nichols is pulled up by his shoulders and then kicked in the face twice.
After being pulled up into a sitting position, Nichols is hit in the back with what appears to be a nightstick. After being pulled to his knees, Nichols is hit again.
Once pulled to his feet, the video shows officers hitting Nichols in the face multiple times while his hands are restrained behind his body, after which he falls to his knees. Less than a minute later, an officer appears to kick Nichols. More than three minutes after the encounter is first seen on this camera, officers let go of Nichols, and he rolls on his back.
One minute later, Nichols is dragged along the pavement and propped up in a sitting position against the side of a car, where he is largely ignored by officers for the next three-and-a-half minutes.
In a body-camera video, officers can be heard talking about the encounter.
"He swung – pow – almost hit me," one officer says. "Then he reached for (inaudible) gun," a second officer says.
One officer says Nichols "had his hand on my gun," and "motherfucker was holding it."
An officer later describes the traffic stop involving Nichols: "We tried to get him stopped. He didn't stop."
An officer says: "He drove around, swerved, nearly hit my car."
Van Jones, a former special adviser to President Barack Obama, put it this way to CNN after seeing the videos: "(Nichols) goes from a voice from calm (during the initial encounter) to panic … to agony."
"It's clearly excessive force," former New York City police Lt. Darrin Porcher told CNN. "What's even more troubling is, no officer was wiling to intervene and say, 'Stop.' "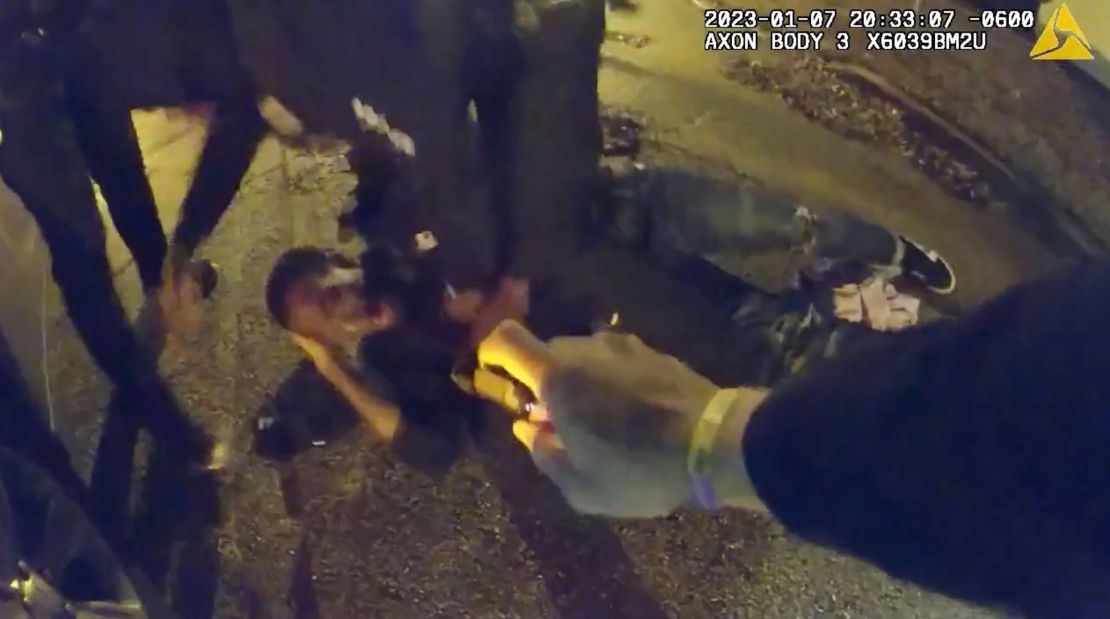 Repeatedly left on the pavement
Ten minutes into the pole-camera video – a few minutes after officers disengaged – a person who appears to be a paramedic engages Nichols for the first time, around 8:41 p.m. But responders would repeatedly walk away from Nichols before an ambulance arrives.
Two minutes after paramedics started attending to Nichols, he is seen falling over to the side and seeming to hit his head hard against a piece of equipment after a bright light was shone in his face. No one appears to help Nichols as he tries to sit up, only to fall over again.
About a minute later, officers are seen crowding around Nichols, only to step away as he again falls onto his side.
First responders then spend nearly five minutes standing over Nichols, and occasionally shining a light toward his face, before walking away.
Read stepfather's description of video: 'No one rendered aid to him'
Nichols twists on the ground, unhelped. Medical equipment is finally brought back to Nichols' side about three minutes later, the pole-camera video shows.
Footage shows that 21 minutes pass from when paramedics first appeared to arrive to when an ambulance finally pulls into view of the camera at 9:02 p.m.
Sheriff places 2 deputies on leave after seeing videos
Two deputies with the Shelby County sheriff's office have been put on leave pending an investigation after the sheriff viewed the videos Friday.
"I have concerns about two deputies who appeared on scene following the physical confrontation between police and Tyre Nichols," Sheriff Floyd Bonner Jr. said.
"I have launched an internal investigation into the conduct of these deputies to determine what occurred and if any policies were violated. Both of these deputies have been relieved of duty pending the outcome of the administrative investigation."
Earlier, two fire department employees who were part of Nichols' "initial patient care" were put on leave "while an internal investigation is being conducted," department spokesperson Qwanesha Ward told CNN's Nadia Romero.
The US Department of Justice has said it is conducting a federal civil rights investigation of Nichols' death.
Five fired officers scheduled for February arraignment
The five Memphis police officers identified – Tadarrius Bean, Demetrius Haley, Justin Smith, Emmitt Martin and Desmond Mills Jr. – were fired January 20 for violating police policies including on use of excessive force, police said.
They were then charged this week. Each has been charged with second-degree murder, aggravated assault, two charges of aggravated kidnapping, two charges of official misconduct and one charge of official oppression, Mulroy, the Shelby County district attorney, said.
Martin and Haley were released from jail on a $350,000 bond, according to Shelby County Jail records, while Smith, Bean and Mills Jr. have been released after each posting a $250,000 bond.
The five former officers are scheduled for arraignment on February 17.
Blake Ballin, an attorney for Mills Jr., said the videos "produced as many questions as they have answers," specifically regarding his client's involvement during the fatal encounter. Mills arrived later than other officers, and his vision was impaired by pepper spray that was deployed, Ballin said.
"Some of the questions that remain will require a focus on Desmond Mills' individual actions; on what Desmond knew and what he was able to see when he arrived late to the scene; on what Desmond knew and what he was able to see after he was pepper sprayed; and on whether Desmond's actions crossed the lines that were crossed by other officers during this incident," Ballin said.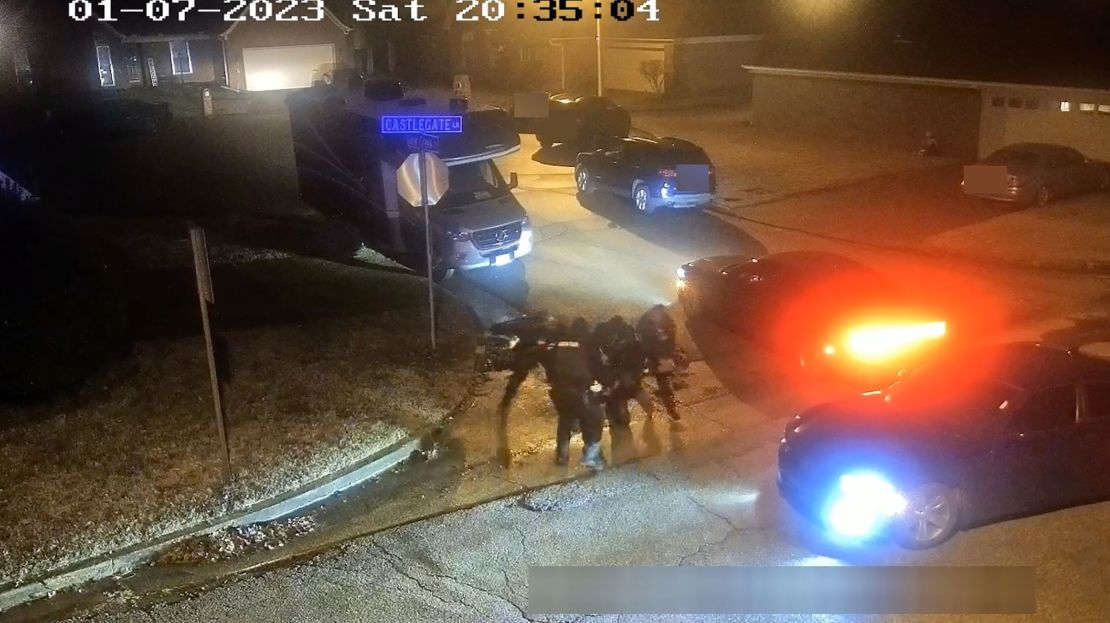 The Memphis Police Association, a union representing the city's police officers, on Friday night released a statement after the videos were released, saying it would like to again "extend condolences to the family of Mr. Tyre Nichols."
"The Memphis Police Association is committed to the administration of justice and NEVER condones the mistreatment of ANY citizen nor ANY abuse of power," and the group has "faith in the criminal justice system," the statement reads.
"That faith is what we will lean on in the coming days, weeks, and months to ensure the totality of circumstances is revealed," the statement reads. "Mr. Nichols' family, the city of Memphis, and the rest of the country deserve nothing less. We pray for justice, healing, and eventual closure for all involved."
Police nationwide have been under scrutiny for how they treat Black people, particularly since the Minneapolis police murder of George Floyd in May 2020 and the mass protest movement known as Black Lives Matter.
'Acts that defy humanity,' police chief says
Earlier Friday, Memphis' police chief said the video would show "acts that defy humanity."
Police have not been able to find anything to substantiate the probable cause for reckless driving by Nichols before his fatal encounter, Chief Cerelyn "CJ" Davis told CNN's Don Lemon ahead of the videos' release.
Nichols' mother, RowVaughn Wells, told CNN on Friday before the videos were released: "It's still like a nightmare right now."
"I'm still trying to understand all of this and trying to wrap my head around all of this," Wells said. "I don't have my baby. I'll never have my baby again."
Police officials in a number of major cities nationwide have said they are monitoring for any possible public outcry this weekend over what will be seen in the video footage.
Before the videos' were made public, Wells asked for supporters to be peaceful during demonstrations, saying at a vigil in Memphis on Thursday she wants "each and every one of you to protest in peace."
"I don't want us burning up our cities, tearing up the streets, because that's not what my son stood for," Wells said. "And if you guys are here for me and Tyre, then you will protest peacefully."
A Memphis church is scheduled to hold Nichols' funeral Wednesday.
CNN's Eric Bradner, Jay Croft, Christina Maxouris, Holmes Lybrand, Alisha Ebrahimji, Travis Caldwell, Rebekah Riess, Mark Morales, Tina Burnside, Shimon Prokupecz, Nick Valencia, Mallika Kallingal, Amanda Watts, Sara Sidner and Andi Babineau contributed to this report.