If you live on planet earth, you've likely heard of the soothing, sleep-improving benefits of a weighted blanket — but it turns out that only one brand backs up its claims. Gravity is the only blanket that's scientifically proven to give you a better night's sleep, and it works by wrapping you in a comforting hug that releases relaxation-inducing hormones like serotonin and melatonin. What's more, Gravity's weighted blankets are stylish enough to elevate your space and come in a handful of designs to suit your specific sleep preferences.
Recently, however, the brand has moved beyond weighted blankets and launched some high-quality wellness items that support self-care from the comfort of your home — namely muscle recovery tools. This new line harnesses the power of infrared heat to ease aches and pains, whether from a tough workout or everyday stress.
Keep scrolling to check out the brand's selection of weighted blankets and new muscle recovery tools. Plus, with Gravity's Valentine's Day Sale, from Feb. 7 to Feb. 16 you can get 25% off full-priced items like the sauna blanket, heat pad and back wrap!
From $250 $188 at Gravity
The OG weighted blanket has a 4.48-star rating from more than 1,700 reviewers, some of whom have called it "amazing," "worth the price" and "the absolute best purchase [they] have ever made." One even writes, "This blanket has given my insomniac spouse much-needed long, deep sleeps that evaded her for years." The weighted inner uses glass beads to create evenly distributed, soothing, deep-pressure stimulation, while the removable cover is made from a luxurious micro-plush material. Get it in three weights/sizes and seven colors.
From $250 $188 at Gravity
If you tend to sleep hot, Gravity's cooling weighted blanket (available in three weights and six colors) offers the same soothing stimulation with a breathable twist. The revamped cover is made from 100% eucalyptus-derived Lyocell, which is silky soft, sweat-wicking and well ventilated. It's also eco-friendly and OEKO-TEX certified for sensitive skin.
A brand-new release, this tool gives you all of the benefits of an infrared sauna without having to leave your home. Simply slip into the sleeping-bag-style blanket, set your intensity with the attached controller and relax. The FAR infrared technology aims to calm your mind, boost muscle recovery and create a post-sauna high as a result of deep detoxification. Fortunately, sweating is encouraged, thanks to the nontoxic, waterproof materials, and it's easy to store with the included bag.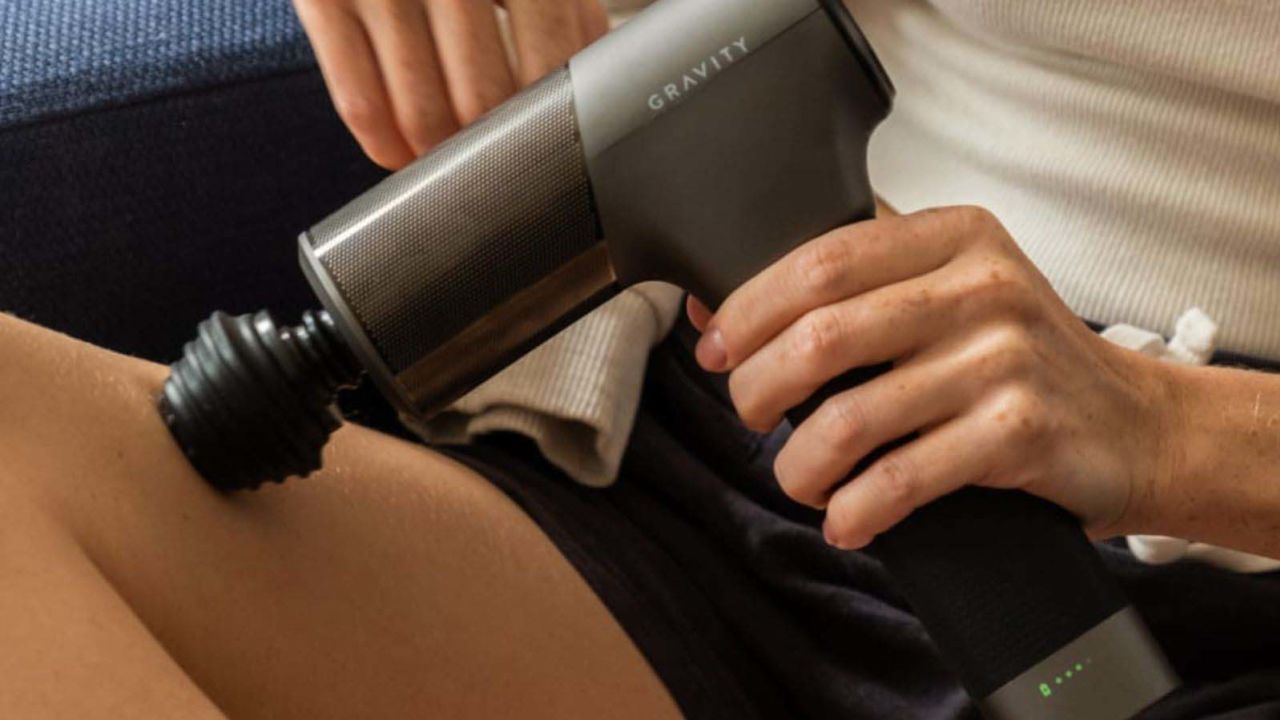 The heat applicator stimulates blood flow for improved muscle recovery and repair, while the six different attachments literally hit the spot every time. This handheld massager uses percussive massage technology to relieve pressure on contact, plus it's rechargeable and comes in a sleek case for easy transport and storage.
For more targeted, portable recovery, there's this weighted infrared heat pad. Like the sauna, it also delivers the healing benefits of continuous FAR infrared heat, plus it's filled with tourmaline weighted beads to boost relaxation. Since it's much smaller, however, you can place it directly on the body part that needs heat therapy most. It's also significantly easier to pack, transport and store.
This portable back wrap might just become your lower back's new best friend. It delivers soothing infrared heat with a portable, rechargeable battery, so you truly can go anywhere with it. What's more, the digital display is right on the wrap, so you can adjust your heat setting as needed. According to the brand, it'll support your lumbar, reduce inflammation, soothe aching muscles, reduce recovery time and improve performance.