Five former Memphis police officers who were fired for their actions during the arrest of Tyre Nichols earlier this month were indicted on charges including murder and kidnapping, Shelby County District Attorney Steve Mulroy announced Thursday.
The former officers, Tadarrius Bean, Demetrius Haley, Justin Smith, Emmitt Martin and Desmond Mills Jr., have each been charged with second-degree murder, aggravated assault, two charges of aggravated kidnapping, two charges of official misconduct and one charge of official oppression, Mulroy said.
Second-degree murder is defined in Tennessee as a "knowing killing of another" and is considered a Class A felony punishable by between 15 to 60 years in prison.
The criminal charges come about three weeks after Nichols, a 29-year-old Black man, was hospitalized after a traffic stop and "confrontation" with Memphis police that family attorneys have called a savage beating. Nichols died from his injuries on January 10, three days after the arrest, authorities said.
Police nationwide have been under scrutiny for how they treat Black people, particularly since the Minneapolis police murder of George Floyd in May 2020 and the mass protest movement known as Black Lives Matter.
President Joe Biden said Thursday the killing is a "painful reminder that we must do more to ensure that our criminal justice system lives up to the promise of fair and impartial justice, equal treatment, and dignity for all."
Officials in Memphis have braced for potential civil unrest and have called for peaceful protests ahead of video of the fatal police encounter that's expected to be publicly released Friday. The local school district also canceled all after-school activities Friday in the "interest of public safety."
Police departments across the country – including in Los Angeles, Atlanta, Minneapolis, Nashville and New York – told CNN they were either monitoring events or already had plans in place in case of protests.
Nichols' family and attorneys, who were shown the video Monday, said it shows officers severely beating Nichols and compared it to the Los Angeles police beating of Rodney King in 1991. Family attorney Antonio Romanucci told CNN the public should be "prepared" for a disturbing scene, saying it was like an "MMA fight" while Nichols was "helpless, he was defenseless, he was restrained."
Nichols' mother Ravaughn Wells, who said she hasn't been able to watch it, said the video release will be "horrific" but urged protesters to remain peaceful.
"I don't want us burning up our cities, tearing up the streets, because that's not what my son stood for," said Wells.
Two officers post bond
Three of the officers remained in custody at the Shelby County Jail Thursday night. Bond was set at $350,000 for Haley, 30, and Martin, 30, and $250,000 for Bean, 24, according to the Tennessee Bureau of Investigation.
Mills, 32, and Smith, 28, posted $250,000 bond Thursday evening and were released, according to jail records.
In a joint news conference Thursday afternoon, Blake Ballin, an attorney for Mills, and William Massey, Martin's attorney, said they have not yet watched the video of the police encounter, which is expected to be released to the public Friday.
Ballin described Mills as a "respectful father," who was "devastated" to be accused in the killing. Mills, previously a jailer in Mississippi and Tennessee. Ballin said he had not spoken to Mills specifically about Nichols.
Martin also intended to post bond and will also plead not guilty, his attorney said. "No one out there that night intended for Tyre Nichols to die," Massey said.
Other officers' attorneys did not immediately respond to requests for comment.
Live updates on the Tyre Nichols case
Video to be released Friday evening
Video of the fatal police encounter, a mix of body-camera and pole-cam video, is expected to be released publicly after 6 p.m. Friday, Mulroy said.
Speaking to CNN's Erin Burnett on Thursday night, Mulroy said that while he can't definitively say what caused the encounter to escalate, the video shows that the officers were "already highly charged up" from the start of the video and "it just escalated further from there."
The video doesn't capture the beginning of the altercation between the officers and Nichols but rather "cuts in as the first encounter is in progress," Mulroy said.
"What struck me (about the video) is how many different incidents of unwarranted force occurred sporadically by different individuals over a long period of time," the district attorney added.
Tennessee Bureau of Investigation Director David Rausch said the fatal encounter was not proper policing.
"I'm sickened by what I saw and what we've learned from our extensive and thorough investigation," he said. "I've seen the video, and as DA Mulroy stated, you will too. In a word, it's absolutely appalling."
On Thursday, family attorneys Ben Crump and Romanucci said, "The news today from Memphis officials that these five officers are being held criminally accountable for their deadly and brutal actions gives us hope as we continue to push for justice for Tyre."
'A failing of basic humanity'
The five Memphis police officers, who are also Black, were fired last week for violating policies on excessive use of force, duty to intervene and duty to render aid, the department said.
In a YouTube video released late Wednesday, Memphis Police Chief Cerelyn Davis condemned the officers' actions and called for peaceful protests when the arrest video is released.
"This is not just a professional failing. This is a failing of basic humanity toward another individual," Davis said in the video, her first on-camera comments about the arrest. "This incident was heinous, reckless and inhumane."
The five terminated officers all joined the department in the last six years, according to police. Other Memphis police officers are still under investigation for department policy violations related to the incident, the chief said.
In a statement posted Thursday, Memphis Mayor Jim Strickland said the city had initiated an "outside, independent review" of the training, policies and operations of the police department's specialized units. At least two of the officers belonged to one of those special units, according to their attorneys.
Two members of the city's fire department who were part of Nichols' "initial patient care" also were relieved of duty, a fire spokesperson said. The Tennessee Bureau of Investigation announced an investigation into Nichols' death and the US Department of Justice and FBI have opened a civil rights investigation.
Mulroy said the investigation is ongoing and there could be further charges going forward.
What led to Nichols' arrest and death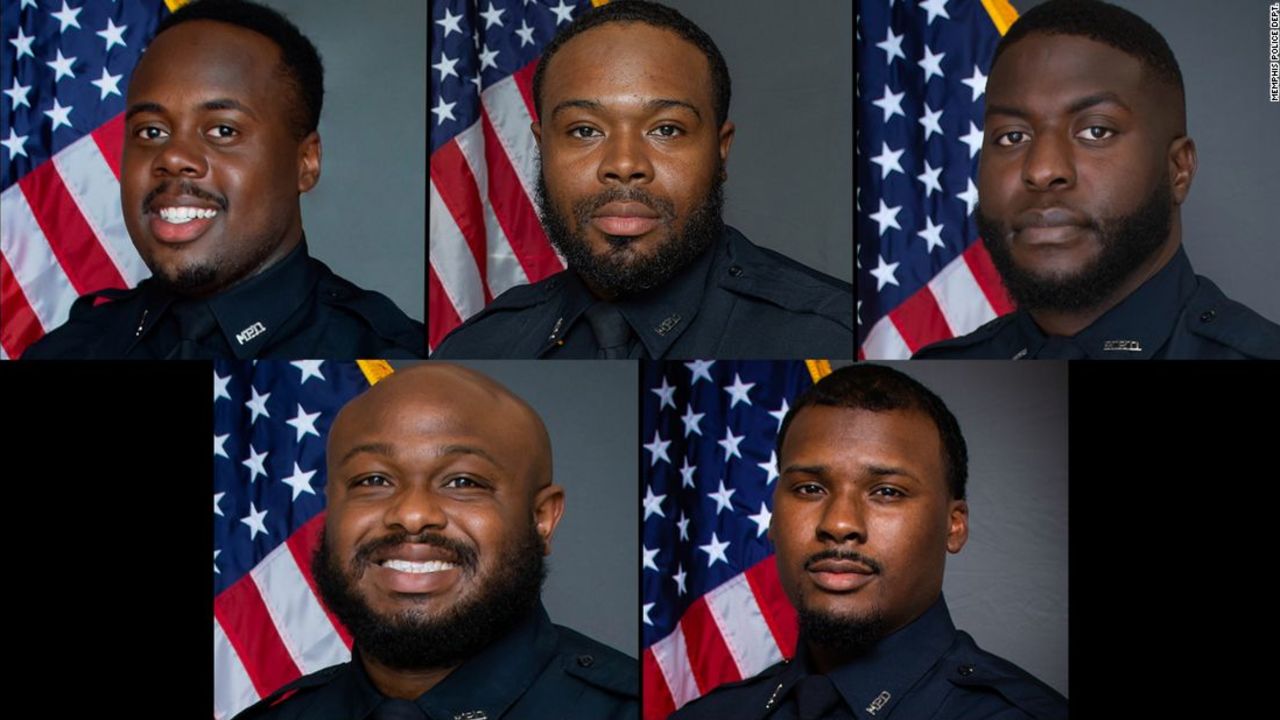 Nichols, the father of a 4-year-old, had worked with his stepfather at FedEx for about nine months, his family said. He was fond of skateboarding in Shelby Farms Park, hanging out with friends at Starbucks and photographing sunsets, the family said.
His mother said he had her name tattooed on his arm. He also had the digestive issue known as Crohn's disease and so was a slim 140 to 145 pounds despite his 6-foot-3-inch height, she said.
On January 7, he was pulled over by Memphis officers on suspicion of reckless driving, police said in their initial statement on the incident. As officers approached the vehicle, a "confrontation" occurred and Nichols fled on foot, police said. The officers pursued him and they had another "confrontation" before he was taken into custody, police said.
Nichols then complained of shortness of breath, was taken to a local hospital in critical condition and died three days later, police said.
In Memphis police scanner audio, a person says there was "one male Black running" and called to "set up a perimeter." Another message says "he's fighting at this time."
On Thursday, Mulroy offered a few further details, saying the serious injuries occurred at the second confrontation. He also said Nichols was taken away in an ambulance after "some period of time of waiting around."
Attorneys for Nichols' family who watched video of the arrest on Monday described it as a heinous police beating that lasted three long minutes. Crump said Nichols was tased, pepper-sprayed and restrained, and Romanucci said he was kicked.
"He was defenseless the entire time. He was a human piñata for those police officers. It was an unadulterated, unabashed, nonstop beating of this young boy for three minutes. That is what we saw in that video," Romanucci said. "Not only was it violent, it was savage."
Nichols had "extensive bleeding caused by a severe beating," according to the attorneys, citing preliminary results of an autopsy they commissioned.
Police changed policy after killing of Floyd
Among the charges, the officers were indicted on two counts of aggravated kidnapping: one for possession of a weapon and one for bodily injury.
"At a certain point in the sequence of events, it is our view that this, if it was a legal detention to begin with, it certainly became illegal at a certain point, and it was an unlawful detention," Mulroy said.
Less than a month after the murder of Floyd, the Memphis Police Department amended its duty to intervene policy, according to a copy of the policy sent to CNN by the MPD.
"Any member who directly observes another member engaged in dangerous or criminal conduct or abuse of a subject shall take reasonable action to intervene," the policy, sent out on June 9, 2020, said.
"A member shall immediately report to the Department any violation of policies and regulations or any other improper conduct which is contrary to the policy, order, or directives of the Department."
The policy went on to say "this reporting requirement also applies to allegations of uses of force not yet reported."
Correction: A previous version of this story gave the wrong spelling for the name of one of the arrested officers. According to the indictment, it is Tadarrius Bean. Previous versions of this story also spelled Emmitt Martin's name incorrectly. This story has also been updated to correct the spelling of RowVaughn Wells' first name.
CNN's Chris Boyette, Sharif Paget, Tina Burnside, Shawn Nottingham, Andy Rose, Jason Hanna, Whitney Wild, Nick Valencia, and Jamiel Lynch contributed to this report.