American skiing star Mikaela Shiffrin is having quite the 2023 – and it could get even better before the end of January.
Earlier this week, the two-time Olympic gold medalist secured her 83rd World Cup win to break compatriot Lindsey Vonn's record for the most wins in women's skiing after finishing first in the giant slalom at Kronplatz, Italy.
She had topped the standings after the first run, recording a time of 58.72 before capping off a record-breaking day with a second-run time of 1:01.89.
Now, Shiffrin sits only three behind the overall record – in both men's and women's skiing – of 86 wins held by Swedish skiing legend Ingemar Stenmark.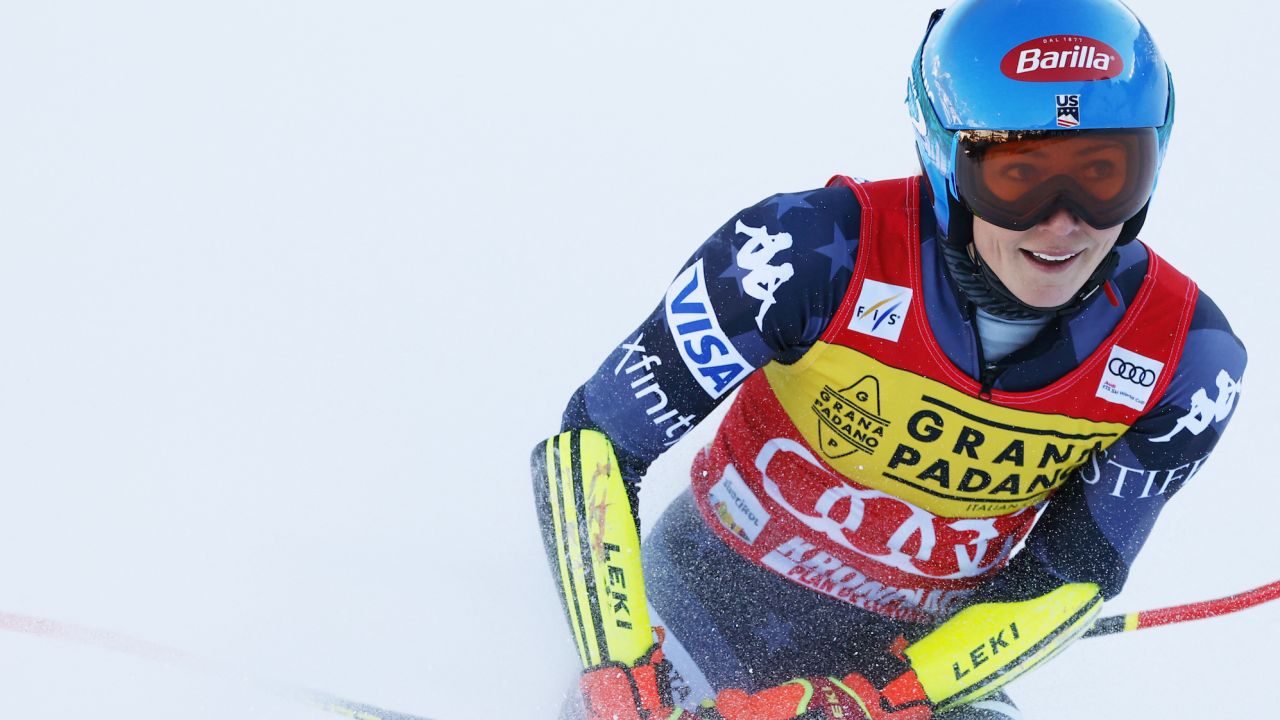 'Holy crap, that was really good skiing'
"I feel like I don't push myself if my rivals aren't pushing me, and my whole career, I've always had at least one main rival. That's always in my mind. What are they doing? What are they working on?" Shiffrin told CNN's Amanda Davies.
"Even if I'm training alone, I'm always thinking, 'Can I ski this faster?' And if I can, then I better because somebody else probably is."
After she broke Vonn's record on Tuesday, Shiffrin said her mother's response was: "Holy crap, that was really good skiing!"
"She's been one of my coaches for my entire World Cup career," added the 27-year-old Shiffrin.
"I mean, she taught me how to ski when I was three, and she's still teaching me how to ski now. So it's been a pretty incredible journey to take with her."
According to Shiffrin, her mom also helped the four-time overall World Cup champion learn the knack of remaining calm in competition.
She added: "Of course, the nerves set in … when you get nervous, your legs kind of seize up and get all jittery.
"And it's so easy at any moment to lose it all with one simple mistake that just comes because you're a little bit nervous and maybe just too much adrenaline.
"And she's always reminding me when the skiing is good, I can just focus on doing that, then it's going to be a good day.
"Whether or not it's a win, I'll be happy with it. And the last two days, it ended up in a win as well. So it's pretty amazing."
Dealing with loss
Skiing, among other things, has also helped Shfiffrin cope with the death of her father, Jeff. He died suddenly from an accident in February 2020 while at home in Colorado.
"Just the last few years to where I am now, there's times when I feel like I haven't made any progress or healed at all," she explained.
"And then there's times when I feel like, some sense of hope that maybe, maybe I still have some really wonderful things in life to look forward to.
"And right now, of course, winning races and having kind of a positive momentum going and skiing, that's always helpful to feel like, 'Okay, there's stuff to look forward to in life.'
"And whether it's in ski racing or not, it's still things to look forward to," said Shiffrin, adding that being able to spend time with her boyfriend – fellow Olympic skier Aleksander Aamodt Kilde – as well as her mother, and her brother and his wife, makes her thankful.
Mikaela Shiffrin reflects on the importance of supporting other women
For now, Shiffrin is trying not to focus on how many victories she can rack up.
"My big goal for this season is winning the overall [title]. That's what I set my sights on and, if I don't win another race this season, I still have the ability to do that. So it's not so much a number of victories as it is trying to remain consistent for the remainder of the season."
If Shiffrin does secure a fifth overall crown this season she would move second on the all-time winner's list. Austrian Annemarie Moser-Pröll tops that list with six titles.
"And that's still my big goal," said Shiffrin. "I have quite a large lead right now, but I'm not taking it for granted. So that's kind of where I have my sights set, which is helpful for me to not think so much about the numbers."
Shiffrin, who notched up her 84th World Cup win on Wednesday, could match Stenmark's record of 86 wins with a pair of victories when the American races on Saturday and Sunday at the Czech resort of Spindleruv Mlyn.