Two-time Olympic gold medalist and American skiing star Mikaela Shiffrin secured her 83rd World Cup win on Tuesday to break Lindsey Vonn's record.
The American finished first in the giant slalom at Kronplatz, Italy. She had topped the standings after the first run, recording a time of 58.72 before capping off a record-breaking day with a second-run time of 1:01.89.
She finished 0.45 seconds ahead of 2021 world giant slalom champion Lara Gut-Behrami in second. Home favorite Federica Brignone finished in third place.
Shiffrin's 83rd career World Cup victory moves her past her compatriot Vonn for the most wins in women's skiing. She now is only three behind the overall record holder, in both men's and women's skiing, held by Sweden's Ingemar Stenmark of 86 wins.
When asked to describe the record-breaking moment, Shiffrin said she was struggling to express the emotions she was feeling.
"It's hard to find words, actually. I don't think there are words to explain all the feelings," she told Eurosport. "Because, during the day, it's stressful, it's sometimes peaceful, sometimes nervous, sometimes excited.
"And these days with two runs and everything, they're long days, they're exhausting. But then at the end of it, it's like there's too much excitement to feel."
It is her ninth win of the 2022/23 season, more than her total number of victories from the previous two seasons combined.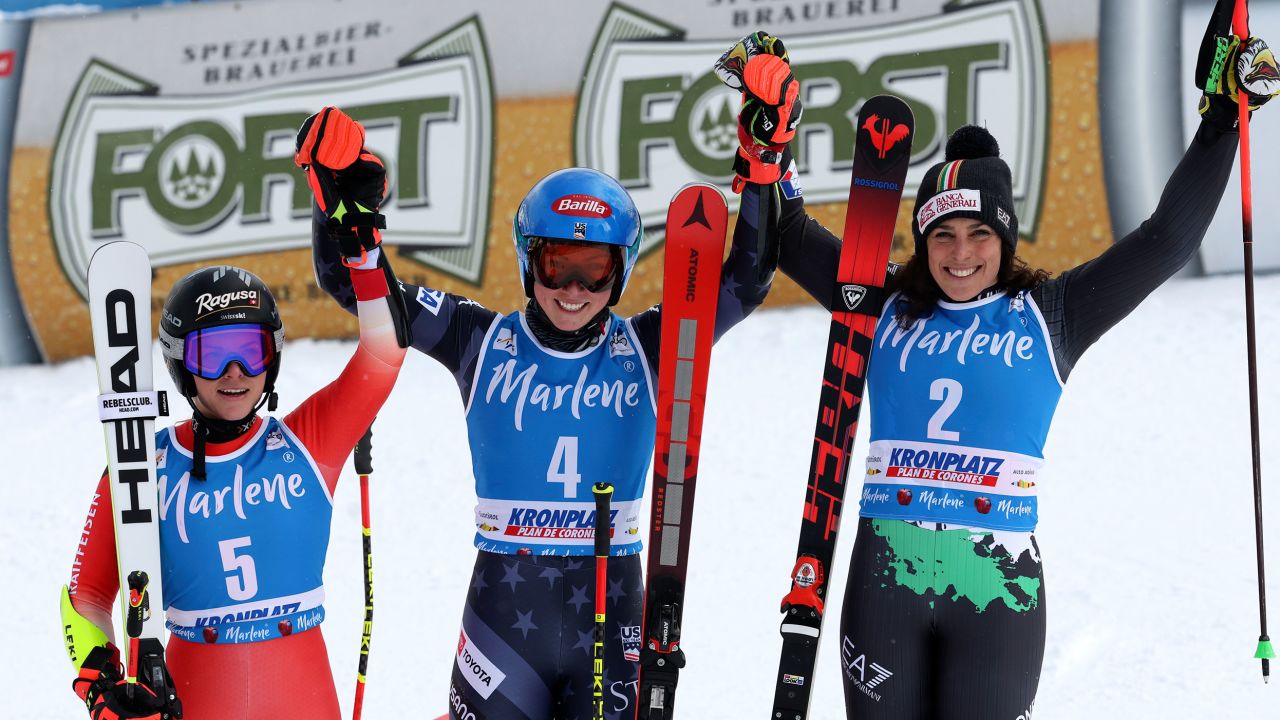 Shiffrin had tied Vonn's record earlier in January with victory in the giant slalom at Kranjska Gora, Slovenia.
The four-time overall World Cup champion has enjoyed an excellent season so far, which she continued in Kronplatz with her seventh win in her last 11 races.
Despite the pressure on the 27-year-old's shoulders, she never once looked fazed during the two runs, producing speed and precision skiing fans have come to expect from her.
"I just tried to breathe a bit and enjoy it, and the thing I'm really excited about is that we get two more runs on this hill tomorrow, because it's in really good condition."
She continued: "It's pretty incredible to be part of this competition … If you make one mistake, if it's a big enough mistake, then you're off the podium, off the win, maybe out of fifth position or 10th position, so you have to be taking the risks.
"Sometimes it's going to be good, and sometimes it's not. And I think it's important that we always take the good pieces of our skiing and keep trying to push because that's when it's really exciting."